Crispy and gooey s'mores bites with graham crackers and a marshmallow topping! No-bake, no-fuss and just 3 ingredients for these 5-minute treats… even easier than a classic s'more!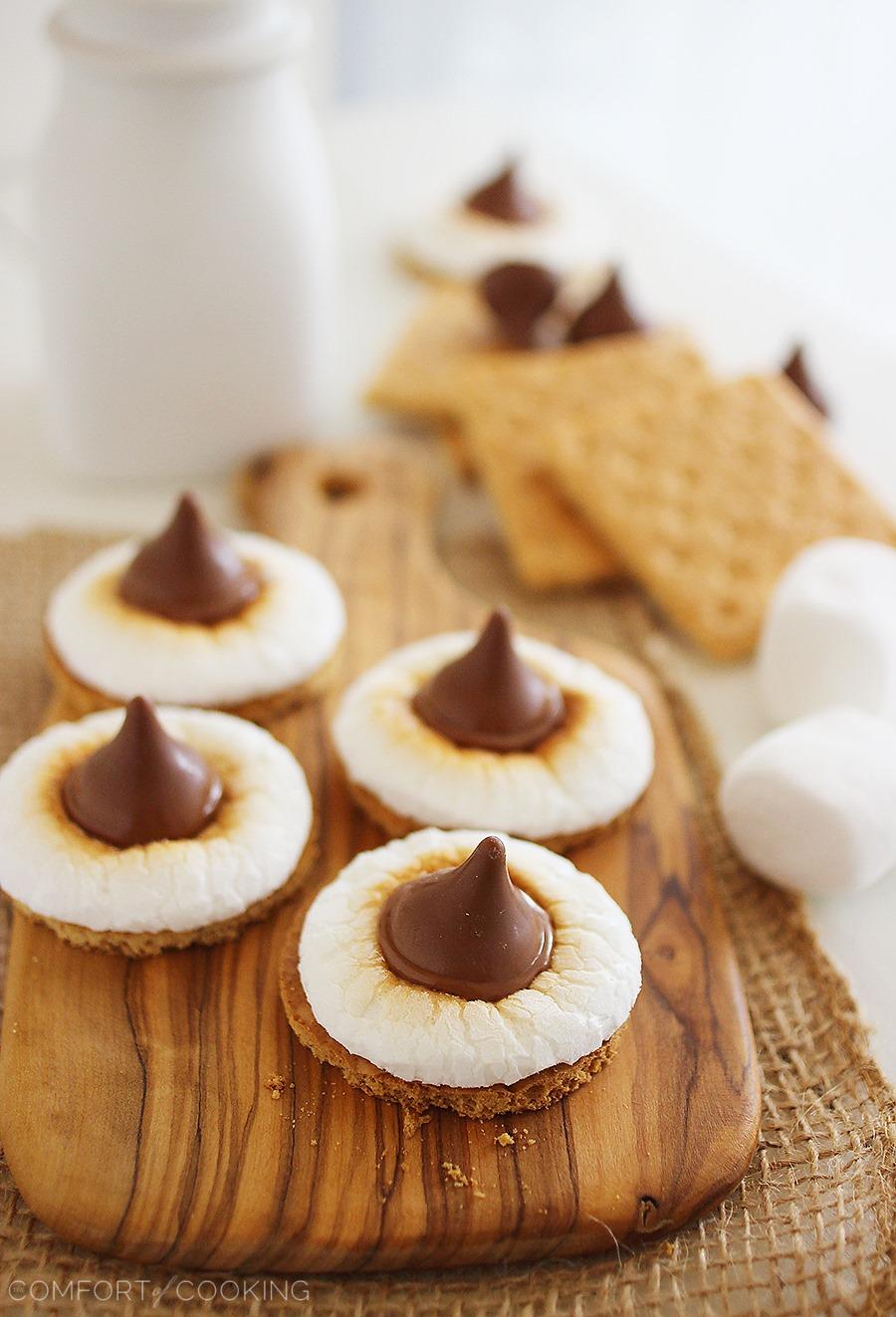 Hoooooly Moses was it cold in Chicago! I don't know how you Midwesterners do it, but I definitely tip my cap to you. Or rather, my fuzzy-warm winter hat! I lived in that thing over the weekend.
Snowy walks, museum strolls, cozy brunches and a wonderful family wedding celebration made up our last five days in the Windy City. It was a very fun few days capped off with the most amazing pizza… in Austin! Between all dozen delicious meals in Chicago, we sadly never got the chance to chomp into a pizza. So, it was straight from the airport to our favorite pizza joint, and we enjoyed a cheesy sausage slice (or two) hunched over our kitchen counters. A very warm welcome home!
For dessert… well, we dug into a bag of Hershey Kisses in between unpacking. But, I was left dreaming of these scrumptious (super easy) s'mores bites that I made shortly before we left!
They only take three ingredients, a little patience, and carefulness as they broil to avoid burning. To give them a little sweet-salty twist, you can even use Ritz or Saltine crackers in place of the graham crackers. I stuck with grahams, but did substitute caramel Kisses for the plain variety. Topped it with a tiny pinch of fleur de sel, too. One word: In-credible!
Press your chocolates in just after your marshmallow-topped crackers come out of the oven. They'll melt into your 'mallow and stay perfectly put.
A word on toasting the marshmallows, though – you really need to keep a close eye on them in your broiler. You can even leave your oven door open while they broil. Just don't burn those little cuties! You can start over, but who likes to do that?
No picking up your phone, tending to laundry, or checking mail for 5 minutes! You can do it, and I promise it's worth the wait. You'll end up with the most wonderful little snack-size s'mores bites!
For parties, snacking, or even just a fun project with the kids or friends, these simple s'mores bites totally hit the spot. The creamy chocolate, melty golden marshmallow and crisp graham cracker are the perfect classic combo, and it's made even easier with this method. No campfire necessary!
I know you'll love these treats just as much as we did. Try them today!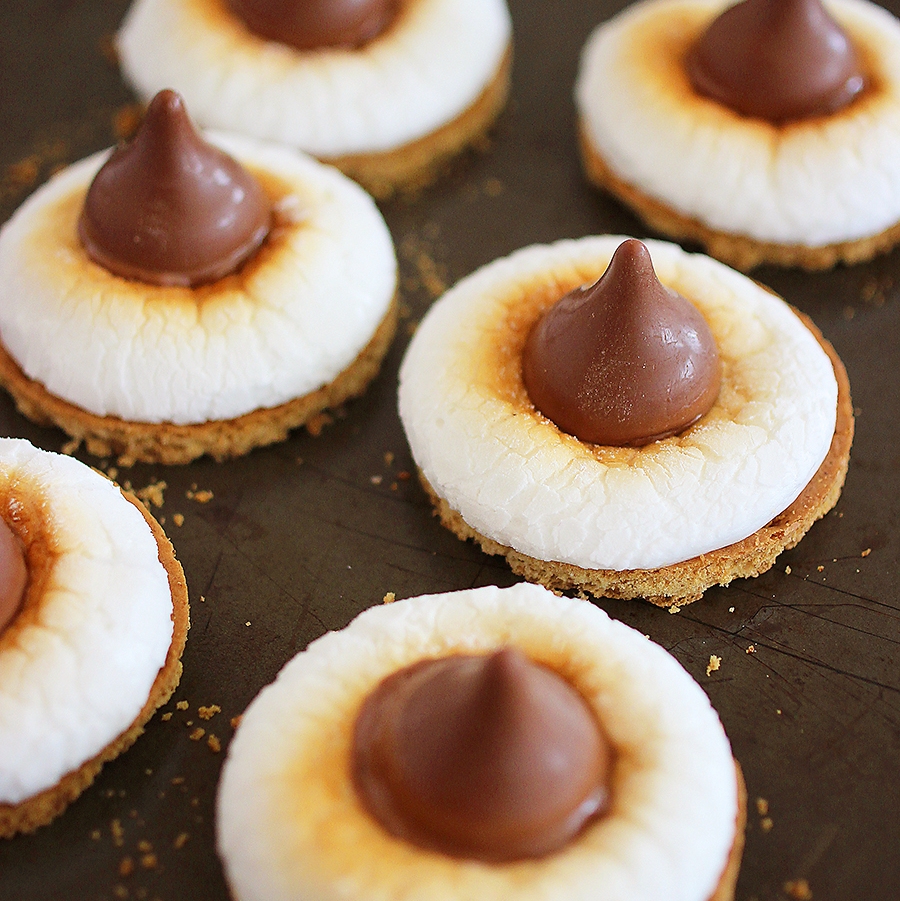 3-Ingredient S'mores Cookie Bites
Ingredients
6 graham cracker sheets
6 large marshmallows
12 Hershey's Kisses
Instructions
Break graham cracker sheets in half. Cut each half into a circle using a 2 to 2 1/2-inch round metal cookie cutter. Using clean scissors, cut each marshmallow into 2 halves.
Heat oven to Broil and place oven rack on lowest level.
Place graham crackers in the center of a large baking sheet, about 1/2 inch apart from each other. Centering them on the baking sheet allows even broiling.
Top each graham cracker with a marshmallow, cut/sticky side down. Place marshmallow-topped graham crackers under broiler (turn oven light on if you have one). Watch VERY closely, as they will toast quickly. Toast until golden, rotating pan with oven mitt as needed.
Once golden, immediately remove from oven and gently press 1 Hershey Kiss into the center of each toasted marshmallow. Serve warm.
Enjoy!