Spring to me is about beautiful blossoms, fruity drinks and lightening everything up. Your workload. Your wardrobe. And especially your meals. While breakfast may be the most important meal of the day, but it doesn't need to be the biggest!
This delicious layering of granola, toasted coconut, yogurt and berries packs plenty of flavor and wholesome ingredients to get you energized for the day. It's quick to prepare, easy to adapt according to what you have on hand, and makes for a lovely light breakfast, brunch or snack.
Try these pretty parfaits sometime for yourself and you'll agree that they're a nice change from the norm! All you need is plain or vanilla-flavored yogurt (go Greek for a high protein, low carb option), honey, toasted coconut, two cups of your favorite granola (crushed up granola bars work fine), and two handfuls of berries or fruit such as strawberries, peaches or mangoes.
While the ingredients may be delicious on their own, they combine to create one irresistibly tasty and healthy morning treat!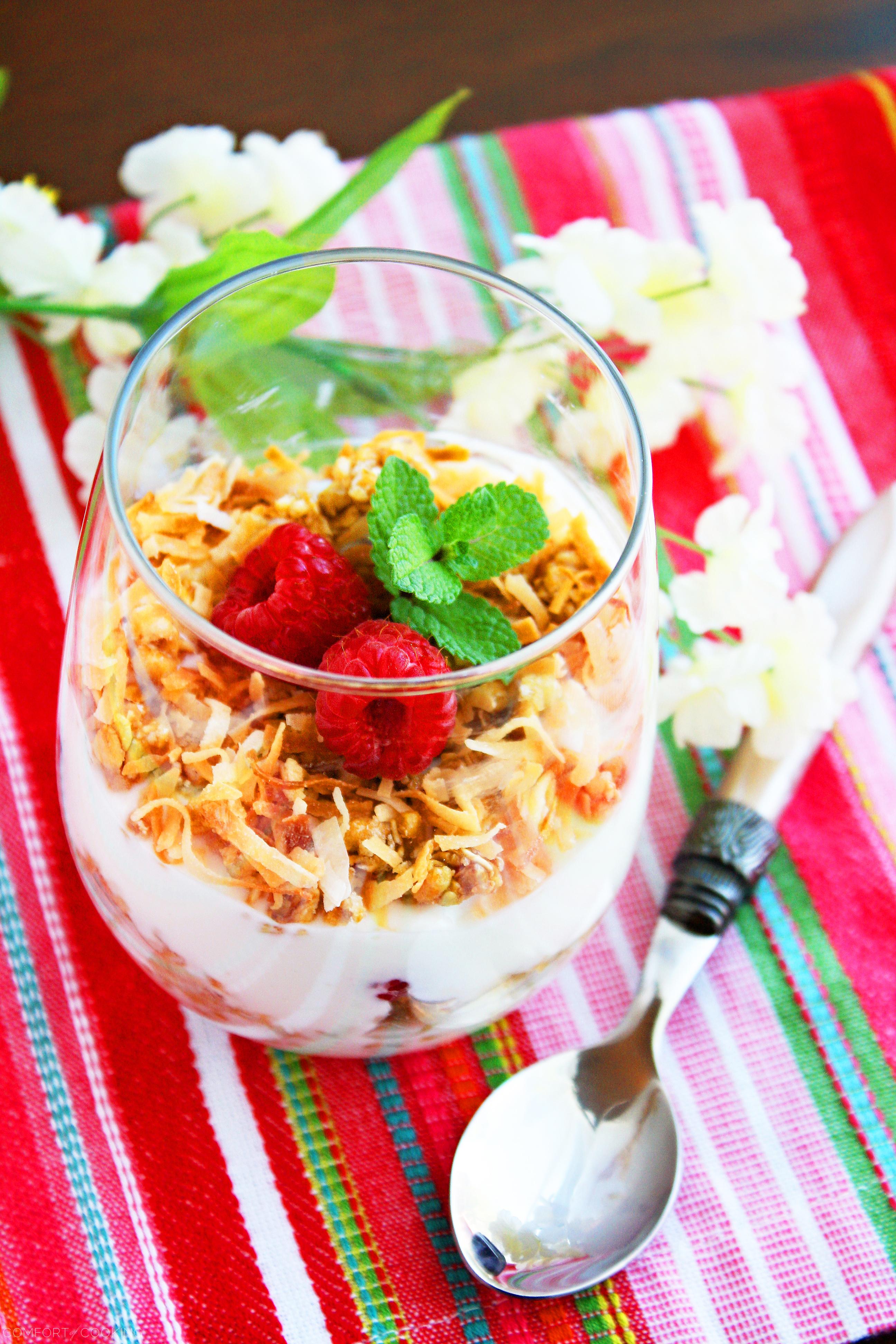 Coconut Granola, Yogurt and Fruit Parfaits
Ingredients
2 cups plain or vanilla-flavored yogurt
2 cups your favorite granola
2 cups fresh berries, raspberries, blueberries, strawberries (hulled and sliced, and/or other fruit such as bananas, peaches or mangos, peeled and sliced)
1 cup sweetened coconut flakes
4 tablespoons honey
Instructions
To toast coconut, spread coconut flakes evenly on large baking sheet. Bake at 350 degrees for 10-12 minutes, watching closely to avoid burning. Toss coconut halfway through to evenly toast.
Prepare four tall glasses (wine, cocktail or parfait glasses work fine). Alternately add two tablespoons each of yogurt, granola and fruit, evenly smoothing the surface of each layer. Add toasted coconut and honey where desired, to taste.
Enjoy!