These easy, protein-packed granola bites are perfect for snacking on to reenergize your day! Kids and adults alike all love them, after school, work or the gym. And, they are SO easy to make. Also, keep reading for a handful of helpful morning hacks to ease your Monday through Friday routine!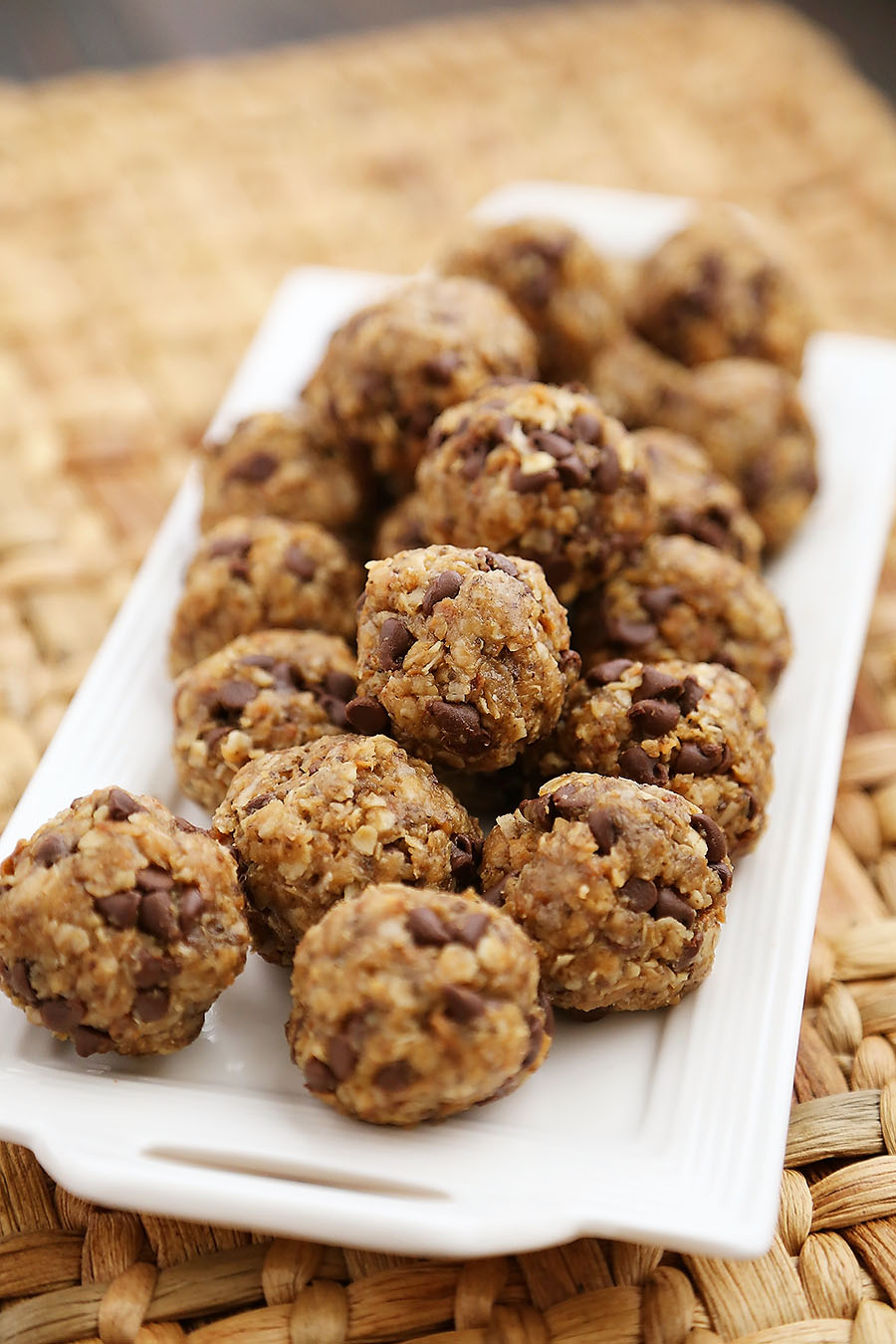 Most days of the week, I stumble in from the gym and into the fridge, looking for a protein-packed snack to help me refuel after a workout. While these granola bites are small, they pack TONS of tasty flavor and if you just need a "nosh", they're perfect for filling up fast.
The base is oatmeal, but Jif Cinnamon Peanut Butter, honey and ground flaxseed also join the mix to make for a well-rounded snack. As a huge fan of all things cinnamon, I have totally fallen for this new flavor of peanut butter. It's super smooth and richly spiced, with just the right amount of cinnamon, and a perfect protein boost for the morning. But, it doesn't stop with cinnamon. Try their new Maple flavor, too! It is especially delicious spread on warm toast and topped with sliced bananas.
So, stumped on flax seed? Here's the scoop… flax seed is a taste-free, powdery additive full of heart-healthy omega 3's and fiber. You can find the ground variety at most health food stores, some groceries, and sometimes the food sections of discount clothing retailers. Ground flaxseed is also great for sneaking into cereal, oatmeal and yogurt!
Enjoy these nutritious little bites after a workout, pop them in your kiddo's lunchbox, or snack on one or two to reenergize your day.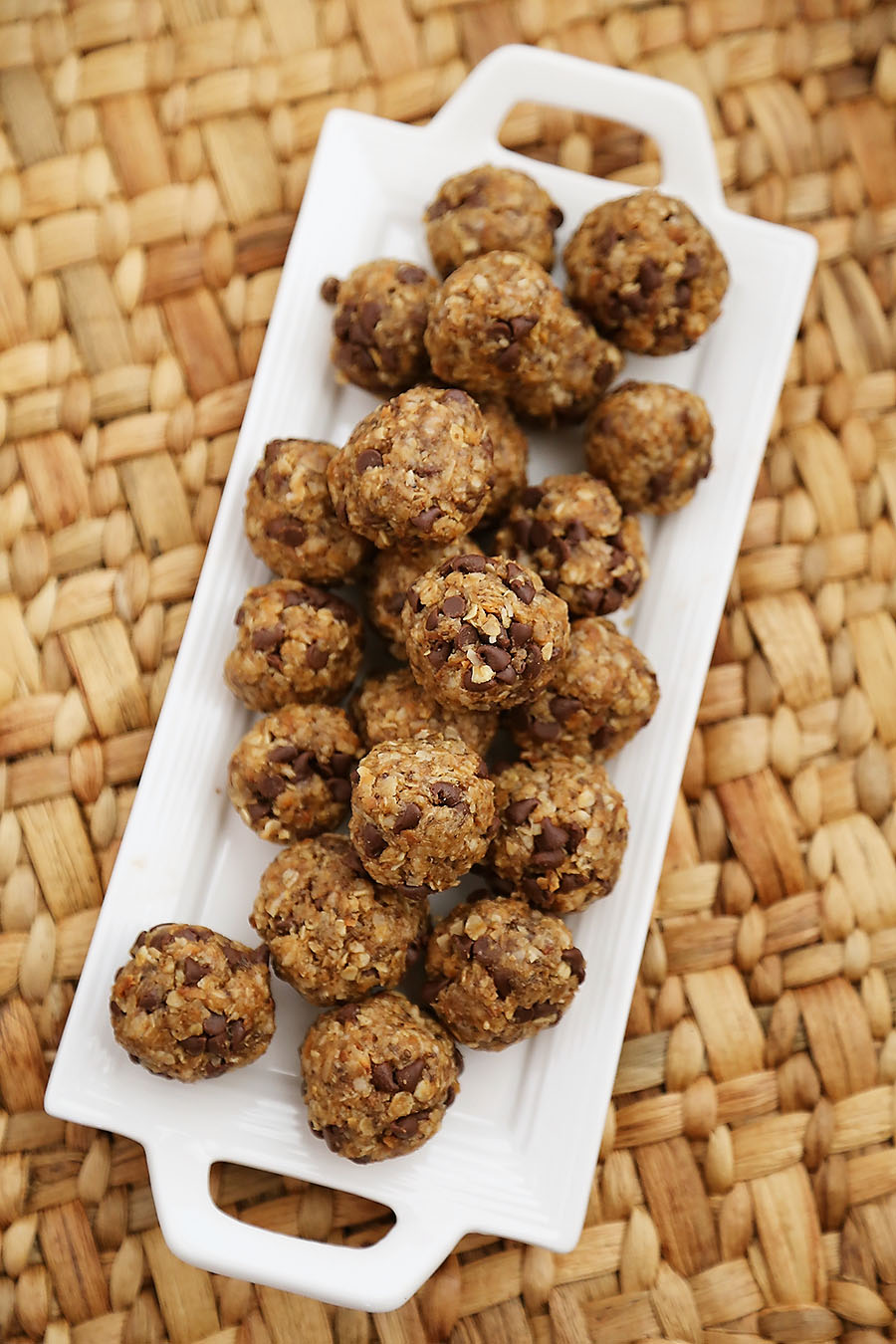 Need a little spring in your step after your alarm clock sounds? Here are some morning hacks designed to help ease you into the day!
1. Waking up to brighter colors can actually increase your mental agility, confidence and happiness. Try greens and yellows for a boost. For a calm space, try blues. Rise to reds and violets for more energy.
2. Skim your calendar and email for a clear picture of your day ahead. Then decide what your most important task of the day is. Once you complete your most important task of the day, the rest of your day should be less stressful.
3. Begin your day with plenty of water (or coffee). Your body is likely to be a bit dehydrated after a long night's sleep. Hydrating will help get you moving and energized!
4. Wake up a little earlier, and take some morning time for yourself. Tick a small item off your to-do list, organize, groom, or just spend time with family or friends. Treat yourself to a healthy breakfast, like Jif Maple or Cinnamon Peanut Butter spread on toast, waffles or pancakes.
5. Take the stress out of your commute by leaving with plenty of time to get to work. This is a great way to set a positive tone for your day and opens your mind to creative thinking.
6. Play some music while you're getting ready for the day. Your favorite tunes, especially ones with an energetic beat, will surely lift your mood and help energize you for the day ahead.
7. If you have kids, prepare their school lunches the night before. I often portion off whatever dinner I prepared that night into my daughter's lunchbox for the next day. Plus a few extras like cheese and crackers, cut-up fruit, carrots, etc. You can find some great containers with separate compartments for meat, fruit, veggies… and protein-rich treats made with Jif Peanut Butter!
8. Keep TV, phone and computer volumes low in the evenings in order to create a "sleepier" atmosphere. This helps you associate the evening with slowing down so that you can mentally prepare your mind for sleep.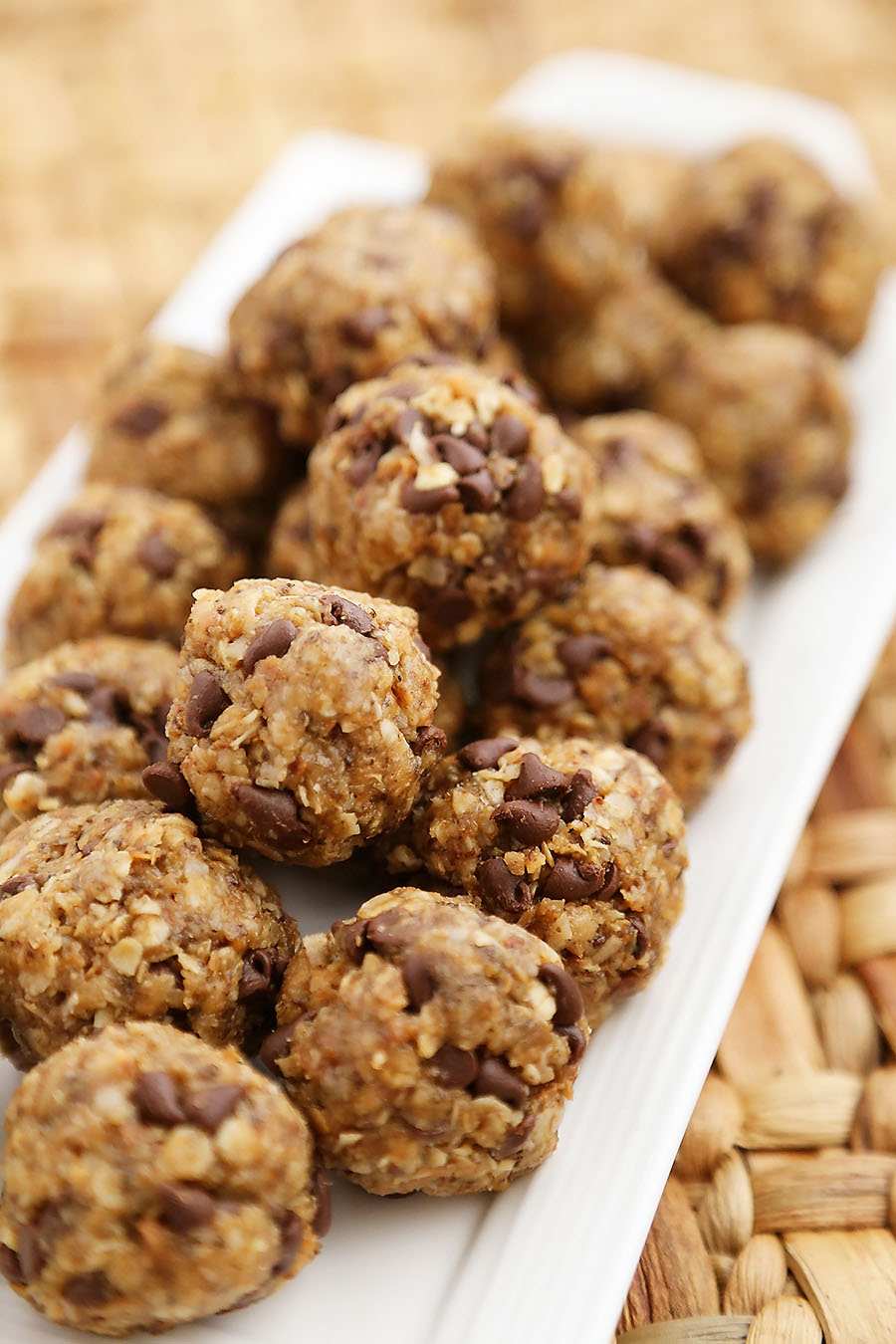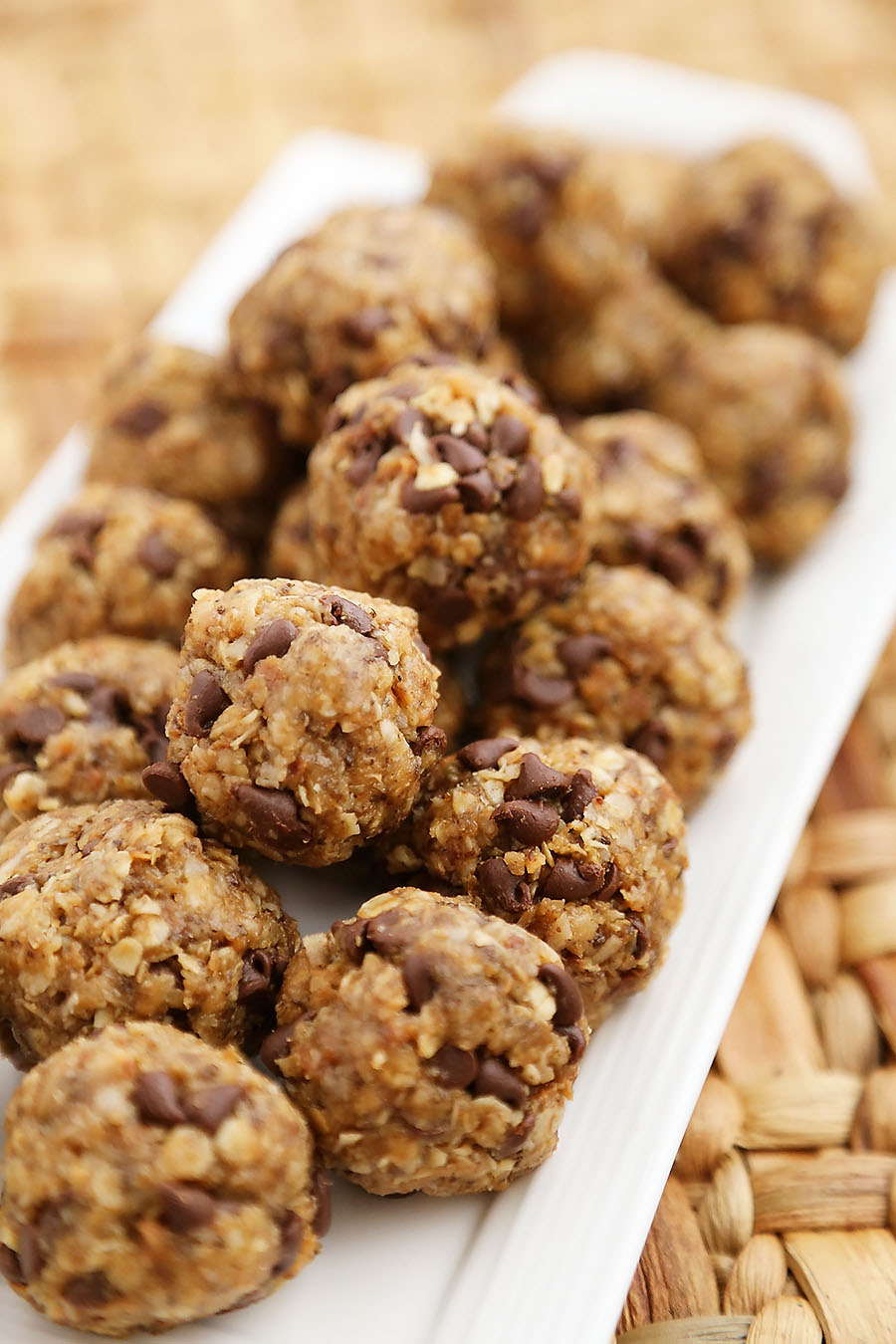 To make your own chocolate chip-peanut butter granola bites, simply combine all of your ingredients in a large bowl. Mix until everything is well blended, then let the mixture cool in your refrigerator before rolling. Once your granola mixture has firmed up, roll them into 1-inch balls. That's it!
Snack away, or save them for school, work, church, or a friendly gathering that could use a healthy and unique two-bite treat.
These little granola bites are full of granola, flax seed, vanilla, chocolate chips, coconut, honey and oatmeal. All of the good stuff, nothing artificial! Every bite is packed with flavor and protein, and all you need are 7 ingredients and 30 minutes. How much easier can it get for a healthy and filling midday snack or morning bite on-the-go?
I know you will love this recipe just as much as we have. These bites have certainly made our mornings a bit quicker and easier. Try them today!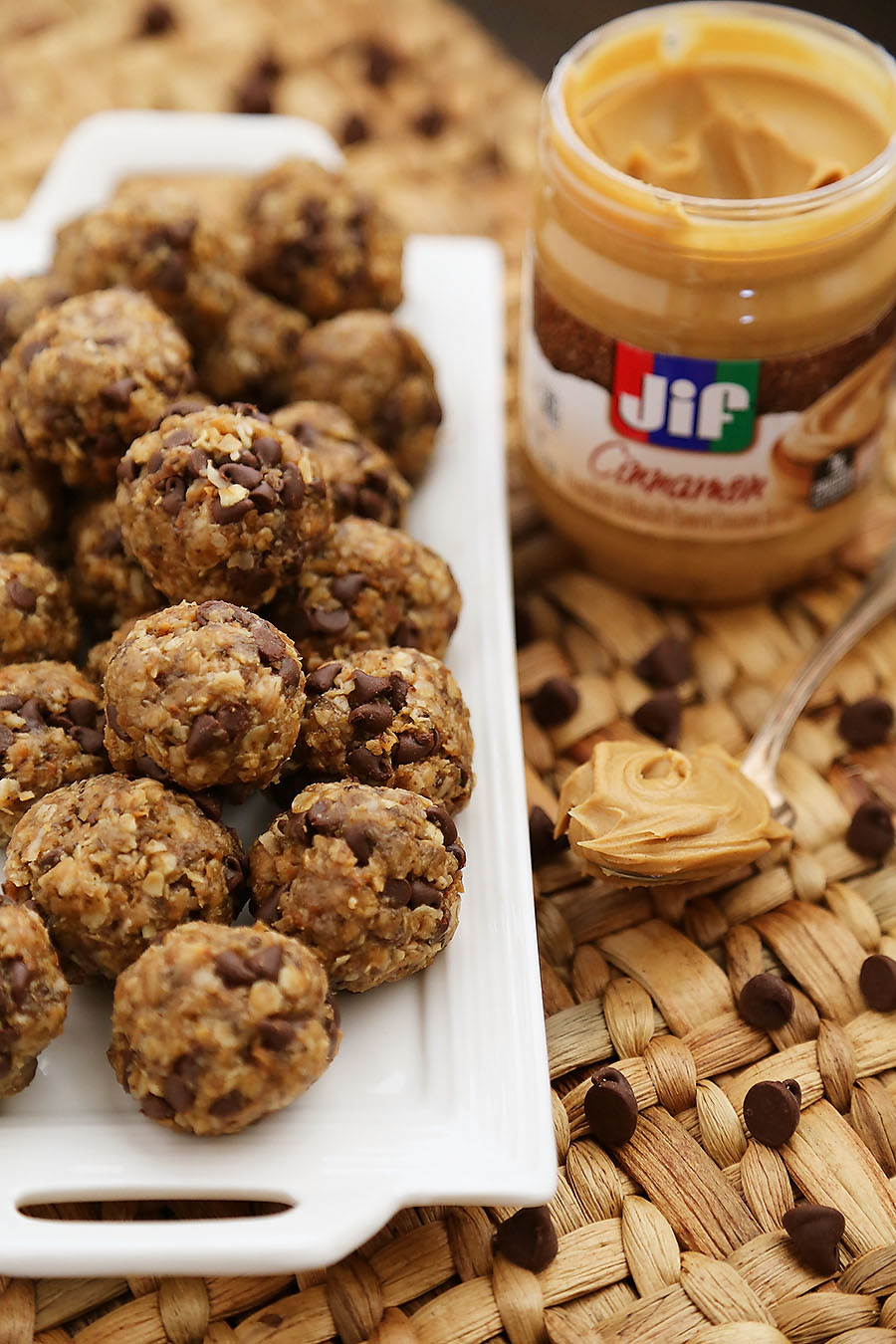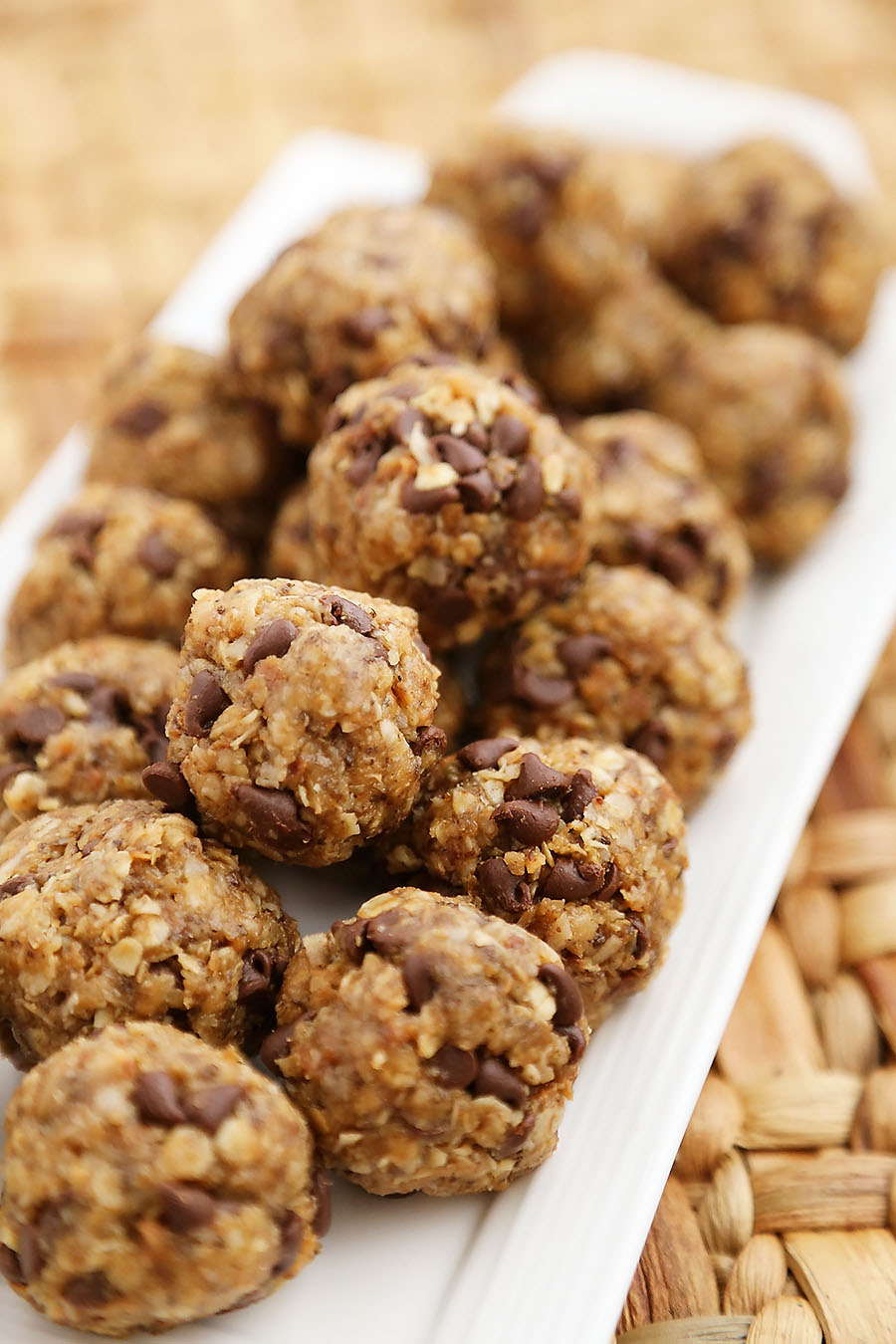 Chocolate Chip Peanut Butter Granola Bites
Ingredients
1 cup dry oatmeal, I used old-fashioned oats
2/3 cup toasted coconut flakes
1/2 cup Jif Cinnamon Peanut Butter
1/2 cup ground flaxseed or wheat germ
1/3 cup honey
1 teaspoon vanilla extract
1/2 cup mini chocolate chips, optional
Instructions
Stir all ingredients together in a medium bowl until thoroughly mixed. Chill in refrigerator for half an hour. Once chilled, roll into balls of whatever size you would like. (Mine were about 1" in diameter.)
Store in an airtight container and keep refrigerated for up to 1 week.
Enjoy!