So delicious! Extra cheesy zucchini boats stuffed with rice, beans, peppers and salsa are on the menu. This mouthwatering meatless meal is our new favorite fix for burrito cravings! Try this low-carb, flavor-packed zucchini for an easy weeknight meal.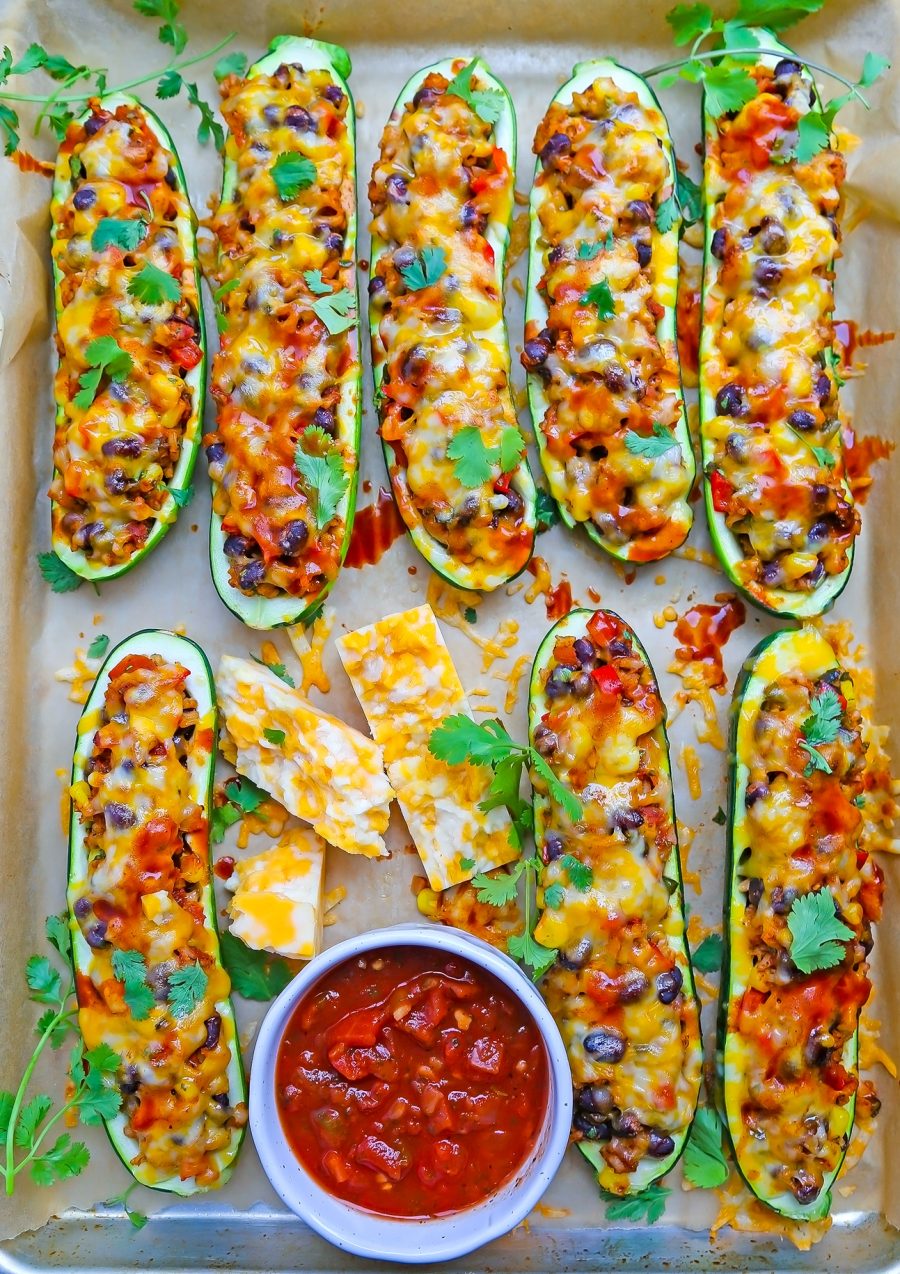 Mexican Burrito Zucchini Boats
So there's burritos, then there's burrito bowls, and then there's STUFFED ZUCCHINI burrito boats!
I'm not quite sure how I've gone so long without this goodness. But, this low-carb zucchini boat stuffed with rice and beans is here to stay. These are really, really good.
Not only do these squash your burrito cravings (heh, get it?), but they are very easy to make. Hollow out 4 fresh zucchini, sizzle a mixture of salsa, onions, peppers, rice and beans on your stovetop, and stuff 'em up!
That bubbly cheesy goodness will be ready in 20 minutes. Drizzle on some extra queso and salsa, and sail away to flavor town. I'll see you there.
Let's run over to the recipe, and start cooking!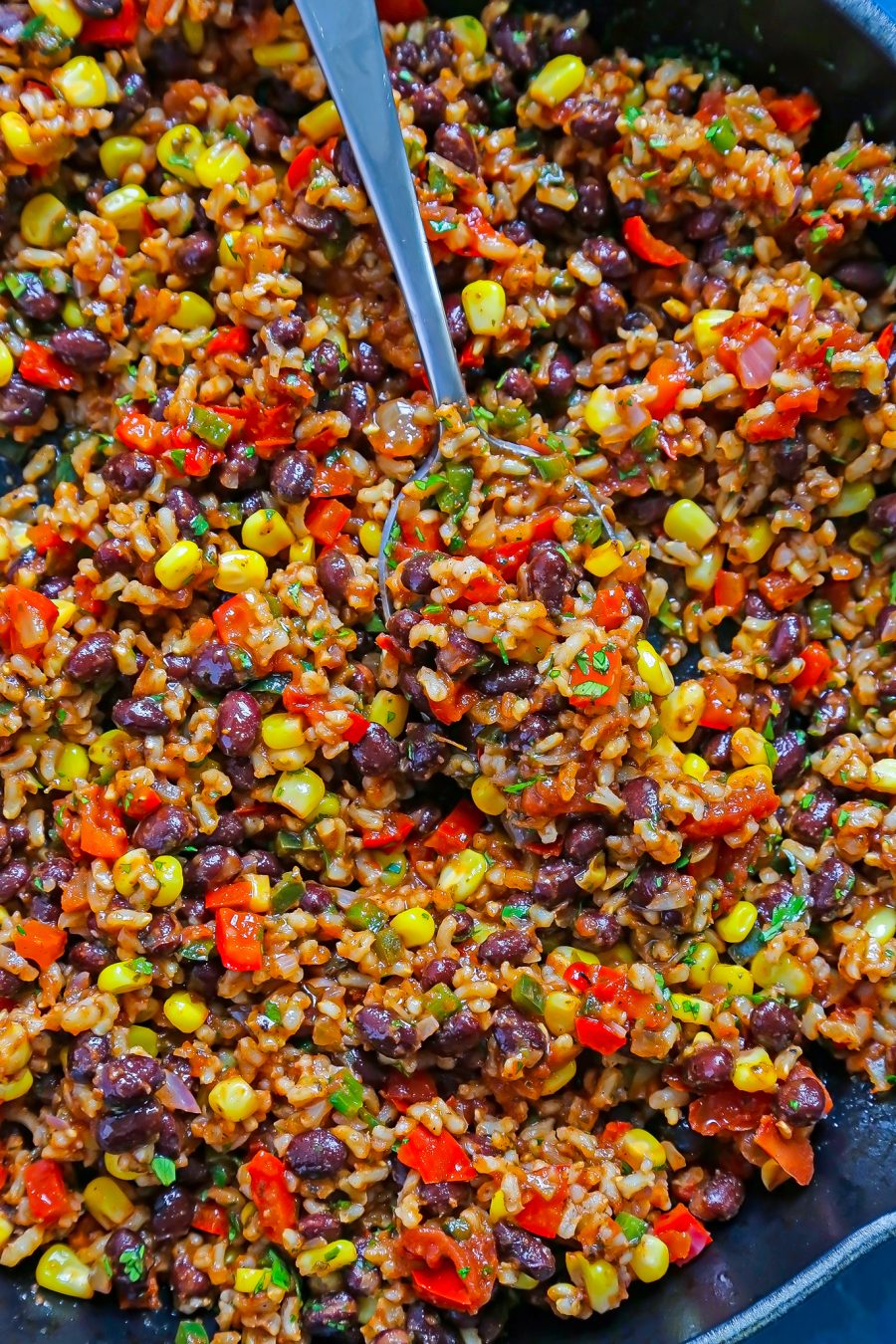 Ingredients for Mexican Burrito Zucchini Boats
• zucchini
• brown rice
• black beans
• red onion
• bell pepper
• salsa
• corn
• poblano pepper
• oil
• chili powder
• cumin
• cilantro
• cheddar, colby or monterey jack
Keep reading for full ingredient list + recipe, below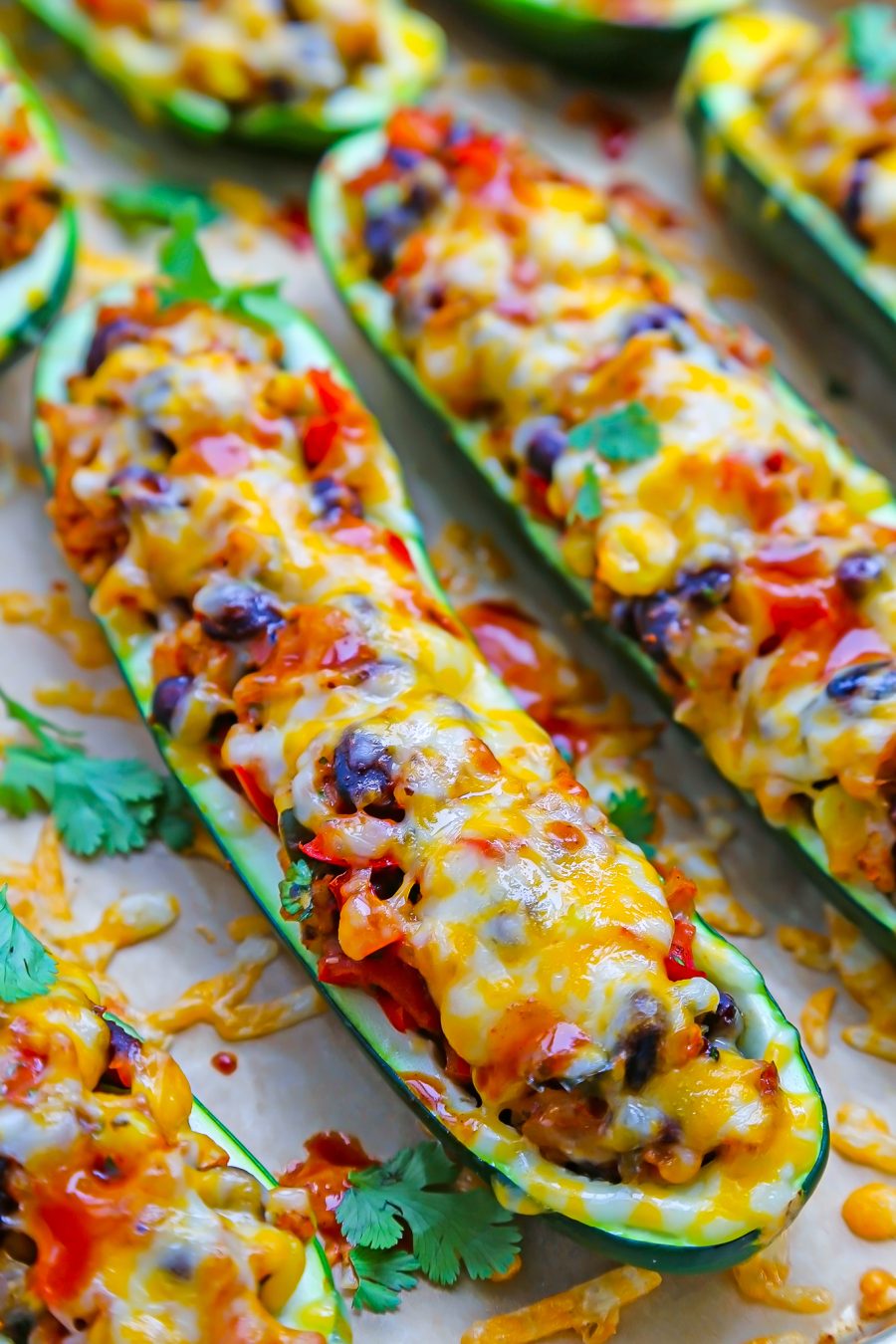 What makes these Zucchini Boats so good?
Let me count the ways! These zesty zucc are loaded with rice, beans, salsa and cheese – what's not to love? They are hearty yet light, keeping mealtime healthy and mouthwateringly delicious. You have to try them.
What veggies work in place of poblano peppers?
Poblano peppers have a smoky, slight spice – much less than jalapeño. You can swap poblanos for jalapeños, omit them altogether, or add a bit more bell pepper. Make this recipe suit your tastes!
What's a good substitute for brown rice?
Brown rice can be substituted with white rice, quinoa, farro, or any of your favorite cooked grains.
Can I make Zucchini Boats ahead?
Yes! You can prepare zucchini boats 1 day ahead of cooking. Prepare the rice mixture and stuff the hollowed out zucchini, as directed. Place on a sheet pan. Cover and refrigerate, until ready to cook.
How do I store and reheat Zucchini Boats?
Store leftovers in a resealable container or covered casserole dish. Cover and refrigerate up to 3 days. Reheat stuffed zucchini over low heat in your oven. Or, reheat individual servings in the microwave.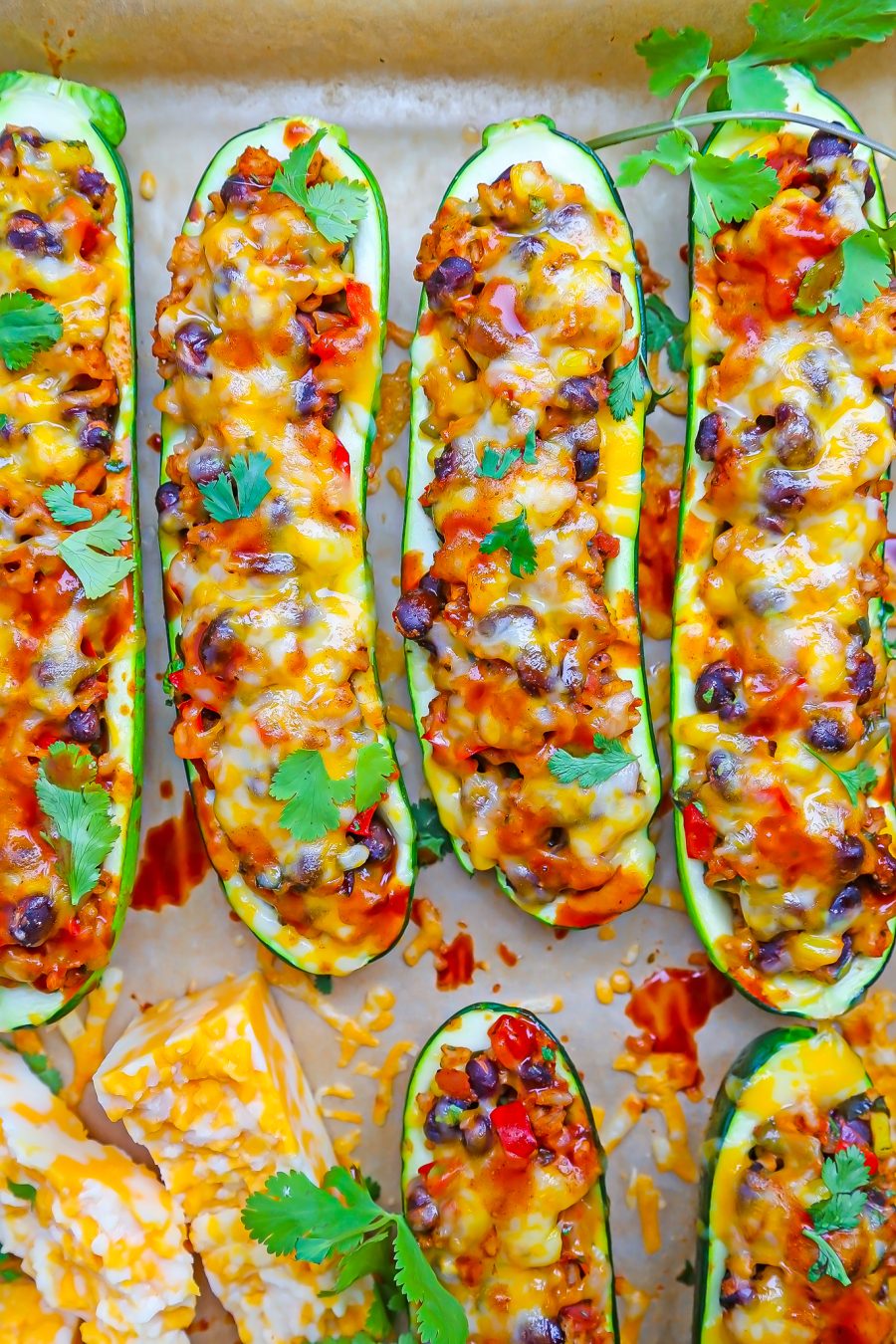 More easy weeknight meals:
• Southwestern Stuffed Spaghetti Squash
• Mexican Grilled Steak Salad with Honey Lime Dressing
---
I hope you enjoy this easy, wholesome Mexican Burrito Zucchini Boats recipe. One bite and you will agree, these really hit the spot for burrito cravings!
We loved covering these cheesy, stuffed zucchini with melty queso and our favorite salsa. Talk about happy belly groans!
Please feel free to leave a comment and a star rating, if you give it a go. I would love to know if you serve this recipe for your family and friends.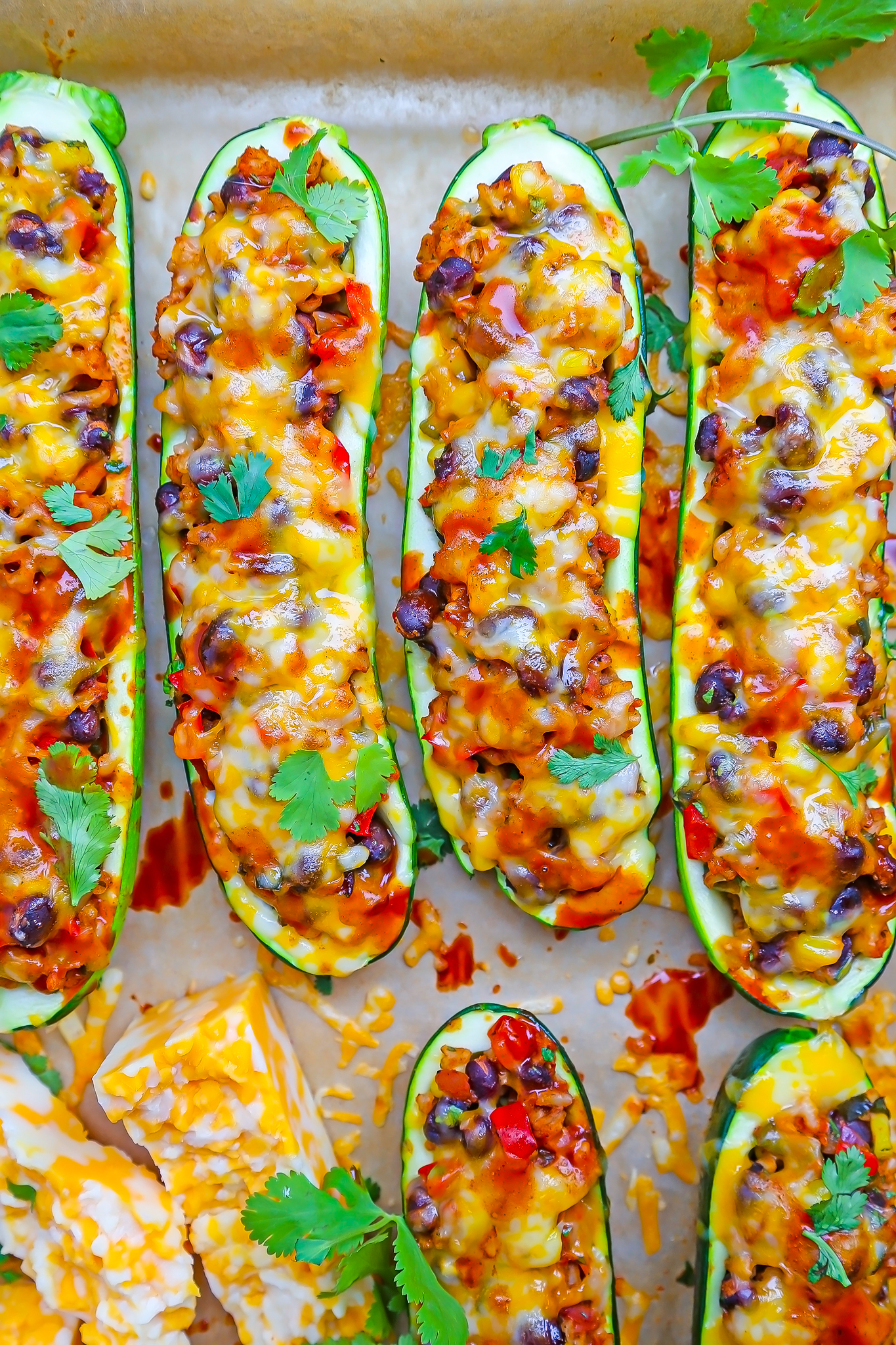 Mexican Burrito Zucchini Boats
Yield:
Makes 4 servings (two halves each)
Ingredients
4 large zucchini, halved lengthwise
1 tablespoon oil
1/2 red onion, small diced
1/2 red bell pepper, small diced
1 poblano or jalapeno pepper, small diced
1 cup cooked brown rice
1/2 cup corn kernels
1 (15 oz.) can black beans, drained and rinsed
1 cup salsa
1 teaspoon chili powder
1 teaspoon cumin
1/2 teaspoon coarse salt
1/2 cup fresh cilantro, finely chopped
1 cup shredded cheddar, colby or monterey jack cheese
Instructions
Preheat oven to 400 degrees F. Line a large baking sheet
and coat with nonstick cooking spray.

Using a melon baller or metal spoon, hollow out centers
of each zucchini. Place on prepared baking sheet. (If the zucchini halves don't
sit level, cut a bit off the underside.)

Add oil to a large skillet over medium-low heat. Once hot,
add onion, red pepper, and poblano or jalapeno. Cook for 4-5 minutes, until veggies
have softened.

Add rice, corn, beans, salsa, chili powder, cumin and
salt. Stir well. Continue to cook for about 5 minutes. Remove from heat and
stir in cilantro; set aside.

Spoon rice mixture into each zucchini, filling to the top.
Sprinkle with cheese.

Bake for 20-25 minutes, until zucchini is tender and
cheese is melted.

Serve warm and enjoy!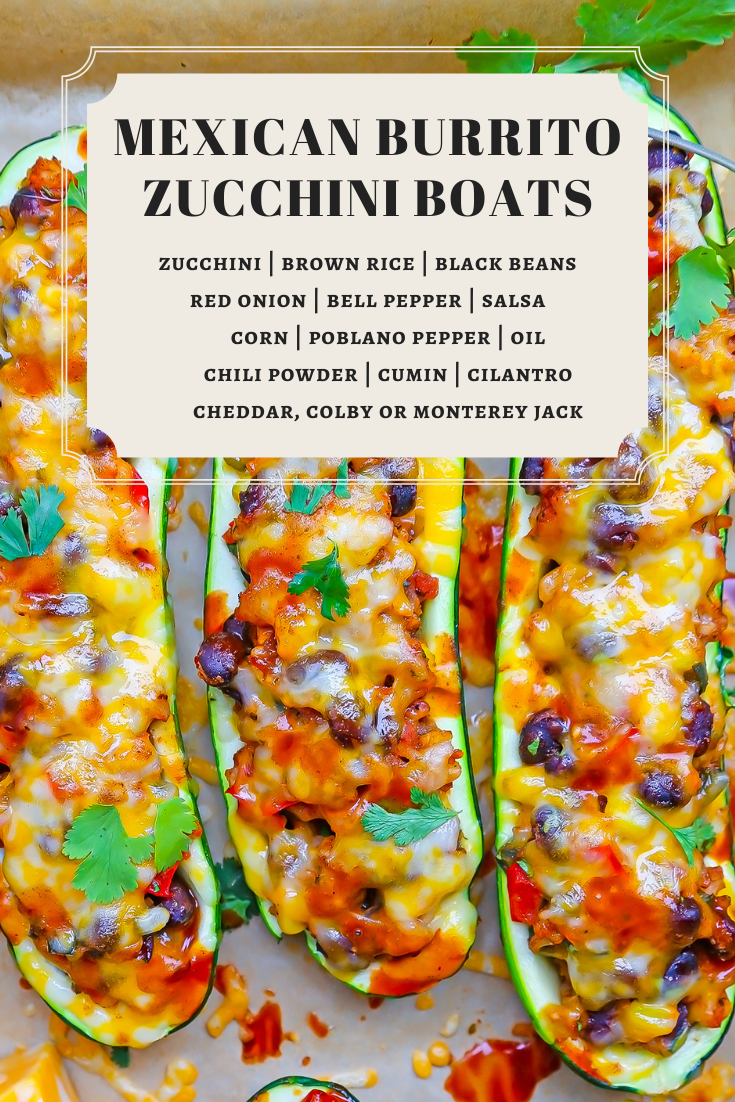 Want to receive our latest recipes straight to your email inbox? Click here to subscribe!