Perfect for game day feasting and weeknight meals! 🏈 This hearty, healthy (slow cooker or stovetop) turkey chili is packed with zesty flavor and nutritious veggies. So delicious loaded with toppings, and served with cornbread and tortilla chips!
I'm often asked what my favorite meal is to cook, and I always respond in an instant – chili! So many flavors, textures, toppings… Oh, I love it. The warm heartiness of the meat, tomatoes and beans, mixed with the breezy freshness of lime and cilantro, and a kick of spice from fresh jalapenos and smoky seasonings! But, the best part? I'm often cooking it for a crowd. And I love cooking for a big mess of hungry friends and family.
If I had more patience (and desire for stress), maybe I would have gone into catering!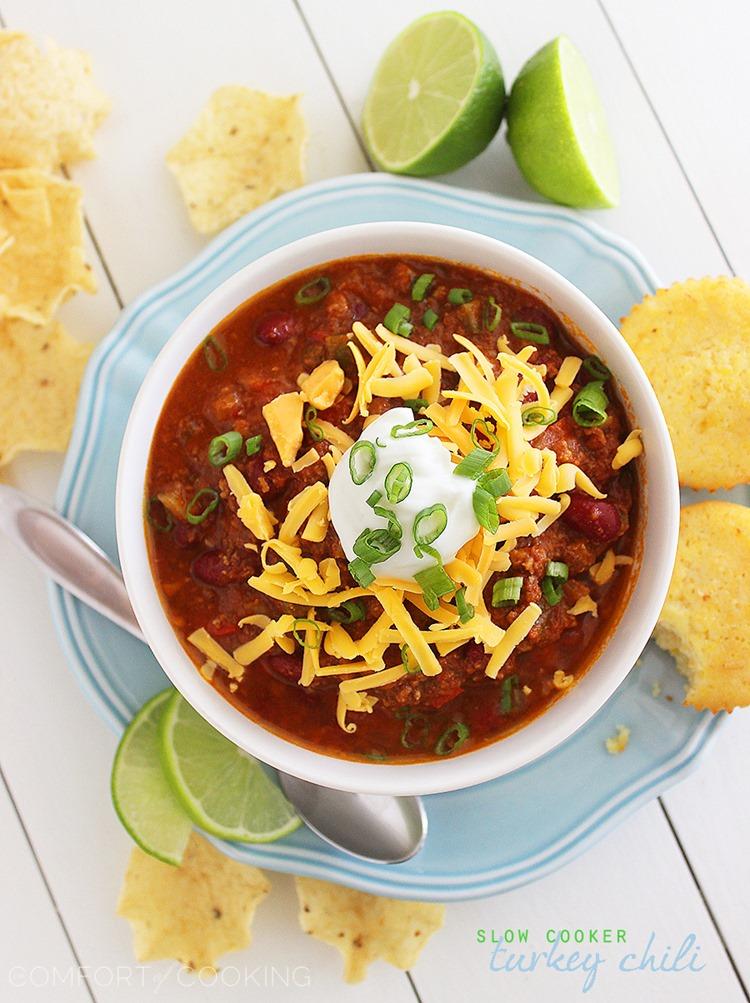 I've cooked both big and small batches of chili, probably a hundred-and-one ways, but tossing everything in my slow cooker has got to be my favorite method. Don't mistake that for a no-sweat recipe, though. A whole lotta love goes into chopping the veggies and dreaming up delicious toppings.
Our favorites? The classics: Shredded cheddar, sour cream, scallions and a squeeze of juicy lime.
Now, as for what to serve on the side….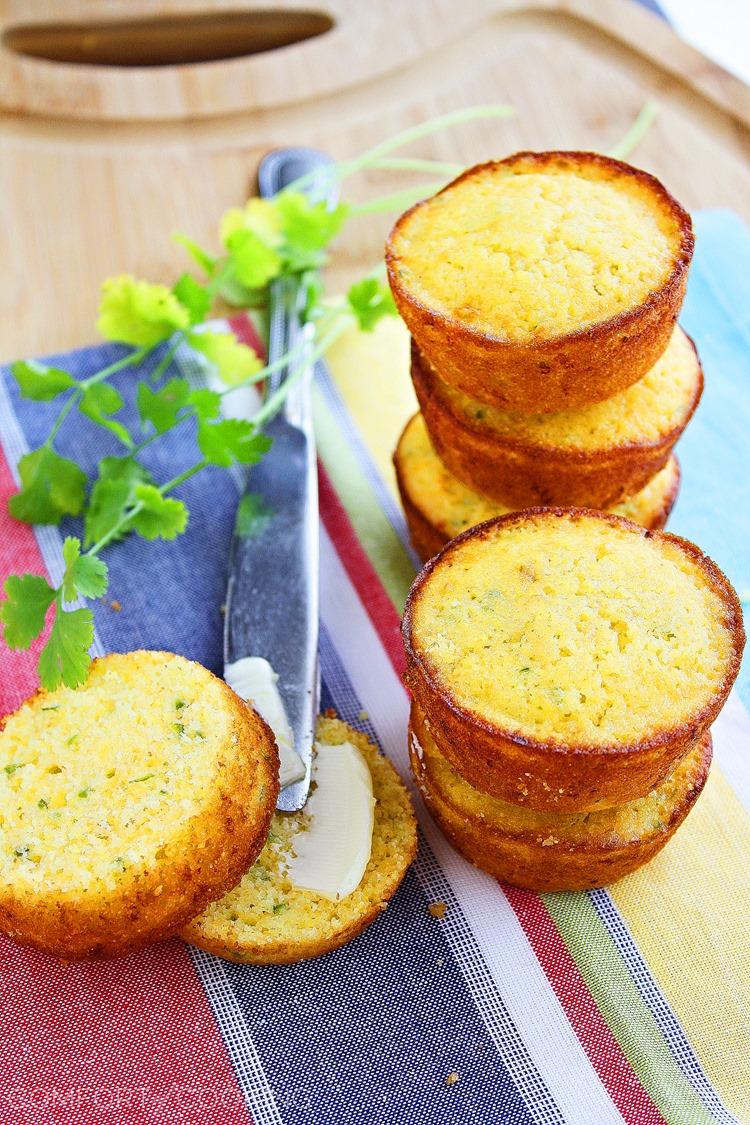 My Jalapeño Cheddar Cornbread Muffins are always a huge hit… and, if I'm cooking chili for a crowd, an absolute essential pairing. They're soft and sweet, full of flavor, and perfect for mopping up the last bits of spicy goodness. Savory salads with a little Mexican flair are also fun, and a big bowlful of chips for scooping is my personal favorite!
… Have I gotten your appetite going yet?
For rowdy Superbowl fans or even quiet weeknights, this turkey chili is incredibly easy and fun. It's one of the most delicious I've ever made! Every bowl is full of spicy, scrumptious goodness that will warm you to the bone on cold winter nights. But, I also love to make this chili in the summer! It freezes well and makes fantastic next-day leftovers… if you're lucky enough to have any.
Enjoy this recipe, friends. It's the BEST meal I've made lately (hubby agrees), and I know you'll love it, too. I hope you have a fabulous week ahead!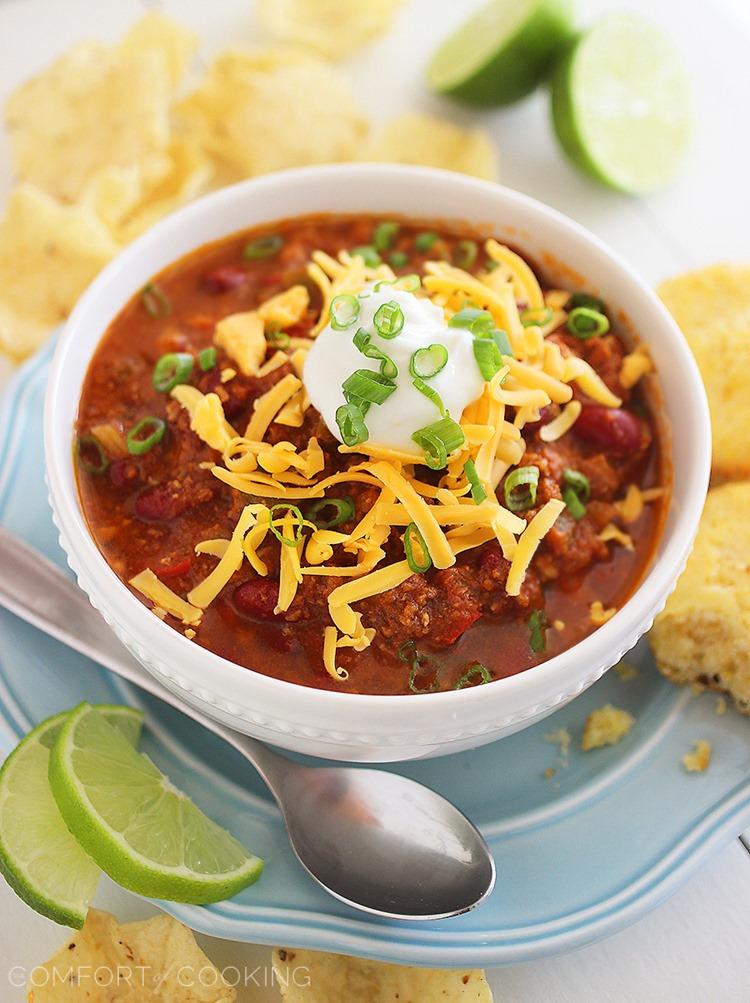 Slow Cooker Turkey Chili
Ingredients
1 lb. 16 oz. ground turkey (not ground turkey breast)
1 yellow onion, chopped
1 red bell pepper, chopped
1 green bell pepper, chopped
1 jalapeno, chopped
3 cloves garlic, minced
1 28 oz. can crushed tomatoes
1 15 oz. can diced tomatoes
2 15 oz. cans kidney beans, drained
1 teaspoon hot sauce
1 Tablespoon chili powder
1 Tablespoon ground cumin
1 teaspoon dried oregano
1 teaspoon kosher salt
1/2 teaspoon freshly ground pepper
Optional toppings:
Cilantro, shredded cheese, scallions, red onion, sour cream, etc.
Instructions
In a medium skillet set to medium-high heat, add oil. Once hot, add ground turkey. Crumble and cook until almost cooked through but still slightly pink, 4-5 minutes. Drain excess liquid. Add turkey to your slow cooker along with all remaining ingredients. Stir until combined. Cook on low for 6 hours, or high for 4 hours, stirring occasionally.
Once cooked, taste and adjust seasonings as desired. Ladle into individual serving bowls and top with any desired toppings.
Serve with Jalapeño Cheddar Cornbread Muffins, if desired.
Enjoy!