Easy to make and irresistible hot out of the oven, these super-soft vanilla oatmeal cookies are good on their own, but amazing with a fluffy buttercream filling!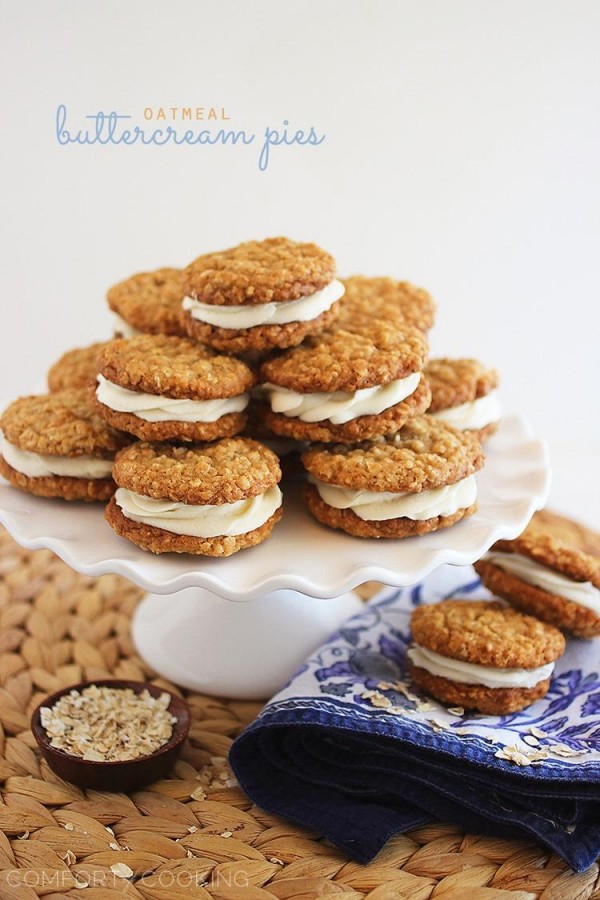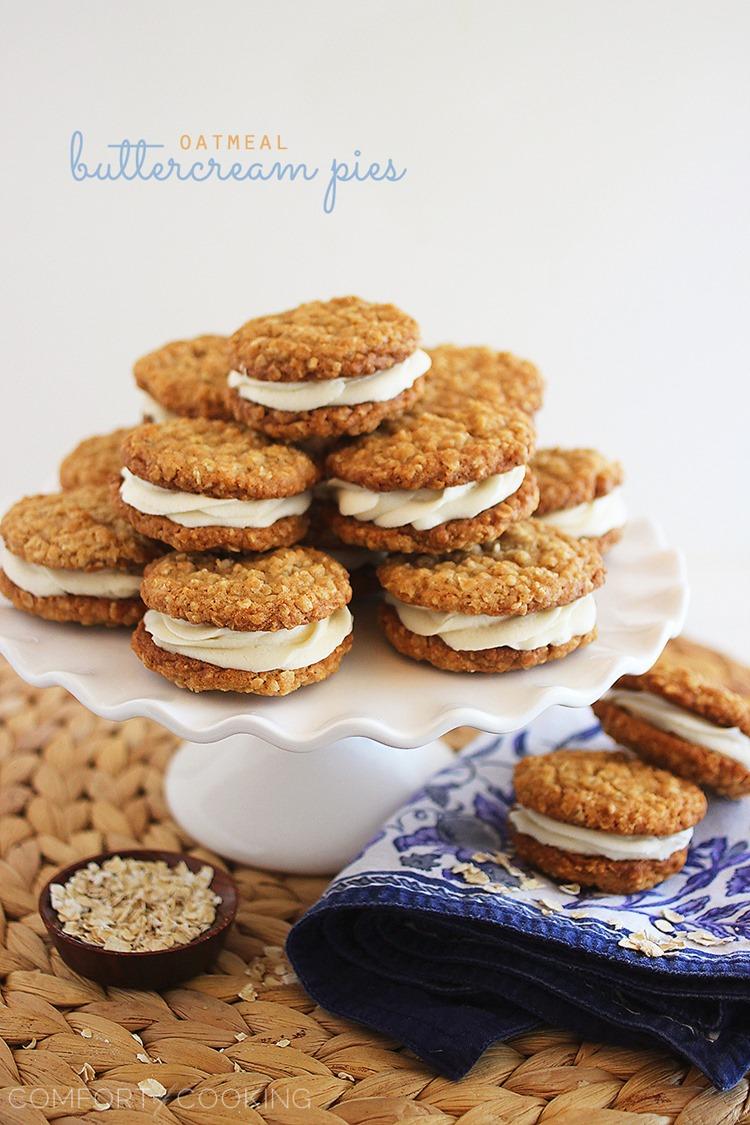 If comfort food were a dessert, these soft, sweet oatmeal buttercream pies would be the ultimate cozy treat! They practically beg to be shared around a big fire, or just while standing around your kitchen talking about the day.
Oh, a perfect end to a workday these would be.
I baked a batch the morning my husband took off for a long business trip, and they were such a comfort to whip up on a cold winter day. Just me, alone in my jammies, with heaps of flour and sugar and the warm buttery, vanilla scent filling my kitchen as I mixed. These are the things that make me love winter!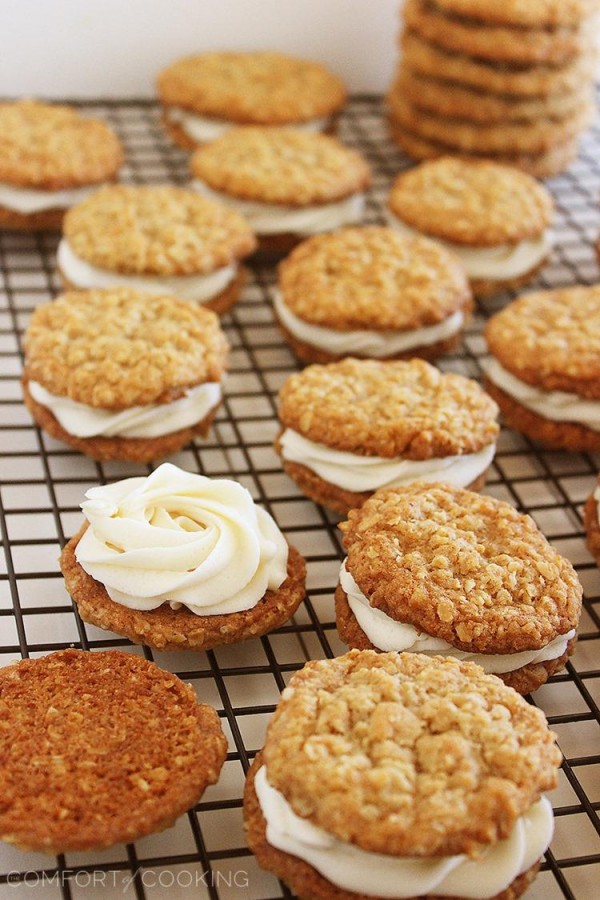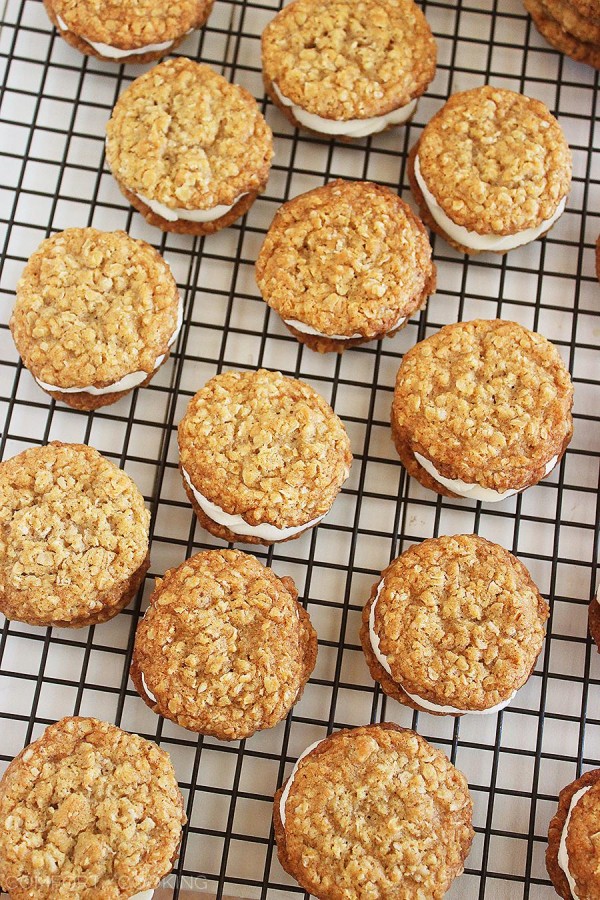 I could hardly resist these after they came out of the oven, and I didn't! My greedy fingers grabbed two cookies, hot and gooey goodness and all, and devoured them with a glass of milk.
One word: Uh-mazing! …Or would that be two?
These are the ultimate winter cookie, y'all. Super soft and chewy, richly scented with vanilla and cinnamon, and as easy to make as they are elegant. Two are good with milk, but totally outrageous with a swirl of fluffy buttercream sandwiched between them!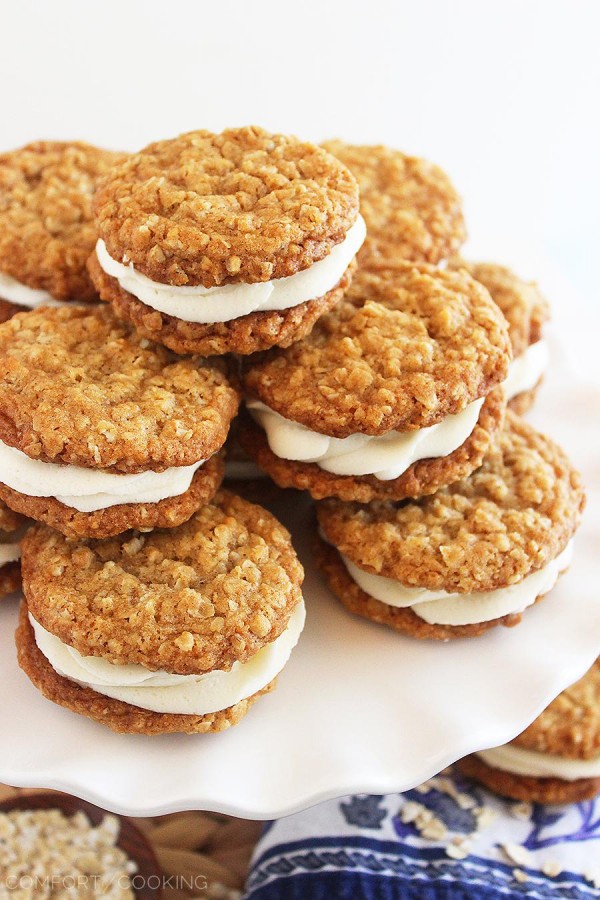 I ate two, then three, and, well… I don't think I need to tell you what numbers come after that. Basically, these oatmeal cookies were so tasty they became a problem. And that's before I even frosted them! So, naturally, onto to my neighbors' doorsteps platefuls were dropped… and I was surprisingly successful in not going back to their houses to snatch them back. Hehe.
For whatever you've got going on next, bake a batch of these oatmeal cookies and share them with someone special. I guarantee these super-easy sweet treats will earn you tons of praise… and questions about what bakery you bought them from!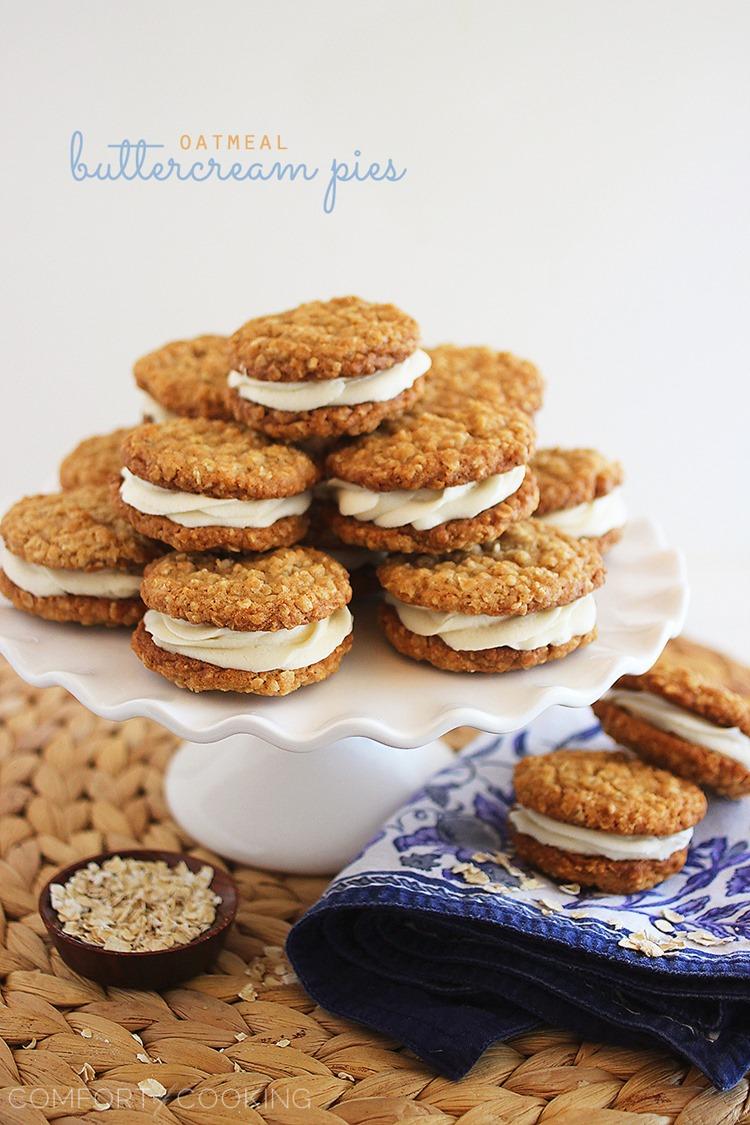 Oatmeal Buttercream Pies
Ingredients
For the Oatmeal Cookies:
1 1/4 cup 2 1/2 sticks butter
1 cup brown sugar, packed
1/2 cup granulated sugar
1 large egg
1 Tablespoon vanilla extract
1 1/2 cups all-purpose flour
1 teaspoon baking soda
1/2 teaspoon salt
1/2 teaspoon ground cinnamon
3 cups quick oats
For the Buttercream Frosting:
1/2 cup 1 stick unsalted butter
2 cups powdered sugar
2 Tablespoons heavy whipping cream
1 teaspoon vanilla extract
Instructions
For the Oatmeal Cookies: Preheat oven to 350 degrees F. Line 2 large cookie sheets with parchment paper.
In a large bowl, or the bowl of a stand mixer fitted with the paddle attachment, beat butter and sugars until well combined, 3-5 minutes. Add egg and vanilla; mix until light and fluffy, about 2 minutes.
Add flour, baking soda, salt and cinnamon to butter mixture. Mix on low speed, just until flour disappears. Stir in quick oats until just combined.
Use a small cookie scoop to portion cookie dough onto prepared sheets. Space about 1 1/2 inches apart. Bake for 7 to 9 minutes, until edges start to turn golden brown. Remove cookies from oven and let sit for 3 minutes. Place cookies on a wire rack to cool completely before frosting.
For the Buttercream Frosting: In a large mixing bowl, beat all ingredients on medium speed until smooth and creamy, 2-3 minutes.
Once cookies have cooled completely, sandwich frosting between two cookies.
Enjoy!