Hearty, healthy and full of fresh flavors! This caprese avocado toast with buttery scrambled eggs makes a scrumptious snack, breakfast, lunch or even dinner. Serve it on toasted baguette slices for an easy, elegant brunch bite.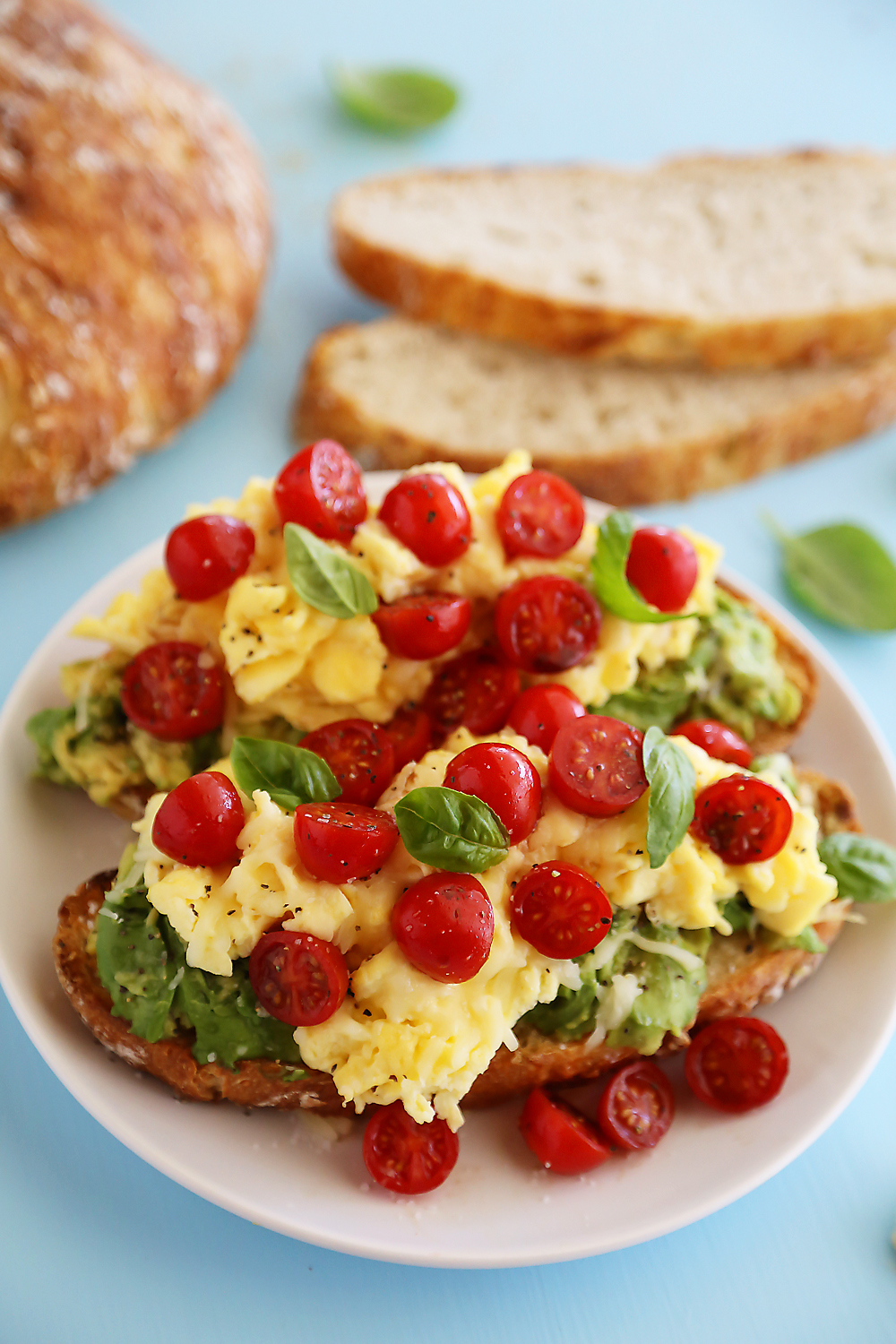 Welcome to Monday, y'all. You deserve something a little better than that microwave sandwich or bowl of mush. You deserve a bright and beautiful breakfast made with fresh, wholesome ingredients like tomatoes, basil, eggs and buttery, crusty artisan bread.
It's delicious. It's easy. It's colorful. It's downright sexy. And it makes your tummy feel good. You get full without that I-can't-ever-eat again feeling, because you will most certainly feel like you can eat another dozen slices of soft, crisp bread slathered with butter and creamy avocado, topped with fluffy eggs and a mouthwatering medley of tomatoes, basil and mozzarella.
How's that bowl of mush sounding now?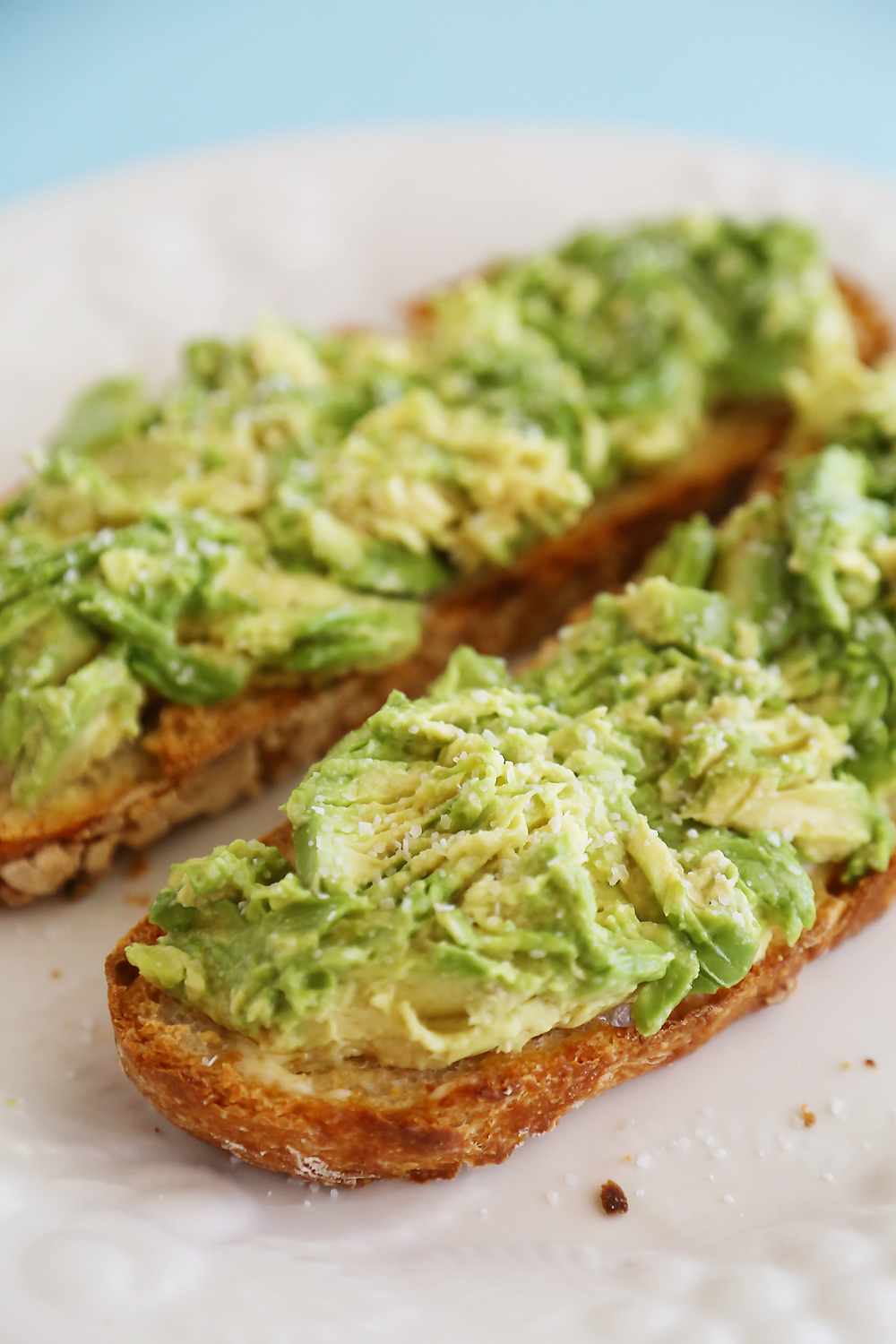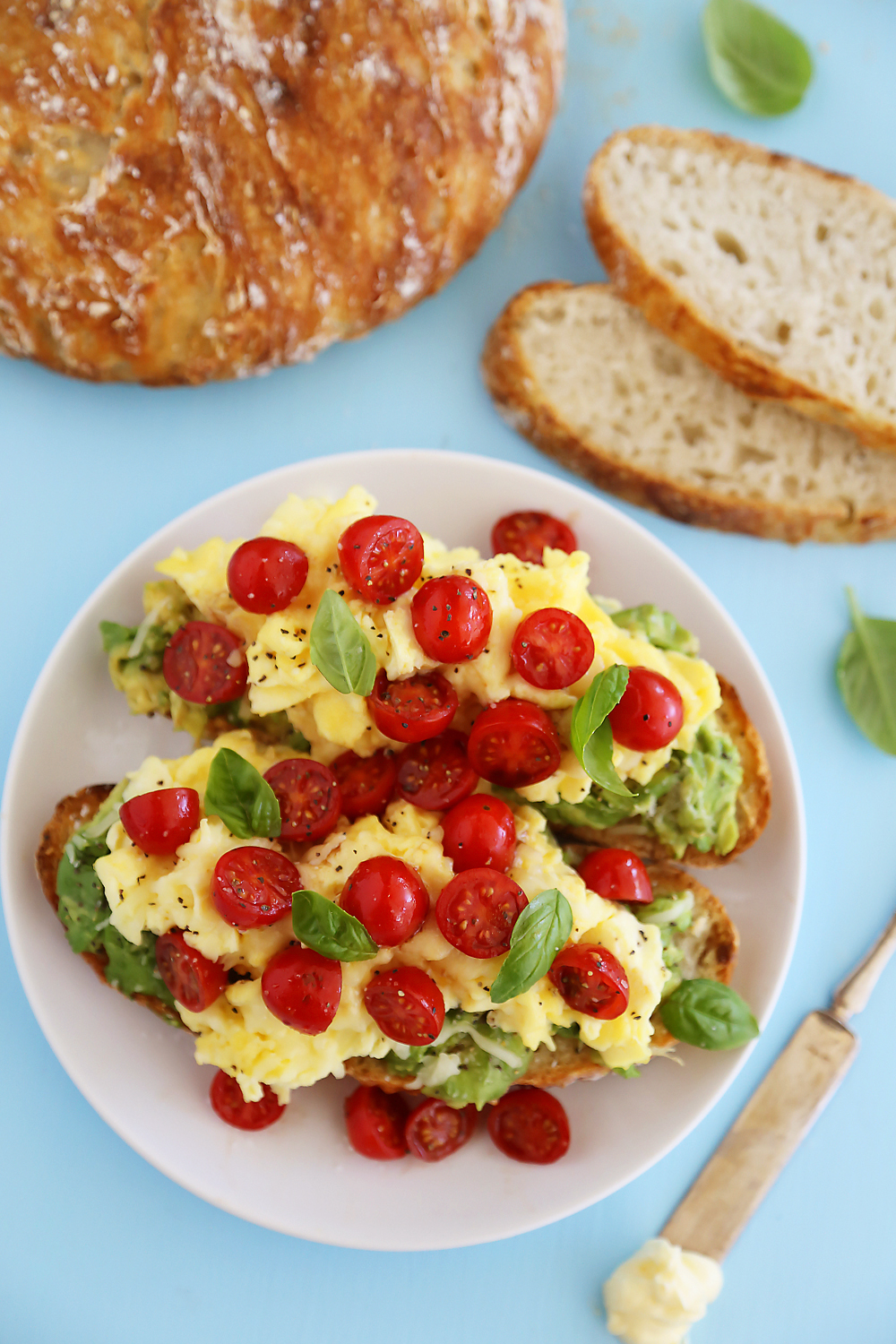 How do you make it? Well, you start with my No-Knead Crusty Artisan Bread (one of my most popular recipes). But, any store-bought loaf of crusty goodness will do.
Slice it, toast it, and butter it. Following along so far? Okay, good. Mash the heck out of a ripe avocado and spread it all over your buttery bread. A little salt. You can also stop right here, because avocado toast = food love.
But, I suggest a pile of pillowy soft scrambled eggs on top. Add them if you're so inclined, or for a veggie-friendly option, skip 'em and go straight to the good stuff – mozzarella, tomatoes and fresh basil. Serve with forks and knives if you're civilized. Or, be like me and whack a slice in half and dig in with your hands. No shame!
Want a healthy, incredibly delish and beauty of a breakfast, lunch or dinner? Make this amazing avocado toast, and it's done!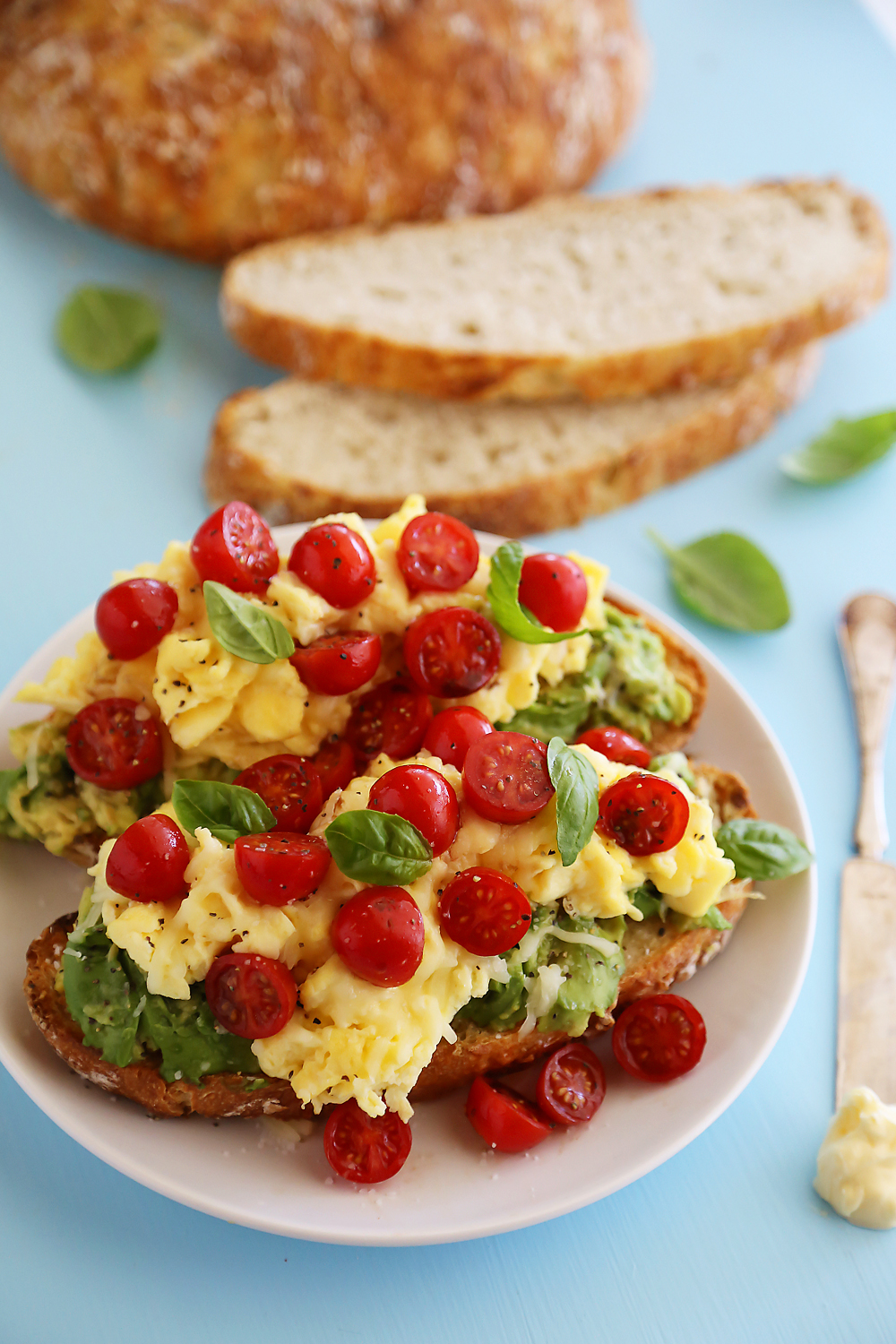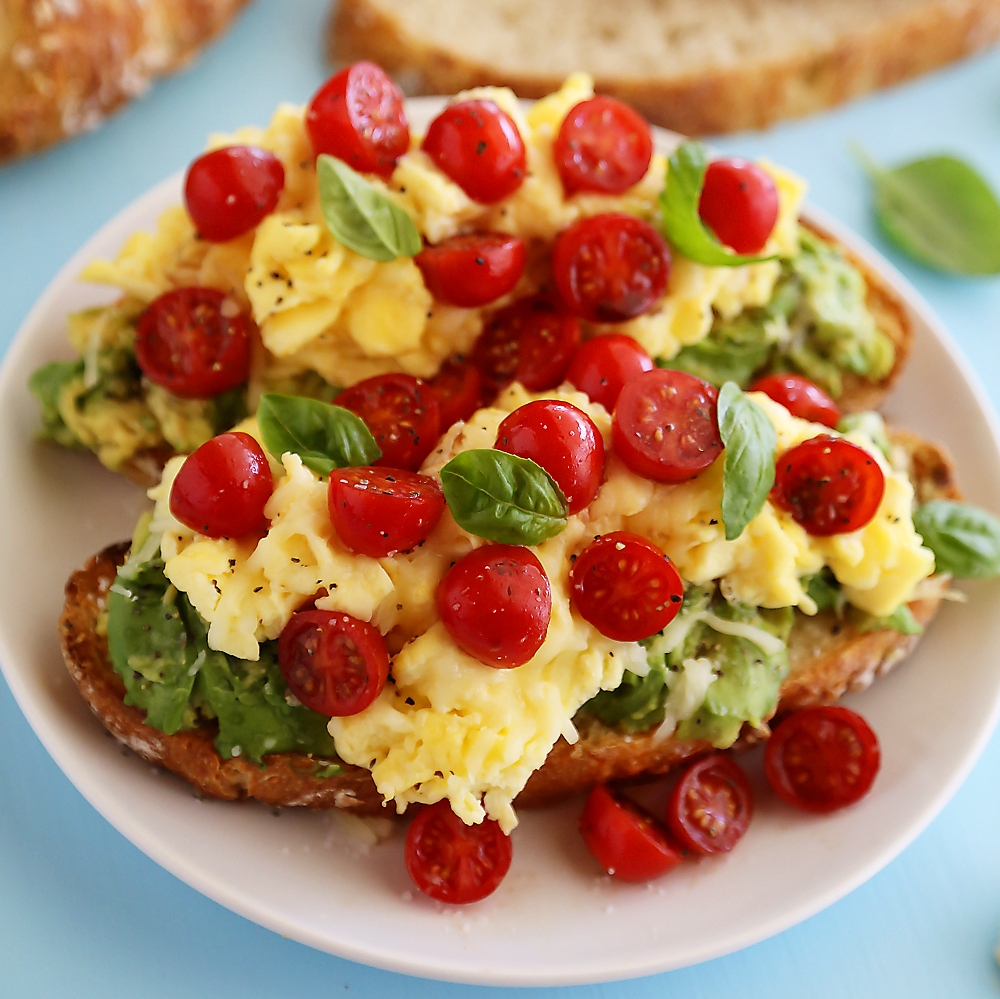 Scrambled Egg Caprese Avocado Toast
Ingredients
4 slices crusty bread, toasted
3 Tablespoons butter, divided
1 medium avocado, halved and mashed
4 large eggs
1/2 cup shredded mozzarella cheese
1 cup cherry or grape tomatoes, halved
1/4 cup fresh basil leaves
Salt and pepper, to taste
Instructions
Toast crusty bread slices. Spread evenly with 1 Tbsp. butter and top with mashed avocado. Sprinkle with a pinch of salt. Set aside.
In a medium bowl, whisk eggs and 1 Tbsp. butter. Small bits of spread will remain in mixture.
In a skillet set to medium heat, melt 1 Tbsp. butter. Add egg mixture and stir frequently, until eggs are thoroughly cooked, about 2 minutes.
Top avocado toast with scrambled egg, shredded mozzarella, tomatoes and fresh basil leaves. Season with salt and pepper, to taste.
Enjoy!