This melt-in-your-mouth marinated steak is delicious, but with an easy, flavorful chimichurri sauce made from fresh herbs, it's incredible!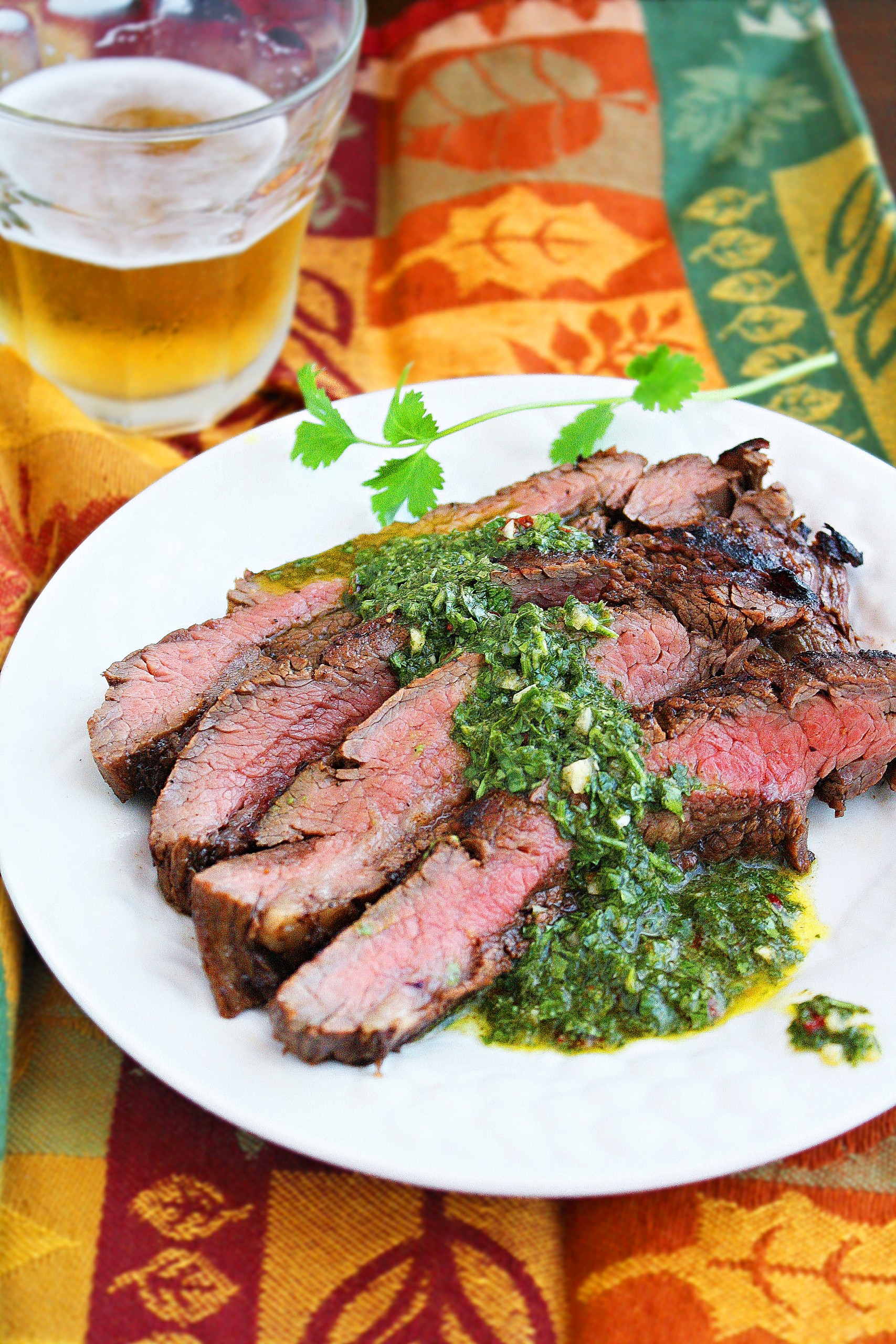 Steak doesn't make it onto our dinner plates too often over here, but when it does we make sure every bite's a bit of mouthwatering bliss! This grilled and marinated flank steak was absolutely irresistible after it popped off the grill, and the chimichurri sauce with fresh herbs and garlic took it from already amazing to incredible.
After letting the steak marinade in a mixture of oil, vinegar, honey and soy sauce, then scoring it and cooking it quickly over high heat, it turned out perfectly tender and juicy. The key to a melt-in-your-mouth piece of meat, though, is letting it rest on your cutting board after cooking, as it continues to cook slightly and redistribute the meat's juices. For plenty of more tips, just click below.
This delicious grilled steak and easy, flavorful Argentinian sauce was definitely one of the best to come out of our kitchen, and I hope it makes it to yours, too! For a special occasion, or just to try something new, you will definitely be satisfied with this scrumptious steak.
Also – the chimichurri sauce makes for a fantastic salad dressing, meat or poultry marinade, and sauce to toss with roasted vegetables.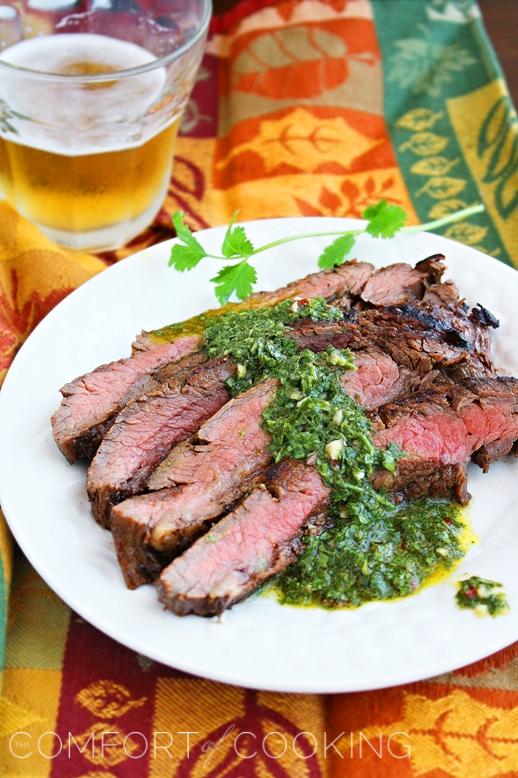 Grilled Marinated Flank Steak with Chimichurri Sauce
Yield:
3 steak servings / sauce makes 1 cup
Ingredients
Grilled Marinated Flank Steak
1/3 cup olive oil
2 cloves garlic, minced
2 Tbsp. red wine vinegar
1/3 cup soy sauce
1/4 cup honey
1/2 teaspoon freshly ground black pepper
Flank steak
Kosher salt
Freshly ground pepper
Chimichurri Sauce
1 cup fresh Italian parsley
1/4 cup fresh cilantro
1/2 cup olive oil
1/4 cup red wine vinegar
3 garlic cloves, peeled
3/4 teaspoon dried crushed red pepper
1/2 teaspoon ground cumin
1/2 teaspoon salt
Instructions
Score both sides of the steak with a sharp knife, making 1/4 inch deep knife cuts an inch apart, across the grain of the meat.
Combine the marinade ingredients. Add steak and marinade to a large freezer bag, seal bag, and turn to coat the steak well. Chill and marinate for at least 1 hour and up to overnight.
Using an olive oil-soaked paper towel, coat your grill rack. Preheat the grill to high direct heat.*
Remove steak from marinade and sprinkle each side generously with coarse salt and freshly ground pepper (this will give you a savory crust). Place steak on the hot grill. If you are using a gas grill, cover the grill. Grill for 2-4 minutes on each side.*
When the steak has cooked to your preferred level of doneness, remove from the grill and place on a cutting board. Cover with aluminum foil and let rest for 10 minutes.*
Make very thin slices, against the grain, and at a slight diagonal so that the slices are wide.
Chimichurri Sauce
Puree all ingredients in a food processor until everything is well blended. Transfer to a bowl and cover until ready to use. (I recommend making this at least an hour in advance of using to let the flavors marinade and intensify.)
Store chimichurri, covered and refrigerated, for up to two days. Before serving, let stand at room temperature.
Enjoy this sauce over chicken, fish, or beef. It's also great tossed with roasted vegetables or salad greens.