Give your favorite guacamole a tropical twist by adding deliciously sweet, smoky grilled pineapple!
If there's one snack I love in the summertime, it's a big, mounding bowl of fresh guacamole and a pile of tortilla chips! Add an ice cold margarita, and now we're talkin'. Add smoky, sweet grilled pineapple chunks to the guacamole and you have my. full. attention.
Whoa, mama.
This fabulous recipe from Foodie Bride, which I adapted to use a grill pan, kicks guacamole up a major notch! Tossing in some sweetness and added texture makes an already good guacamole recipe GREAT, and even if you're skeptical one tortilla-full will have you convinced! Or, taco full. Or, let's just say a heaping mouthful. No time for tacos.
Grab a margarita, a couple of friends who like to share, and a handful of ingredients to try this tasty spin on everyone's favorite summertime snack! It's fresh and easy, a little spicy and full of flavor!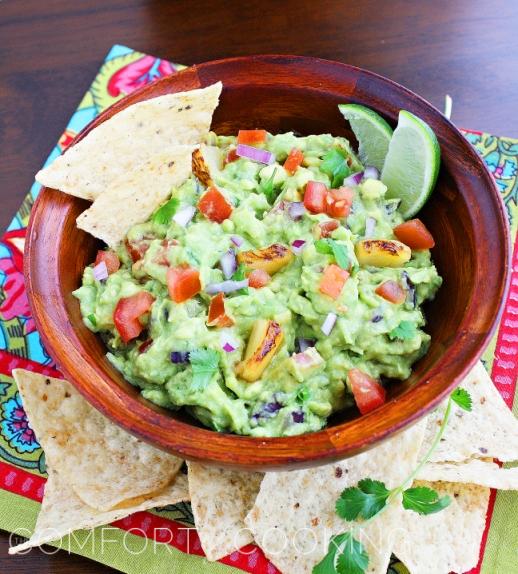 Grilled Pineapple Guacamole
Ingredients
1 tsp. olive oil
Half of 1 (20 oz.) can pineapple chunks
2 large avocados, pitted
1 Roma tomato, diced
1/2 red onion, finely diced
1 jalapeno pepper, seeded and finely diced
1/4 cup chopped cilantro
2 Tbsp. fresh lime juice, from 1 lime
Kosher salt and pepper
Instructions
Preheat grill pan to high heat and drizzle with olive oil.
Add half can pineapple chunks to pan; cook 4-5 minutes total, tossing frequently to lightly brown evenly. Remove pineapple chunks from pan and set aside to cool to room temperature.
Remove avocado flesh from shell and mash with a fork or potato masher. Mix in diced tomato, red onion, jalapeno, chopped cilantro, lime juice, salt and pepper. Gently mix in pineapple chunks.
Serve with tortilla chips, or as a topping to your favorite Mexican meal. Don't forget the margaritas!
Enjoy!