A healthy, protein-packed breakfast made easy! Pile these scrumptious sandwiches with your favorite toppings for a hearty morning meal or lunch.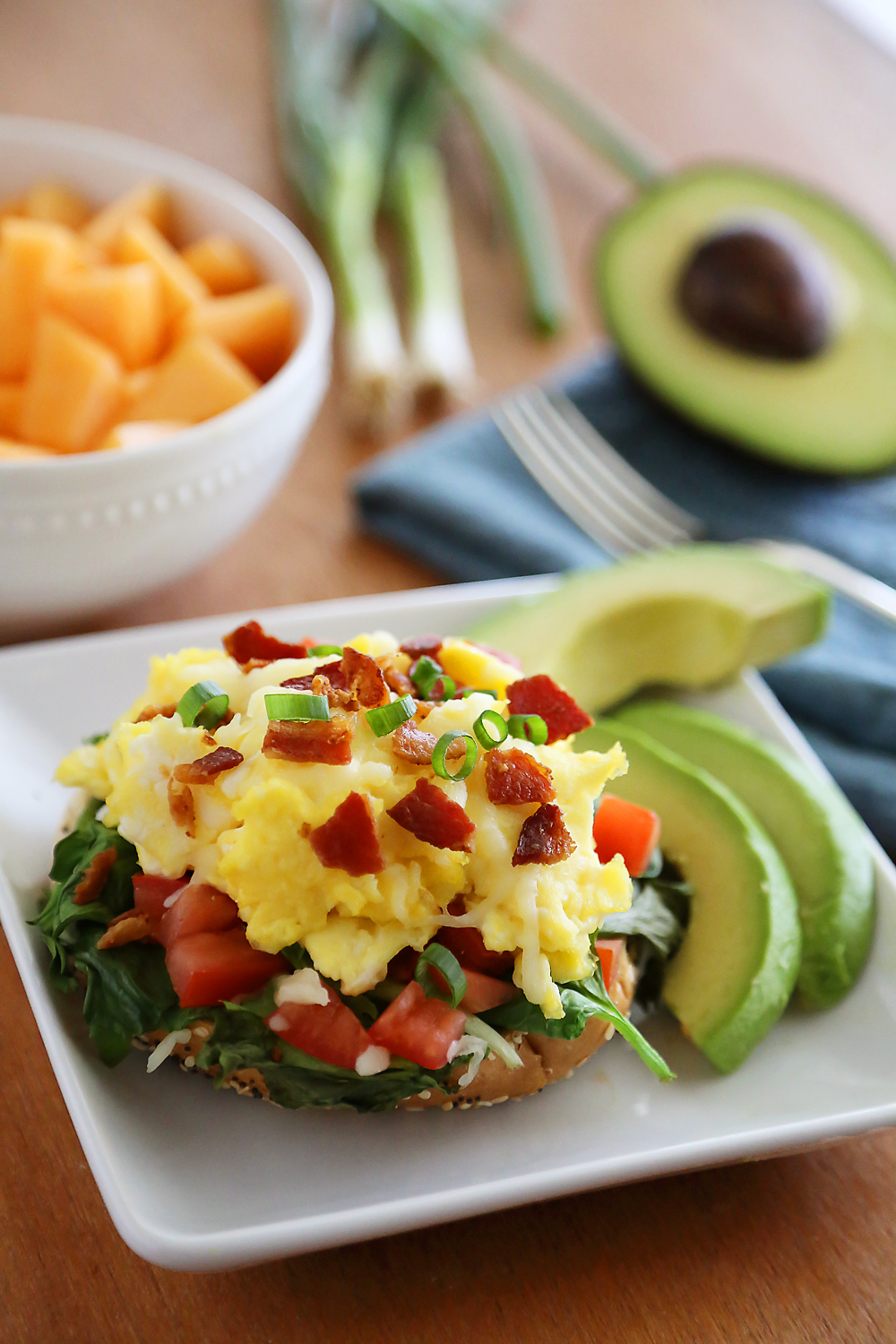 I'm not a coffee drinker (even though a few sips with a donut is irresistible). But, everyone needs their little boost in the morning, and mine is a hearty, high protein breakfast… easy on the carbs. Though the dream breakfast in my head looks like some kind of donut-cinnamon roll-croissant abomination, it's not exactly a recipe for fueling me through the day. So, instead, I turn to my favorite savory combination of half a bagel piled with veggies, scrambled eggs, bacon and a bit of shredded cheddar.
Because if I can't have a donut, I'm definitely going to start my day with cheese instead.
You can make these scrumptious open-faced sandwiches easily on the weekdays by prepping your ingredients ahead of time. Or, cook up a batch fresh for Easter breakfast or brunch!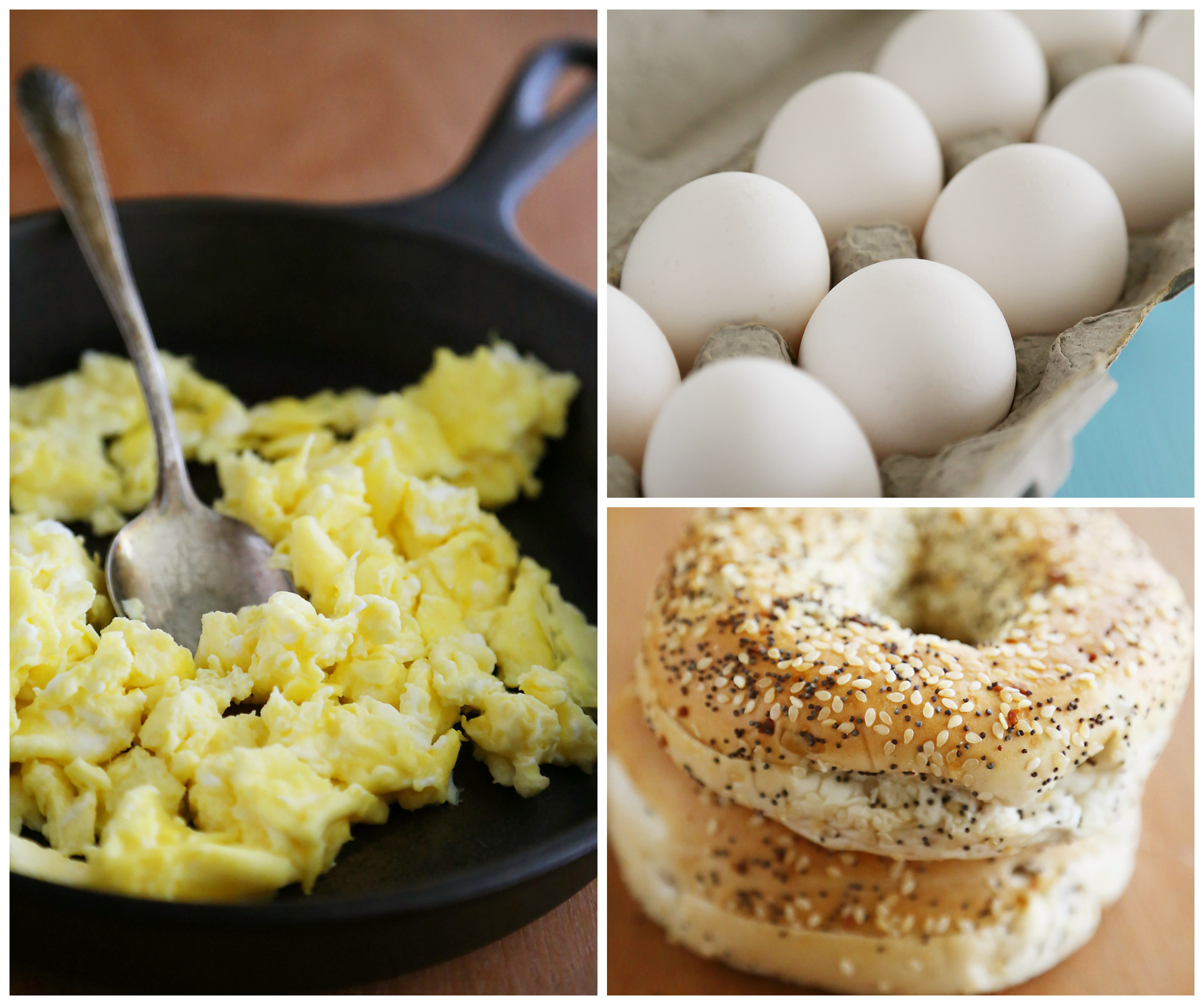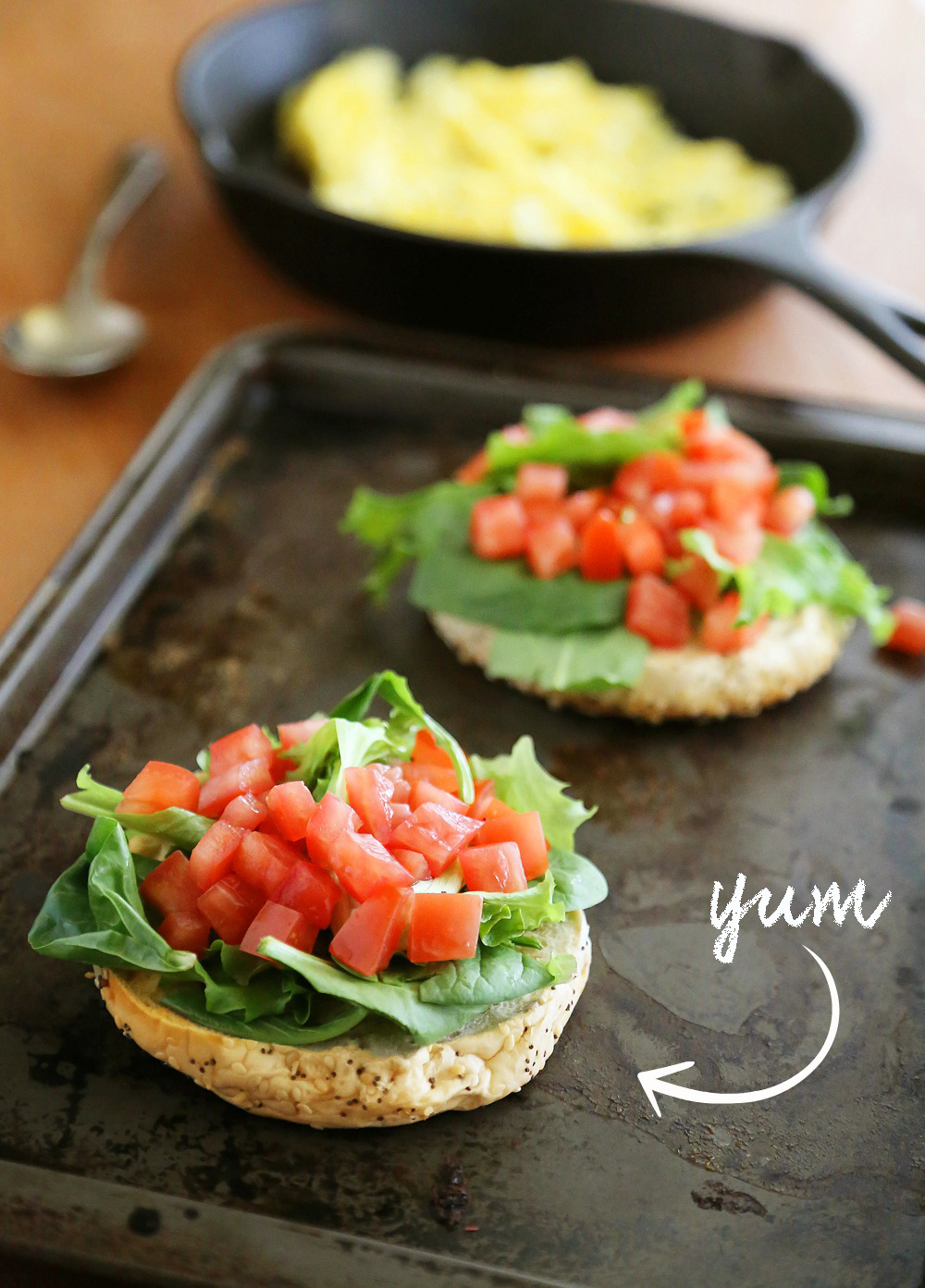 When it comes to most breakfast breads, I'm a minimalist. And most don't need a lot of fuss – just a swipe of salted butter or berry jam. But, I love a Thomas' Everything Bagel, and I love to pile them high with fresh veggies and fluffy eggs. Or, whatever is kicking around my fridge.
These Everything bagels are loaded with fragrant onion and garlic flavor, and coated with poppy seeds and sesame seeds. Toast yours 'til crisp and golden, and you have the perfect chewy canvas for your favorite toppings!
These bagels would also make a delicious, light lunch or dinner. Swap the scramble for turkey or ham, top with a slice of cheese, and pop under your broiler for 1-2 minutes. Melty, gooey goodness in under 10 minutes!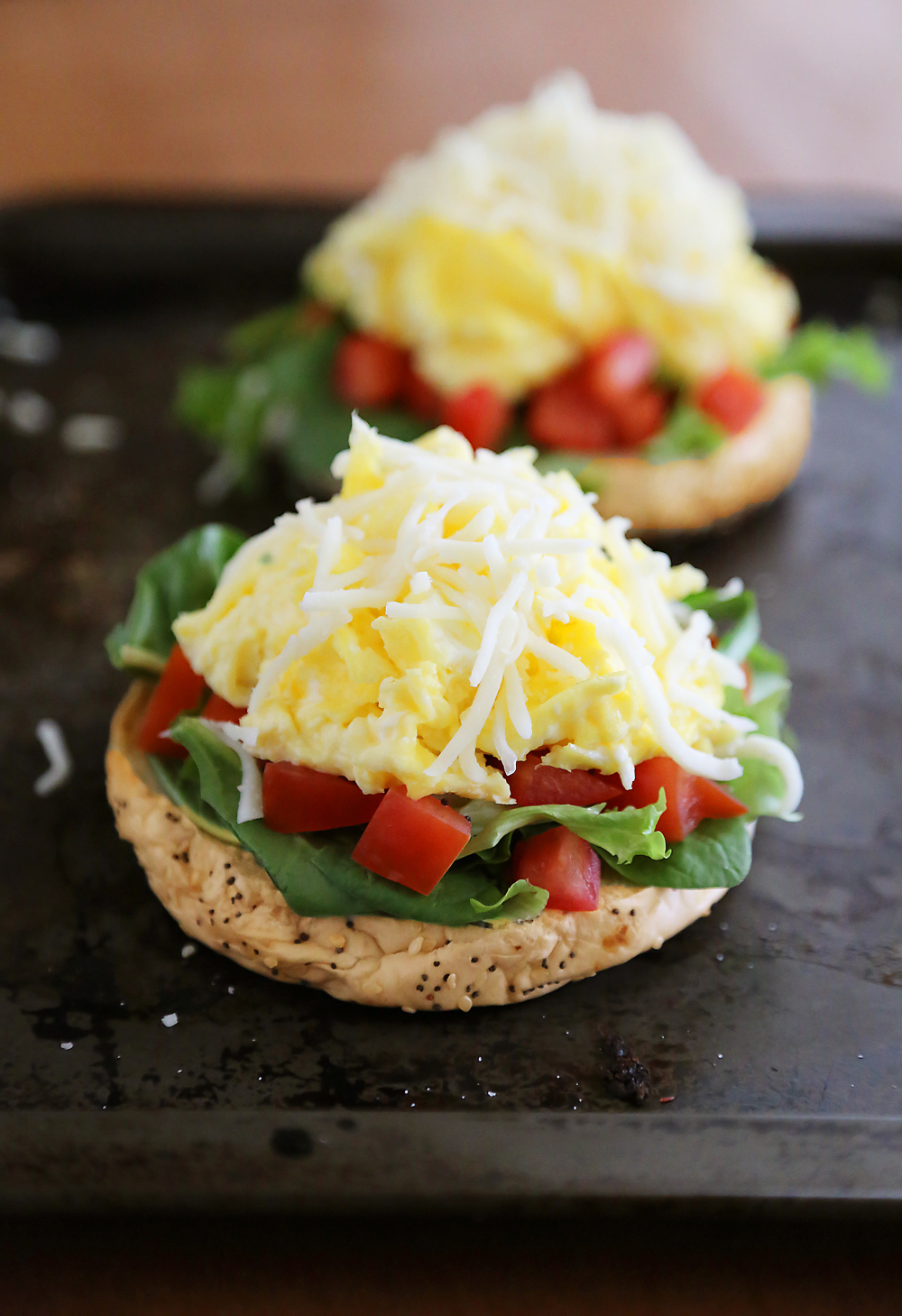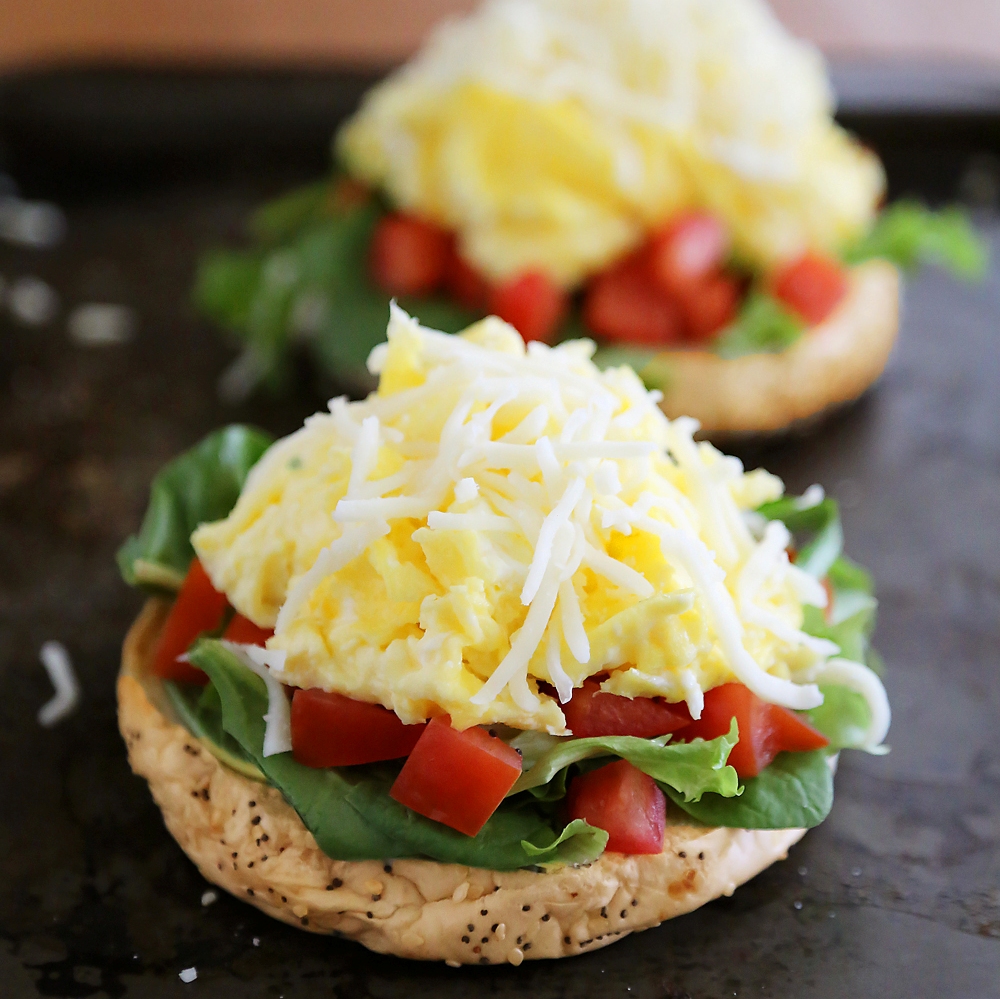 Open-Faced Bagel Breakfast Sandwich
Ingredients
4 slices low-sodium bacon, cooked 'til crisp
4 large eggs
Salt and black pepper, to taste
2 Thomas' Everything Bagels, halved
1 cup fresh greens (spinach, arugula, kale, etc.)
1 medium Roma tomato, chopped
1/2 cup shredded mozzarella or cheddar cheese
1 green onion, chopped
Instructions
Cook bacon until crisp in a skillet set to medium heat, 3-4 minutes per side. Remove strips to a paper towel-lined plate and then crumble. Set aside.
In a medium bowl, beat eggs until well mixed. Set a skillet over medium heat. Once hot, pour in eggs. Cook, stirring frequently, until eggs are set, 3 to 5 minutes. Remove from heat and sprinkle with salt and pepper, to taste.
Toast bagel halves until lightly golden. Top with greens, chopped tomato, scrambled eggs and shredded cheese. Place on a baking sheet.
Preheat broiler. Place sandwiches under hot broiler for 3-4 minutes, or until cheese is melted. Remove from broiler and sprinkle with crumbled bacon and chopped green onion. Serve warm.
Enjoy!