Apples, sugar, butter and puff pastry are all you need for this delicate, delicious apple tarte tatin – a traditional French dessert great for holiday guests!
I'm a list maker. From groceries to everyday to-dos, I've got it on paper and nothing feels better than crossing off a little (or big) accomplishment. My long list of cooking and baking hurdles to jump is something I love to work on, and this delectable Apple Tarte Tatin from Dramatic Pancake had been one I'd been wanting to try since last year.
… And am I ever glad I did!
More than a few times I found myself with the 4 ingredients for the tarte, but rarely with the bravery. I mean, you spend all the time to make the darn thing, then you have to flip it OVER? Klutzy McGee over here doesn't feel too confident about that. Yea, uh-huh, no thanks.
But, armed with a positive attitude and a couple Advil in case it all just went to hell, I did it anyway… and it turned out perfectly!
For a special occasion, or just to try something new, roll up your sleeves and create this incredibly delicious, beautiful tarte. It's precise but fun to make and fantastically impressive to whomever's lucky enough to enjoy it.
Serve it with a little freshly whipped cream or vanilla ice cream for a truly heaven-sent dessert!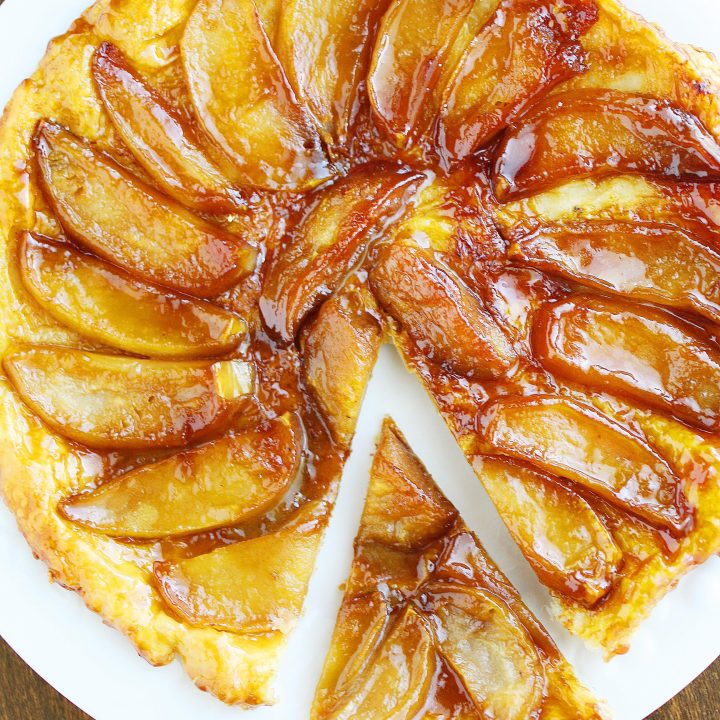 Apple Tarte Tatin
Ingredients
1 sheet puff pastry
1/4 cup salted butter
1/4 cup granulated sugar
4 apples, peeled, cored and quartered (Golden Delicious apples are best)
Instructions
Preheat your oven to 425 degrees F.
On a lightly floured surface, roll puff pastry and trim to fit the size of the pan you will be using for the tart. Wrap in plastic wrap and refrigerate until ready to use.
Heat pan over medium heat and melt the butter. Sprinkle the sugar evenly over the melted butter and cook, stirring occasionally until the mixture is a pale amber color. Remove pan from heat. Place apple quarters in the pan, on their sides, laying from the outer edge in. Fit in as many as possible.
Set pan to medium heat and cook until the apples become golden brown (10 minutes or so). Feel free to lift one out of the pan to check its color. Flip over each apple so the cooked edge faces up and the uncooked edge is face down in the caramel. Continue to cook until the caramel that bubbles up between the apples pieces is dark amber (8-10 more minutes).
Grab trimmed puff pastry from the refrigerator. Cut 4 slits in the pastry to allow steam to escape. Remove pan from stovetop and lay pastry over apples. Place into preheated oven and bake 20 minutes, or until pastry is golden brown.
Carefully remove pan from oven and immediately invert onto a cooling rack. If desired, place a baking sheet under the cooling rack to catch any drips.
Serve warm or at room temperature.
Enjoy!