What is full of ooey-gooey, other-worldly, chocolatey sin but is the most easy dessert on the planet to make and will fool the lucky people who get to eat it into thinking that you are the greatest baker who ever lived? THIS CAKE.
Part of me wishes that I had never discovered how to make these precious little molten chocolate cakes, because shortly after a recent dinner party, I found myself clawing through the pantry for ingredients to make them again (Unfortunately, we had everything I needed). Not my proudest moment! And, to top it off, the scale hasn't been very forgiving since then. But, with newfound self-control (sort of), here I present to you the greatest and, truthfully, the most simple and sinfully delicious dessert in the world.
Unlike souffle, this one doesn't involve perfect timing or careful monitoring. It's very quick and easy to prepare, is more impressive than any cookie, brownie or cake, and will have everyone begging for more. As it is, my husband is already wondering they all went… And he doesn't even like sweets!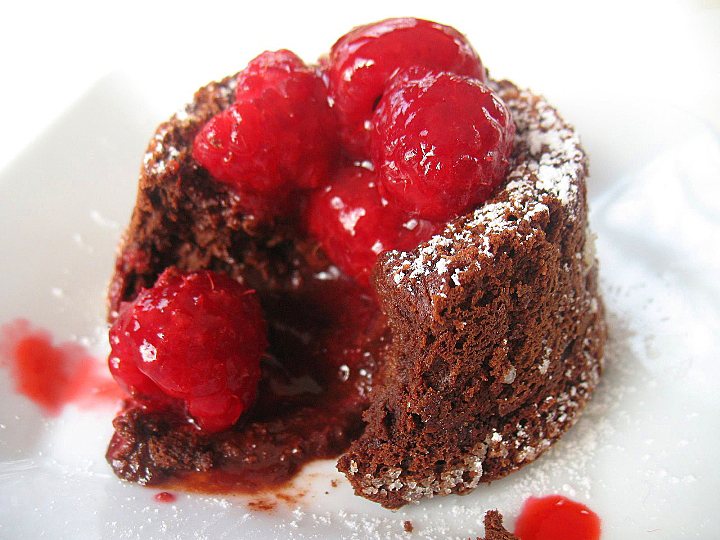 Mini Molten Chocolate Cakes
Ingredients
1 cup unsalted butter or unsalted margarine
8 ounces semisweet chocolate chips or bars, cut into bite-size chunks
5 large eggs
1/2 cup sugar
Pinch of salt
4 tsp. flour
1 6 oz. container raspberries
¼ cup powdered sugar
Instructions
Melt butter and chocolate in a medium heat-proof bowl over a saucepan of simmering water, or in the microwave for about 1:30. Remove from heat. Whisk eggs, sugar and salt in a medium bowl until sugar dissolves. Beat egg mixture into chocolate until smooth. Mix in flour until just combined. (Batter can be made a day ahead; return to room temperature an hour or so before baking.) Put ¼ cup powdered sugar into a small bowl and set aside.
Adjust oven rack to middle position. Heat oven to 450 degrees. Line a standard-size muffin tin (1/2 cup capacity) with muffin papers. Fill each cup to the top with the chocolate mixture.
Bake until batter puffs but center is not set, 8 to 10 minutes. Carefully lift cakes from tin, pull papers away from cakes and transfer cakes to dessert plates.
Sift powdered sugar lightly over each plate. Top each cake with a few berries and serve immediately (I recommend a side of vanilla ice cream!).
Enjoy!