When fall comes around, I tend to see a lot of pumpkin cakes, muffins and pies, but while I love pumpkin treats just as much as the next person, my cold-weather baking is inspired by something entirely different. Apples. I cannot stop eating, slicing, cooking and baking with apples. There's just something about the scent of the sweet, juicy fruit sizzling in a pan with butter and brown sugar that, to me, is quintessentially "fall".
In this easy take on apple turnovers, all you need are two apples, butter, sugar, and a curiosity for making your own caramel. Not to mention everyone's fall favorites, cinnamon and nutmeg, and my new favorite discovery, Pillsbury seamless dough sheets – so simple to work with!
To give you a bit of creative freedom, I separated this recipe into three parts: Caramelizing the apples, assembling the turnovers and making caramel. If you'd like to use pears instead, go ahead. If you prefer a savory filling, show me what you've got. If you like chocolate, go hog wild. Get creative with your fillings – there's no limit to the options!
Here, sliced apples are caramelized with butter, cinnamon, nutmeg and brown sugar, plopped onto eight dough squares, folded over, brushed with egg and baked. Top those turnovers with a splash of homemade caramel, and done. You've got a warm, doughy and delicious fall treat.Just don't ask me how many I had for breakfast this morning. But, do enjoy them for yourself!
Also, head on over to Taste and Tell to check out my interview with Deborah for her new Blogger Spotlight feature! The interview includes a photo of my kitchen, personal stories, and my top tips for fellow food bloggers.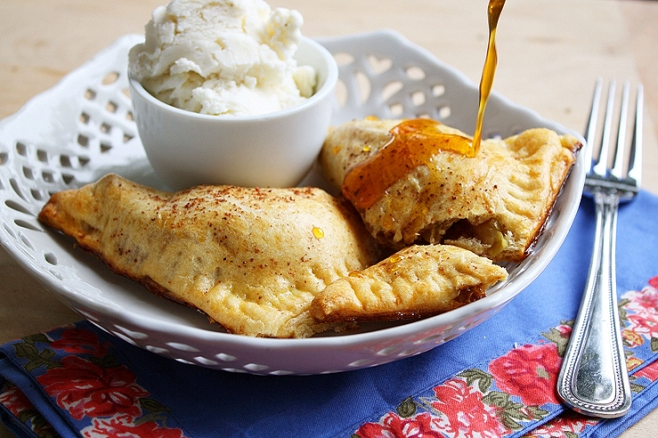 Caramel Apple Turnovers
Ingredients
For caramelized apples:
2 apples, any kind
2 tablespoons butter or margarine
¼ tsp. cinnamon
¼ tsp. nutmeg
2 tablespoons brown sugar
For turnovers:
1 can (8 oz.) refrigerated crescent roll dough or seamless dough sheet
1 large egg
2 tablespoons water
½ teaspoon ground nutmeg
For caramel:
8 tablespoons white sugar
4 tablespoons water
Instructions
To caramelize apples:
Core and slice the apples into ¼-inch thick slices. In a large skillet, heat butter until it is bubbling. Add the apple slices to the skillet and continue to cook over medium-high heat for approximately 5 minutes, or until apples soften and begin to brown. Turn several times to brown evenly. Add the cinnamon, nutmeg and brown sugar, and continue to cook until sugar has melted and started to caramelize. Apple slices should be tender. Set pan aside.
To assemble turnovers: Preheat the oven to 350 degrees. Separate the crescent roll dough into 4 rectangles, then press the perforations together to seal. Cut each rectangle in half to make squares (8 squares in total). If the pieces are not quite square, gently stretch them into shape. If using a seamless dough sheet, cut into 8 squares.
Beat together the egg and water, and brush each square with the mixture.
If using, place 3-4 caramelized apples on one corner-half of each square. Fold the other half of the dough over the filling to form a triangle. Use your fingers or a fork to seal the edges together. Brush the tops with the egg mixture and sprinkle a pinch of nutmeg over each turnover.
Place on an ungreased baking sheet, or a baking sheet lined with a silicone baking mat, and bake for 16 to 19 minutes until golden brown.
To make caramel: Warm a large saucepan over medium heat. Pour sugar into the saucepan. Wait for it to melt (This will take about 5 minutes).
Stir the melting sugar with a wooden spoon until it is completely melted. Stir again for 5 minutes until the melted sugar has turned brown. It should look somewhat like honey. Do not burn it.
Remove the pan from the heat and VERY slowly pour in the water while stirring.
Let the caramel cool down a little. Drizzle over the baked turnovers and serve.
Enjoy!