There is nothing I like more than waking up on a slow, sunny weekend morning and tearing into a sweet and sticky cinnamon roll. My better half prefers a big pile of eggs, bacon and pancakes, but give me one of these – or twelve – and I'll be sitting on a cloud for the rest of the day.
They may be muffins, but the taste and texture is exactly the same of everyone's favorite breakfast treat, the cinnamon roll – soft and ooey-gooey, swirled with warm cinnamon and brown sugar, and topped with a few messy drips of white icing.
A scrumptious cinnamon roll shouldn't have to take hours of preparation and painful waiting for the dough to rise (no patience for sweets here) . . . It should be as easy as, well, making a muffin!
I know you'll be over the moon for these little breakfast treats, just like I am. These marvelous muffins are soft, sweet and full of the same gooey, oh-so-good cinnamon roll goodness that you know and love… They just take MUCH less time to prepare!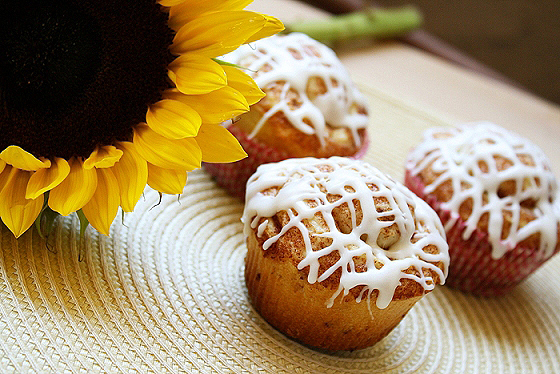 Cinnamon Roll Muffins
Ingredients
1 cup buttermilk
1/2 cup brown sugar
1 tsp. baking soda
1/2 tsp. salt
1/2 tsp. vanilla
1 egg
3 to 3-1/2 cups flour
2 tbsp. butter, room temperature
2/3 cups brown sugar
3/4 tsp. ground cinnamon
1 cup powdered sugar
1-2 tbsp. milk or cream
Instructions
Preheat oven to 375° F.
Measure the brown sugar, baking soda, salt, vanilla and egg into a mixing bowl. Add the buttermilk. Add the flour. Stir until thoroughly combined.
Turn dough out onto a lightly floured surface and knead for a minute or two. Roll the dough into a 12-inch by 24-inch rectangle. Using a rubber spatula, spread with butter. Sprinkle with sugar and cinnamon.
Roll the dough into a log and stretch slightly. Cut into two-inch pieces and put the pieces into greased muffin tins or muffin tins lined with cupcake papers.
Bake for 15 minutes, or until golden brown. Allow the muffins to cool for 5 minutes, and then remove from the muffin tins.
Drizzle with icing (if using) when cool.
Enjoy!