If you're not making this year's Thanksgiving meal, bring a pie but also bring a little breakfast. Breakfast? For Thanksgiving? Nope. Breakfast for your host, who undoubtedly has spent the last week sweating, baking, planning, shopping and anticipating this joyful but sometimes stressful holiday.
Trust me. Except for dishes and Black Friday shopping, they are not going to know what to do with themselves the morning after. I know I'd probably forget to eat breakfast altogether!
A nice homemade breakfast, whether it be this glazed quick bread full of juicy blueberries and tart lemon zest, or a batch of cinnamon roll muffins or maybe this strawberry coffee cake, will always be an appreciated and unexpected way to say "Thank you." Better yet, if you're the host, make a morning-after treat for yourself!
I hope that wherever you are this holiday, whether it's at your own quiet dinner table or surrounded by family or friends, you have a wonderful and happy Thanksgiving, full of laughter, love and good food. Here's to giving thanks for kind, supportive readers like you!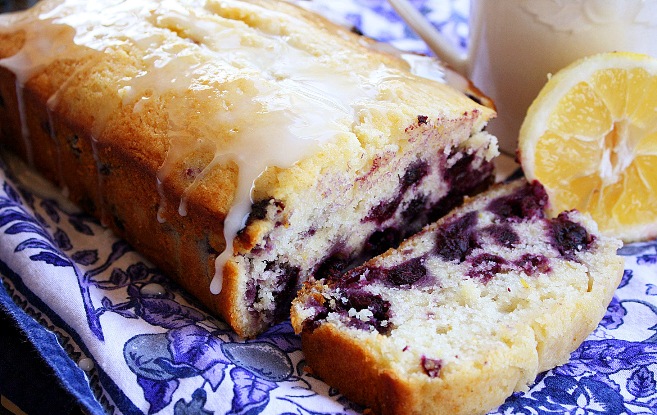 Lemon Blueberry Breakfast Bread
Ingredients
1/3 cup melted butter
1 cup granulated sugar
3 Tablespoons lemon juice
2 large eggs
1-1/2 cups all purpose flour
1 teaspoon baking powder
1 teaspoon salt
1/2 cup milk
2 tablespoons grated lemon zest
1 1/4 cup fresh or frozen blueberries, I used frozen
2 tablespoons lemon juice
1/3 cup powdered sugar, or more, if needed, for thickening
Instructions
Preheat oven to 350 degrees. Coat a 9-inch loaf pan with cooking spray. Cut a piece of parchment paper to fit the bottom of the pan, then spray it with a little additional spray.
In a mixing bowl, beat together butter, 1 cup sugar, 3 tablespoons juice and eggs. Combine flour, baking powder and salt; stir into egg mixture alternately with milk. Beat in lemon zest. Toss blueberries with just enough flour to coat. (This helps keep them evenly distributed throughout rather than sinking to the bottom.) Gently stir blueberries into batter, then pour batter into prepared pan.
Bake in preheated oven for about 50 minutes, or until a toothpick inserted into the center of the loaf comes out clean. (You may want to check at 45 minutes.) Cool bread in pan for 10 minutes.
Meanwhile, combine 2 tablespoons lemon juice and 1/3 cup powdered sugar in a small bowl. Drizzle over warm loaves, using pastry brush to evening distribute. Finish cooling in pan on wire rack. (Note: If you want to take the loaves out of your pan, remove from pan after 10 minutes of cooling and before drizzling with glaze.)
Enjoy!