When family traditions take shape, they seem to do so out of the blue, without warning, planning or even awareness. For example, Wednesday morning breakfasts with my husband. These days, he works a little later than he used to, which is nice because we sleep in a bit later, but we used to have more time together in the evenings. So, as weeks went by, it just happened that every Wednesday morning we'd sleepily slip downstairs and make a big breakfast of pancakes, eggs and bacon together. No explanation. No need for one. But it has become such a lovely, relaxing routine together before the busy day begins.
I hope these breakfasts last for a while, since they allow me to get creative in the kitchen with different breakfasts and flavors of pancakes, like these with pumpkin puree, fresh blueberries, and a combination of rich, cozy fall spices like cinnamon, nutmeg and ginger. Moist, easy to make, and mouthwateringly good!
Topped with a drip of warm pure maple syrup and a sprinkling of powdered sugar, these pumpkin and blueberry pancakes will melt in your mouth. The flavors together are indescribably delicious, but I'll try – the pumpkin is aromatic and lends a light, cakey texture, and the juicy blueberries nestled inside burst with every bite. The syrup is just the cherry on top.
Whether you enjoy these on a weekday or weekend, I hope you make the time to make these scrumptious, simple pancakes with a special someone. We know you'll enjoy them as much as we did on our special Wednesday morning date!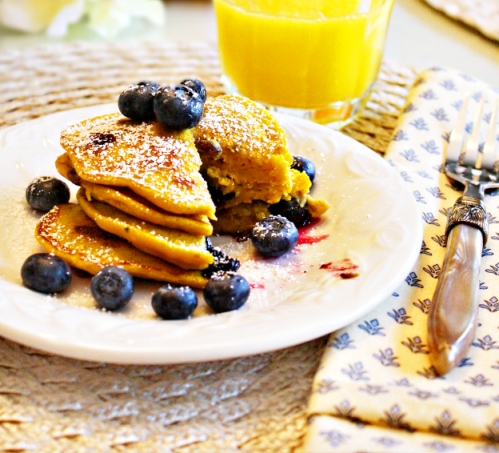 Spiced Pumpkin and Blueberry Pancakes
Ingredients
1¼ cups all-purpose flour
2 tbsp. brown sugar
2 tsp. baking powder
¼ tsp. salt
¾ tsp. ground cinnamon
¼ tsp. ground nutmeg
Dash of ground ginger
Dash of ground cloves
1 cup milk
½ cup pumpkin puree
1 large egg
2 tbsp. vegetable oil or melted butter
¼ cup blueberries, frozen or fresh
Instructions
Preheat the oven to 200˚F. Set aside a baking sheet or oven-safe serving platter.
Whisk together the flour, sugar, baking powder, salt and spices in a medium bowl. In a separate small bowl, combine the milk, pumpkin, egg and oil or butter. Stir into the dry ingredients and mix until just combined.
Heat a greased skillet or griddle over medium heat (325˚F for the griddle). Pour the batter on the griddle or skillet in 1/3 cup portions. Use the back of the spoon or measuring cup to smooth the batter into desired circle shape. Top each pancake with a few blueberries. When bubbles start forming on the top, carefully use a spatula to flip to the other side. Let cook for a few more minutes, until golden brown.
Transfer the pancakes to the baking sheet or oven-safe platter; place in the oven to keep warm until serving. Repeat with the rest of the batter until it has all been cooked, re-greasing the pan as needed. Serve with powdered sugar, maple syrup, and/or butter.
Enjoy!