Yesterday was my birthday, and instead of celebrating with a cake recipe, I broke the big news that I interviewed Kelly Ripa! And, I also stayed in my pajamas for most of the day, talked to my family and friends, and made these incredibly delicious pumpkin walnut cupcakes with spiced cream cheese frosting. Oh, heaven.
To celebrate, my wonderful husband surprised me with an upcoming trip to Boston, which is my favorite place on earth this time of year. The trees turn electric orange, red and yellow, the air is crisp and it's perfectly fun just to spend the day walking through the city. We're going to visit old friends, drink hot chocolate, eat bread bowls of clam chowder, go to my favorite pumpkin patch, wear sweaters and boots, and have an all around lovely time. I can't wait!
But, before I get wrapped up in anticipation for Saturday's flight, it's time to focus on cupcakes! Let me tell you something. These little cupcakes are to die for. They are so moist, fluffy and full of warm spiced pumpkin flavor, and the cream cheese frosting on top is just divine. Yes, I drizzled one with a little caramel syrup, and no, I couldn't help myself. You know you want it.
They are super simple to whip up, too! Just take a bunch of ingredients you probably already have, toss in some pumpkin puree and chopped walnuts, and bake those beauties for 15 minutes. The aroma is rich, spicy and absolutely scrumptious, and the frosted cupcakes are just little bites of heaven on earth. I know you'll agree, and hopefully get a taste of what I love so much about the fall season!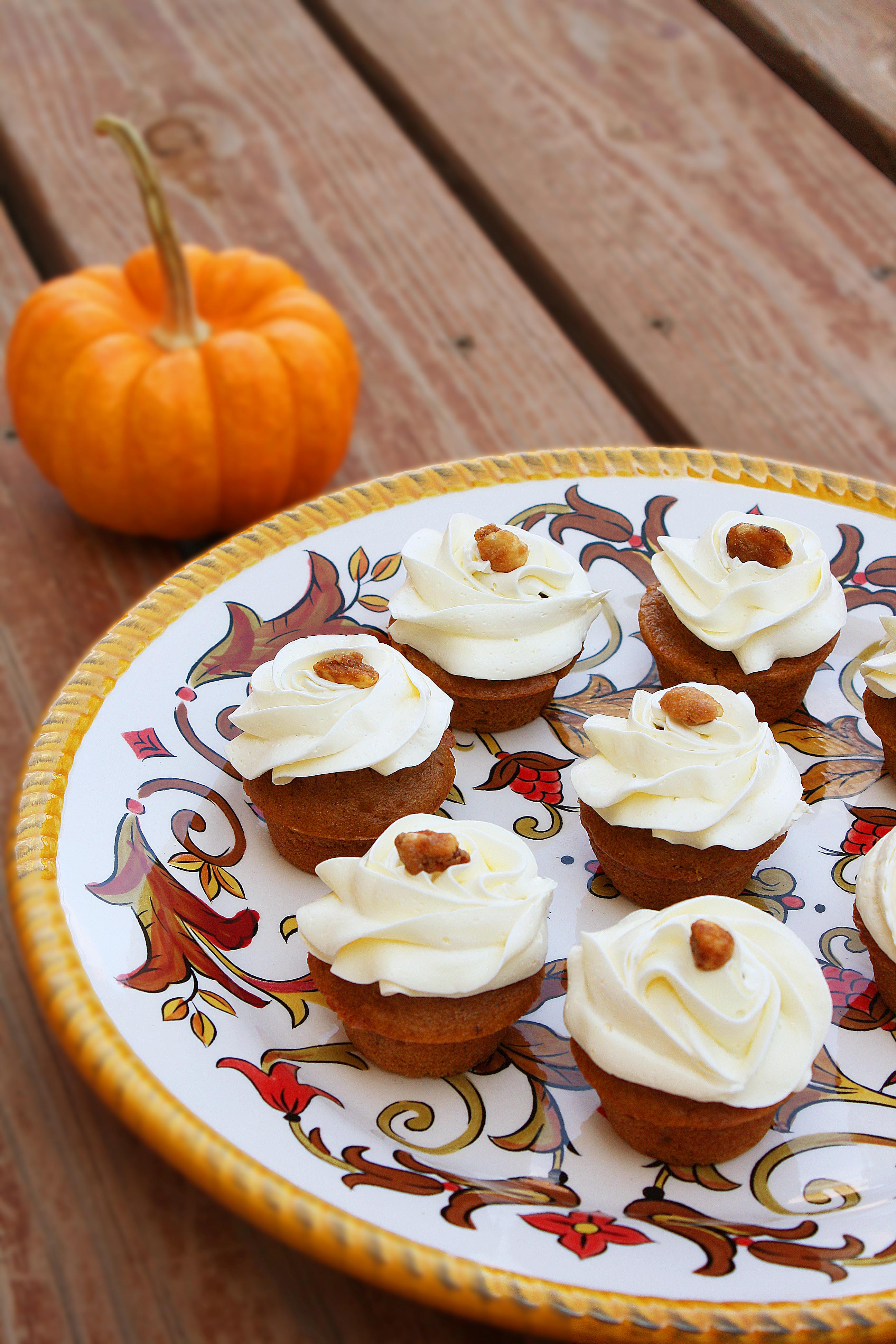 Pumpkin Walnut Cupcakes with Spiced Cream Cheese Frosting
Yield:
24 cupcakes / 3 cups frosting
Ingredients
Pumpkin Walnut Cupcakes
2 1/4 cups all-purpose flour
1 tablespoon baking powder
1/2 teaspoon baking soda
1/2 teaspoon salt
3/4 teaspoon ground cinnamon
1/2 teaspoon ground ginger
1/2 teaspoon ground nutmeg
1/2 cup butter, softened
1 1/3 cups sugar
2 eggs, beaten until frothy
1 cup pumpkin puree
3/4 cup milk
3/4 cup chopped walnuts
Spiced Cream Cheese Frosting
2 8 ounce packages cream cheese, softened
1/2 cup butter, softened
1 teaspoon vanilla extract
2 cups sifted confectioners' sugar
1 1/2 teaspoons cinnamon
1/2 teaspoon nutmeg
Instructions
Pumpkin Walnut Cupcakes
Sift together the flour, baking powder, baking soda, salt, ginger, cinnamon, and nutmeg into a bowl. Cream butter and sugar until light and fluffy; beat in eggs. Blend in mashed pumpkin.
Stir in the sifted dry ingredients alternately with the milk, blending until batter is smooth after each addition; stir in chopped walnuts. Spoon batter into well-greased and floured or paper-lined mini muffin pan cups. Fill about 2/3 full.
Bake at 375° for 15 minutes, or until a wooden pick inserted in center of one cupcake comes out clean. Allow to cool completely, then frost with Spiced Cream Cheese Frosting.
Spiced Cream Cheese Frosting
In a medium bowl, cream together the cream cheese and butter until creamy. Mix in the vanilla, then gradually stir in the confectioners' sugar. Blend in cinnamon and nutmeg until well distributed.
Frost cupcakes as desired (I used a Wilton 1M tip), or store in the refrigerator until ready to use.
Enjoy!