I'm an honest kind of gal, so here goes. I really love raw cookie dough and often find it hard not to lick the spoon. I know, gross, but I can't help it! It's one of my few vices and darnit, a good girl needs to be bad once in a while.
What I love the most, though, is chocolate chip cookie dough. It's so soft, fluffy, light and subtly sweet, just like these wonderful brown sugar cookies. Simple sugar cookies have always been my favorite, but these are like a sugar cookie/chocolate chip hybrid. In a word: Dreamy, decadent and delicious!
These cookies come together easily, and there's no rolling required, so you can mix them up and have them hot out of the oven in about 20 minutes. I don't make cookies too often, but when I do, they've gotta be soft, slightly crisp yet chewy, and perfect dunked into a glass of milk! If you're like me, all of your cookie cravings will be fulfilled with the simple, scrumptious flavor and texture of these little treats.
Oh yea, and they make incredibly yummy cookie sandwiches!
I think the fleur de sel (which is a coarse French salt) sprinkled on top really brings out the sweet flavor of the brown sugar. However, if you're not sure it's your thing, try it on one cookie and see. If not, feel free to omit it altogether. The sweet-and-salty combo isn't for everyone!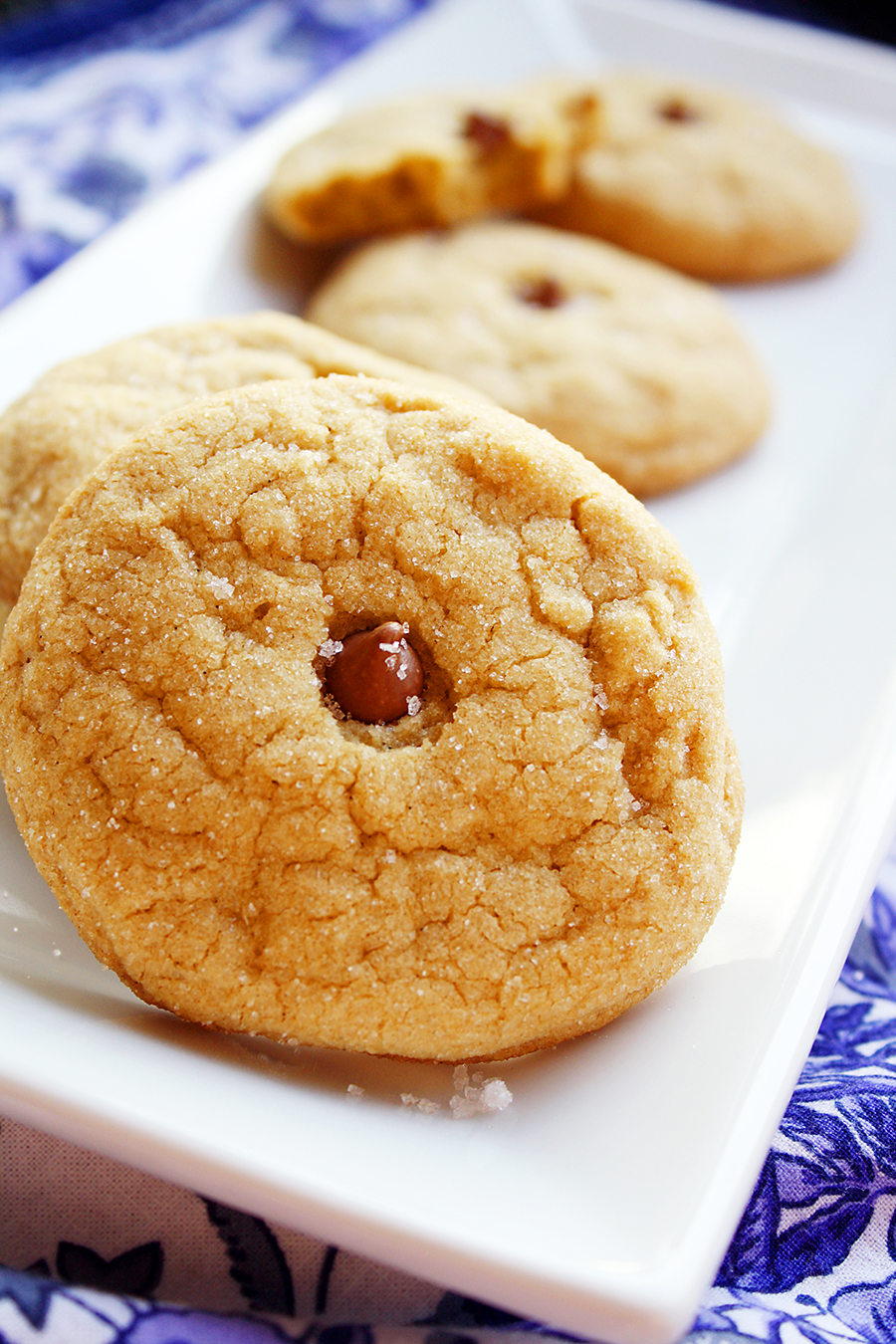 Brown Sugar Cookies with Fleur de Sel
Ingredients
1 1/4 cups all purpose flour
1/4 tsp. baking powder
1/4 tsp. baking soda
1/4 tsp. salt
1/2 cup butter
3/4 cups brown sugar, any kind
1 large egg
1 tsp. vanilla extract
2 Tbsp. sugar, for topping
Chocolate chips, optional
Fleur de sel or coarse sea salt, optional
Instructions
Preheat oven to 350 F degrees. Line a baking sheet with parchment paper.
In a medium bowl, whisk together flour, baking powder, baking soda and salt.
In a large bowl, cream together butter and brown sugar until light and fluffy. Beat in egg, followed by vanilla extract. Gradually blend in the flour mixture until dough comes together and no streaks of dry ingredients remain.
Place sugar in a small bowl. Shape dough into 1-inch balls and roll in sugar before placing on baking sheet. Allow about 2 inches between cookies to allow for spread.
Bake for 11-14 minutes, until cookies are set and very lightly browned around the edges.
Allow cookies to cool on baking sheet for 3-4 minutes, then transfer to a wire rack to cool completely. If desired, press a chocolate chip in the center of each cookie and/or sprinkle with a little fleur de sel or coarse sea salt. Store in an airtight container.
Enjoy!