Last week, my local market had eggplants for $1 so I picked up a few. Idealess but determined to make something simple and delicious out of the lovely purple veggies, I scoured my favorite sources for recipes. And then, a light bulb! Saucy, gooey, hearty eggplant parmigiana was calling my name, and I put it on the menu for Sunday night.
Now, it's not easy to convince my husband to try a meatless meal, but we both practically licked our plates clean with this one. I couldn't help but feel like the parmigiana needed a little crunch, though, so I toasted a split baguette, topped it with a little olive oil and garlic, and scooped the saucy vegetables on top. The result: Incredible taste and texture! Like a big piece of bruschetta for dinner, with a warm and flavorful topping of eggplant, mozzarella, tomato sauce and fresh basil.
To help you slice the baguette correctly without losing a finger or your patience, here's a little visual:
Not too hard, right? Just take your whole baguette, cut it in half, stand the halves up on their ends and carefully slice them down the middle. I'm already dreaming of the French bread pizzas I want to make with the leftovers…
If you like this recipe but still want to sink your teeth into a meatier option, layer in some sautéed ground beef or turkey when you assemble the parmigiana. That should make you and your meat-lovin' man plenty happy!
You could also cut the baguette into individual slices, for appetizers, and top each with a scoop of the eggplant. Sprinkle them each with a little basil and Parmesan… adorable and delish!
For a special weekend meal to celebrate our last few days in California, this delicious and comforting eggplant parmigiana couldn't have been a better option. I know you will love it, too, and find it a hearty yet light and delicious meal for the summer months ahead!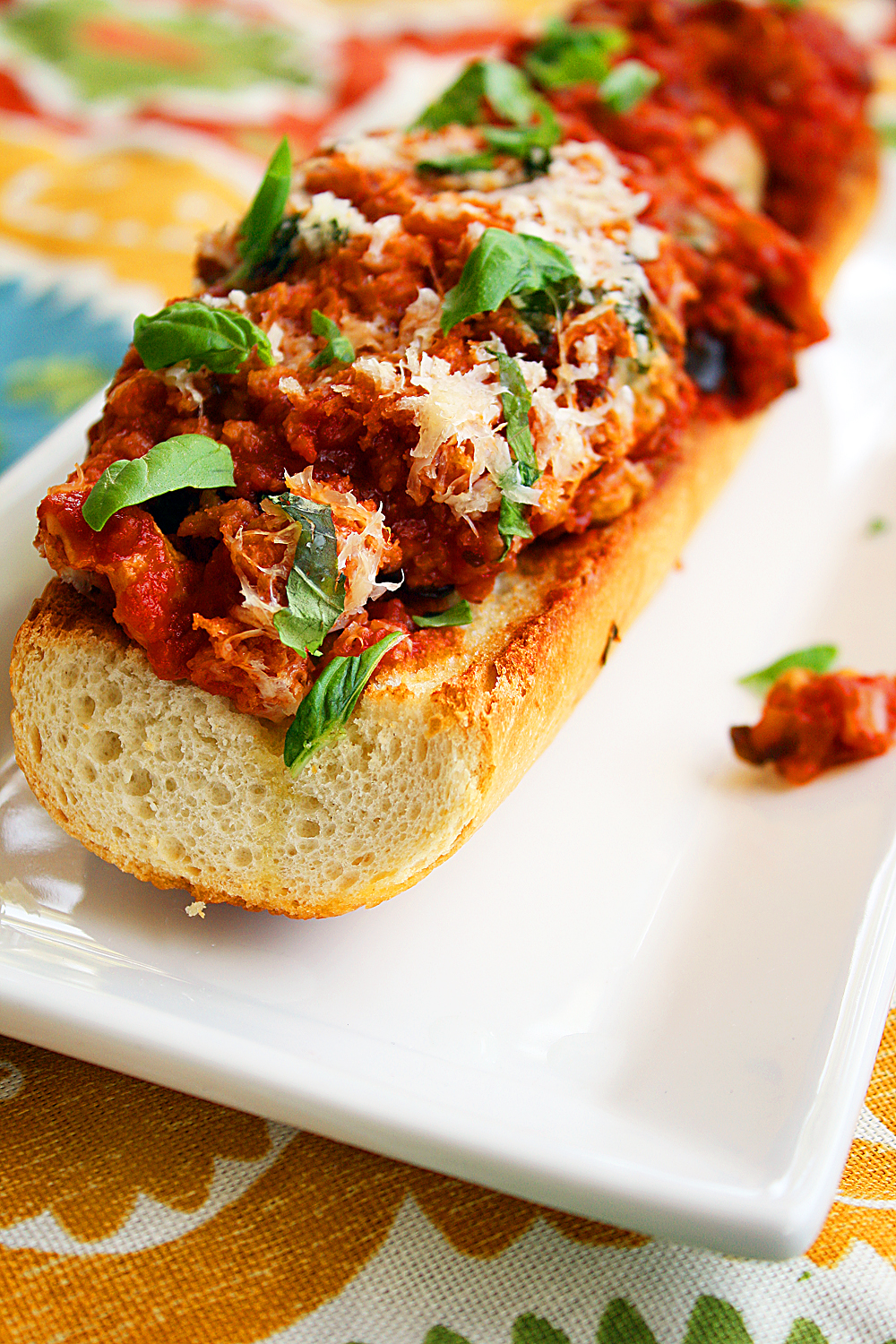 Eggplant Parmigiana on a Toasted Baguette
Ingredients
1/4 cup extra-virgin olive oil, plus more for baking sheet and bread
2 large eggplant, about 2 pounds
Salt and pepper
2 cups tomato sauce, homemade or store bought
1 bunch, 10-15 fresh basil leaves, chiffonade
1/2 pound fresh mozzarella, sliced 1/8-inch thick
1/3 cup freshly grated Parmigiano-Reggiano
1/4 cup fresh bread crumbs, lightly toasted under broiler
1 French baguette
1/2 tsp. garlic powder
Instructions
Preheat the oven to 450 degrees F. Cover a baking sheet with aluminum foil and drizzle the sheet with a little olive oil.
Slice each eggplant into rounds 1 to 1 1/2 inches thick. Lightly season each disk with salt and pepper and place on the oiled sheet. Bake the eggplant at 450 degrees F until the slices begin turning deep brown on top, about 12-15 minutes. Remove the eggplants from the oven and set aside.
Lower oven temperature to 400 degrees F. Coat a 9 x 13-inch pan with ¼ cup of tomato sauce. Top with one layer of eggplant slices. Over each slice, spread tomato sauce and a sprinkle of basil, one slice of mozzarella and a sprinkle of grated Parmigiano. Repeat the layering again until all the ingredients are used.
Set aside. Sprinkle the toasted bread crumbs over the top of the eggplant dish, and bake uncovered until the cheese is melted and the tops turn light brown, about 25 minutes.
Towards the end of the cooking time, cut the baguette in half once, then split in halves in half vertically (see post pictures for a guide). Top with a drizzle of olive oil and a sprinkle of garlic powder, and toast under a broiler for about 4 minutes, or until golden brown. Top with cooked eggplant parmigiana and serve immediately.
Enjoy!