With a light, lemony butter-white wine sauce and blistered tomatoes, this crispy chicken scallopini is irresistibly delish! Cook this easy but elegant dish for a weeknight meal, and serve with your favorite pasta and a salad. So yummy!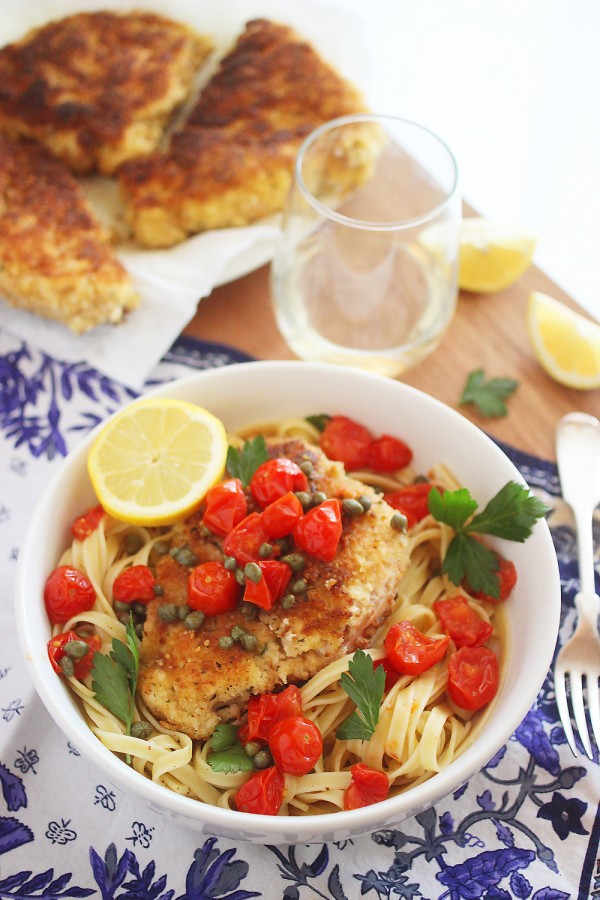 I've always preferred the winter months for a variety of reasons. Namely, the break from the blistering summer sun in Texas, swapping my short sleeves for cozy, fleecy sweaters, and cuddling up with mugs of hot cocoa. I just think winter is lovely, at least in my part of the world. However, the hearty stews, casseroles and roasts that encapsulate the season seem to lack the punchy, vibrant colors of warmer weather meals. So, I like to incorporate a little bit of spring and summer brightness into my cold weather cooking. Which is convenient, because winter is citrus season!
My thermostat may be frosty, but it's nice and warm in here! Today, we're cooking a tender, crispy chicken scallopini with tomatoes, capers and a smooth, lemony butter and white wine sauce. Perfect for special occasions, and weeknights that call for an easy yet elegant homemade meal.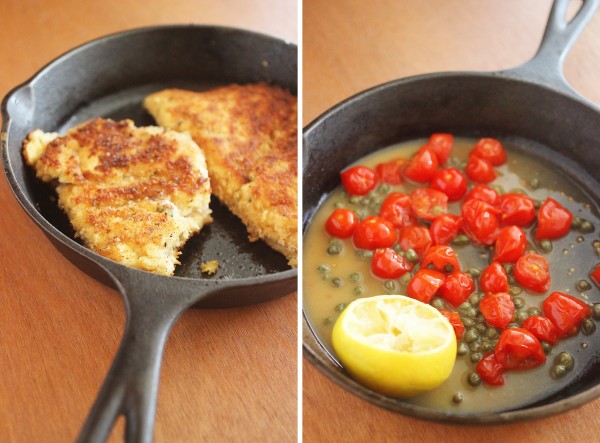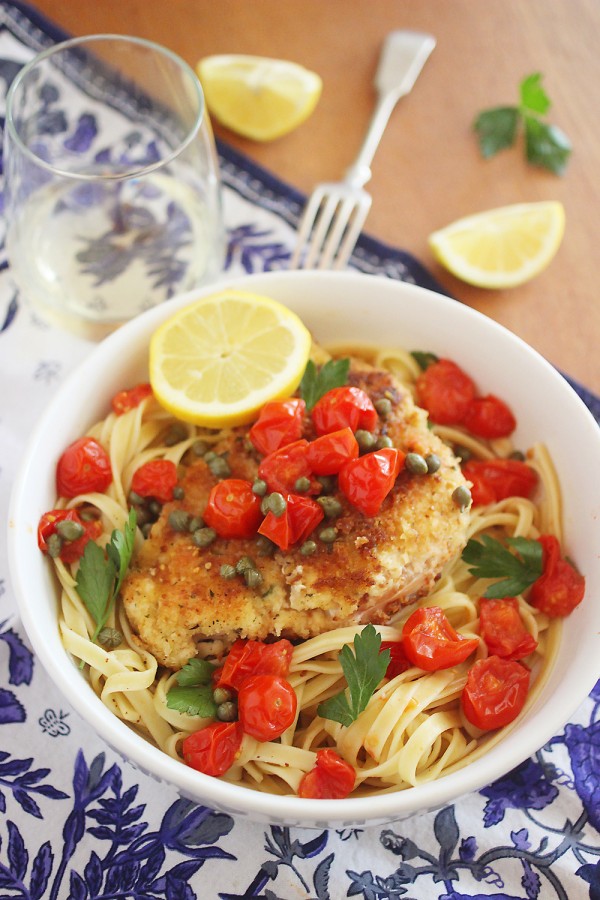 One of my favorite refreshing sips and year round cooking staples is white wine. Barefoot Wine has a wonderful Pinot Grigio with tart apple and peach notes. The velvety, buttery lemon sauce that the wine simmered up paired perfectly with this chicken. It also makes a nice addition to spicy pasta dishes, and a scrumptious sip on the side of pizzas.
I always say you should cook with a wine you really like the taste of. So, since I know you'll love this one, pick up a bottle to cook with and have a glass while you work! Just save some to savor with your meal. This chicken and wine taste so incredible together!
I know you'll love this simple, irresistibly crispy chicken served over your favorite pasta, and smothered with sweet tomatoes and tangy capers. Scoot a salad and some lemon wedges alongside, and your delicious (and colorful) dinner is done!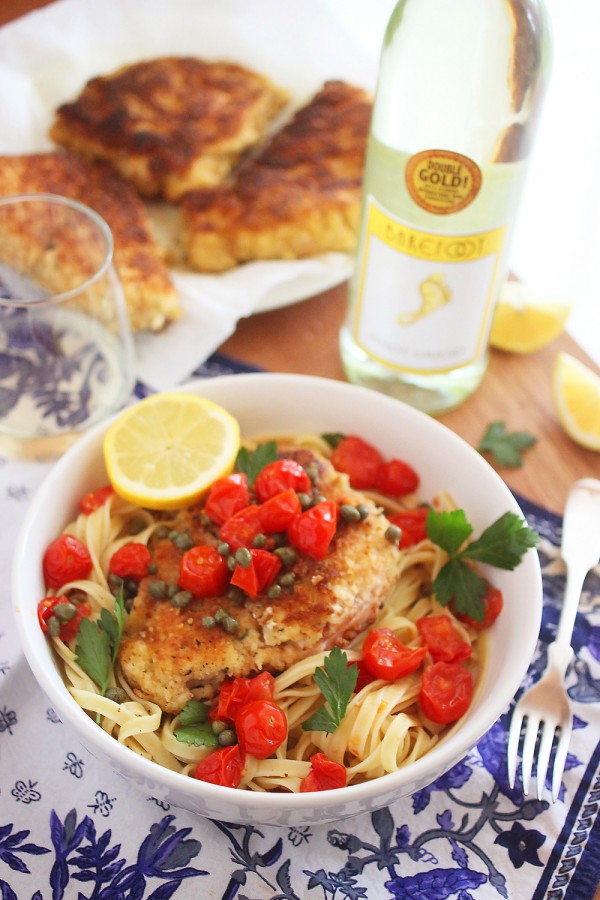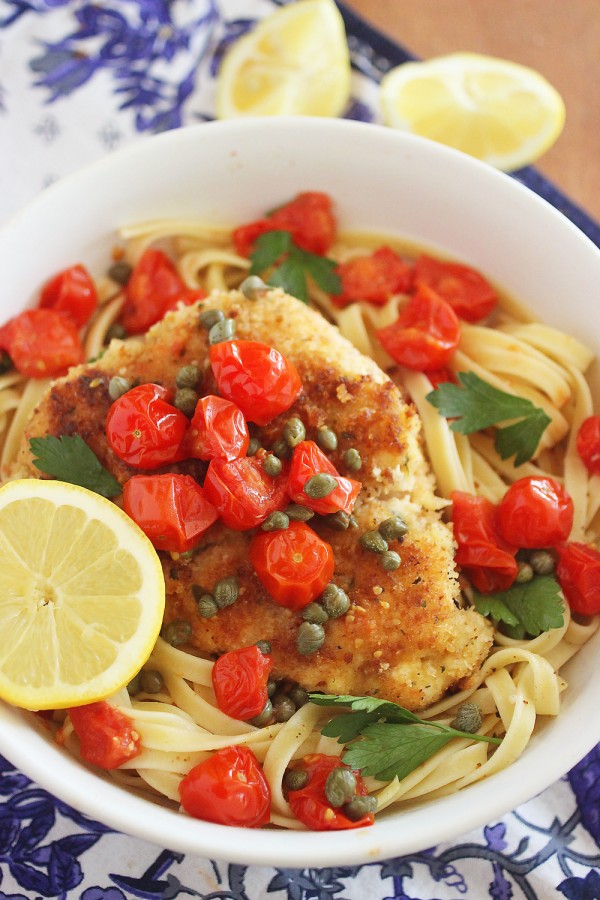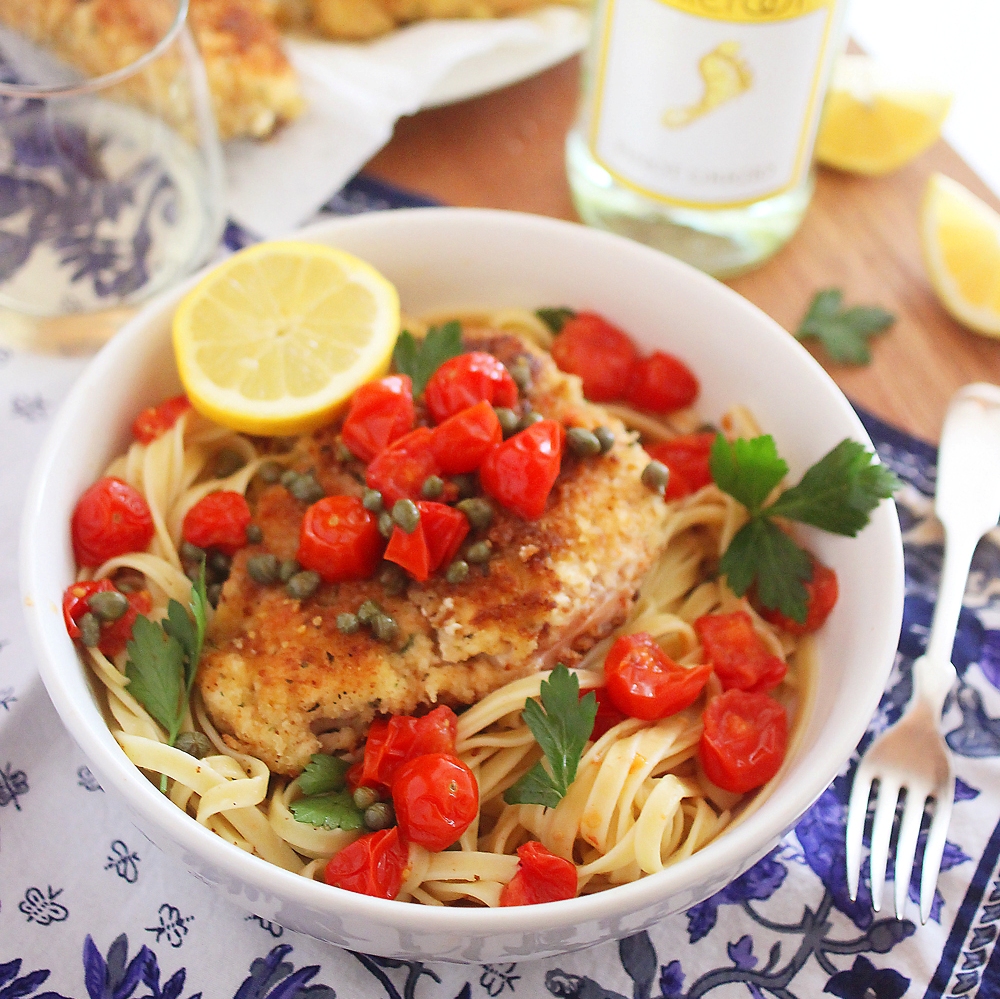 Crispy Chicken Scallopini with Tomatoes in a Lemon-Butter White Wine Sauce
Ingredients
For Chicken Scallopini:
4 4 ounce chicken cutlets, pounded 1/4-inch thick
Kosher salt and freshly cracked black pepper
1/2 cup all purpose flour
2 large eggs, beaten
1 cup Italian-seasoned breadcrumbs
6 Tablespoons olive oil, divided
For Lemon-Butter White Wine Sauce:
1/2 cup low-sodium chicken broth
1/4 cup Barefoot White Wine, I used Pinot Grigio
1 cup halved cherry tomatoes
1 Tablespoon butter
3 teaspoons fresh lemon juice
4 teaspoons capers
For serving:
Hot cooked pasta
2 Tablespoons chopped parsley or basil
Instructions
For Chicken Scallopini:
Pat chicken dry with paper towels and season with salt and pepper. Arrange separate shallow dishes with flour, beaten eggs and panko breadcrumbs. Working 1 chicken cutlet at a time, dredge in flour, dip in egg, then coat with breadcrumbs, pressing gently to adhere.
Heat 3 Tablespoons oil in a large nonstick skillet set to medium heat. Once hot, cook 2 cutlets at a time until golden brown and crisp, 3-4 minutes per side. Transfer to a paper towel-lined plate and place in a warm oven (170-200 degrees). Repeat with 3 Tablespoons oil and remaining cutlets. Keep warm.
For Lemon-Butter White Wine Sauce:
Increase heat to medium-high and add broth, wine and tomatoes. Bring to a simmer; cook 4-5 minutes, stirring frequently. Remove from heat. Stir in butter, lemon juice and capers.
For serving:
Place chicken cutlets on top of hot cooked pasta, and pour lemon-butter sauce and tomatoes over top. Sprinkle with chopped parsley.
Enjoy!