Soft tortellini and smoky sausage smothered in a creamy tomato sauce make this 7-ingredient skillet meal one of our faves! So easy, quick and delicious for weeknight dinners. Just sprinkle with Parmesan and add a salad!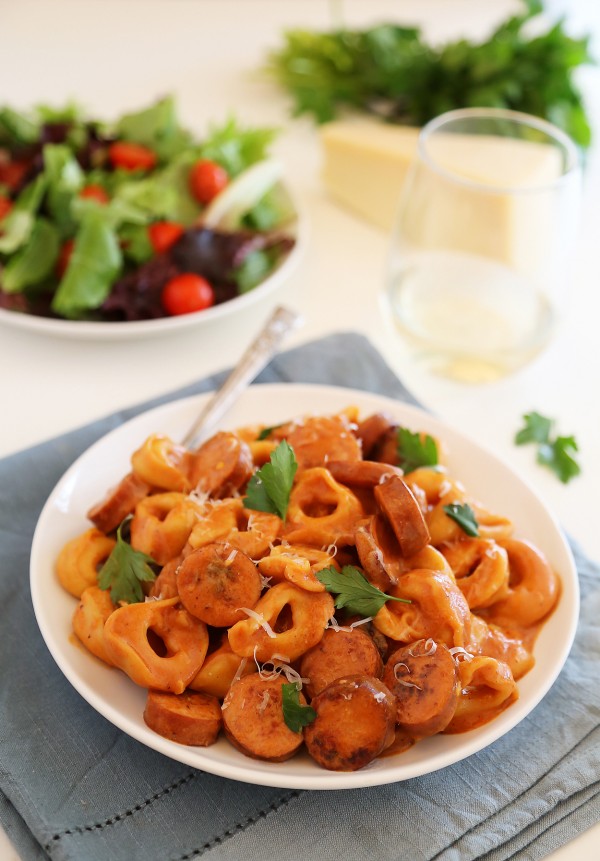 Amidst our sticky hot Southern summers, the merciful days of a chilly breeze feel so far away. However, our winter has arrived as best it knows how, with the sun still beaming and a gentle wind that washes over you as you walk. Want a clearer picture? The way Austin welcomes the New Year goes like this: You can sit on a restaurant patio with a glass of wine. You can stroll the streets with shopping bags swinging on your arm. You can leash your dog up for a long, leaf-crunching hike.
It. is. lovely.
But, when the sun starts to set, it gets chilly and you head on home. You settle in for the night and pull on a cozy sweater. And you decide that it is definitely time for a warm bowl of stick-to-your-ribs pasta.
Well, that's true wherever you live in the world, really. So, I have just the ticket for you. It's quick. It's so easy. And it is full of homemade, belly filling goodness that everyone, everywhere will love.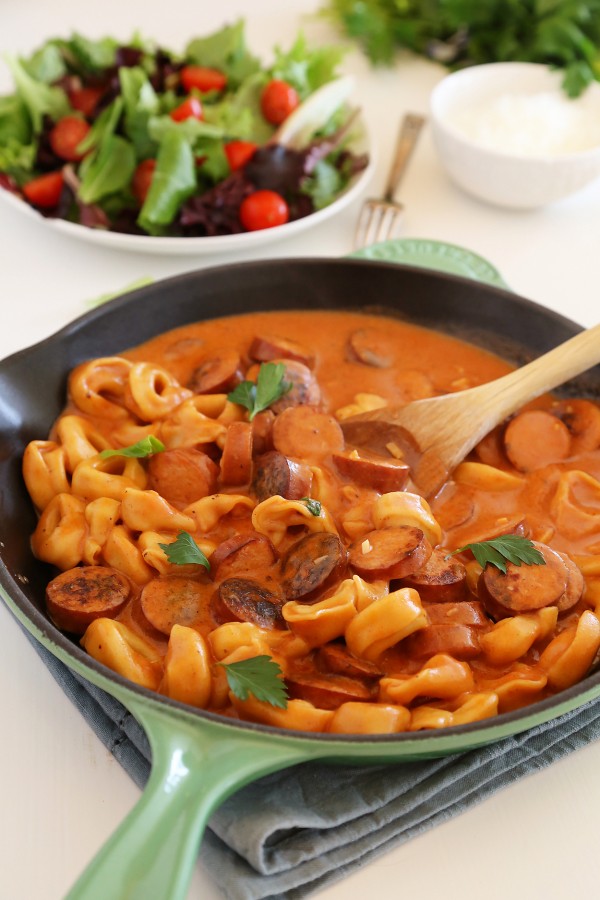 All you do is this: Sizzle up sliced smoked sausage (or kielbasa) in a large skillet until nicely browned. Stir in some minced garlic until soft and fragrant. Then add your broth, cream, tomato sauce and tortellini. Mix it all up and place a lid on the skillet. The frozen tortellini will cook and soften in the hot, bubbly sauce, so you can just set it and forget it! Give the pan a little shake once in a while to keep the pasta from sticking. Set the table, make a salad, have a glass of wine. Kick back!
Once your delicious meal is ready, just sit down and enjoy. I love it sprinkled with some fresh Parm and parsley, but it's just as scrumptious without any fancy touches. Just simple, honest-to-goodness comfort food.
You'll love this one, I'm telling ya. Try it tonight!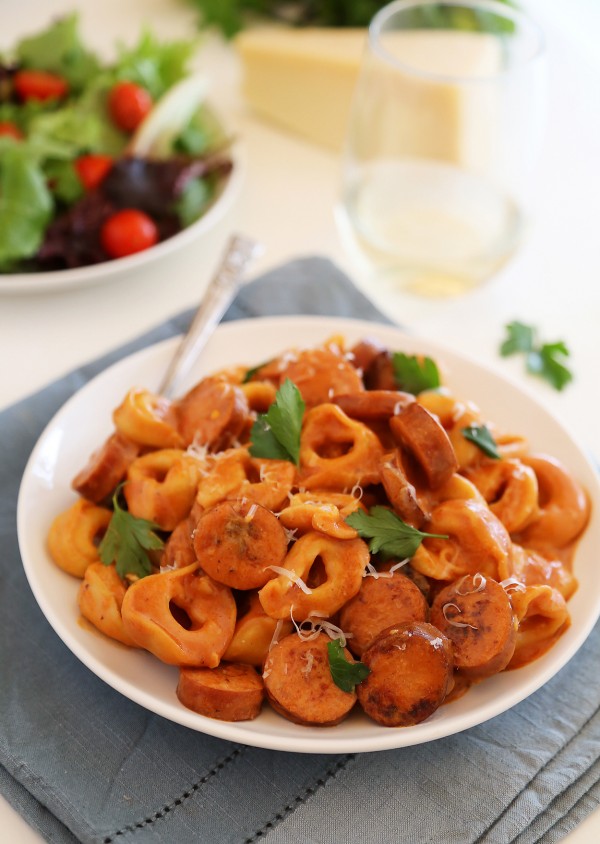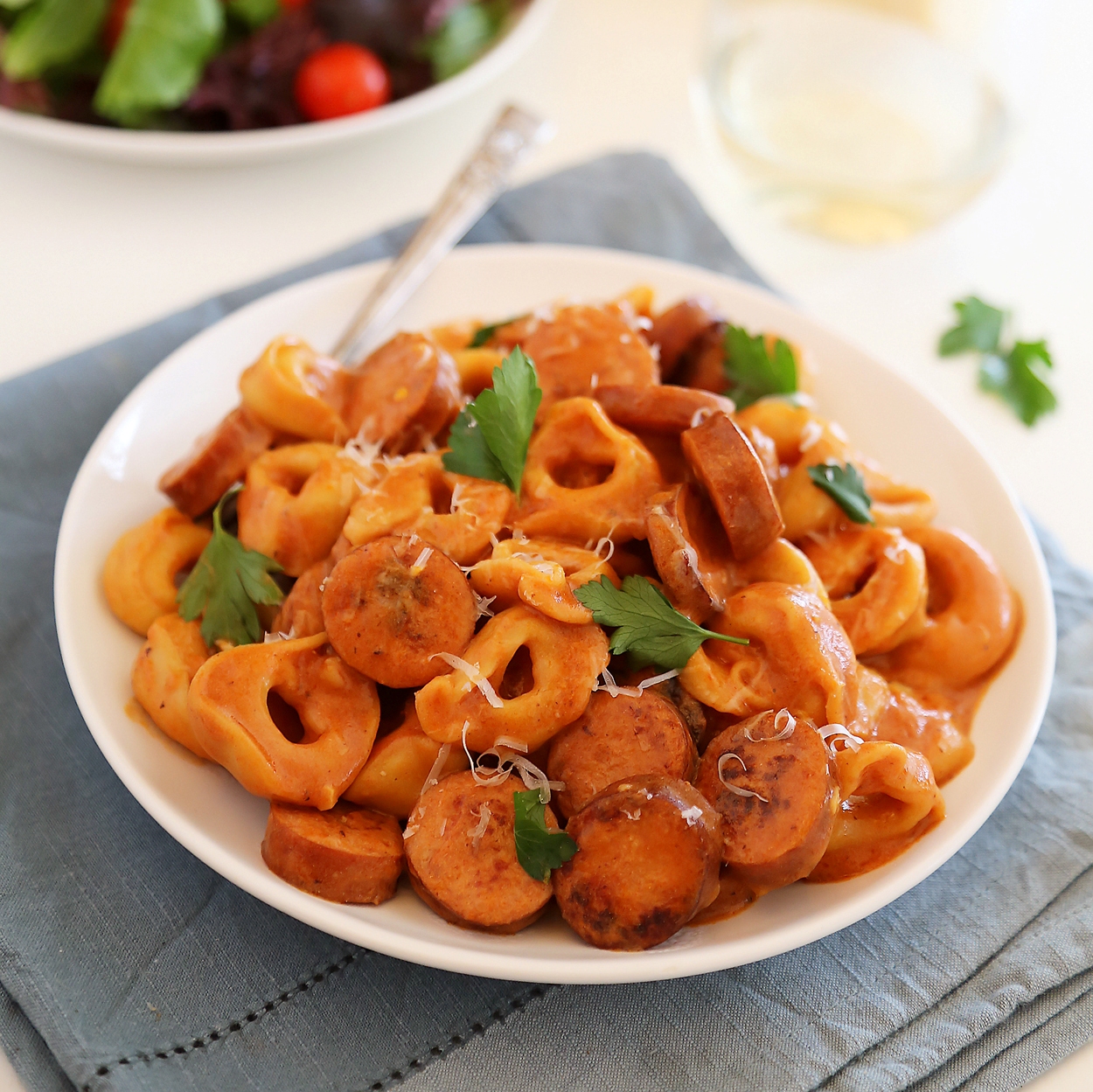 Creamy Smoked Sausage Tortellini
Ingredients
2 Tablespoons olive oil
1 lb. smoked sausage or kielbasa
2 cloves garlic, minced
3/4 cup chicken broth or vegetable broth
1 cup tomato sauce or your favorite spaghetti sauce
1/2 cup heavy cream or half-and-half
9 oz. fresh or frozen tortellini
For serving (optional):
Chopped fresh parsley
Freshly grated Parmesan
Instructions
In a large skillet with a lid, heat 2 tablespoons olive oil. Once hot, add sausage and cook until well browned, about 3-4 minutes per side. Add garlic and stir until golden and fragrant, about 30 seconds. Stir in broth, tomato sauce, cream and tortellini. Cook until simmering and bubbly. Reduce heat to low, cover and simmer for 12 minutes, or until tortellini are tender and heated through.
Serve and garnish with chopped parsley, if desired.
Enjoy!