These hearty, crispy tater tots (or you can use fries) are loaded with cheddar, tomatoes, avocado and beef. So easy, so cheesy and irresistibly indulgent. Perfect for parties and fun, fast weeknight dinners!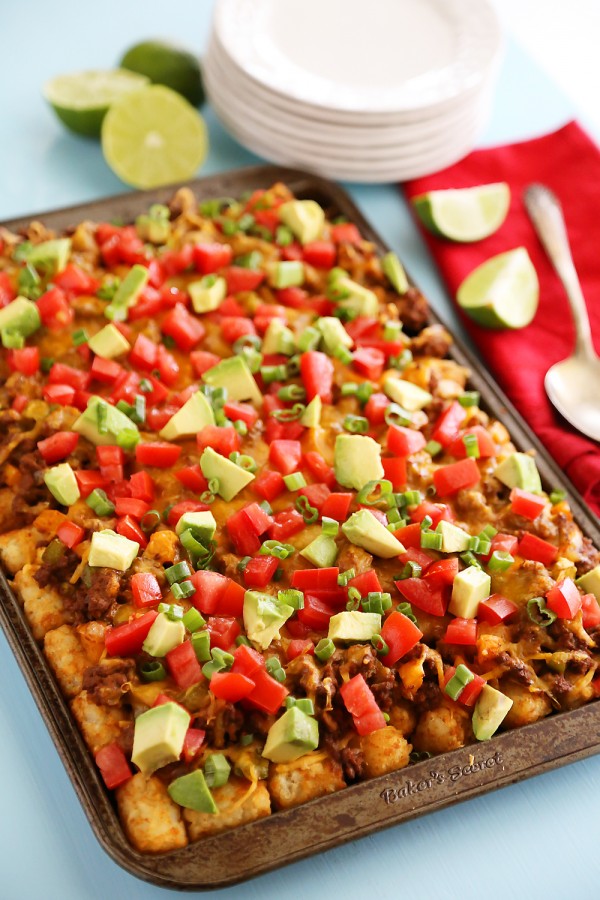 Well, hello there, Saturday! I rarely share something scrumptious on a weekend, but this recipe is just TOO good not to share. And, especially too good not to share for your game day party! It practically screams "Superbowl", but is perfectly delicious for any other party that calls for something hearty, warm and finger-licking-good. Not to mention, incredibly easy!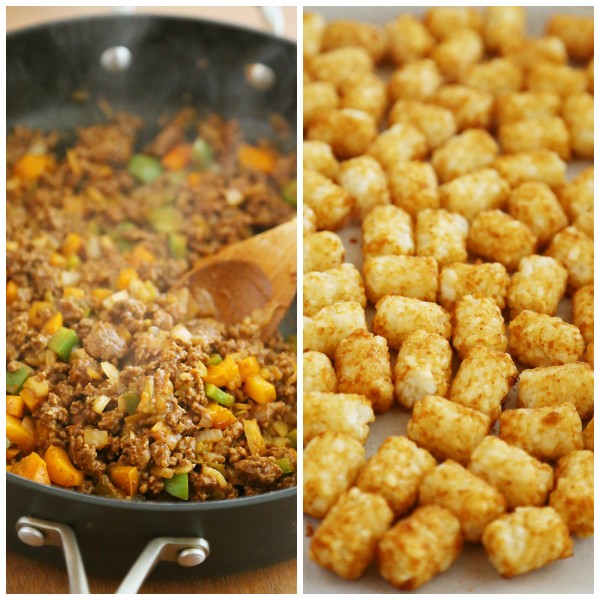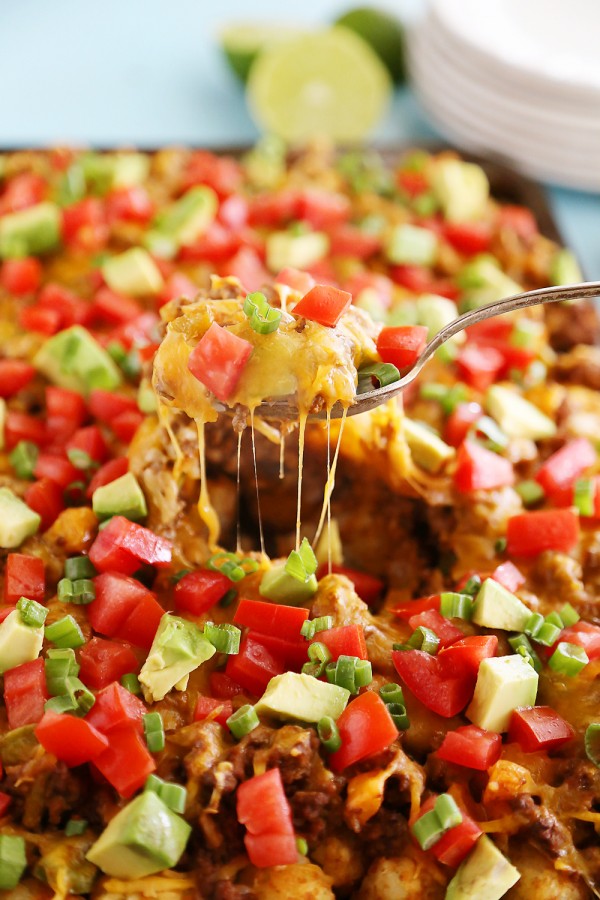 Best of all? This recipe is so versatile! Use French fries instead of tots, and bake them up to a crispy golden brown. Top with browned beef or turkey, and sprinkle on your favorite shredded cheese. Slide back into the hot oven until the cheese is bubbly, then top with fresh chopped tomato, avocado and green onions. Fresh, delicious and more than enough to serve a crowd.
These toasty, cheesy tots are begging to be served for your next potluck, party, or casual gathering with friends and family! You're gonna love them.
But, enough trying to convince you with words. I'll let the pictures speak for themselves!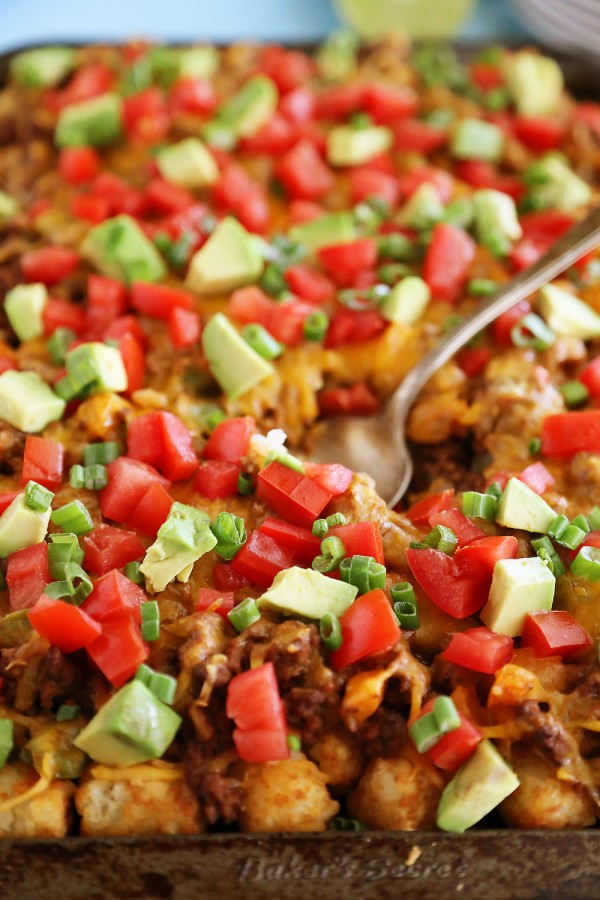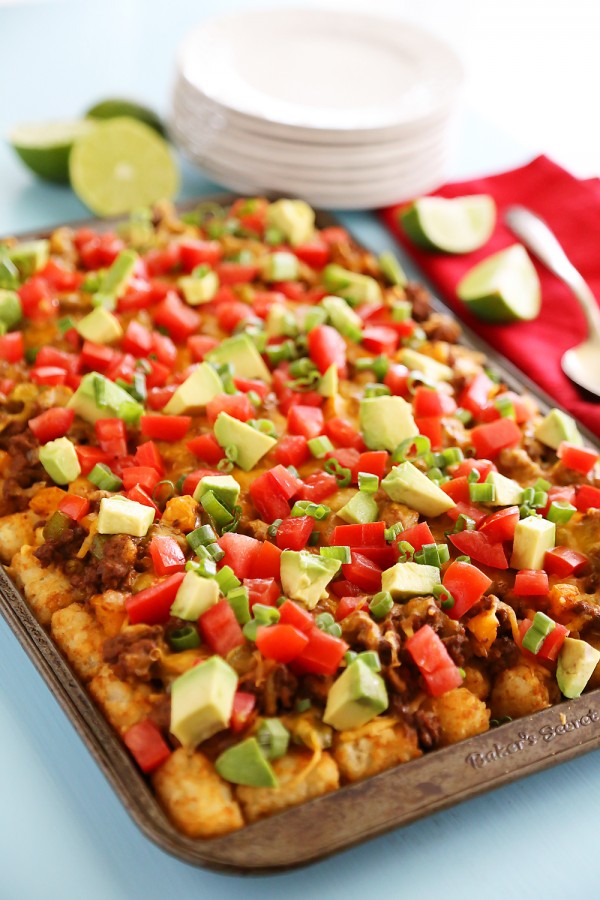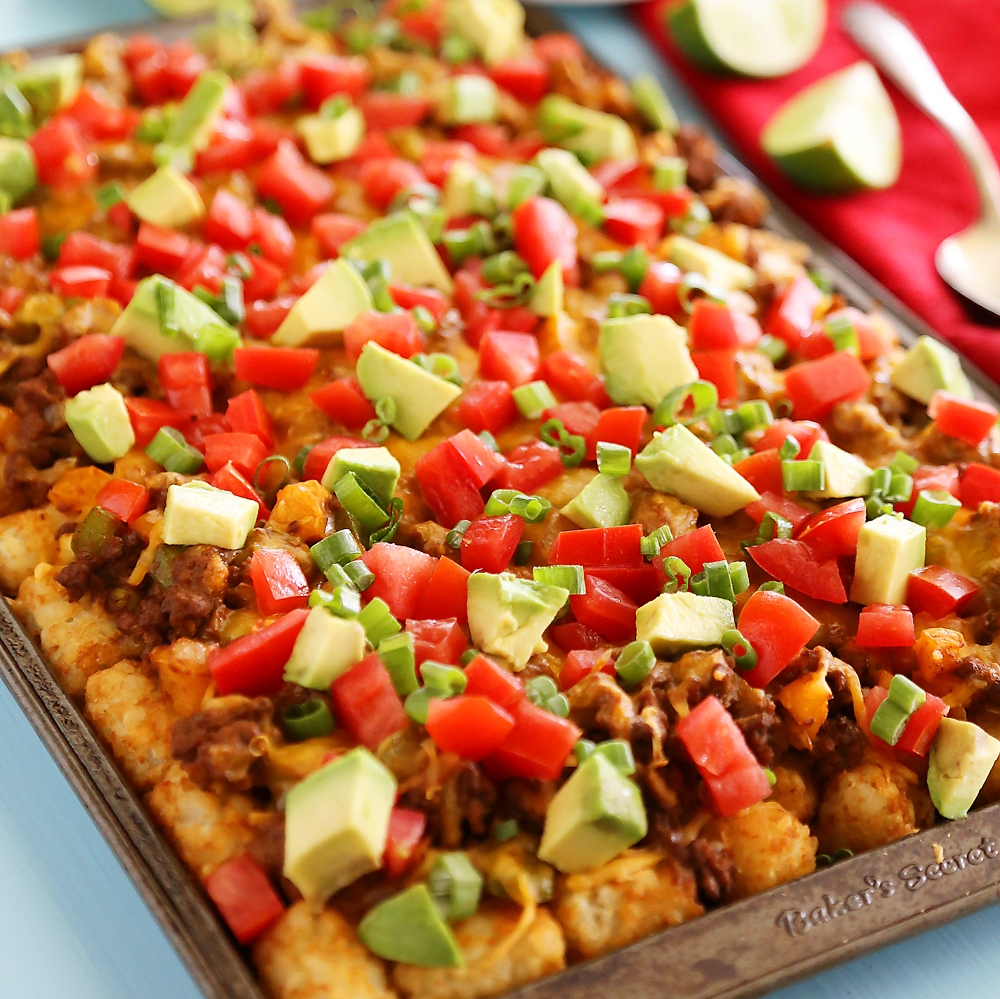 Cheesy Loaded Nacho Tater Tots
Ingredients
1 2 lb. bag frozen tater tots or French fries
1 lb. 16 oz. ground beef or ground turkey
1 1.25 oz. taco seasoning packet*
1 yellow onion, diced
1 bell pepper, chopped (I used half green, half orange)
1 4.5 oz. can chopped green chiles, drained
1 1/2 cups cheddar cheese
For serving:
2 medium tomatoes, diced
1 medium avocado, diced
2 green onions, sliced
Instructions
Cook frozen tater tots (or fries) according to package instructions for oven baking, usually 450 degrees F for 15-20 minutes.
Meanwhile, set a large nonstick pan to medium-high heat. Once hot, add ground beef. Cook until no longer pink, about 6-7 minutes, crumbling as it cooks. Drain excess fat. Stir in taco seasoning. Add onion, bell pepper and green chiles, cooking until soft and fragrant, about 5 minutes.
Remove tater tots or fries from oven. Layer beef mixture evenly over top. Sprinkle with cheese. Return to warm oven to cook until cheese is melted, 3-5 more minutes.
Remove from oven and top with chopped tomatoes, avocado and green onions.
Serve warm and enjoy!