Start your day with a soft & fluffy stack of Whole Wheat Peanut Butter-Banana Pancakes! Mix up the batter one day ahead and cook 'em up for a delish weekend morning treat!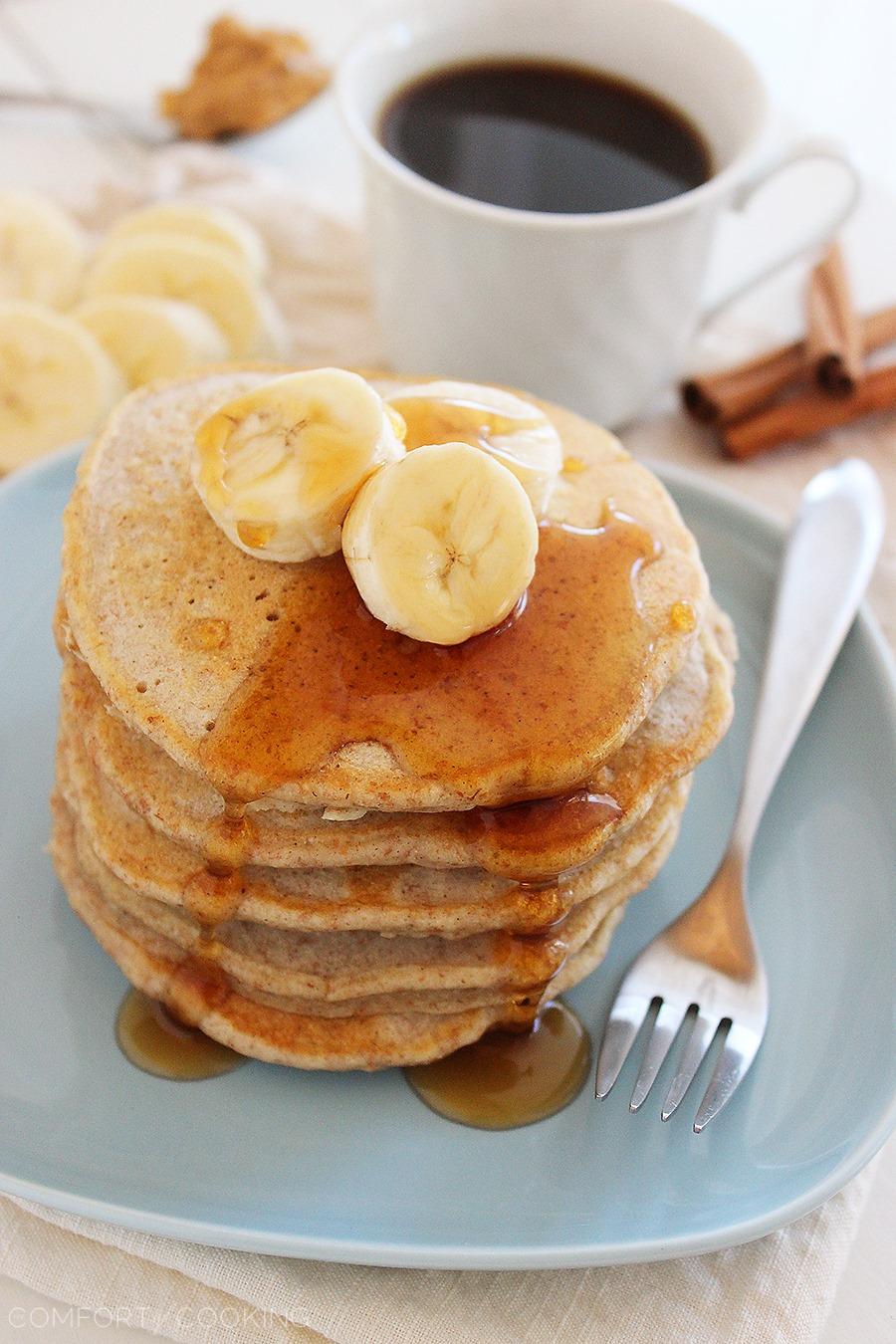 Bright and early tomorrow morning, we're headed to a five-hour intensive course on all things baby. Which is good, because neither of us know anything. Like, seriously, we'd struggle at this if our daughter was born tomorrow. We NEED this. So, I'm excited to learn, but also terrified of how much I don't already know… and how much I really need to pay attention!
I get bored easily. I don't have a lot of patience for classes. And I tend to daydream about food.
A pile of pancakes and a cup of hot coffee cures all, right?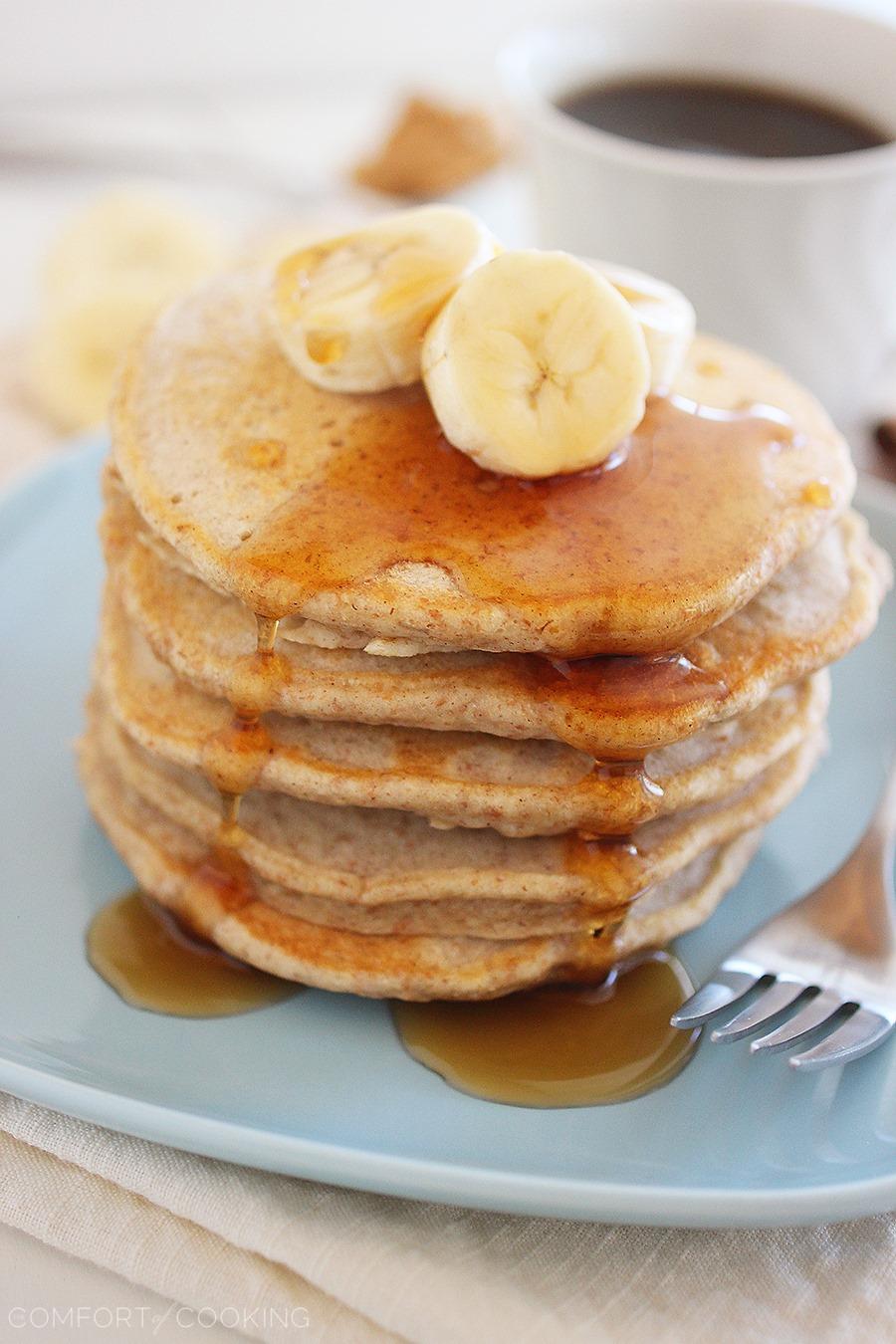 Starting our morning off with a fluffy, cinnamon-spiced stack of these peanut butter and banana pancakes will make everything okay. Pancakes tend to have that power. And, it's just a fact that peanut butter and banana make the world go 'round. On toast, they're my favorite protein-packed snack. But nestled inside pancakes, topped with butter and drizzled with maple syrup? Fuggetaboutit!
You'll love these super soft whole wheat pancakes for lazy weekends that call for something special. They make a big batch, but feel free to freeze the leftover pancakes in a re-sealable container or plastic bag. Just slip sheets of waxed paper in between them so they don't stick together.
Have a happy weekend… and wish us luck (we're gonna need it)!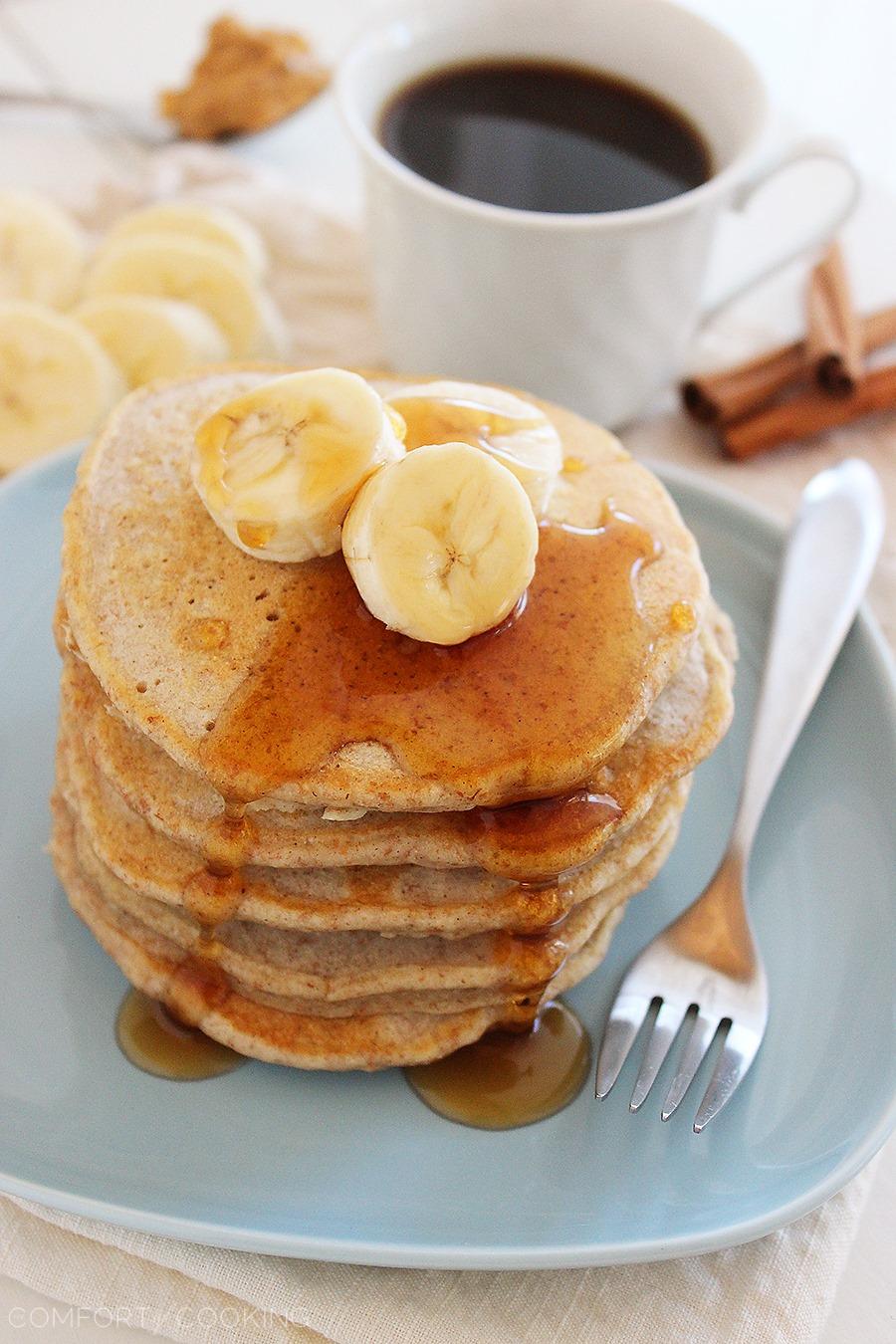 Whole Wheat Peanut Butter-Banana Pancakes
Ingredients
3/4 cup whole wheat flour
3/4 cup all-purpose flour
1/4 cup brown sugar
1 1/2 teaspoons baking powder
1/4 teaspoon baking soda
1/2 teaspoon ground cinnamon
2 cups milk
1 large egg
2 Tablespoons peanut butter
1 ripe medium banana, mashed
Instructions
In a large bowl whisk together flours, brown sugar, baking powder, baking soda, cinnamon and salt. Set aside. In a separate medium bowl, lightly beat milk, egg, peanut butter and mashed banana together. Add the wet ingredients to the dry ingredients. Let sit for 5 minutes.
Heat a large skillet or griddle over medium high heat. Lightly grease with butter or nonstick cooking spray.
Pour pancake batter 1/4 cup at a time into skillet and cook pancakes until bubbles form on top. Flip pancakes, cook for 1 minute, then remove to a plate. Place in a warm oven until ready to serve. Repeat as necessary.
Serve with maple syrup and additional banana slices, if desired.
Enjoy!