Creamy, smooth and delicious stovetop mac 'n cheese with a kick from jalapenos and bacon! Super easy, super cheesy and made without any butter or oil. Try it tonight!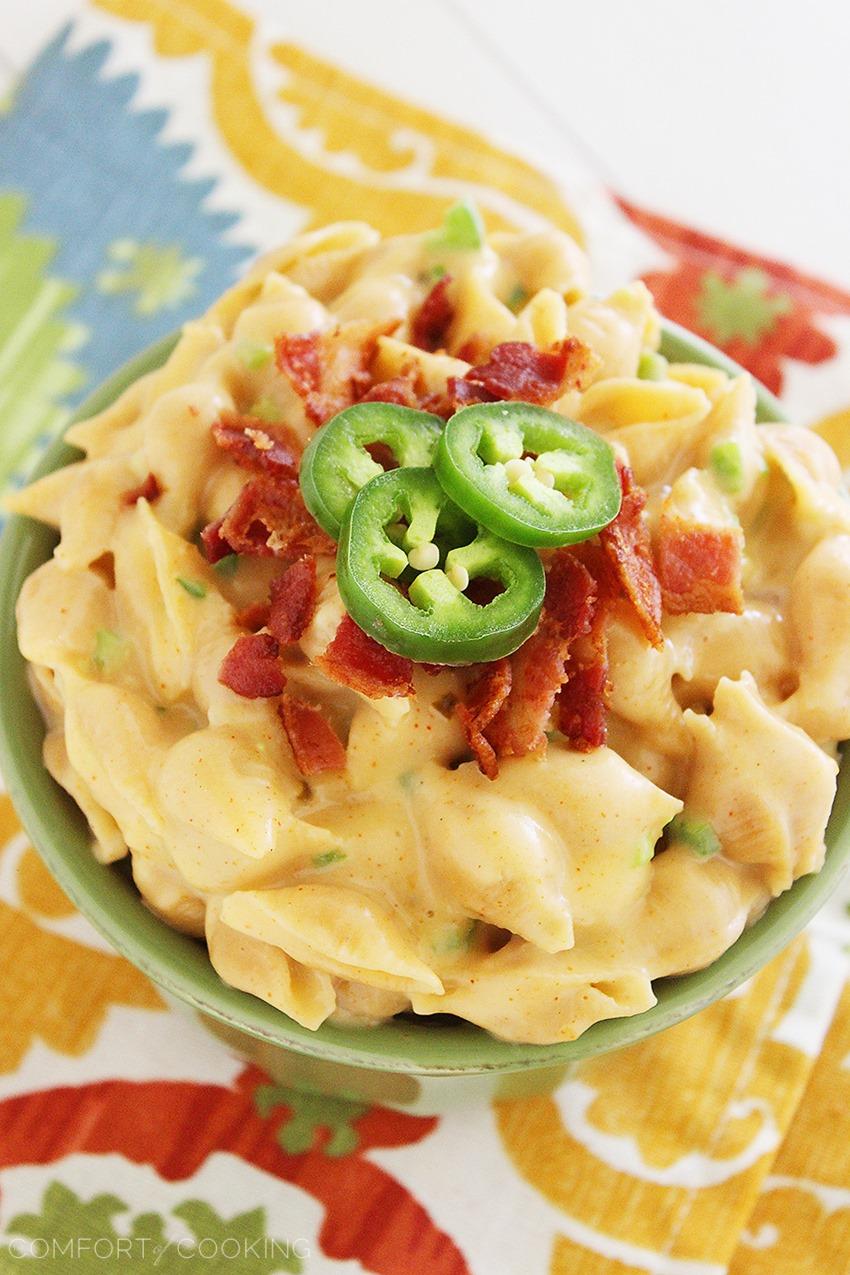 I'm pretty easygoing overall, but I tend to make a lot of fuss about some things. Breakfast at my table? A feast of eggs, toast, bacon, fresh fruit and hot coffee. Decorating for the holidays? The house has to be dripping with Christmas cheer, or it's just not done right… don't ask me where I store all that stuff, I'm still not sure. My comfort food, however? No fuss, or no cook. Especially when it comes to macaroni and cheese!
I believe that you should get a good mac method down-pat, then feel free to throw whatever the heck you please into the pot. And wouldn't ya know it, I did just that with heaps of spicy jalapeno and crispy bacon!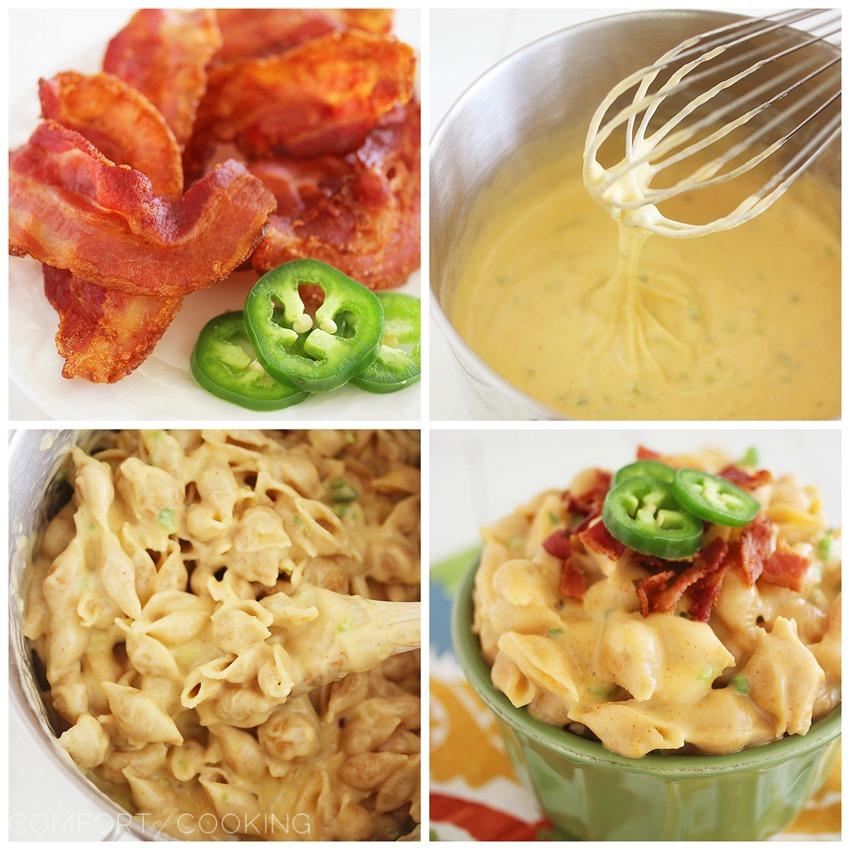 This super cheesy, creamy macaroni and cheese is the definition of simple scrumptiousness. No roux necessary, just toss in your flour and butter, and in minutes you'll have a smooth, thick béchamel begging for big handfuls of cheese! No oil, no butter, and absolutely no skimping on flavor.
Did I mention hardly any cleanup, too? This is a one-pot wonder, baby!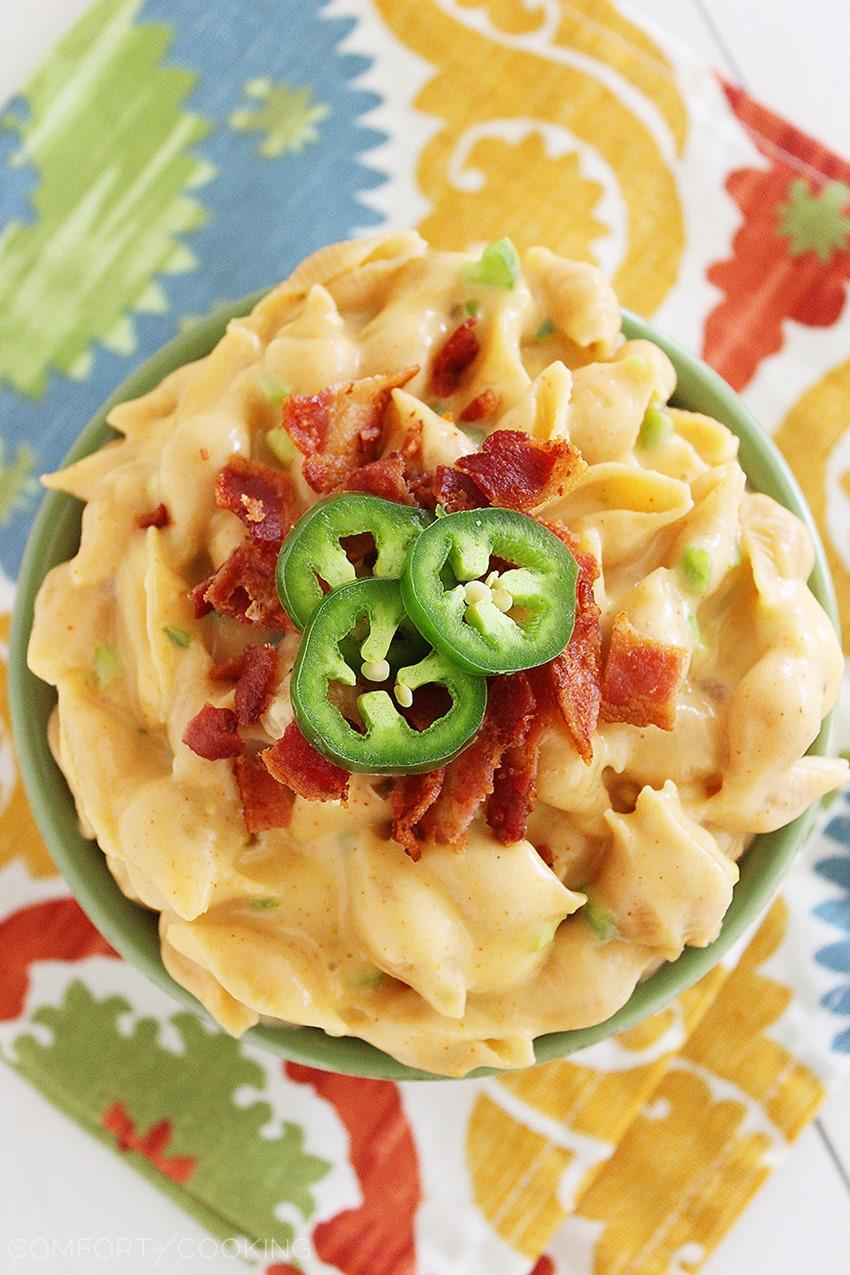 Toss in whatever cheese you like, but in my opinion, a good cheddar-Monterey Jack blend is best. Really brings out the tangy, spicy Tex-Mex flavor in this mouthwatering mac! Sky's the limit on pasta, too – just use your favorite. Shells make me feel like a kid again for some reason… or maybe that's just the nostalgic "blue box blues" talking.
You're gonna absolutely love this luscious macaroni and cheese! It's velvety smooth and dreamily creamy, with a slight bite from the jalapeno and salty crispness from a sprinkle of bacon. A sinfully good stovetop favorite, without all the fuss or calories!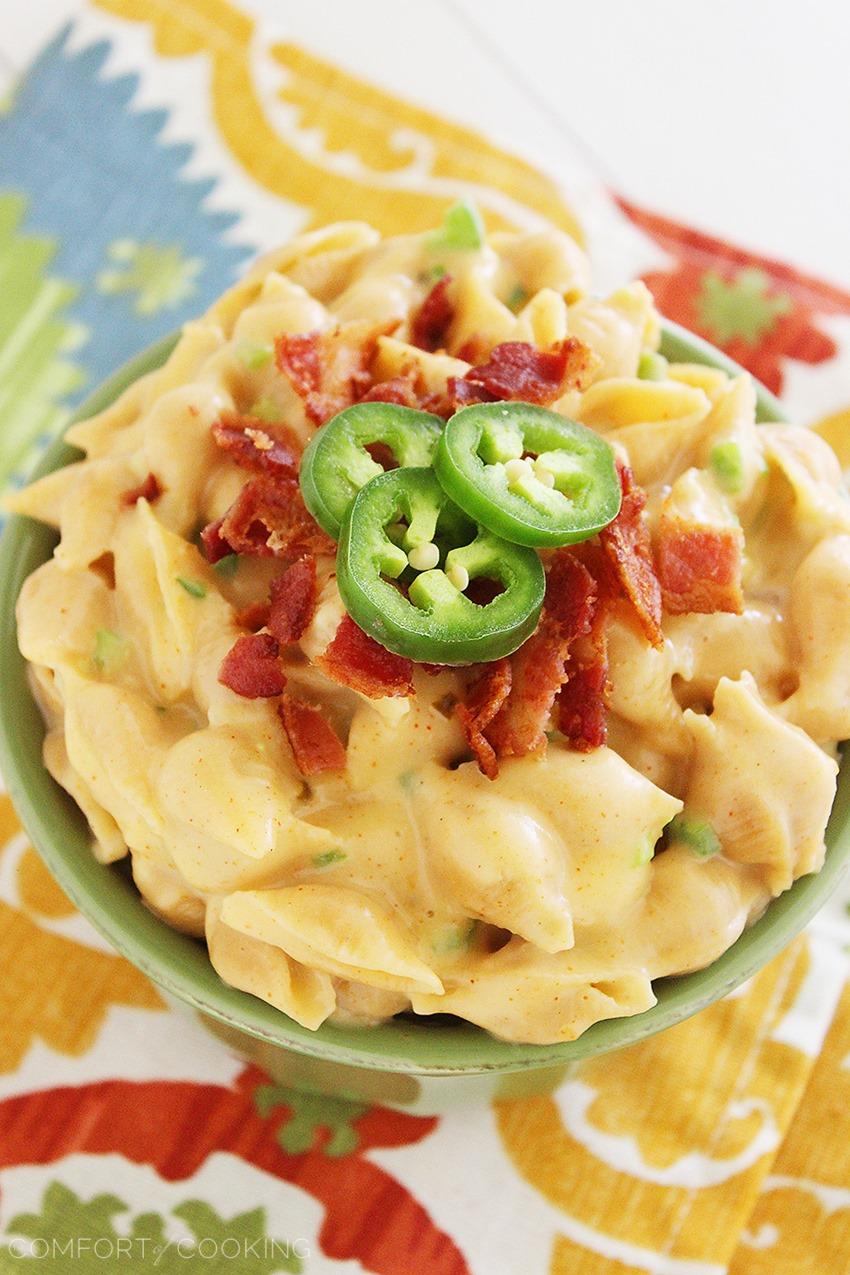 Creamy Stovetop Jalapeno-Bacon Mac 'n Cheese
Ingredients
12 oz. dry pasta, shells, elbows, rotini, etc.
1 1/2 cups milk, I used fat-free
2 tablespoons all-purpose flour
2 cups (8 oz.) shredded cheddar, Monterey jack or Colby, or a mix
1 jalapeno, minced
1/2 teaspoon salt
1/4 teaspoon dry mustard
1/4 teaspoon cayenne pepper
4-5 slices bacon, cooked 'til crisp and crumbled
Instructions
Bring a large pot of salted water to boil. Cook pasta according to package instructions until al dente, about 7-8 minutes. Drain and set aside.
Set the same pot to medium heat; add milk and flour. Whisk until milk thickens slightly. Remove from heat and add cheese, jalapeno, salt, dry mustard and cayenne. Stir until cheese has melted and sauce is creamy. Taste and adjust the seasonings as desired. Add pasta and stir to coat evenly. Stir in crumbled bacon. Serve warm.
Enjoy!