Smooth, velvety spread made with fresh apples and warm spices! Slow cook all day and enjoy the delicious autumn aroma. Swirl into desserts and savory dishes, and pour in jars for an easy, elegant holiday gift!
Headed apple picking this weekend? Or, just found yourself with bushels of gorgeous green and red fruit from the market?
Have I got a deliciously easy recipe for you!
Living in Massachusetts, there is no shortage of apple trees ripe for the picking, and fiery golden leaves to match. It has been a beautiful beginning to the autumn season! So, after a brisk autumn day spent apple snatching, munching apple cider donuts and sipping hot cider from a local farm, we headed home with our 30-pound loot to do some serious snacking. And lots of baking.
We love making huge batches of this apple butter to enjoy all season long! The sweet, tangy spiced spread is good on everything from toast to mac and cheese, snuck into grilled cheese sandwiches and pies, and smeared over pork chops and pancakes. It's also a key ingredient to the perfect apple cider donut holes!
This is the perfect set-it-and-forget-it recipe for making good use of 4 to 6 pounds of apples. Simply peel and chop your apples, and toss them in a slow cooker with sugar, vanilla, spices and a little salt. Let it go on your slow cooker's Low setting all day, and after 10 hours, you have a melt-in-your-mouth apple butter that's filled your home with a delicious, cinnamon-y autumn aroma.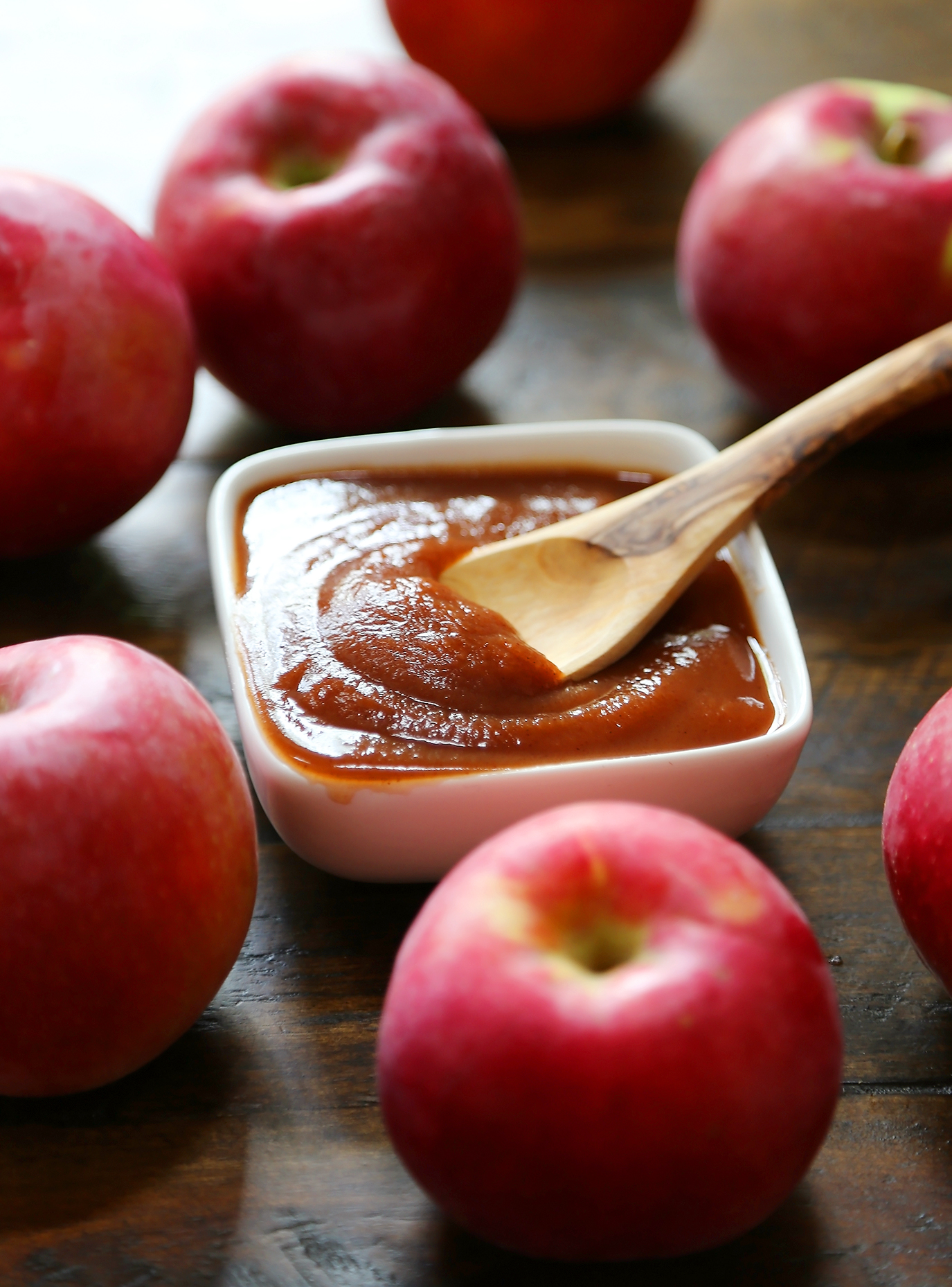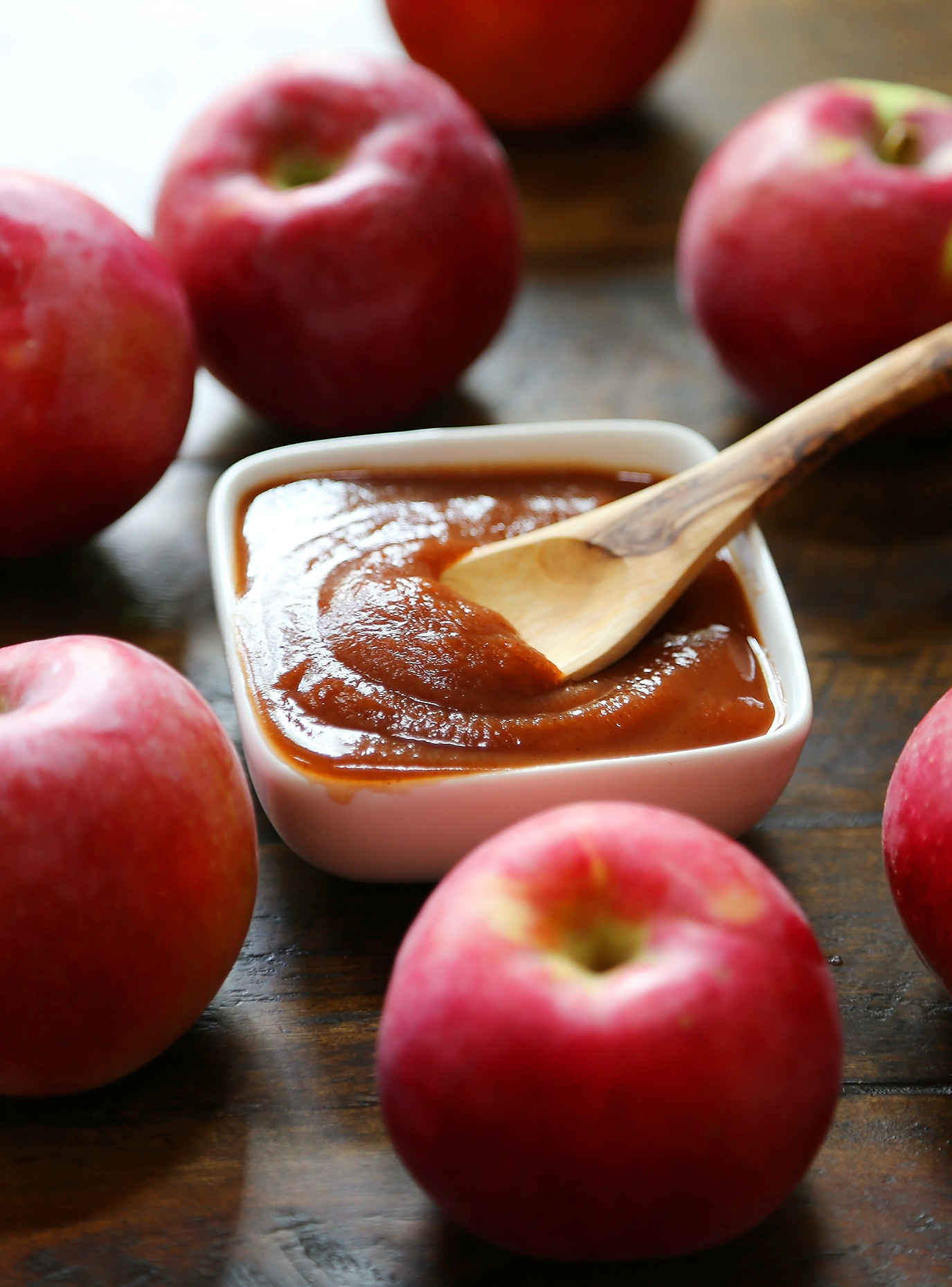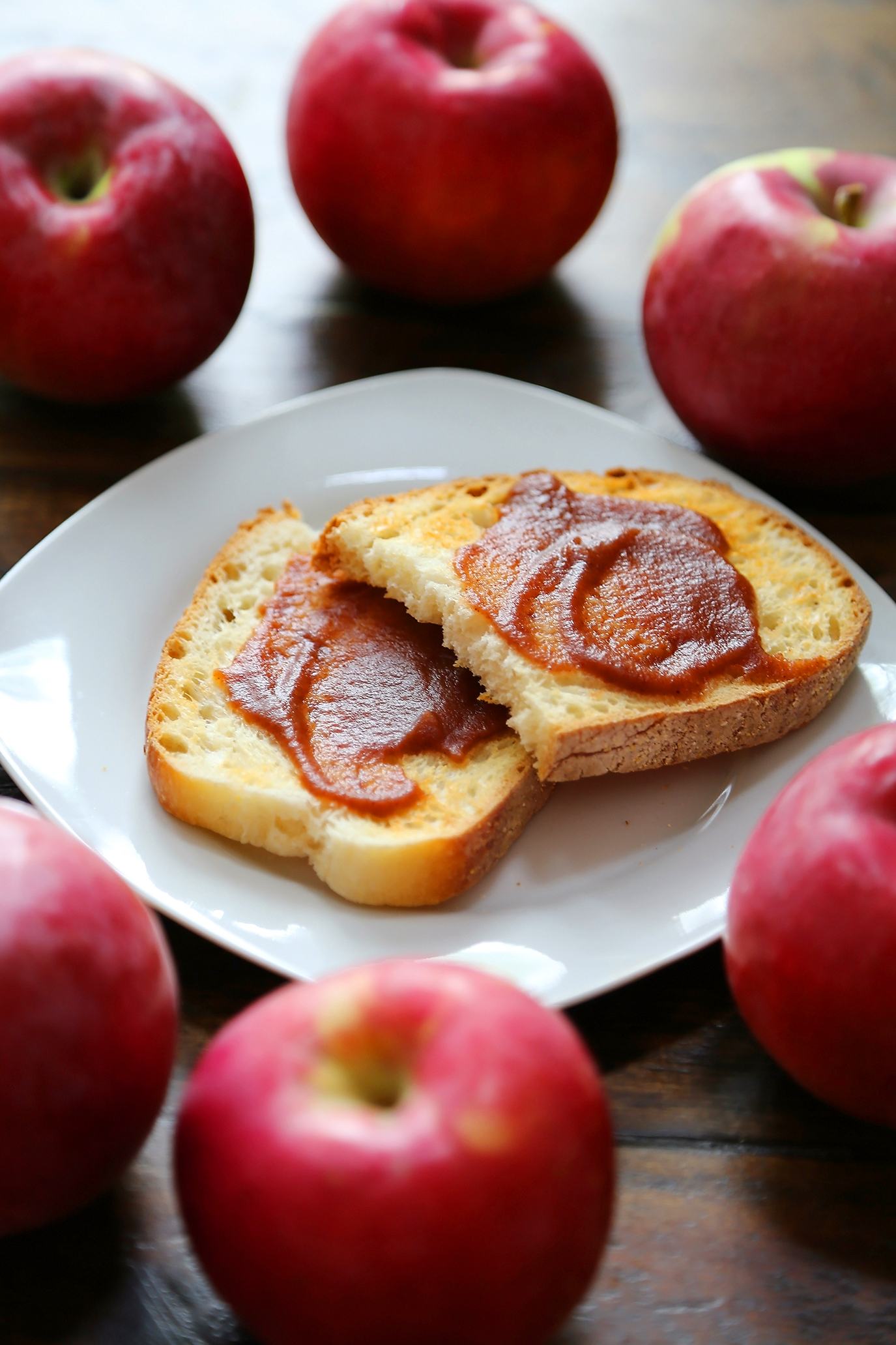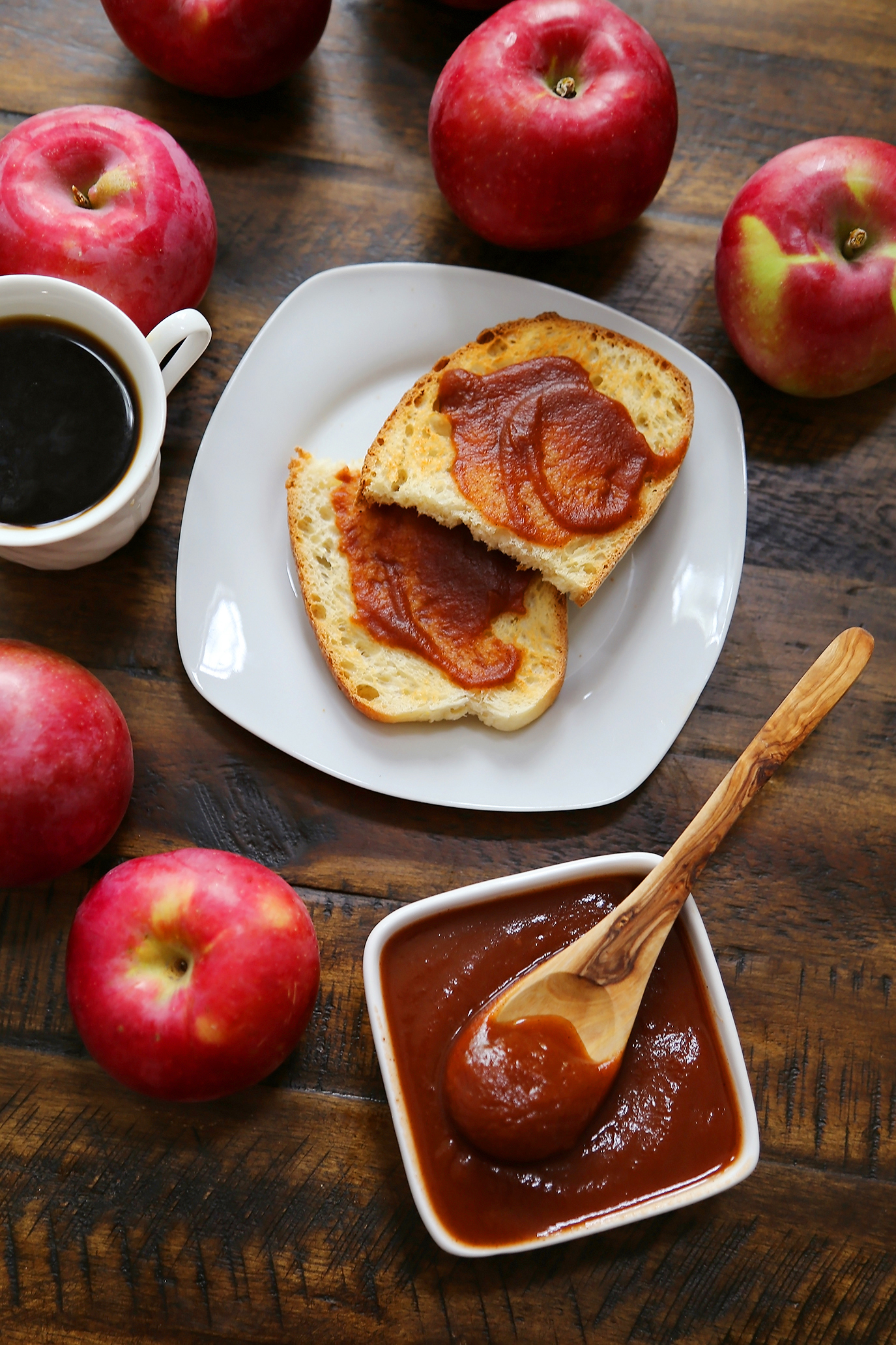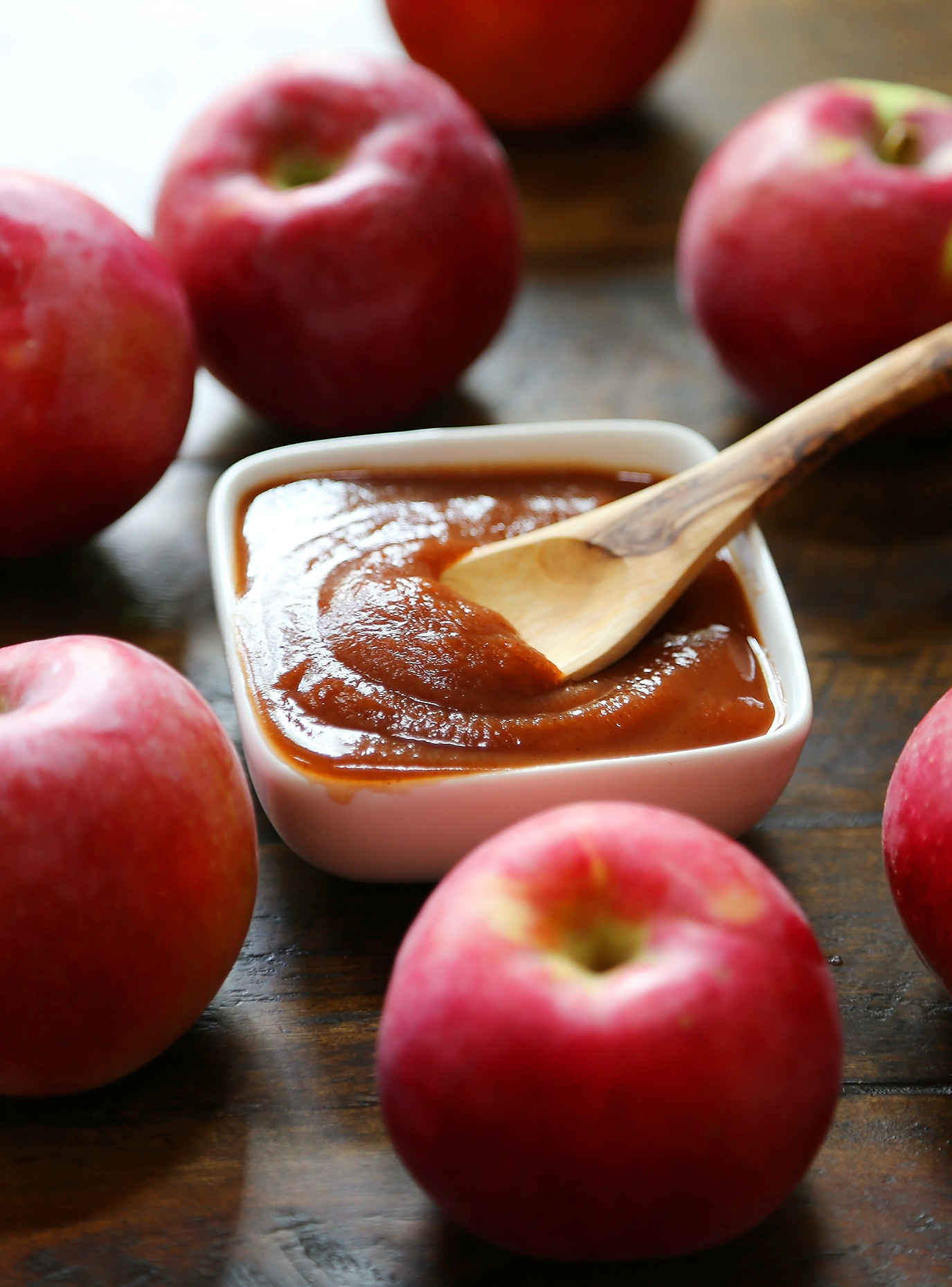 Slow Cooker Apple Butter
Makes 6-8 cups (about eight 6 oz. jars)
Ingredients
8-10 medium apples, peeled and small-diced
1/2 cup granulated sugar
1/2 cup packed light brown sugar
1 Tbsp. vanilla extract
1-1/2 Tbsp. ground cinnamon
1/2 tsp. ground nutmeg
1/2 tsp. ground allspice
1/2 tsp. ground ginger
1/4 tsp. kosher salt
Instructions
In a large bowl, toss apples with all remaining ingredients.
Add to a large slow cooker set to Low heat. Cover and cook for 8-10 hours, stirring occasionally. The apple butter should be thick and dark brown.
Once cooked, use a blender to puree the apple butter until smooth.
Transfer to small containers (such as 6-oz. resealable jars) and seal tightly. Refrigerate for up to 2 weeks, or freeze for 6 months.
TIPS
Best apples to use? Gala, Cortland, Fuji and McIntosh. These have the perfect sweet-tangy balance. Adjust the sugar in your recipe, based on the sweetness of your apples.
Blend thoroughly using a blender or immersion blender, for the smoothest result. You can also pass the mixture through a mesh strainer if you have trouble blending apple chunks.
Spread on toast, pancakes, biscuits, waffles, English muffins, and desserts. Add to grilled cheese, mac and cheese, or mix into oatmeal. You can also serve over ice cream, or blend into cupcake/muffin/donut batter. So many options!
Notes
Adapted from Tastes of Lizzy T