These whole wheat Asian soy-peanut noodles are a delicious twist on everyone's takeout fave & only take 10 minutes! No complicated ingredients needed here, just pantry staples!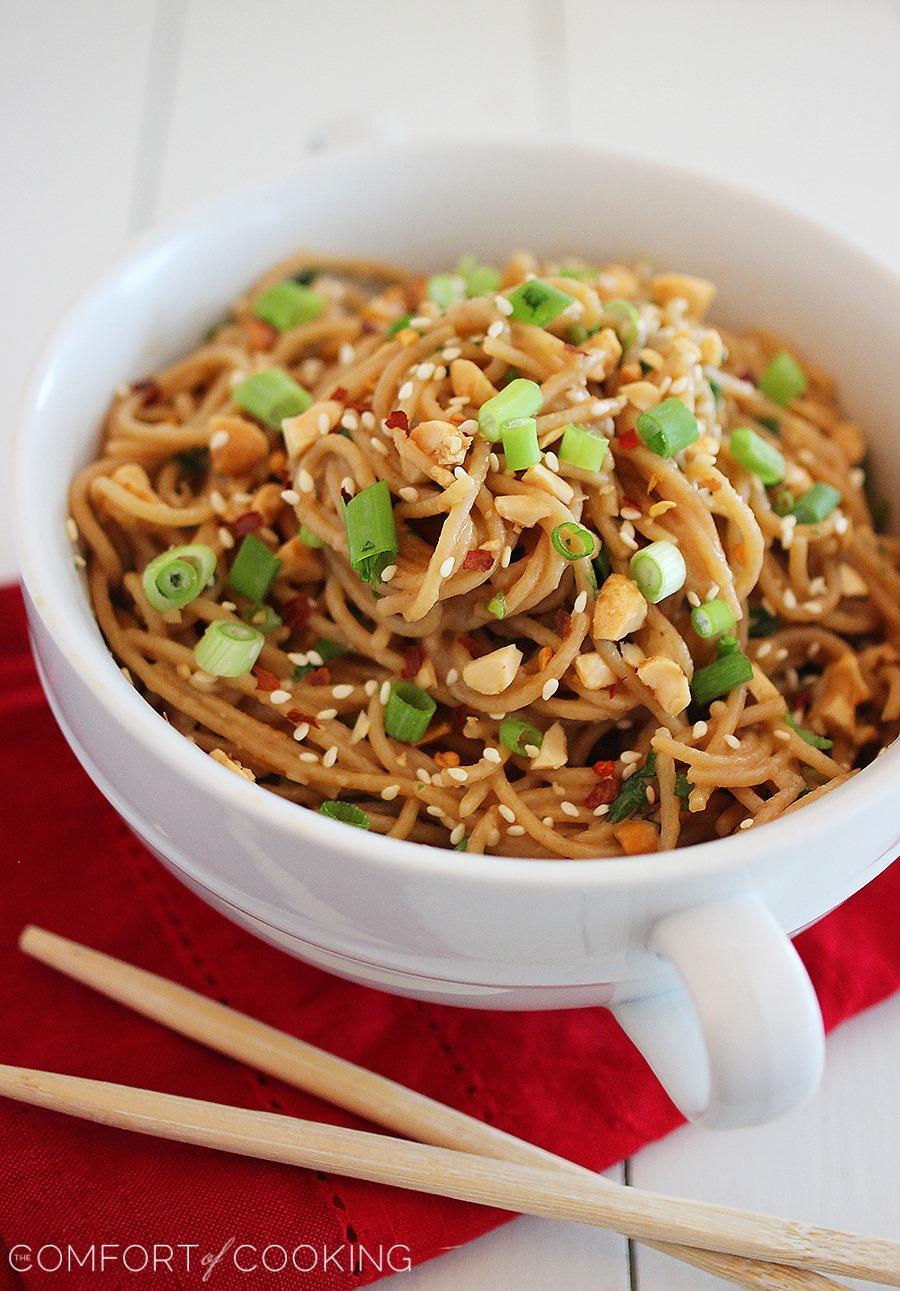 At least twice a week, hubby and I find ourselves hankerin' for something delicious, quick and different. Ya know, a little switcheroo from the usual grilled chicken, salad and rice, or whatever variation on that… Trust me, we get into cooking ruts, too! So, our craving usually means a quick call down to our favorite Thai takeout place. It's yummy, it's speedy, and… oh lordy, did I mention it's yummy? But it's a little pricey.
Um, don't ya think it's about time the light bulb went off? Hellloooo, Georgia, anyone home?! You do this for a living, for crying out loud. Grab your noodles, a big handful of cilantro, some wacky sounding Asian ingredients (Fish sauce? Rice vinegar? Don't worry, they're easy finds), and roll up your sleeves. Cooking outside your comfort zone is easier than it looks!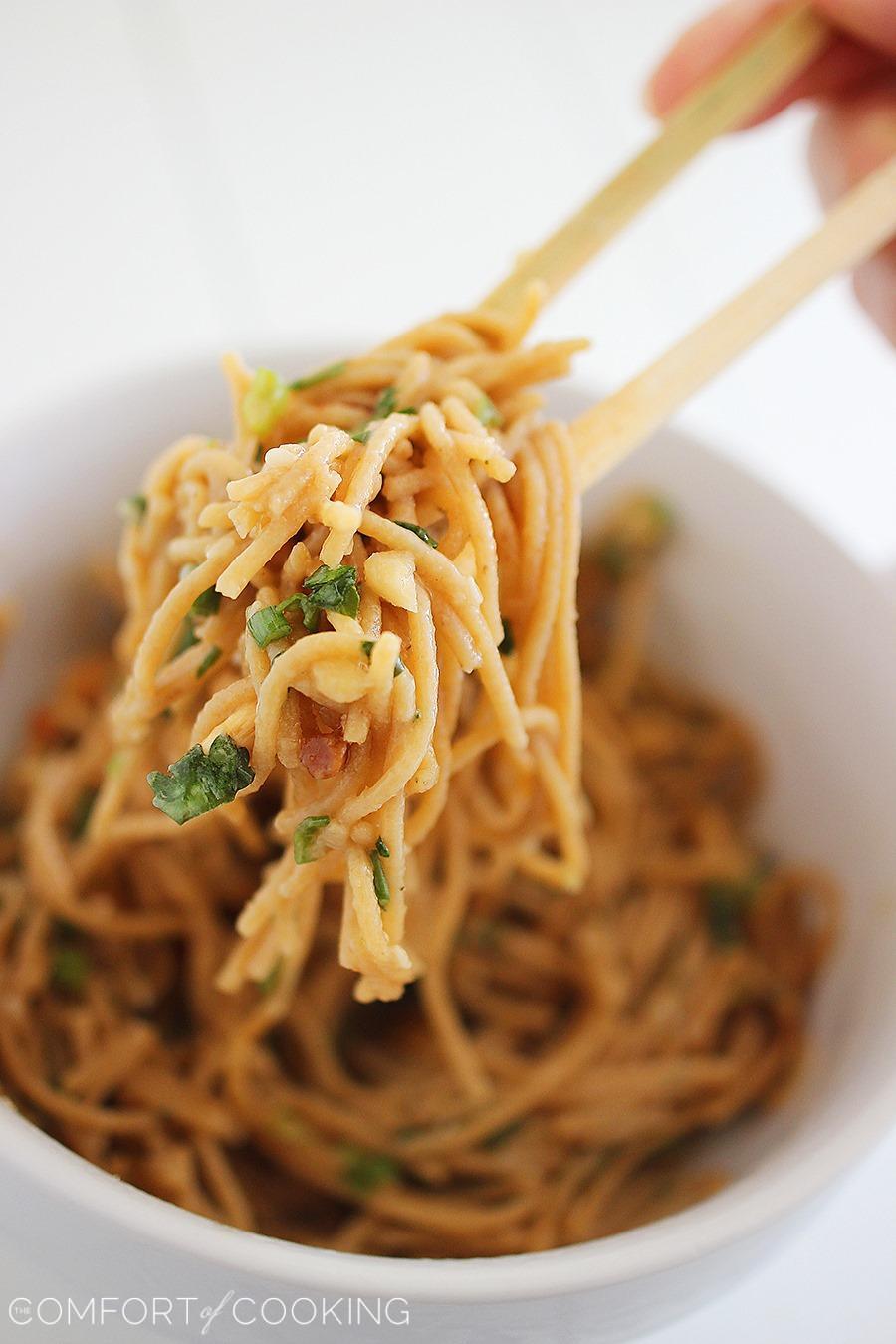 To be honest, I had zero intentions of sharing this recipe with you. I needed a super snappy side dish to go alongside a killah Thai steak salad for dinner last Friday… You better believe that recipe's coming soon, too! But as I started mixing these noodles and the salty, creamy, fresh ingredients together, I noticed I had "tasted as I went" too much and barely left enough for dinner! These noodles are just that irresistible.
It was then that I realized I had something really special, and so incredibly quick and easy that it HAD to be shared. Out came the camera, then out came the chopsticks and napkins, and we dug in!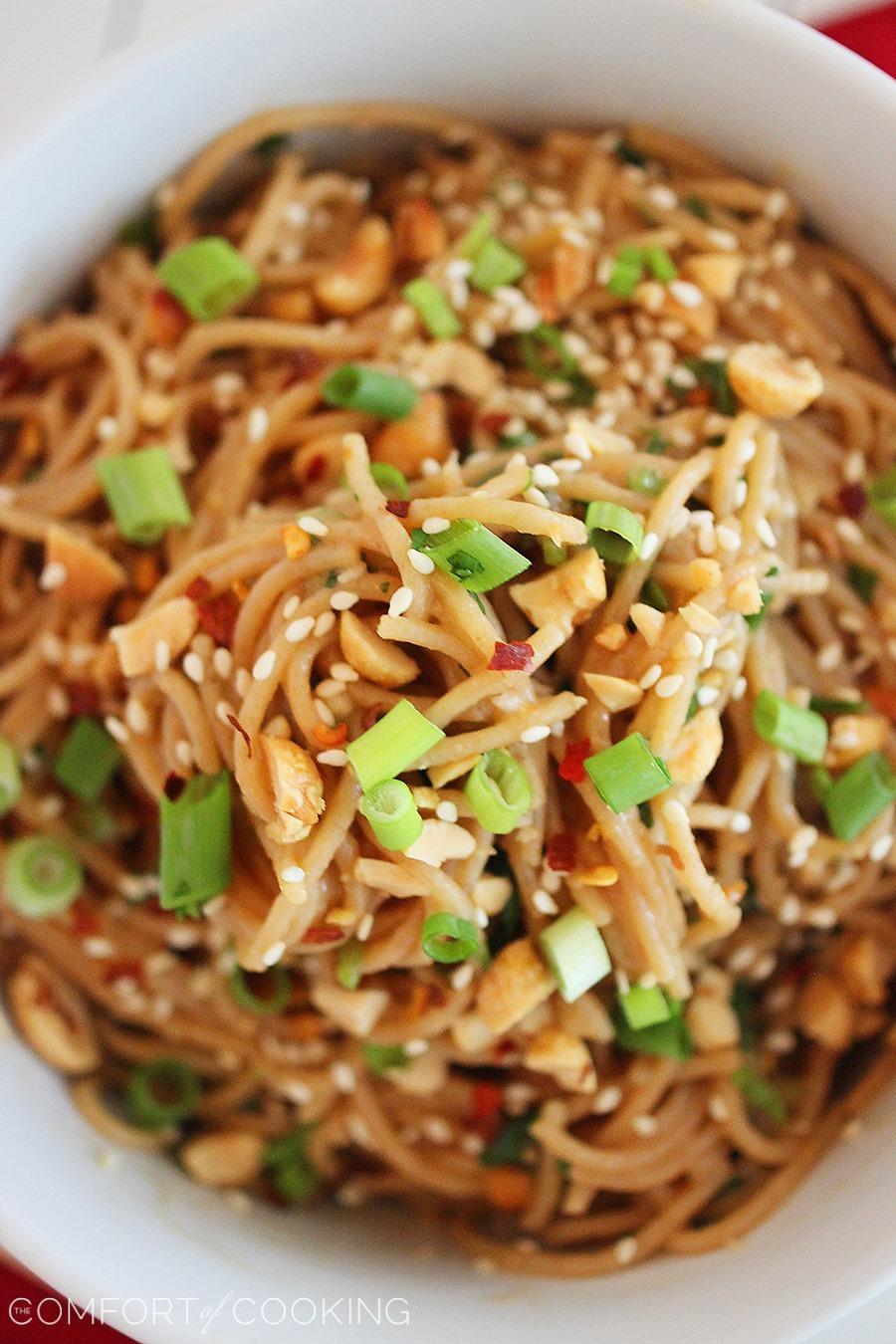 Our delicious salads and heaping bowls of these soy-peanut noodles were gone in no time. We slurped and eye-rolled 'til our bellies were full, and stared down the empty bowls with sadness. Yes, that's right… sadness. I mean, you'd be sad too if it took you 10 minutes to make this and it was gone in 2!
True story.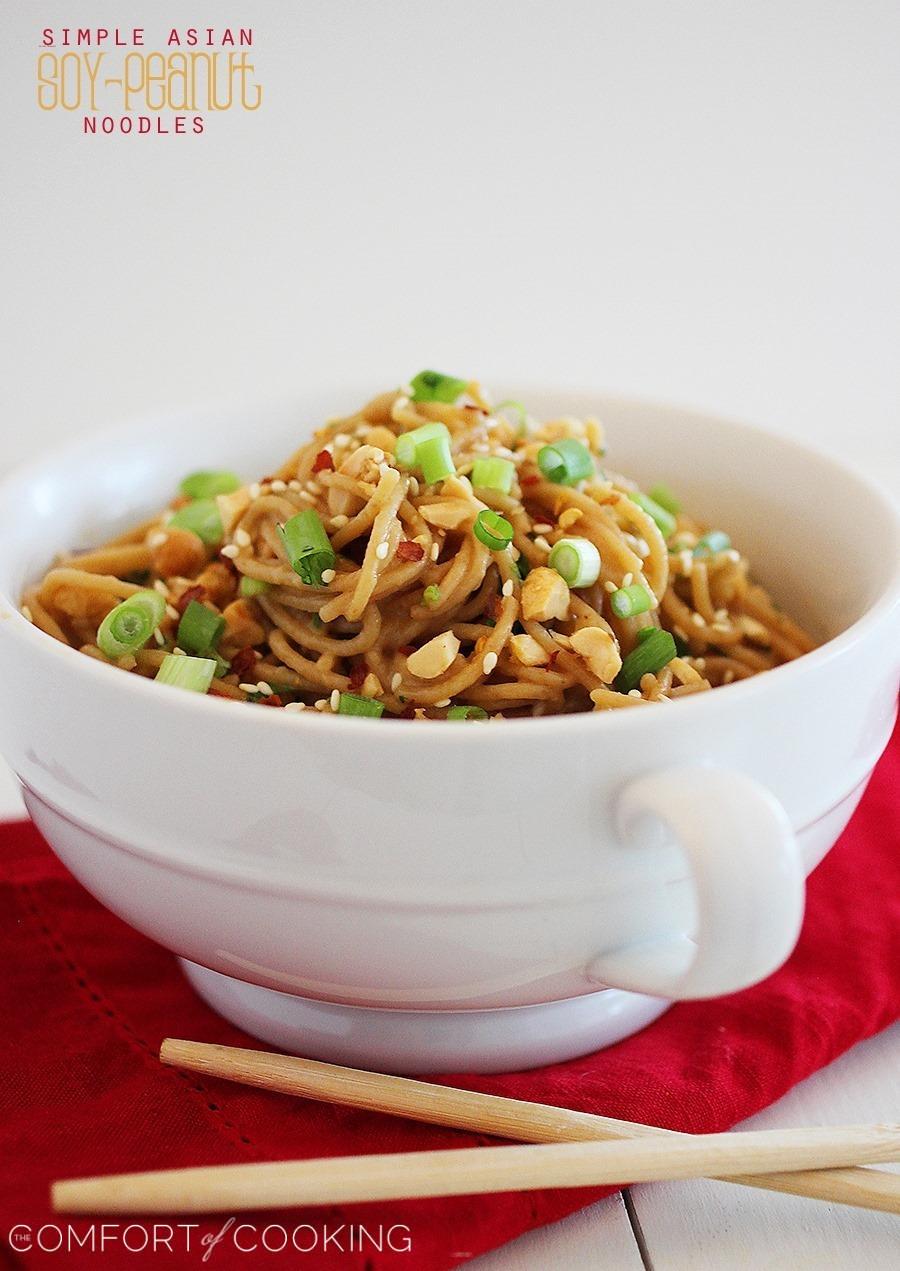 Simply put: You have got to make these scrumptious soy-peanut noodles. They're slightly sweet and salty, but not overly so, with fragrant fresh ginger, garlic and cilantro to round out the flavors. A little crunch comes from peanuts and sesame seeds, which compliments the soft noodles so perfectly you'd think you were noshing down at your favorite Asian restaurant!
Try this delicious twist on everyone's take-out favorite some weeknight, and I guarantee you'll love it! Serve the noodles warm or cold alongside a big salad, or top them with grilled meat for a hearty full meal. So scrumptious and so simple you won't believe it!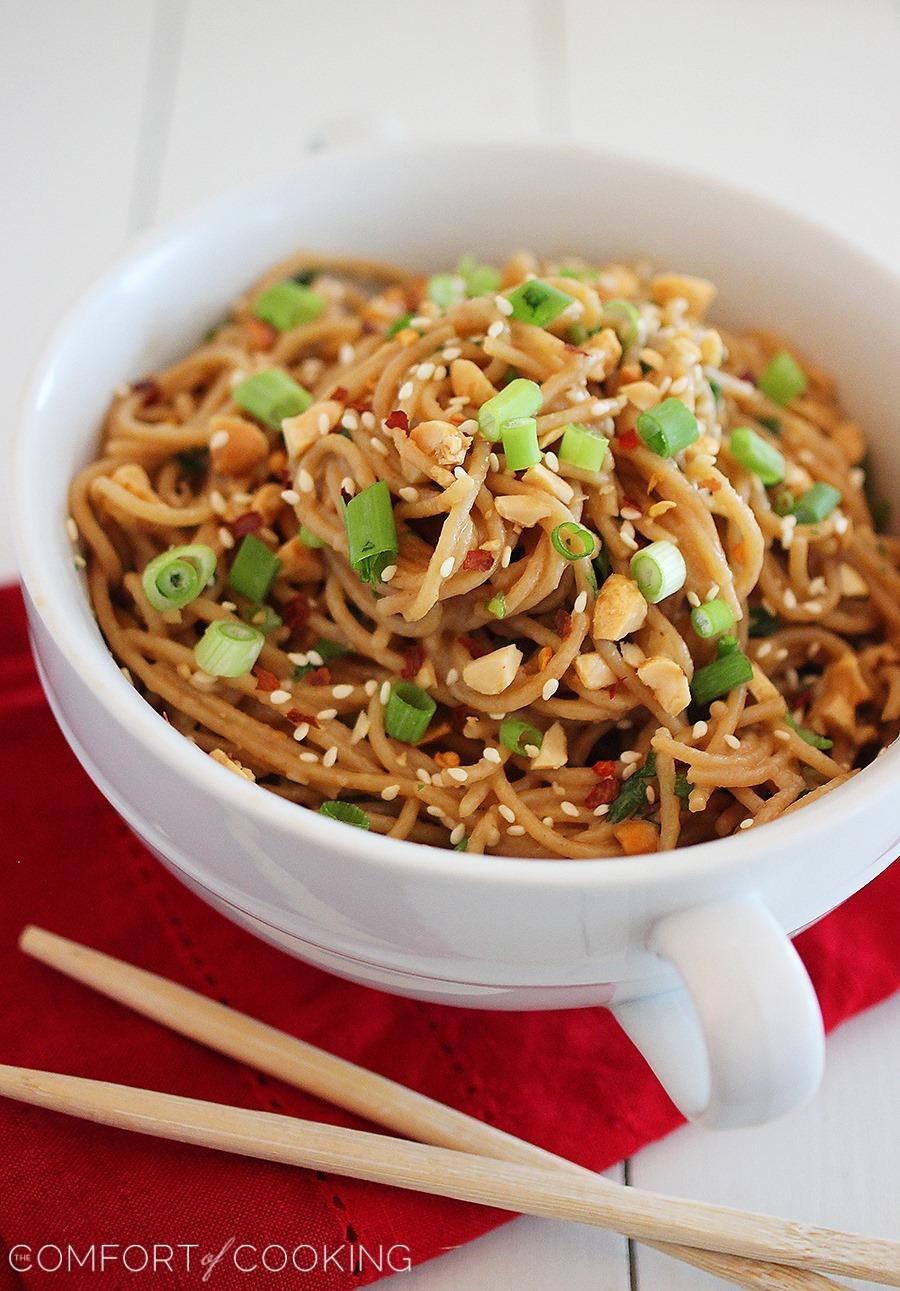 Simple Asian Soy-Peanut Noodles
Ingredients
1/2 lb. whole wheat thin spaghetti*
1 1/2 tablespoons vegetable or canola oil
2-3 Tablespoons soy sauce, more or less, to taste
1 teaspoon rice vinegar
1-2 Tablespoons peanut butter, any kind, to taste
1 Tablespoon honey
1 teaspoon grated fresh ginger
1 garlic clove, minced
3 scallions, sliced
1/4 cup chopped cilantro
1/4 cup chopped dry roasted peanuts
1 Tablespoon sesame seeds
Instructions
Set a medium pot of water to boil. Add spaghetti or noodles and cook according to package directions.
In a large bowl, whisk together the oil, soy sauce, rice vinegar, peanut butter, honey, ginger, garlic, and scallions.
Once noodles have cooked, drain and add to the bowl with the soy mixture. Toss with tongs to coat well.
Serve and sprinkle with cilantro, peanuts, and sesame seeds.
Enjoy!