Say hello to my most reader-loved recipe! Try this easy, elegant roasted chicken with fresh lemons, oranges and herbs. It's perfect for weeknight meals or special occasions!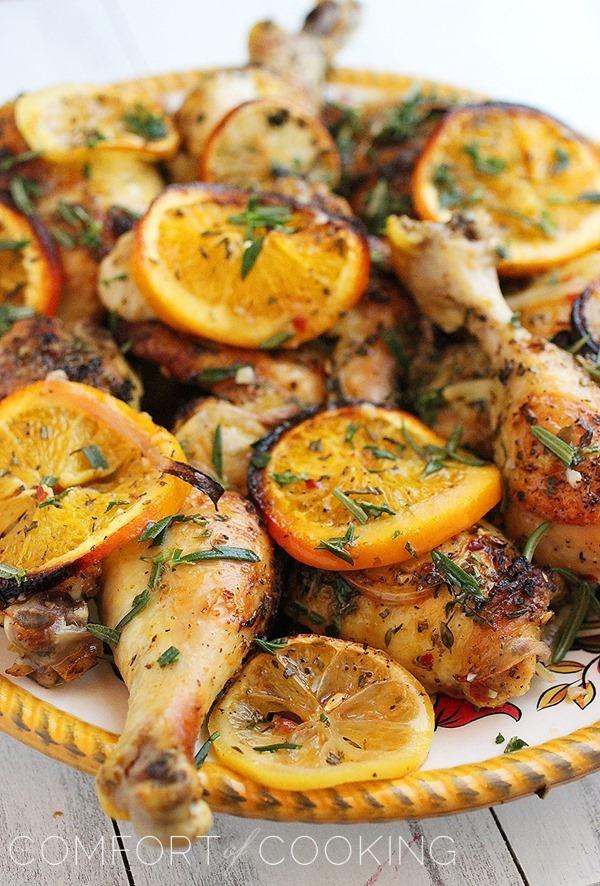 We don't go out to eat often. There's nothing more I love than gaining a little cooking inspiration and having someone else whisk away the dishes. But, because my hubby (and sometimes, even I) thinks the food I make is just as good as the grub we get at restaurants, we tend to enjoy the majority of our meals at home. No complaints here – cooking is what makes my heart beat after all! But I could go for a break now and then.
This roasted chicken is simply not helping my case…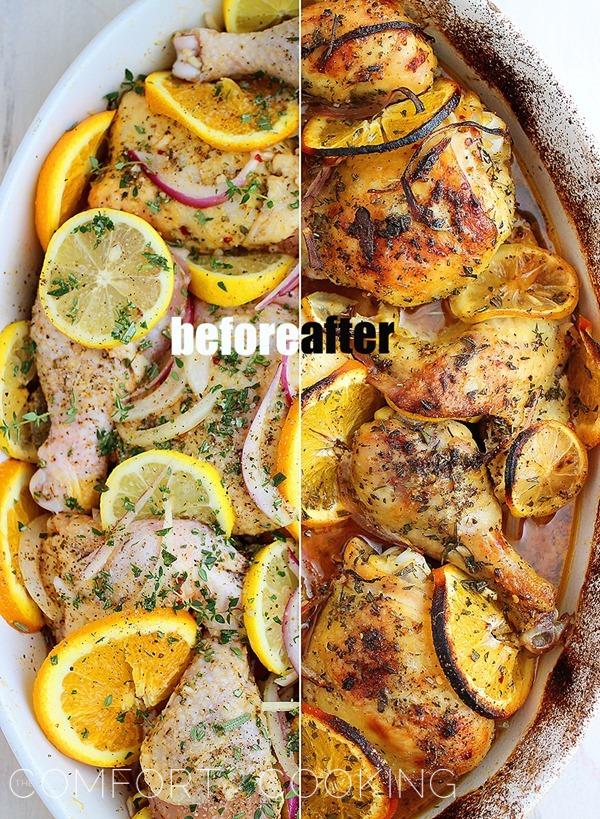 Not to mention – making this meal probably cost me a whole $8. It was totally scrumptious and so easy, too. Whip it up for a weeknight meal or a casual dinner party that calls for something elegant yet simple!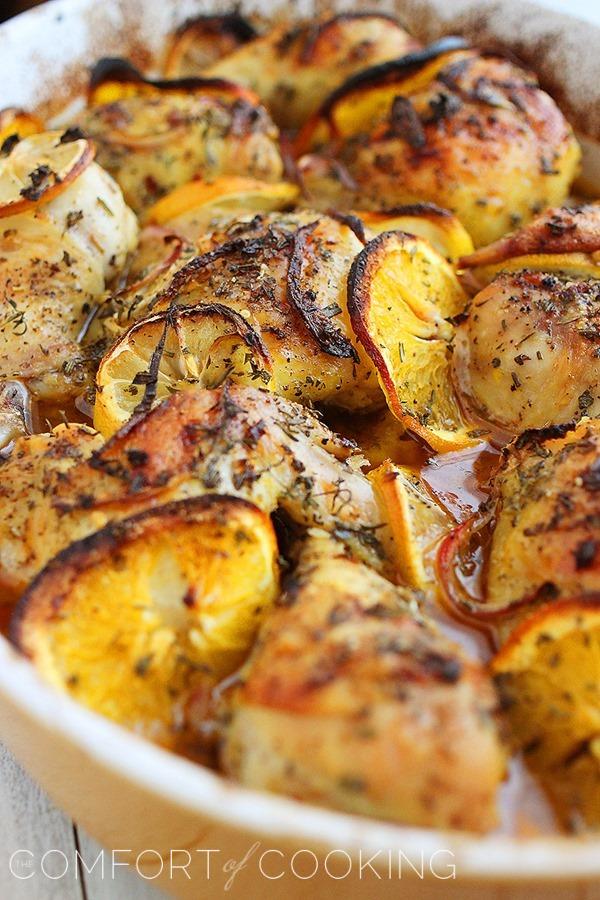 The chicken turns out citrusy, tender, and melt-in-your-mouth good. Tuck in some fingerling potatoes and fresh herbs for another tasty twist. I think I'll try that next time!
You can also switch up the seasonings to a spicy mix and toss in lemons and limes instead of oranges. Swap cilantro for the rosemary and thyme. Serve it over rice, maybe? No need to be a recipe robot – get creative!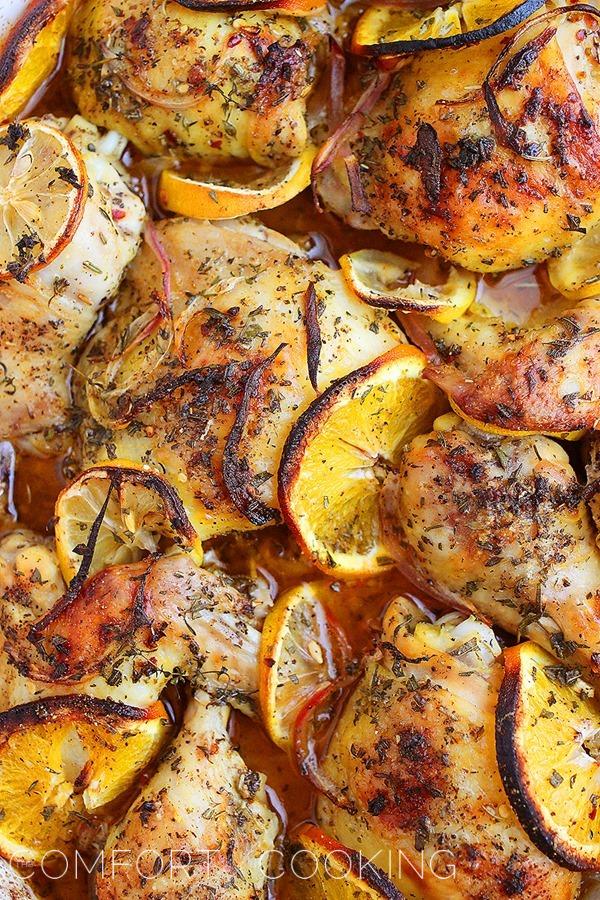 However you dish up this delicious meal, though, you're gonna love it. No need for basting or broiling or anything fancy here. Just pop it in for an hour at 400 degrees, and presto!
Perfect, mouthwatering chicken.
It's even better if you let it marinade in the olive oil mixture overnight! This also makes it that much quicker to get it into the oven and into your belly.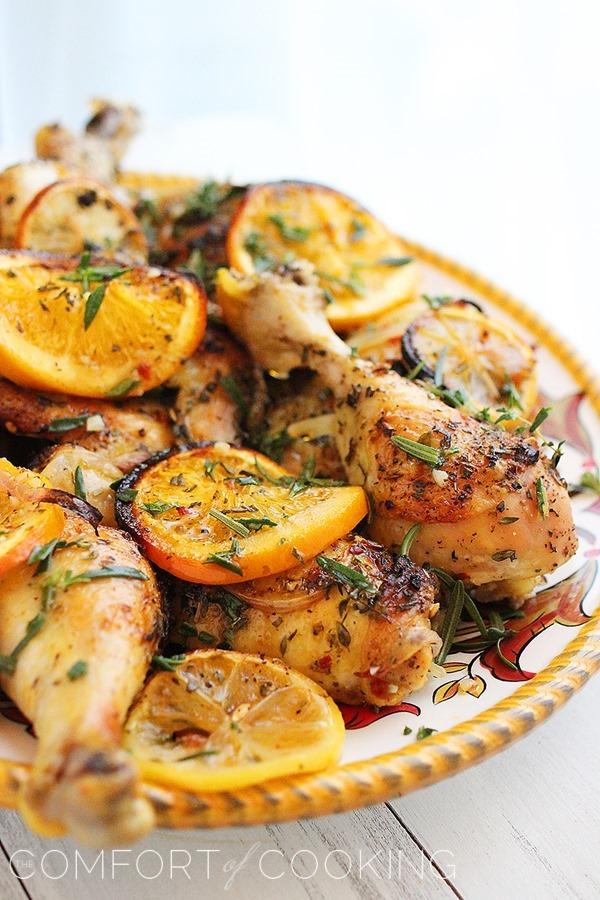 Once the chicken has baked, remove the pieces to a serving platter. Nestle in some of your pretty citrus and aromatic herbs, and you have an easy, elegant meal. Everyone – even if it's just your hubby – will be so impressed!
I served this with lemony orzo and a big salad, but rice, potatoes or garlic bread would also be great. Try it tonight!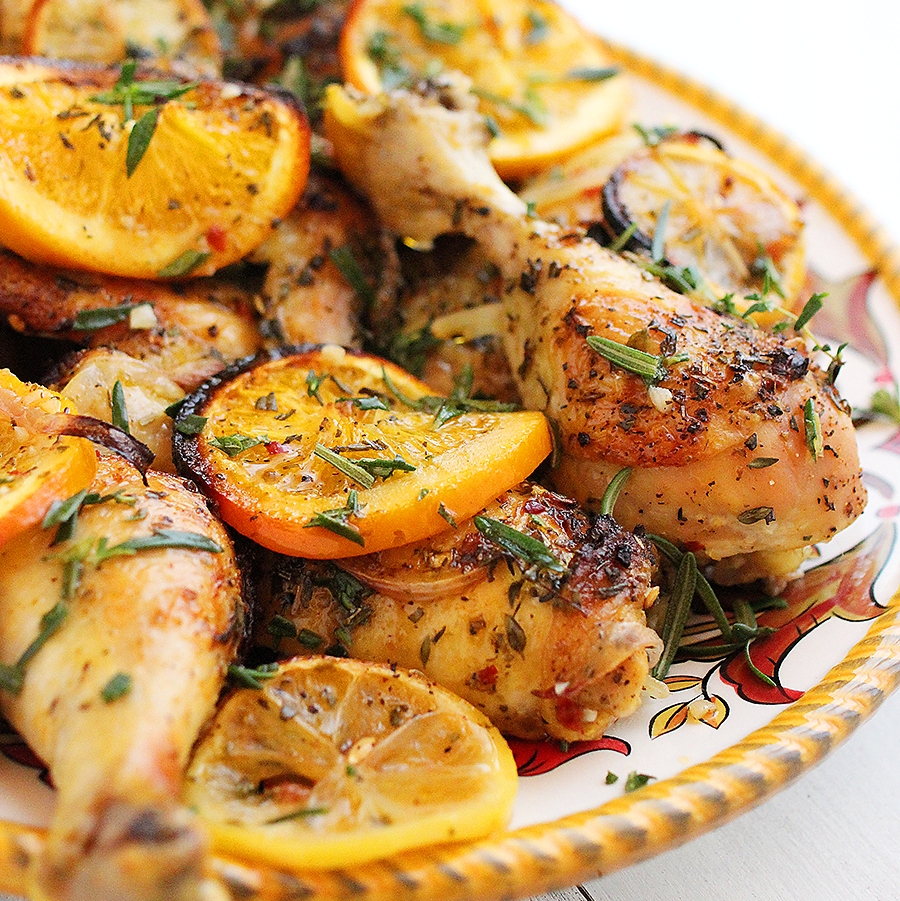 Herb and Citrus Oven Roasted Chicken
Ingredients
1/4 cup olive oil
4 cloves of garlic, minced
2 tablespoons sugar
2 whole lemons, one juiced and one sliced
2 whole oranges, one juiced and one sliced
1 tablespoon Italian seasoning
1/2 teaspoon paprika
1 teaspoon onion powder
1/4 teaspoon crushed red pepper flakes
Kosher salt and freshly ground pepper, to taste
10-12 pieces about 4 1/2 lbs. bone-in chicken parts, (thighs and legs are best), pat dry
1 medium onion, any kind, thinly sliced
1 teaspoon dried thyme, or fresh chopped
1 tablespoon dried rosemary, or fresh chopped
Chopped fresh herbs, rosemary, thyme, parsley, for garnish, optional
Instructions
Preheat oven to 400 degrees F.
In a small bowl whisk together olive oil, garlic, sugar, lemon juice, orange juice, Italian seasoning, paprika, onion powder, red pepper flakes, and salt and pepper.
Place chicken in a rimmed 13-in. x 9-in. baking dish. Place parts skin side up and spread them out evenly in the pan. Pour olive oil mixture all over chicken, turning pieces to coat all sides. (If you marinated the chicken in this mixture, still add it all in). Arrange slices of lemon, orange and onion around and under the chicken. Sprinkle all over generously with thyme, rosemary, salt and pepper.
Bake uncovered for about 1 hour, or until chicken is cooked and juices run clear. Remove parts to a serving platter and garnish with additional chopped fresh herbs, if desired.
Enjoy!