Sizzled Italian sausage with sweet bell peppers, onions and garlic in a red wine sauce is pure comfort! Serve over pasta, polenta, potatoes or on warm crusty rolls. Simply scrumptious for busy weeknights, lazy weekends, and game day feasting!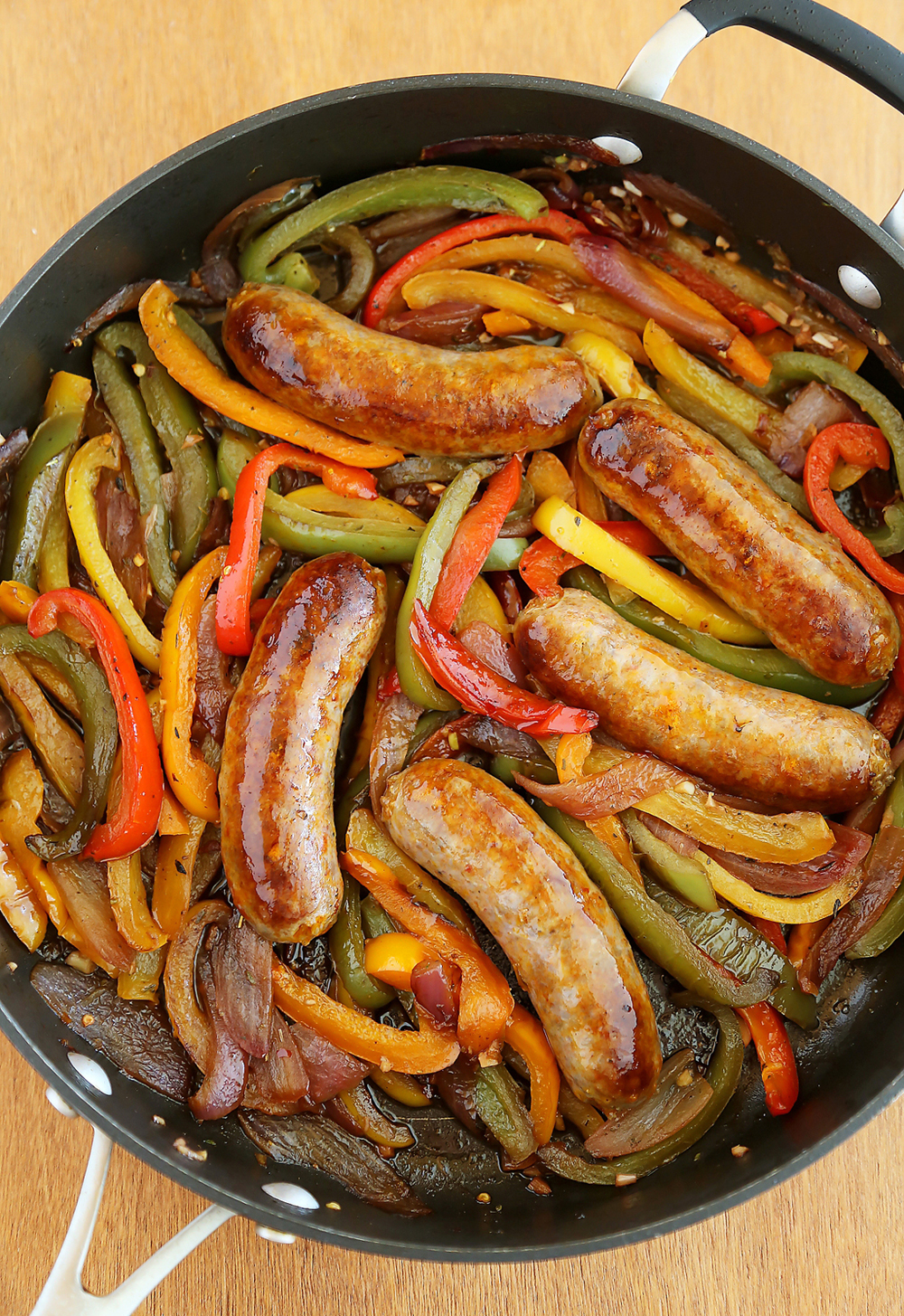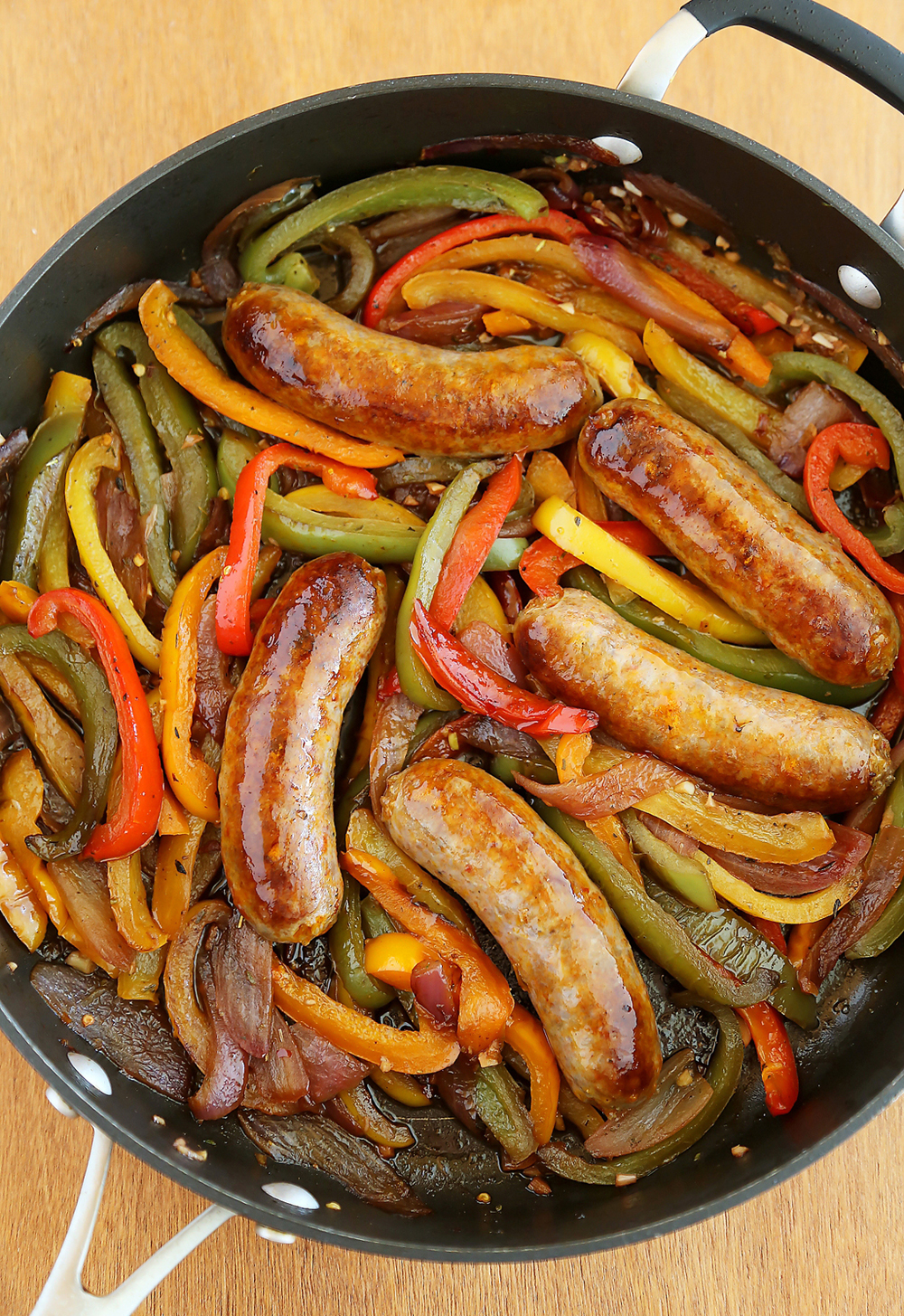 Simple and rustic as it looks, sausage and peppers is one of our favorite ever comfort foods. The sweet, strong garlicky aroma, the sound of the spattering oil as it cooks, and the heat of the pan warming your hands as you heap scoopfuls onto your plate. I love everything about this mouthwatering meal. It tastes like home to me.
I don't remember eating it much as a kid, probably because I didn't appreciate the gorgeous colors and finger-licking-good flavors as much as I appreciated frozen fish sticks. But, as an adult (when did that happen?), I've come to really crave wholesome, hearty home cooking. With a little Mediterranean-inspired flair, of course!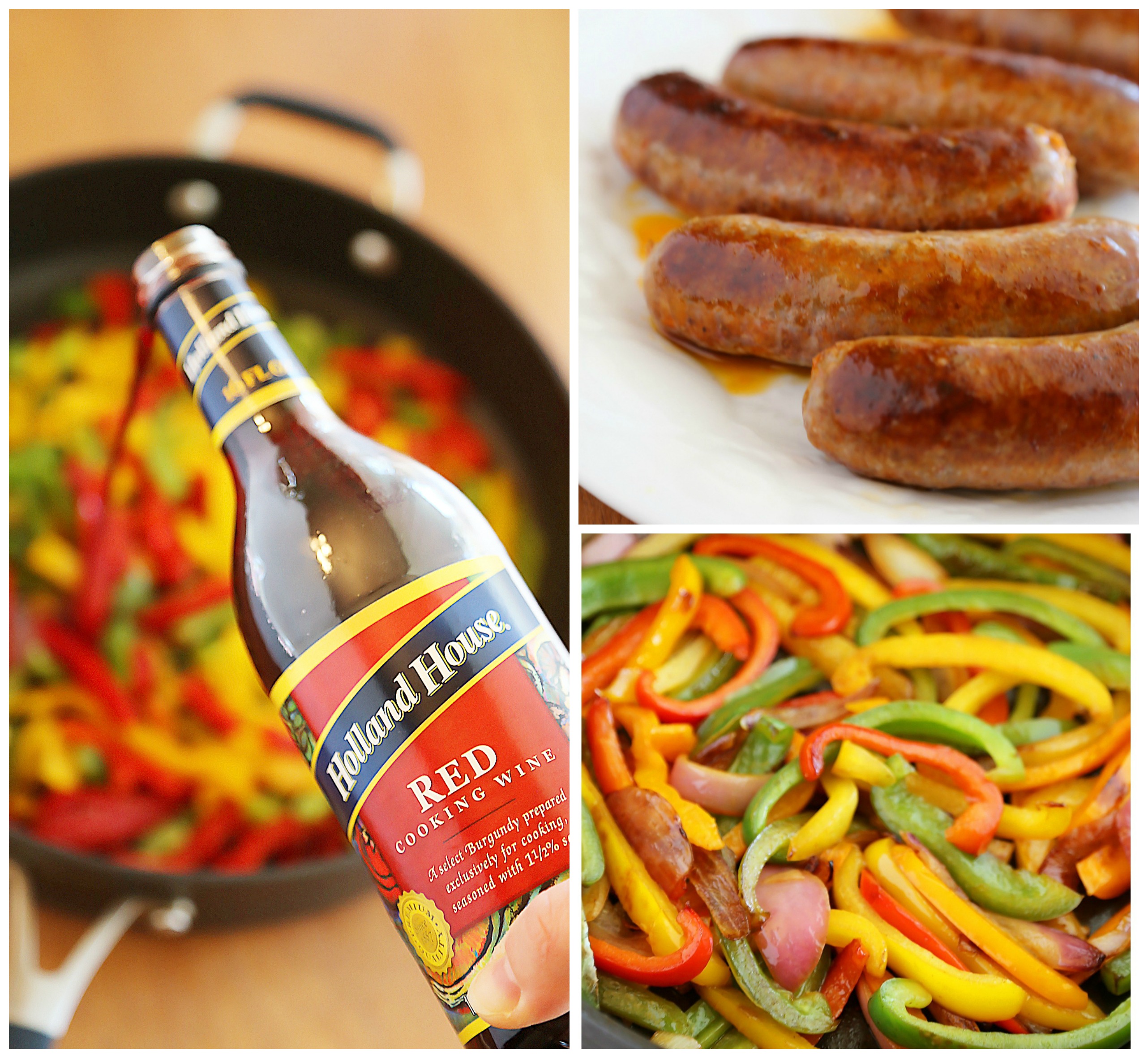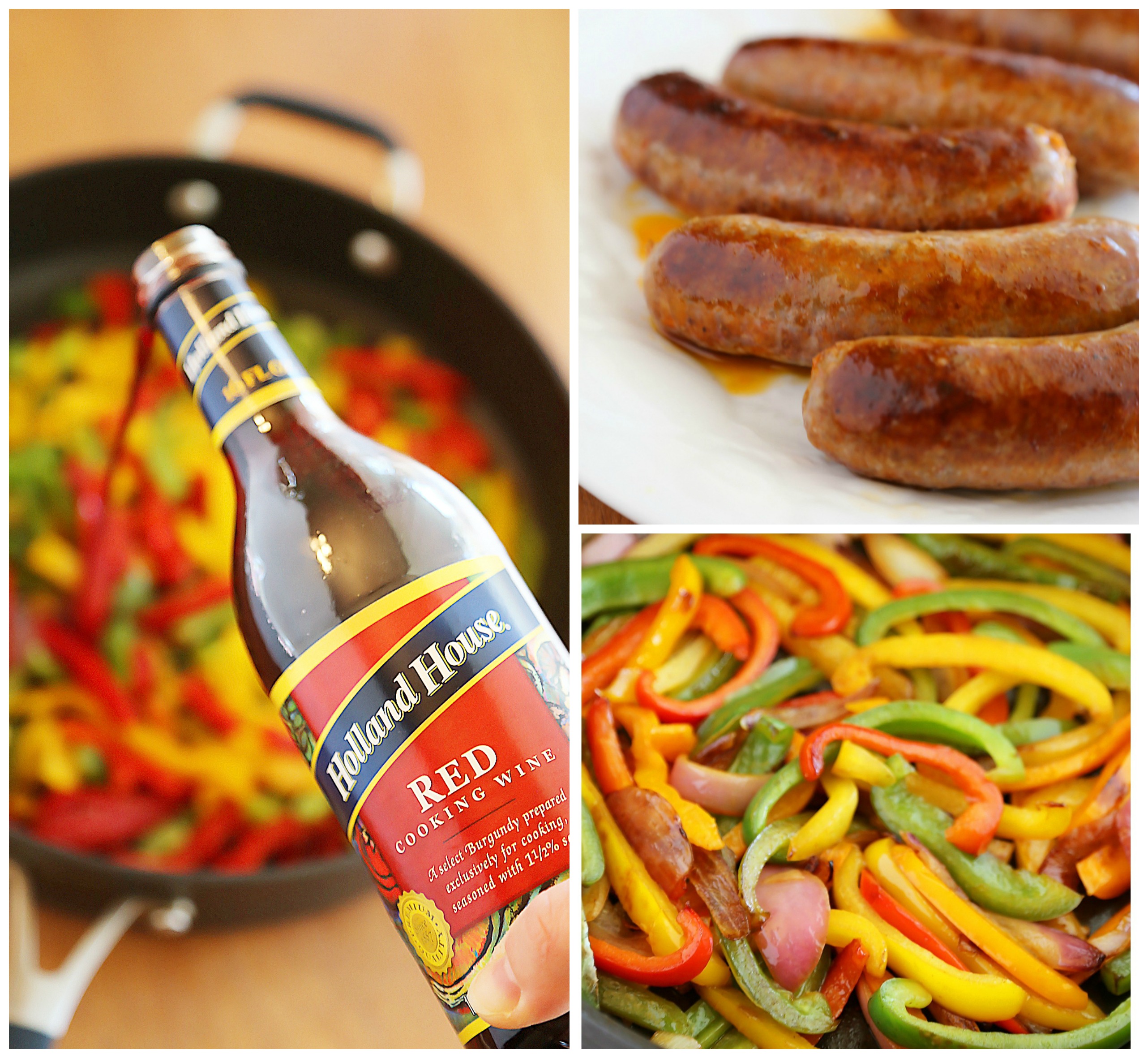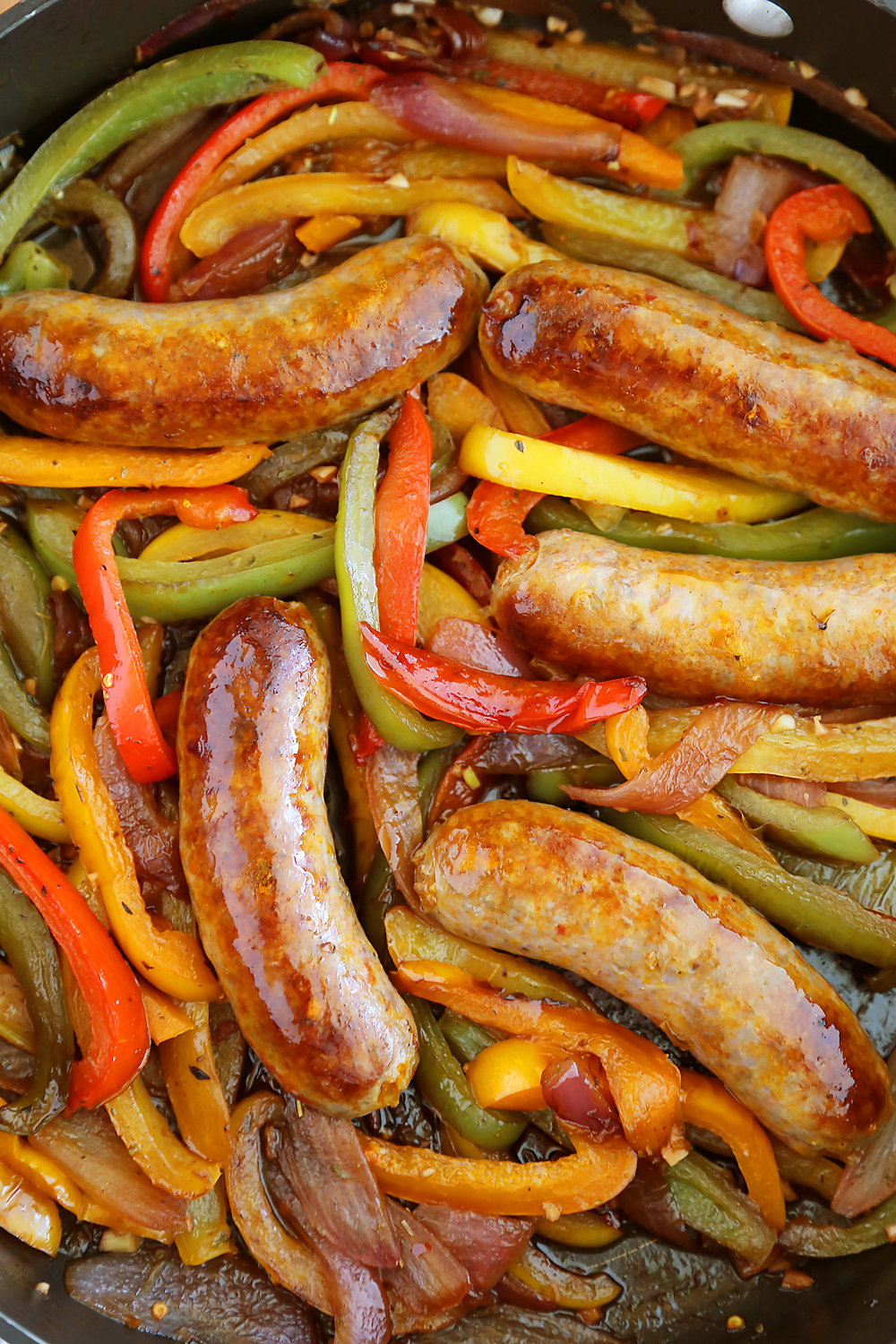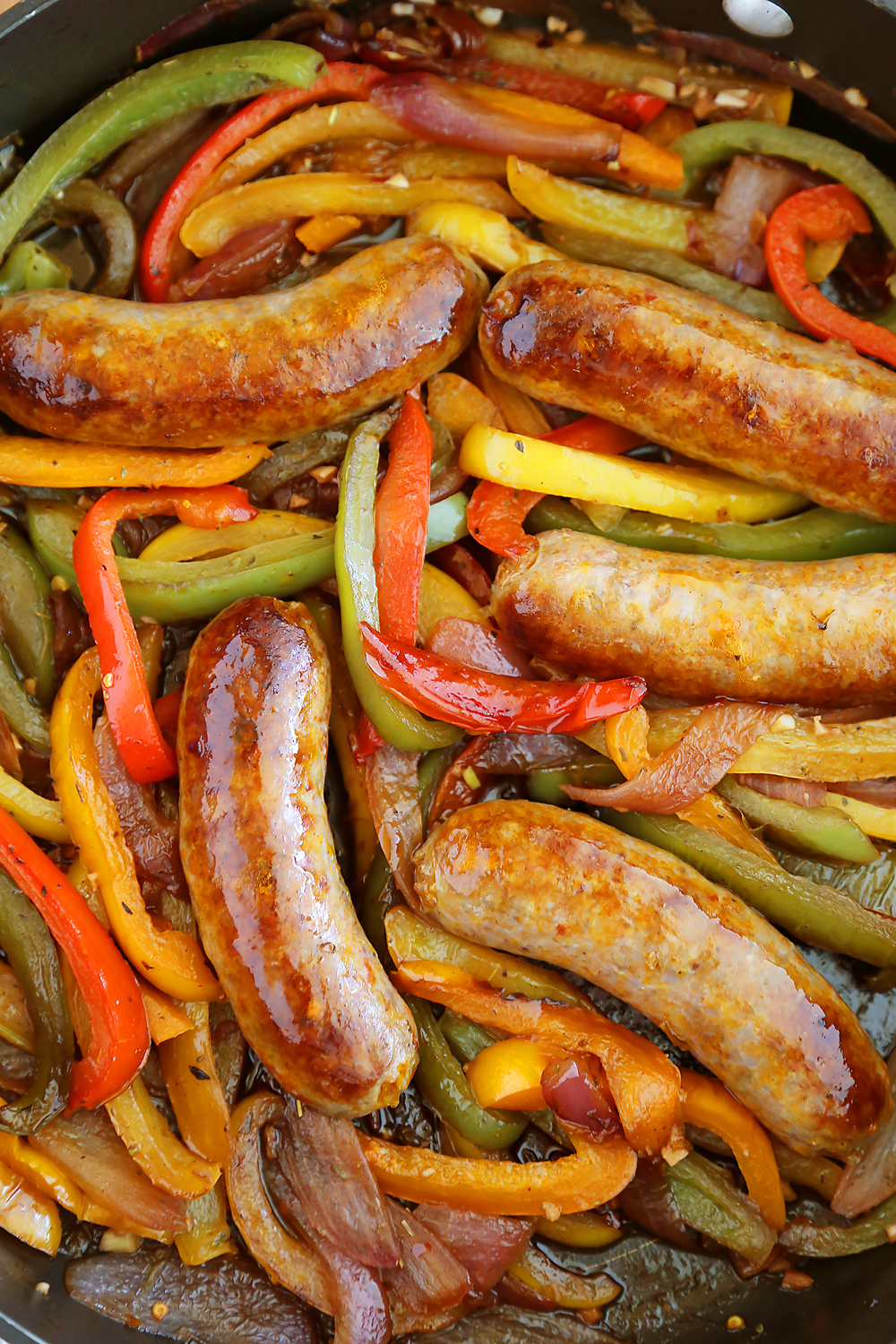 Ugh, I want!
Can't you almost hear the peppers crackling in the pan? And, while we're on the topic of good cooking sounds… is there anything better than the gentle "shwooosh" of wine hitting a hot pan full of sweet-salty goodness? THE best.
Here's a secret, though: I use cooking wine. When I'm just cooking for myself and Mr. Is-It-Done-Yet?, it hardly makes sense for me to pop open a full bottle of red. I typically only need a splash, and then after I pour a glass (of course), the wine sits on the counter. Forgotten. Gone sour. A tragedy, for sure.
So? I use Holland House Red Cooking Wine, a longtime favorite and delicious addition to my sauces, soups, stews and roasts. It has the same smooth, mellow taste as my favorite reds, with a rich Burgundy aroma that compliments any comfort food that calls for red wine. Holland House has a huge variety of cooking wines, too – whites, sherry, Marsala, sake. I use them all!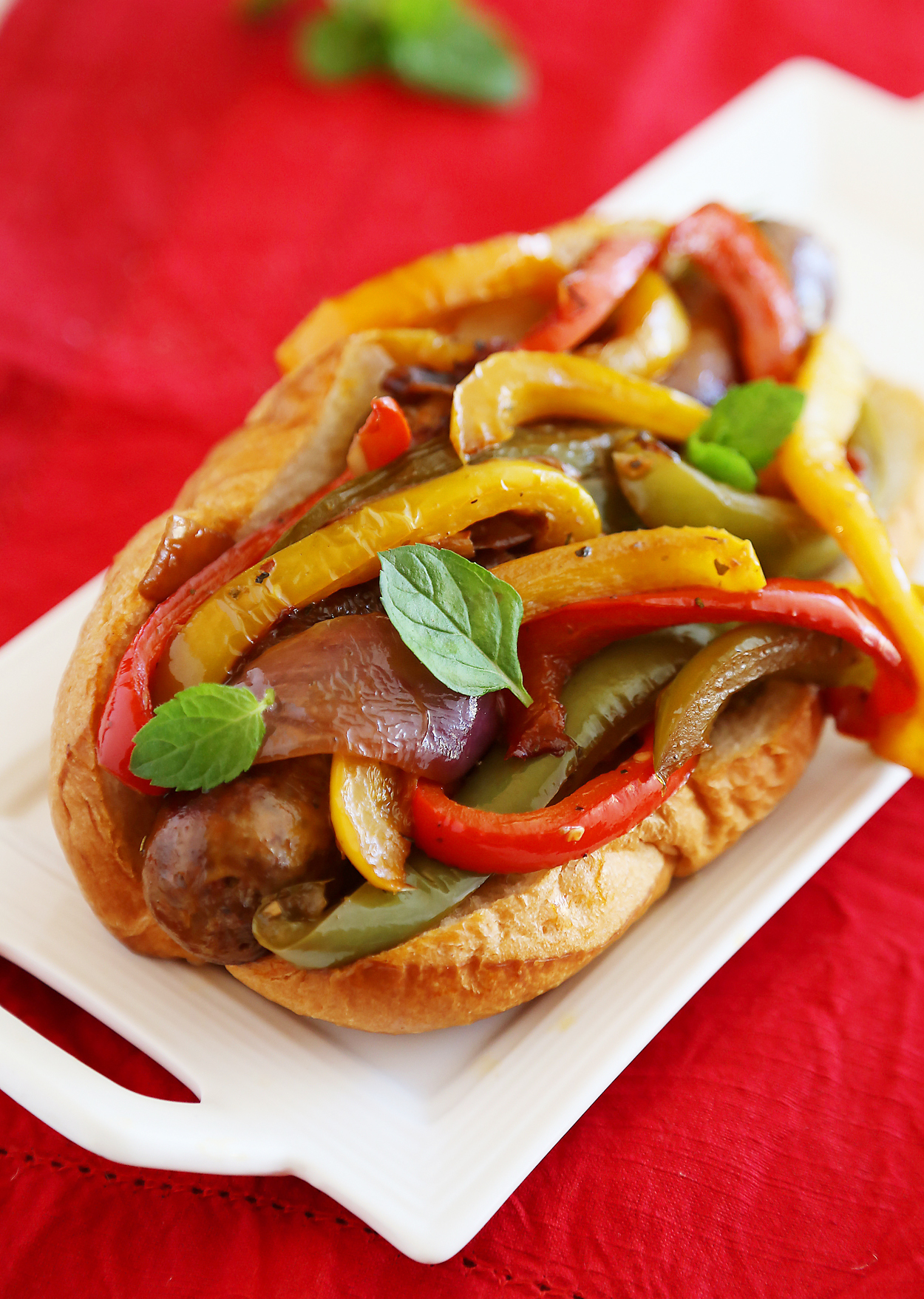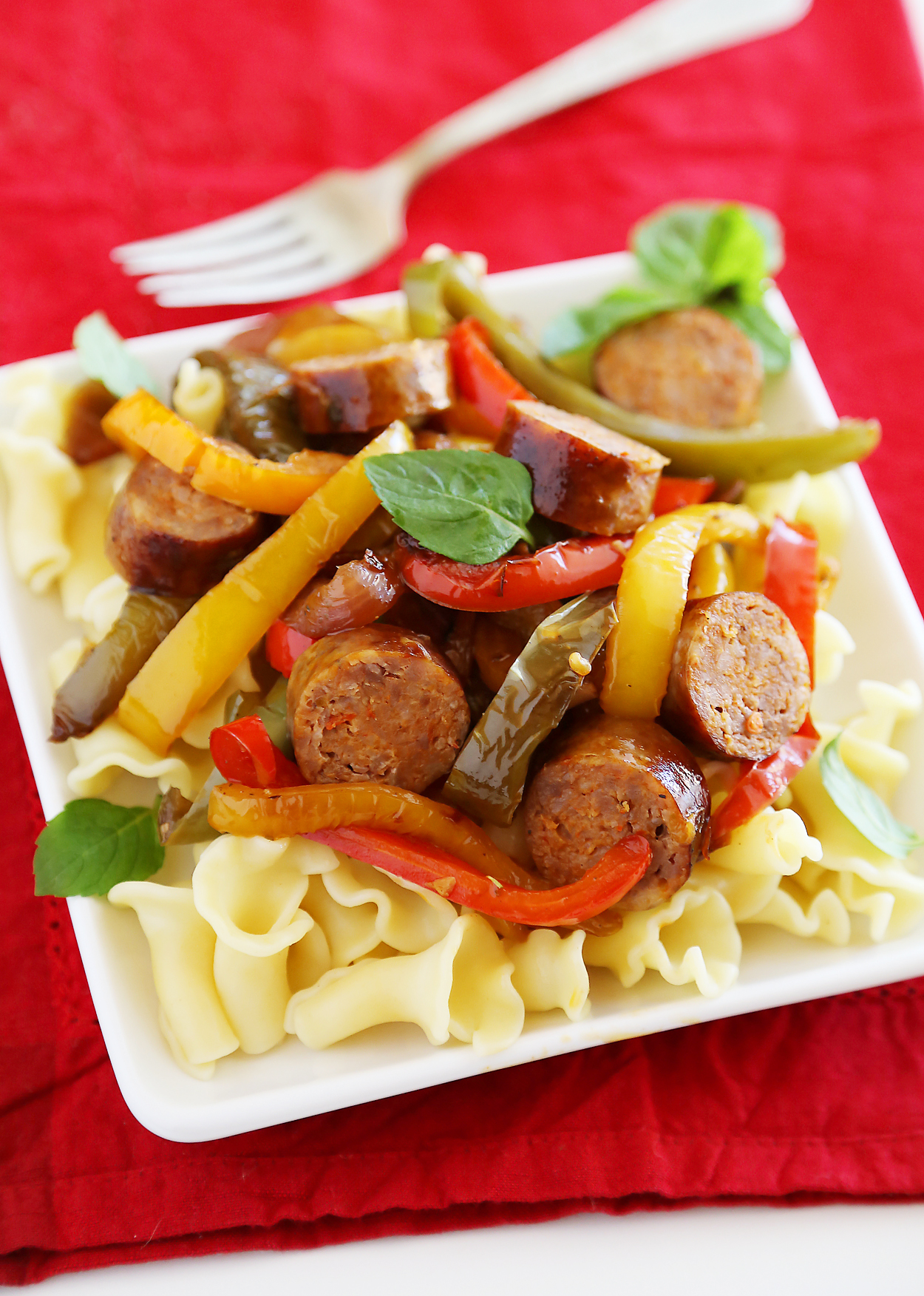 My favorite thing about sausage and peppers has to be the variety of ways you can serve it! Heaped on warm, soft hoagie rolls or on top of pasta, it totally hits the spot for a scrumptious, belly-filling meal. The tangy pan sauce adds an incredibly rich flavor to the pasta, especially!
We also love it with roasted potatoes and creamy polenta, or just as it is. Sausage and peppers makes a luscious low-carb meal on its own, with a leafy green salad for the side.
Cook up this colorful, hearty and wholesome meal tonight. You will be so glad you did, and so will everyone who's lucky enough to enjoy it with you!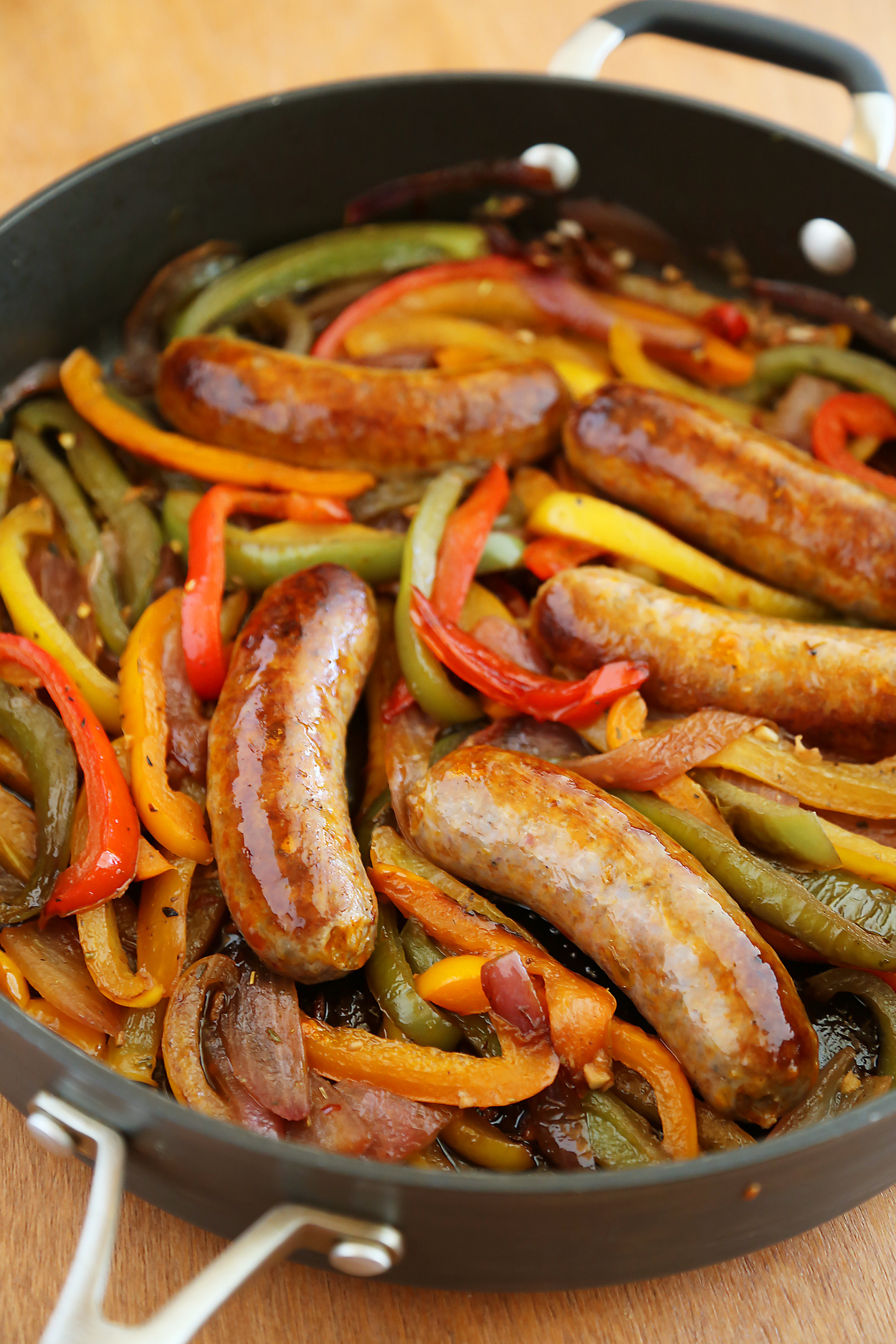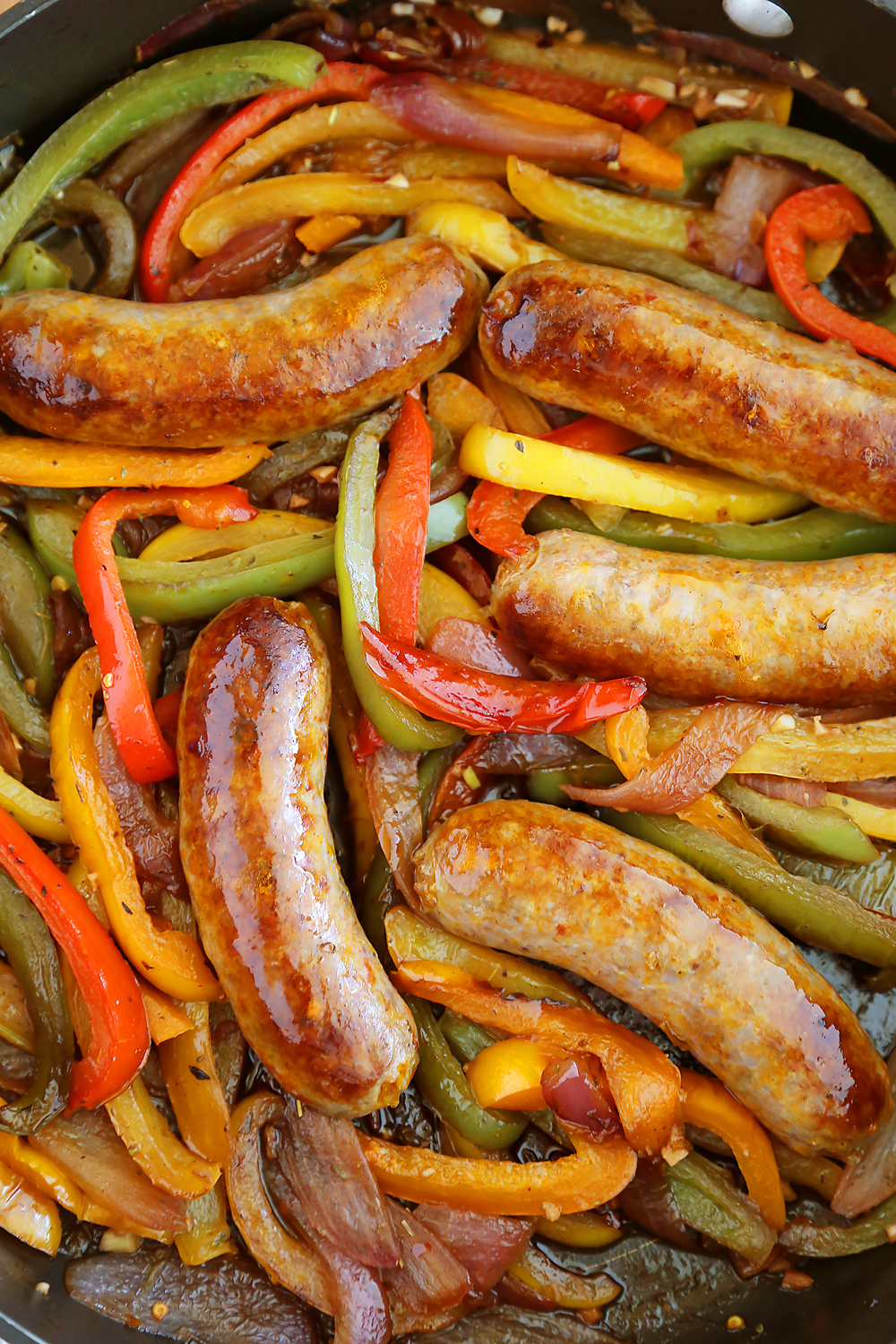 Skillet Italian Sausage, Peppers and Onions
Ingredients
2 Tablespoons olive oil
4-5 (sweet or hot) Italian sausage links
1 large yellow onion, sliced
3 bell peppers, any color, sliced into strips
2 garlic cloves, minced
1/2 cup Holland House Red Cooking Wine
1 teaspoon Italian seasoning
1/4 teaspoon crushed red pepper flakes
For serving, optional:
Warm hoagie rolls, halved
Cooked pasta, polenta or potatoes
Instructions
Poke each sausage a few times with a paring knife or fork (this helps release steam as they cook).
In a large skillet with a lid, heat olive oil over medium heat. Once hot, add sausages and brown gently and slowly. Cook for 5 minutes, turning occasionally to gently brown on all sides. (They should not be fully cooked.) Once browned, remove sausages to a plate. Set aside.
Increase heat to high. Add onion and pepper slices. Toss to coat in oil and sear vegetables until slightly blackened, stirring often. Add garlic and cook for 1 more minute.
Add red wine, scraping bottom of pan with a wooden spoon to release blackened bits. Simmer wine until reduced by half.
Add Italian seasoning and crushed red pepper flakes. Stir well to combine. Add sausages. Bring to a simmer then reduce the heat to low. Cover and simmer until peppers are soft and sausages are cooked through, about 10 minutes.
Enjoy!
Notes
If the oil crackles and sizzles too much while sausages cook, reduce heat slightly.
Store the cooked mixture in your refrigerator for about 3 days.
Serve over pasta, polenta, potatoes, or on top of warm hoagie rolls.
Disclosure: This recipe was created for Holland House Cooking Wines. All opinions are my own.