Mouthwatering, spicy-sweet sticky baked wings with Sriracha and honey! Super tender and fall-off-the-bone good. Restaurant quality wings in under an hour!
One thing I don't glorify nearly enough on this blog is my love of spicy food! Gone is the girl who once shied away from hot sauce and jalapeño slices, zippy wasabi and dried chilies. Give me it all! I mean, well… maybe just in small doses. And, maybe I need a box of tissues and a glass of milk nearby. But, hey, I still love spicy!
Truthfully, I have to credit the guy who kicked my bum and helped me crossover into loving more than just bland, safe dishes like pot pies and meatloaf. I still cooked him plenty of those in the process! But, being someone who will try any food once (and sometimes JUST once), my adventurous palate has opened me up to a world of possibilities!
Not to scare you away from these wings. They're not exactly five-alarm hot – more tangy and zesty, with a slight kick from the Sriracha that's balanced beautifully with the sticky honey. The salty soy ties all the flavors together so nicely, and a squeeze of fresh lime adds a fresh brightness to these finger-lickin'-good wings!
After photographing this dish and sampling "just one," I couldn't stop! Savory dishes are rarely addictive to me, but these were unreal. Hubby agreed!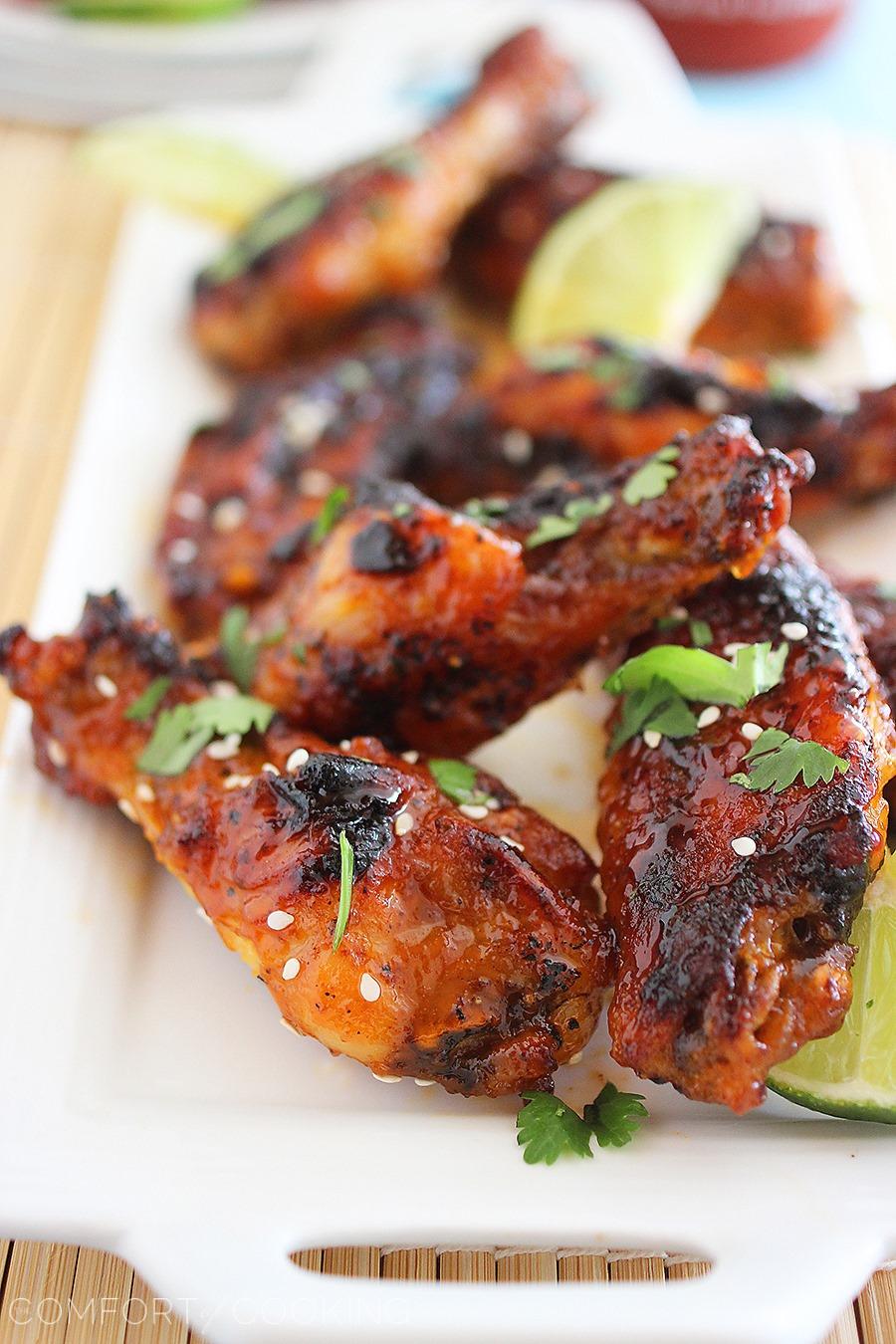 These chicken wings are also perfect for your fall parties and lazy Sundays spent watching football! After all, there's nothing better than a delicious, unexpected twist on traditional wings to get people in a party mood. Just make sure to make a BIG batch for your buddies! These babies are bound to fly off the platter…
Using tender Gold'n Plump® All Natural™ Chicken Wings, these garlicky and buttery baked wings are a cinch to make. Just toss them in a mixture of spices, vegetable oil and butter, bake for 45 minutes, and make your bubbly, spicy-sweet sauce. Once the wings are crisp, slather on your sauce and sprinkle the wings with fresh cilantro and sesame seeds. Scoot some lime wedges alongside, and you have an easy, football-friendly appetizer for game day!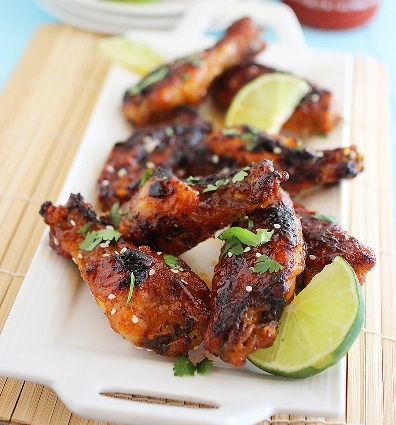 Baked Honey-Sriracha Chicken Wings
Ingredients
For the Wings:
Nonstick cooking spray
1 1/2 to 2 pounds Gold'n Plump® All Natural™ Chicken Wings
2 Tablespoons unsalted butter, melted
1 Tablespoon vegetable oil
1 teaspoon garlic powder
1 teaspoon kosher salt
1/2 teaspoon freshly ground pepper
For the Sauce:
5 tablespoons unsalted butter
1 Tablespoon flour
1/4 cup honey
1/4 cup Sriracha, Asian chile sauce
1 Tablespoon soy sauce
Juice of 1 lime
For Serving (optional):
Fresh cilantro
Sesame seeds
Lime wedges
Instructions
Preheat oven to 400 degrees F. Lightly coat a large baking sheet with nonstick cooking spray.
In a small bowl, mix butter, vegetable oil, garlic powder, salt and pepper. Pat dry chicken wings with paper towels and place on baking sheet. Pour butter mixture over wings and toss well to coat. Arrange wings in a single layer on baking sheet and bake until browned and crisp, 45 to 55 minutes.
Meanwhile, make the sauce: Melt butter in a small pot over medium heat. Whisk in flour. Stir in honey, Sriracha, soy sauce and lime juice. Bring to a boil then remove from heat.
Place cooked wings in a large bowl. Pour sauce over wings and gently toss to coat. Transfer wings to a serving platter. Sprinkle with cilantro and sesame seeds, and serve with lime wedges, if desired.
Enjoy!