It may be cooling off outside, but I just cannot get enough of fresh, flavorful salsas! I love those bright, crisp flavors of basil, lemon, and parsley mixed with the sweetness of bell peppers, tenderness of tomatoes and tang of capers. It's my little way of holding on to summer, if only through food.
Snapper what was happened to be on sale recently at my grocery store, but this recipe would also be delicious with any other firm white fish such as halibut, tilapia or cod. Whichever fish you choose, I know you will just love the flavor of this dish. The Parmesan-potato crust is crispy and rich, and the fresh salsa, made with roasted bell peppers, tomatoes, basil and lemon juice, to name a few, pares deliciously with the pan-fried fish.
For a different and delicious dinner option, give this healthy fish dish a try! Before you know it, you'll have a clean plate and be wondering when you can make this again!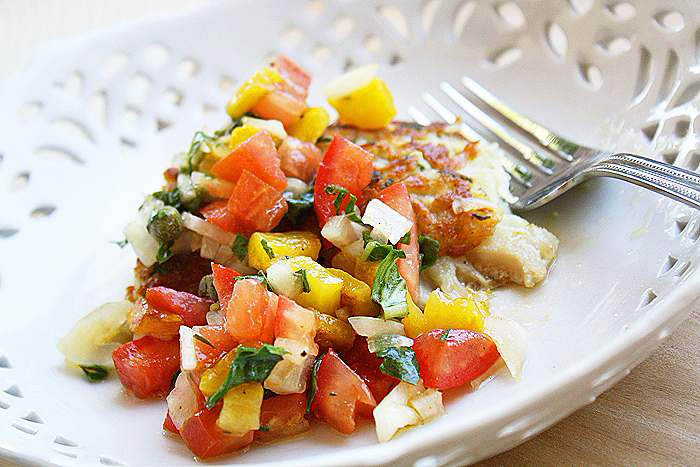 Potato-Crusted Snapper with Bell Pepper Salsa
Ingredients
For salsa:
1 large yellow bell pepper, roasted (see directions)
1/2 cup chopped onion
1/2 cup chopped seeded plum tomato
1 tablespoon thinly sliced fresh basil
1 tablespoon chopped fresh parsley
1 tablespoon fresh lemon juice
1 1/2 teaspoons capers
1 teaspoon extra-virgin olive oil
1/8 teaspoon salt
For fish:
1 cup shredded, peeled potato
3 tablespoons grated fresh Parmesan cheese
2 teaspoons chopped fresh parsley
1/2 teaspoon salt, divided
1/4 teaspoon freshly ground black pepper
2 6-ounce red snapper or other firm white fish fillets
2 teaspoons olive oil, divided
Instructions
Preheat broiler.
To prepare salsa, cut bell pepper in half lengthwise; discard seeds and membranes. Place pepper halves, skin sides up, on a foil-lined baking sheet; flatten with hand. Broil 8 minutes or until blackened. Place in a zip-top plastic bag; seal. Let stand 10 minutes. Peel and coarsely chop. Combine bell pepper, onion, and next 7 ingredients.
Preheat oven to 375º.
To prepare fish, combine potato, Parmesan, parsley, 1/4 teaspoon salt, and black pepper. Sprinkle both sides of fillets with 1/4 teaspoon salt. Spread 1/4 cup potato mixture over 1 side of each fillet; press mixture onto fish. Heat 2 teaspoons oil in a large nonstick skillet over medium-high heat. Add fish fillets, potato side down, to pan. Cook 3 minutes, or until browned. Turn fish potato side up in the pan.
Bake for 5 minutes, or until fish flakes easily when tested with a fork. Serve with salsa.
Enjoy!