I've never been a big fan of salad, but I have a few guesses why: First, I keep my leafy salads pretty bare – no dressing, no fancy extras, nothing at all. Second, I'm too busy focusing on the warm, fragrant main course instead of poking at the leaves on my plate. And third, well, I've never made any interesting variations of salad until now.
This panzanella is a truly refreshing treat in terms of salads and side dishes, and I think you would agree. It may have an unfamiliar name, but there are only familiar flavors in this Greek dish, such as fresh cucumbers, bell peppers, cherry tomatoes, red onion, black olives, and a super scrumptious red wine vinaigrette that is a cinch to make!
All you need to do is chop the vegetables and cube some day-old French bread. Then, saute the bread in a large pan with some olive oil and coarse salt until the cubes are nice and golden. Meanwhile, make your vinaigrette and keep an eye on the bread. When it's done, toss those gorgeous browned bread cubes with the veggies, vinaigrette, and some creamy feta cheese. Give it a stir, and you have a colorful and incredibly yummy side dish!
My husband and I didn't expect to love this salad as much as we did, but it was a absolutely delicious accompaniment to some roasted salmon topped with basil pesto. I really hope you try it sometime, because I know you'll love it too!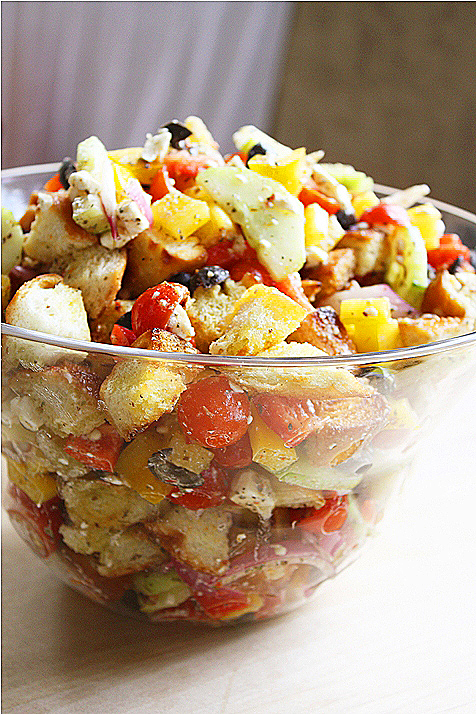 Greek Panzanella Salad
Ingredients
For the salad:
2 tbsp. olive oil
4 cups French bread cubes, 1 inch
Kosher salt
1 cucumber, peeled, halved and sliced 1/4-inch thick
1 red bell pepper, large diced
1 yellow bell pepper, large diced
1 pint cherry tomatoes, halved
½ red onion, sliced thin
4-6 oz. crumbled feta cheese
2.5 oz. can sliced black olives, drained (kalamatas would also be good!)
For the vinaigrette:
2 cloves garlic, minced
1¼ tsp. dried oregano
½ tsp. Dijon mustard
¼ cup red wine vinegar
1 tsp. salt
½ tsp. freshly ground black pepper
1/3 cup olive oil
Instructions
To prepare the salad, heat the olive oil in a large sauté pan. Add the bread cubes and sprinkle with salt; cook over medium heat, tossing frequently, for 5-10 minutes, until nicely browned. Remove from the heat.
Combine the cucumber, bell peppers, tomatoes, and red onion in a large bowl.
To make the vinaigrette, combine the garlic, oregano, mustard, vinegar, salt and pepper in a small bowl. Whisk in the olive oil to create an emulsion. Pour the vinaigrette over the vegetables. Add the feta, olives, and bread cubes. Mix together lightly. Set aside for 30 minutes to let the flavors blend.
Enjoy!