Why I chose to wear a white sweater and khaki pants on the day I made these amazing, saucy chicken enchiladas, I'll never know. But even though my nice clothes are soaking in a bath of laundry detergent and hot water, all I can think about is how last night's dinner was SO worth the gloppy red stains and piles of dishes.
This was a dinner I was originally reserving for the weekend, but as I read the recipe for these enchiladas, I couldn't help but drool and start craving them immediately. After just under an hour of chopping, seasoning, sautéing and baking, these enchiladas were staring back at me and my husband as a delicious dinner we couldn't wait to devour!
Of course, when I wrangled them out of the pan and onto the plate, they promptly split and oozed gooey cheese, chicken and tomatoes. But that's just the nature of enchiladas. Everyone knows they're not pretty, but they sure are tasty!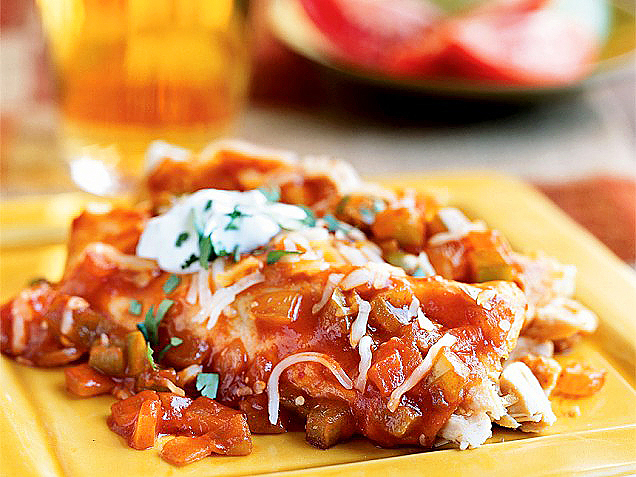 Chicken Enchiladas
Ingredients
1 ½ tablespoons vegetable oil
1 lb. skinless boneless chicken breast
Salt and pepper
1 teaspoons cumin powder
1 teaspoons garlic powder
1 teaspoon Mexican Spice Blend
1/2 red onion, chopped
2 cloves garlic, minced
1 cup frozen corn, thawed
3 canned whole green chilies, seeded and coarsely chopped
2 canned chipotle chilies, seeded and minced
1 28-ounce can stewed tomatoes
1 teaspoon all-purpose flour
7-8 corn tortillas
1 1/2 cups enchilada sauce, canned
1 cup shredded Cheddar and Jack cheeses
For servings:
Chopped cilantro leaves, chopped scallions, sour cream, chopped tomatoes
Instructions
Coat a large sauté pan with oil. Season chicken with salt and pepper. Brown chicken over medium heat, allow 7 minutes each side or until no longer pink. Sprinkle chicken with cumin, garlic powder and Mexican spices before turning. Remove chicken to a platter, allow to cool.
Sauté onion and garlic in chicken drippings until tender. Add corn and chilies. Stir well to combine. Add canned tomatoes, sauté 1 minute.
Pull chicken breasts apart by hand into shredded strips. Add shredded chicken to sauté pan, combine with vegetables. Dust the mixture with flour to help set.
In batches of 3-4, wrap tortillas in moist paper towels and microwave on high for 30 seconds each. This softens them and makes them more pliable.
Coat the bottom of a 13 x 9-inch dish with a ladle of enchilada sauce. Using a large shallow bowl, dip each tortilla in enchilada sauce to lightly coat. Spoon 1/4 cup chicken mixture in each tortilla. Fold over filling and place enchiladas in each pan with seam side down. Top with remaining enchilada sauce and cheese.
Bake for 20 minutes in a preheated 350 degree oven, until cheese melts.
Garnish with cilantro, scallions, sour cream and/or chopped tomatoes before serving. Serve with Spanish rice and beans.
Enjoy!