•
Cuddle up to a bowl of silky, savory sweet potato soup with warm spices, creamy goat cheese and crispy applewood smoked bacon. The perfect soup for those chilly nights!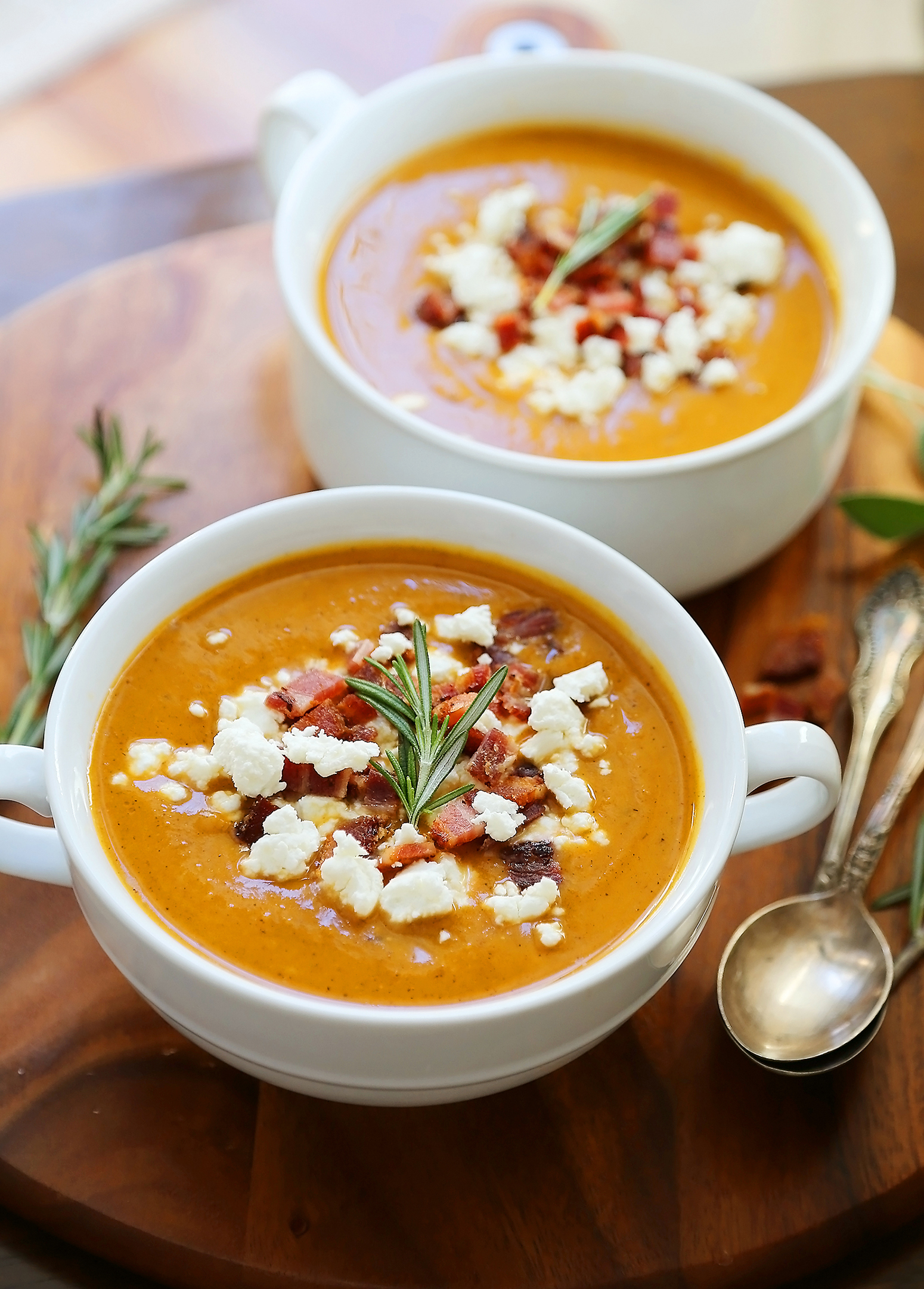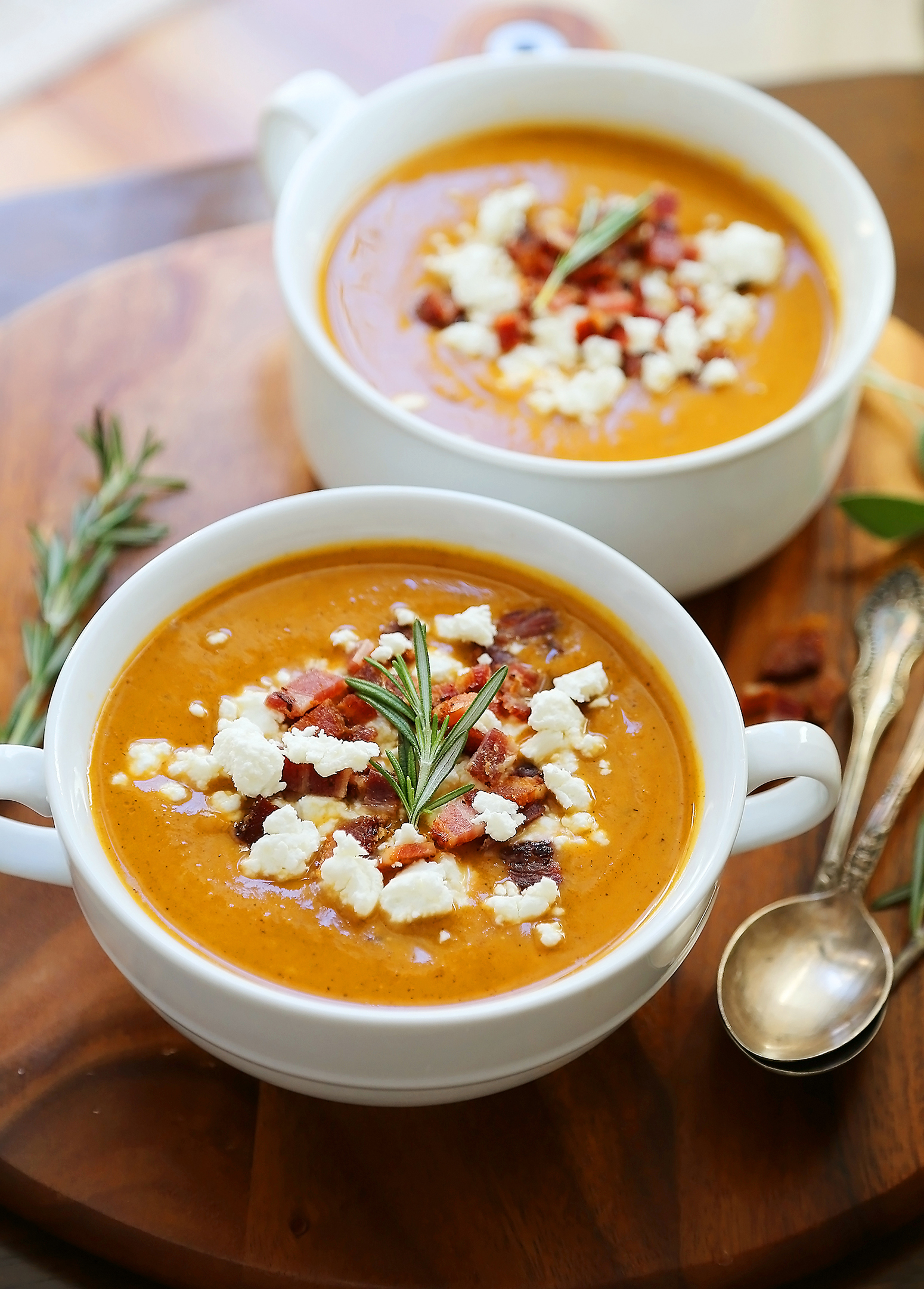 There is nothing I love more on a cold evening than tucking into a bowl of hot homemade soup – and it's even more enjoyable when it's easily made on a weeknight! A simple combination of fresh sweet potatoes, garlic and onion, warm spices and one outstanding chicken broth makes for a standout soup. Whether you're serving it as a starter for the holidays, or a main meal with crusty bread and a leafy green salad, everyone will love this super luscious, silky sweet potato soup.
Best of all, it's dairy free!
Unless you're like me, and pile on the goat cheese by the handful. Don't be like me. Be reasonable.
Want a vegetarian-friendly soup? Skip the bacon and toss on some toasted pumpkin seeds or crispy tortilla strips for an alternate added crunch.
You can absolutely not go wrong with this lovely and super-easy soup. All you need are 5 ingredients, plus the spices, and about 30 minutes. Yes, just 30 minutes, start-to-finish, to have this bowl-licking beauty on your table, daring you to savor every last drop. Now doesn't that sound wonderful?
Let's get cooking!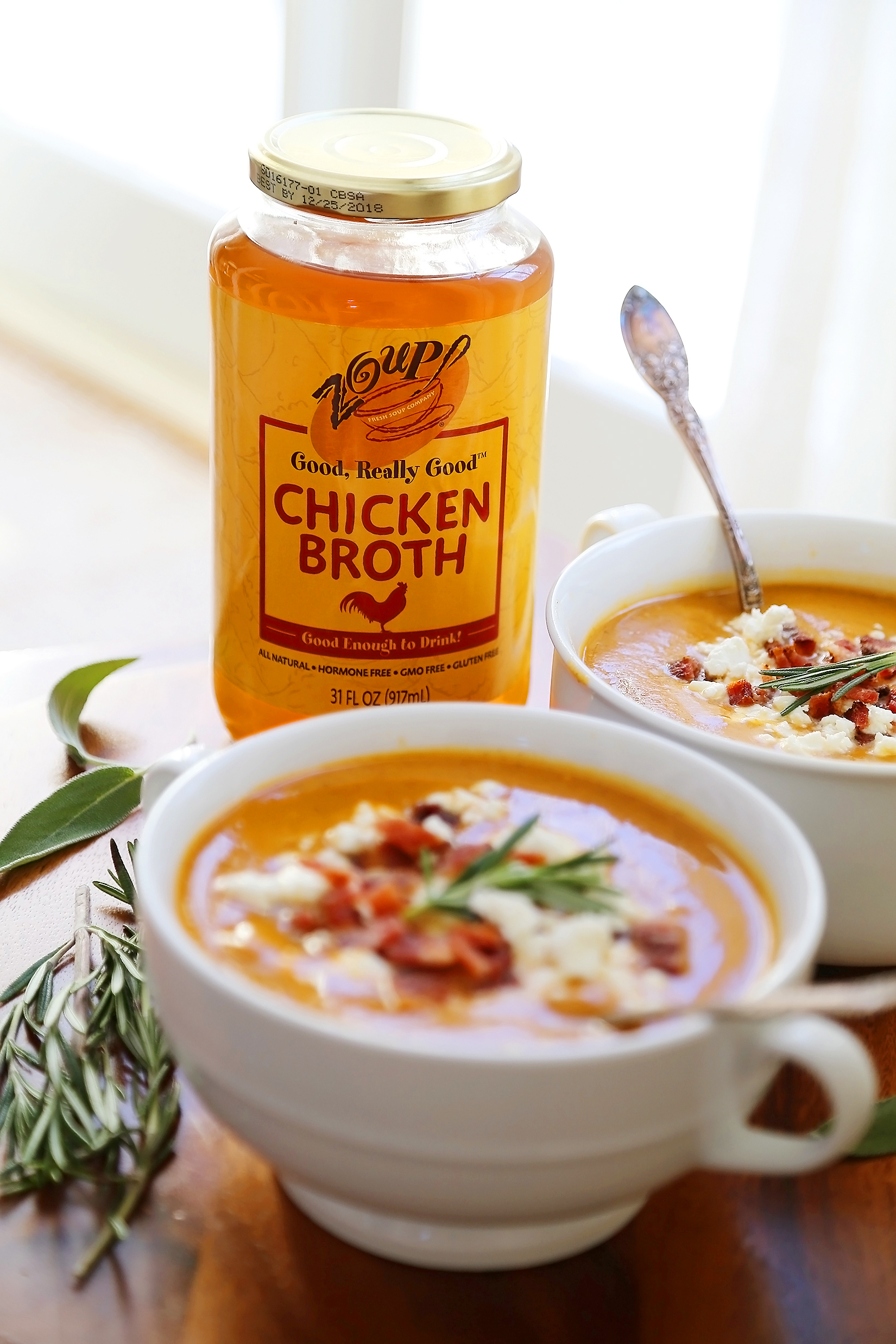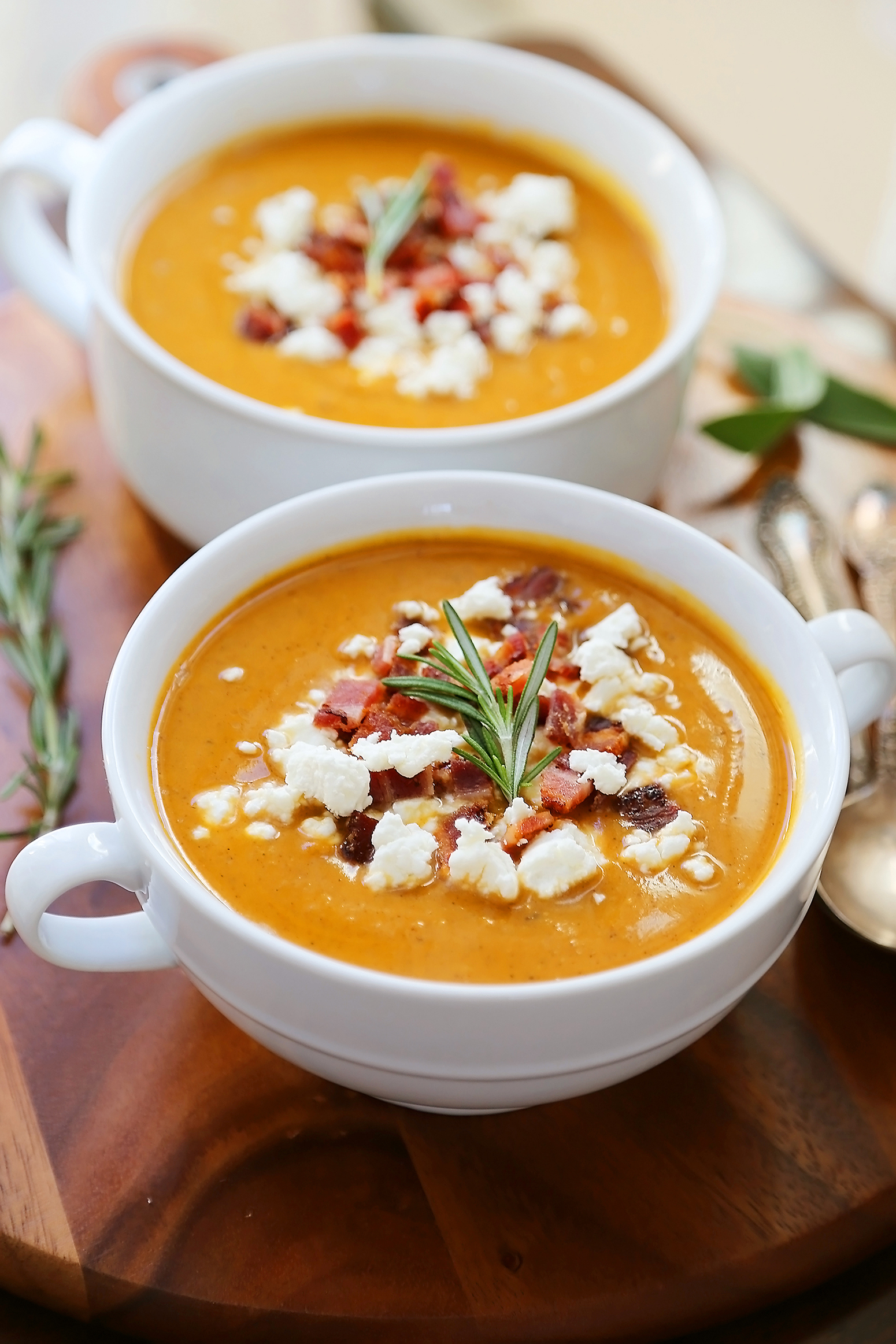 I created this soup in partnership with Zoup! Good, Really Good™ Broth, who inspired me to finally make some magic in the kitchen after a stale few weeks. Between copious traveling and toddler chasing, it's been a dull month in my kitchen… unless you count the piles and piles (did I mention piles?) of Christmas cookies my mini kitchen helper and I have been baking.
Hey, it's a craft activity! We're fostering learning over here. One bag of sugar at a time.
Back to the Zoup! Good, Really Good™ Broth – you guys, you have to try this stuff. I have honestly never tried a product that has had THIS much impact on the flavor in my cooking. From my sauces and soups, to skillet meals and gravies, I have been using their various flavors on repeat for weeks. For this sweet potato soup, I used the Chicken Broth, but you could easily substitute with Veggie Broth and still maintain that comforting, homemade taste!
Check out their amazing range of flavors…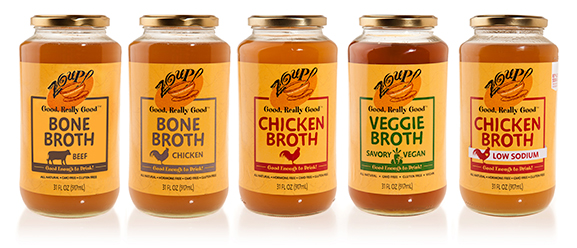 Ready for some fun facts? Zoup! Good, Really Good™ Broth is cooked in kettles in small batches, and originated as a fast-casual franchise chain of restaurants. The broths are low in calories, paleo-friendly, and completely free of hormones, gluten, GMO's, fat, trans-fat and saturated fat. Lucky for us, this restaurant quality broth is now available nationwide!
Get your own Zoup! Good, Really Good™ Broth with a $1 coupon. You can purchase the broth at supermarkets such as Albertsons, The Fresh Market, Giant, Giant Eagle, Kroger, Rouse's, Gelson's, Central Market, Fresh Thyme and Safeway. Find one in your location by clicking here. Contact info@zoupbroth.com with any questions.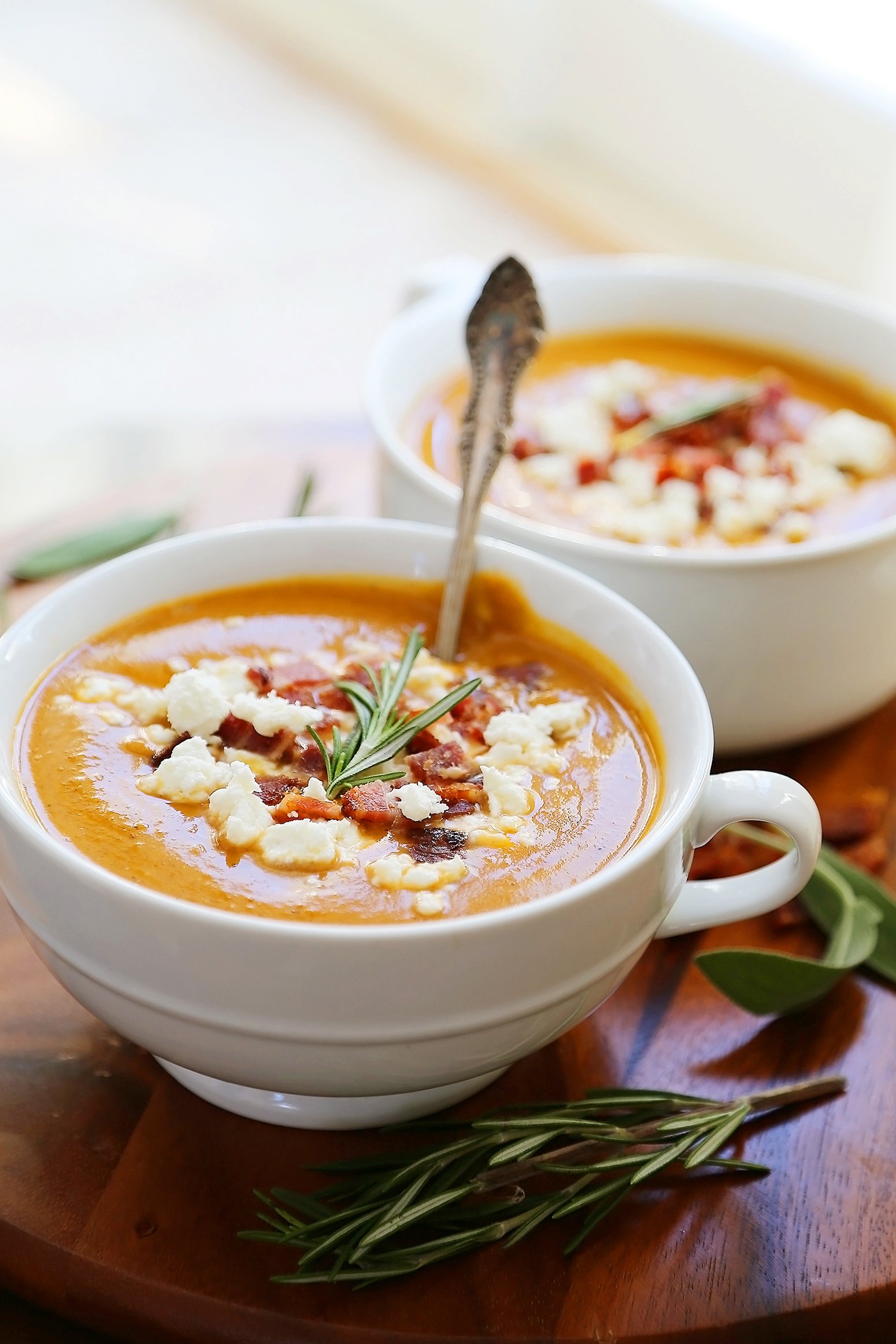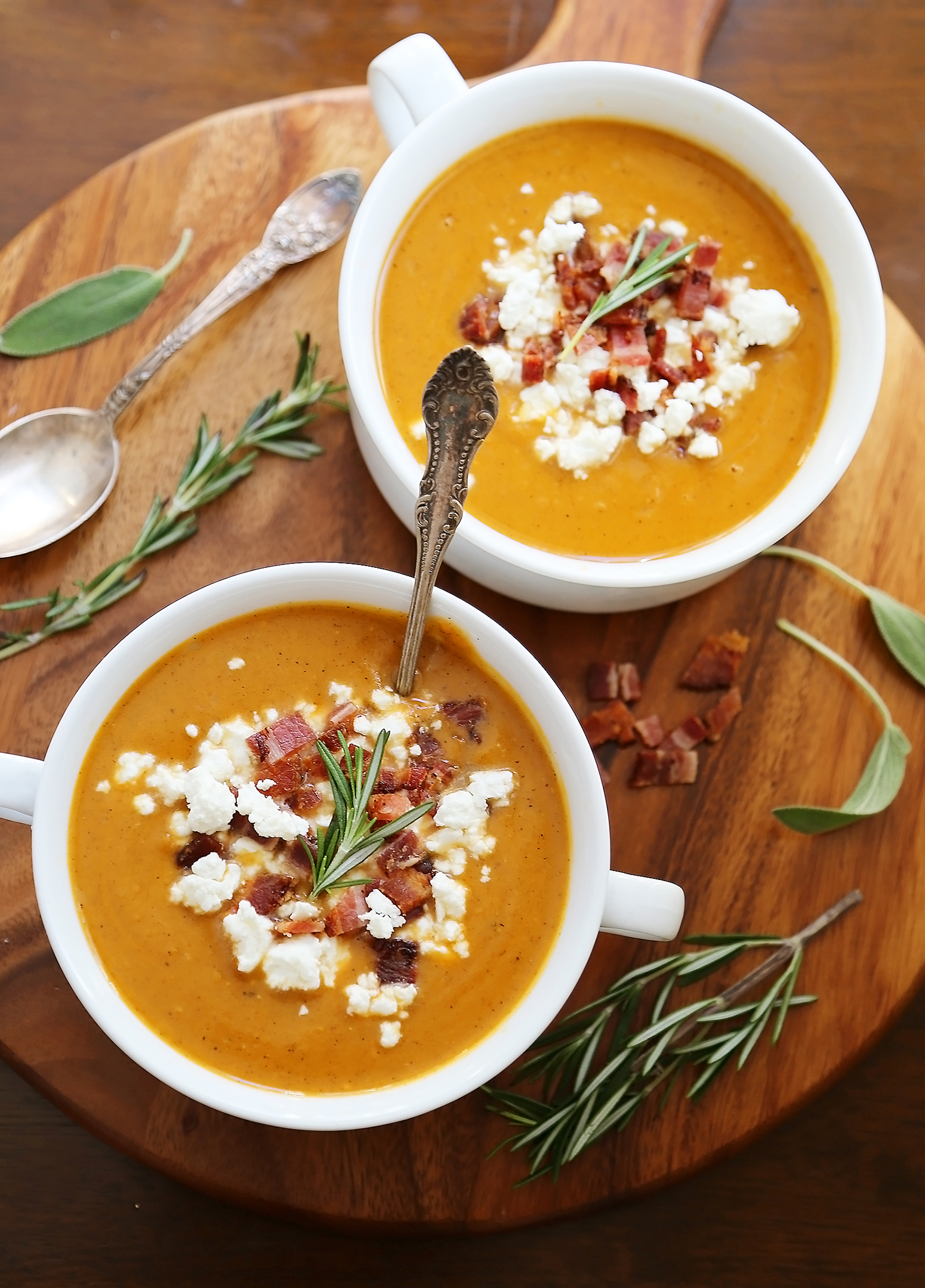 Now, you have your scrumptious soup. Some, like my husband, would say it is fine as-is. But, I say let's add some fun toppings that really bring out the flavors in this beautiful bowl!
With crumbled goat cheese and salty bacon, you cannot go wrong. It's a lovely marriage of crispy-creamy, melt-in-your-mouth goodness. However, you can substitute this with any cheese or other type of crunchy topping you like. Shaved Parmesan cheese and fried onion strips come to mind!
I also love adding different herbs on top, depending on the season. Try chopped rosemary, thyme or sage. Or, for the warmer months, a bit of basil or parsley!
For a hearty, healthy weeknight meal or special occasion dinners, this soup is the perfect addition to your dinner table. I really hope you enjoy this recipe, and please let me know how it turns out for you, if you try it!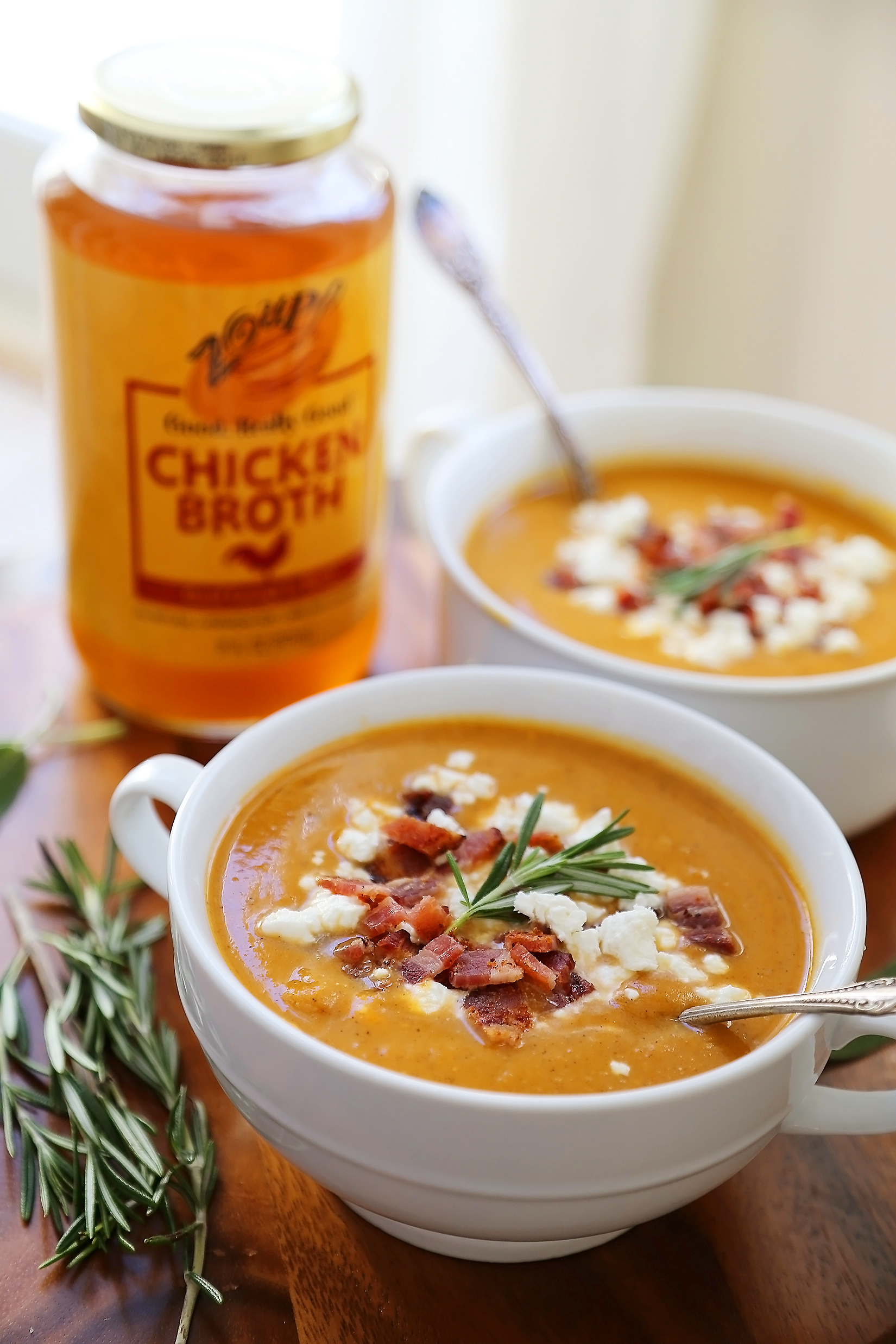 Visit Zoup! on Facebook, Twitter and Instagram for more delicious goodness!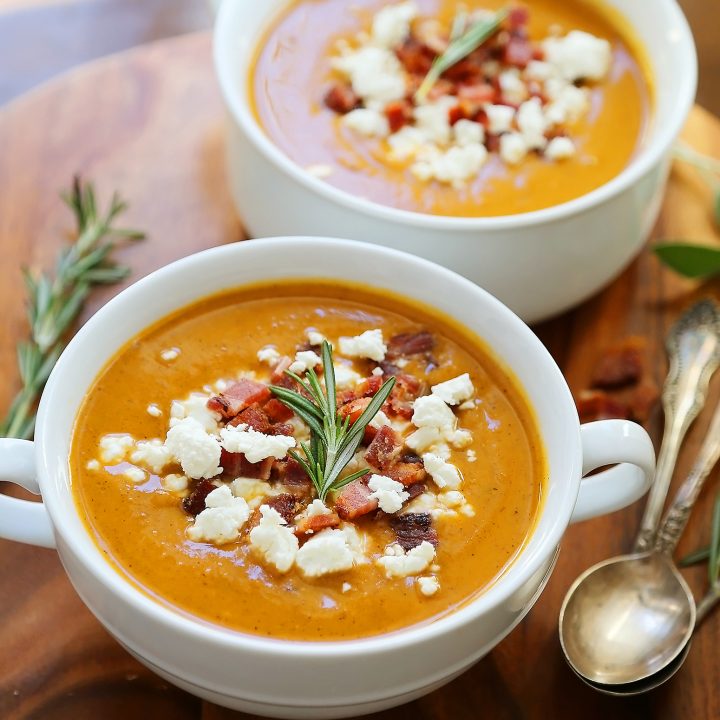 Creamy Sweet Potato Soup with Bacon and Goat Cheese
Ingredients
2 large (about 2 lb.) sweet potatoes, halved lengthwise
2 tsp. olive oil
1/2 medium yellow onion, chopped
2 garlic cloves, crushed
1 tsp. chili powder
1/2 tsp. kosher salt
1/4 tsp. ground cumin
1/4 tsp. ground cinnamon
4 cups chicken broth
For topping (optional):
6 bacon slices, cooked 'til crisp and crumbled
1/2 cup crumbled goat cheese
2 Tbsp. chopped herbs (such as rosemary, thyme, sage or parsley)
Instructions
Place potatoes, cut-side down, in a large microwave-safe baking dish. Add 1/2 cup water and cover with plastic wrap. Microwave on high for 15 minutes, or until potatoes are tender. Let cool slightly, then squeeze sweet potato flesh out of skins. Discard skins.
Add olive oil to a medium saucepan set to medium-high heat. Add onion and garlic, sautéing for 2 minutes, until softened. Stir in chili powder, salt, cumin and cinnamon. Add sweet potatoes and chicken broth; bring to a boil. Remove from heat.
Using a handheld immersion blender, blend soup until smooth. Or, transfer sweet potatoes and broth to a large blender or food processor, and blend in small batches. Return soup to saucepan and stir.
Ladle soup into individual serving bowls. If desired, top with crispy crumbled bacon, goat cheese, and chopped herbs.
Enjoy!