Try a fun, festive churro + berries board for any occasion! This delicious dessert board has a little something for everyone. Crispy, tender churros tossed in cinnamon sugar is an addictive, bite-sized treat. Serve with dulce de leche chocolate sauce (recipe included) to truly take this over the top!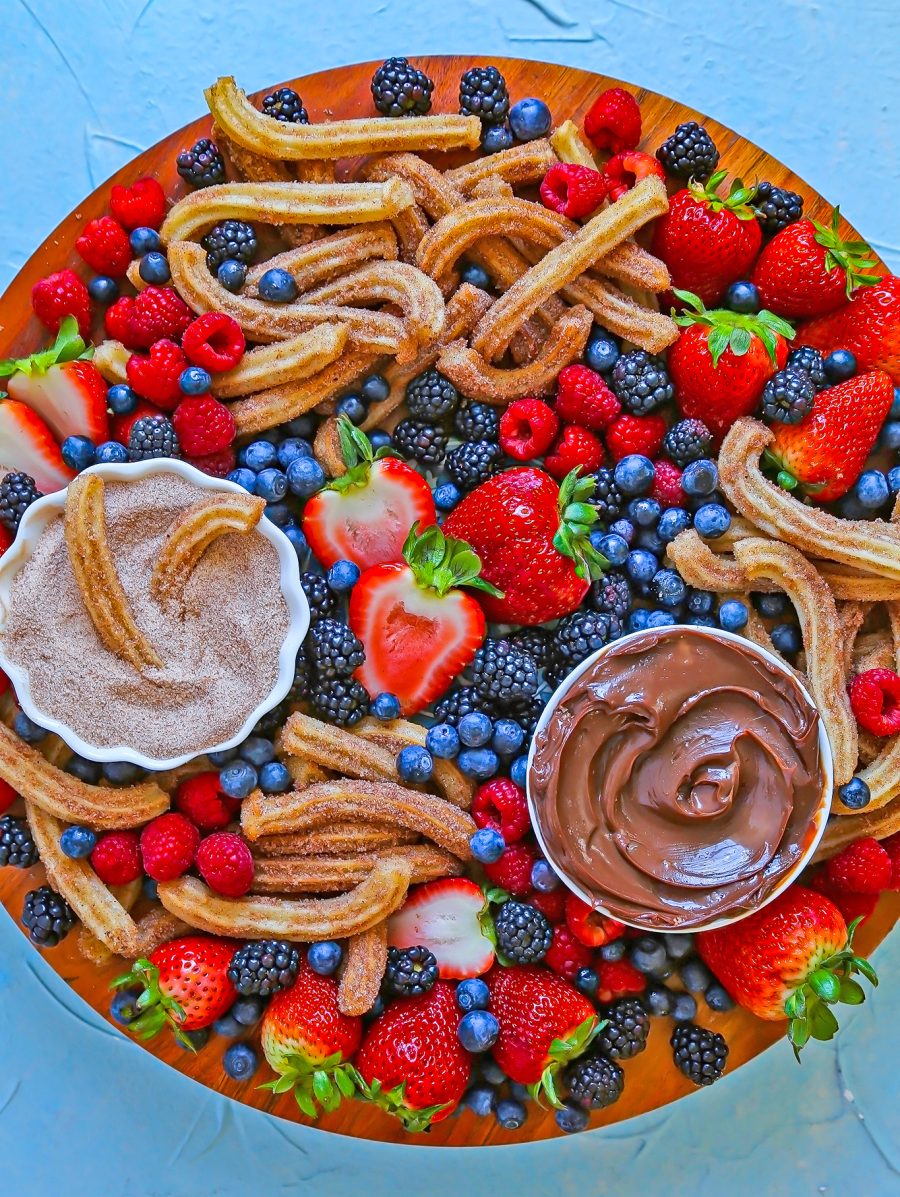 Churro & Berry Dessert Board
Walking the sandy paths of an island town at sunset, my nose drew me to a tiny cart. We were in Mexico one more night, and the golden sunset started to sizzle down. At the same time, the unmistakable aroma of buttery, cinnamon-sugar churros were being churned out and I could hardly resist. The scent drew me in like a cartoon character to a freshly baked pie on a windowsill. For a couple pesos, we got a handful of churros and wasted no time tearing at the hot fried dough. Dunking each one in sticky chocolate sauce and sharing bites as we walked by iguanas in the warm night.
A little bit of heaven, if you ask me!
When we returned home, I wanted to share our churro indulgence with the kids. So, it was high time to spoil everyone with a beautiful dessert board. Warm, cinnamon-sugar churros made super easily, and all our favorite berries piled on a big round platter.
This did not survive more than 30 minutes, before it was all quickly devoured.
Not only is this Churro Board perfect for summer nights and any occasion gatherings, but the churros are very easy to make. Store bought frozen churros are fairly easy to find at your grocery store. Using them saves so much time, mess and effort – I found they are as good as the ones you get any grab-and-go cart!
Serve with extra cinnamon-sugar and a simple, scrumptious Chocolate Dulce de Leche for dipping. Your guests will thank you.
Let's get you to the recipe, and start assembling a beautiful Churro Dessert Board!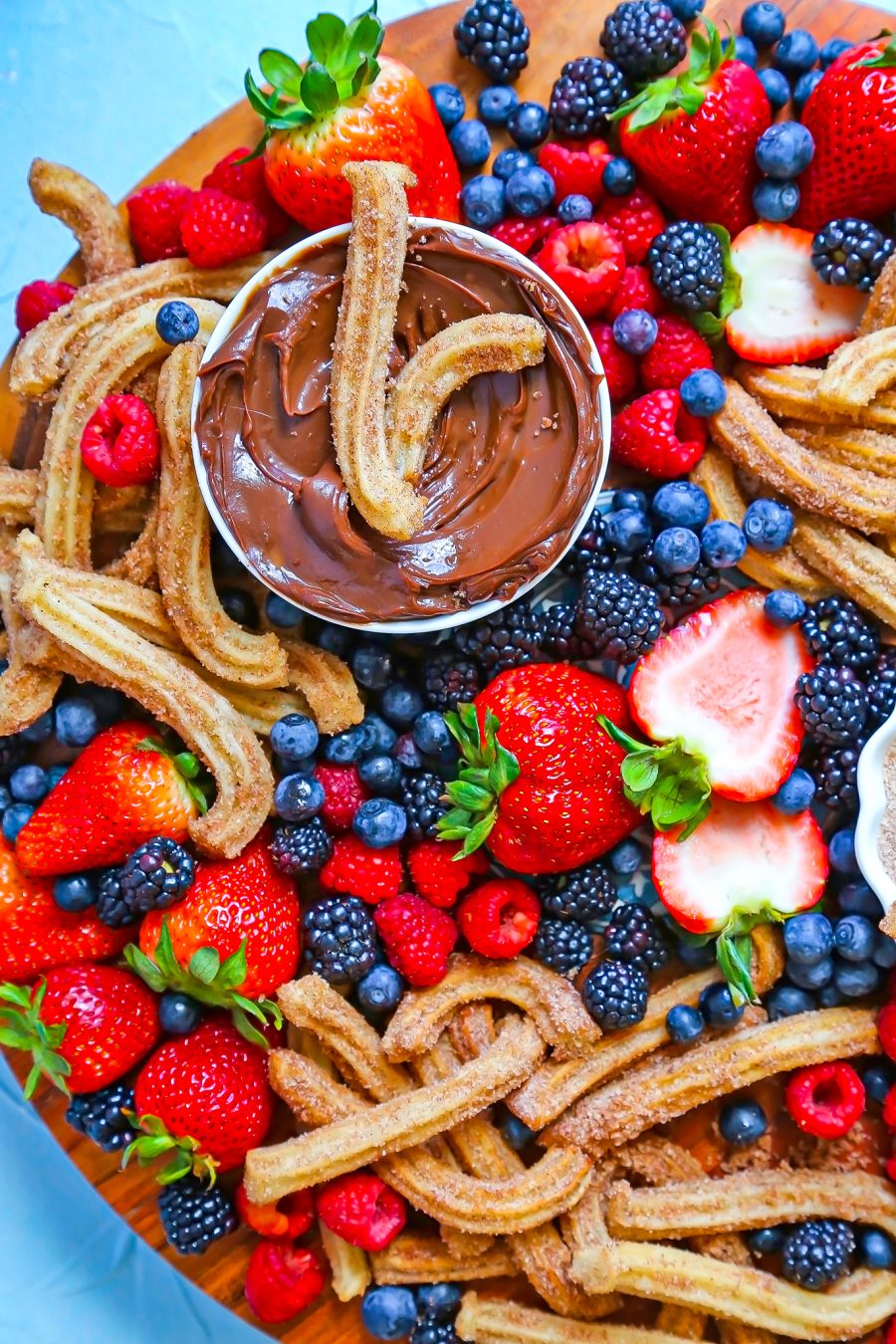 Ingredients for Churro & Berry Dessert Board:
• frozen churros
• oil, for frying
• cinnamon-sugar
• dulce de leche chocolate sauce (recipe included)
• strawberries
• blackberries
• raspberries
• blueberries
Keep reading for full ingredient list + recipe, below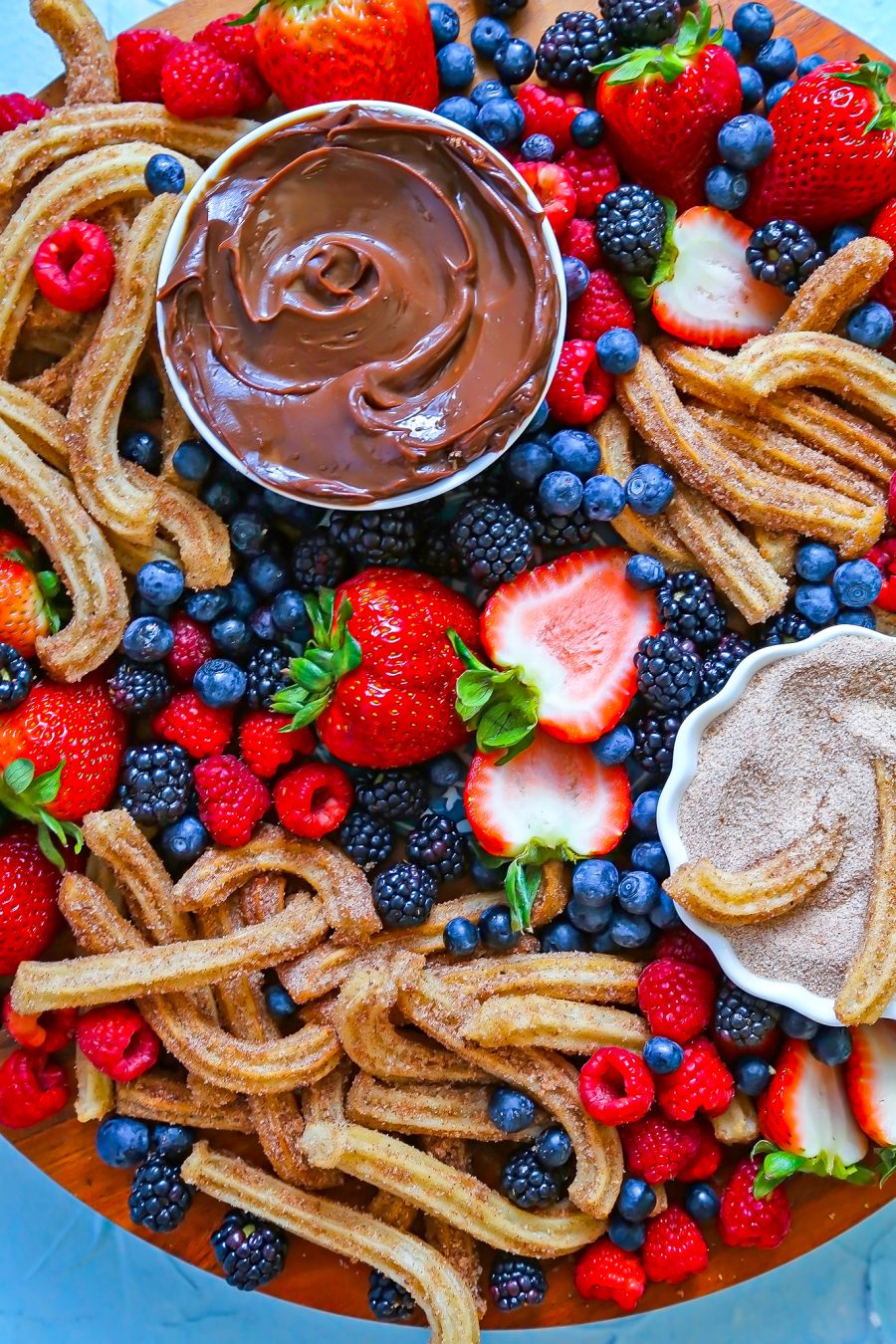 Can I bake or air-fry the churros?
I only have experience with frying the churros traditionally. But, I did find a tutorial for air frying! Simply preheat your air fryer to 350 degrees F and cook for 8-10 minutes. The package instructions for frozen churros do not recommend baking them.
What size board do I need?
The round wooden board used here is about 15-inch across. Any large serving board or platter will do! If you are planning on keeping the churros warm in the oven, be mindful to use an oven-safe dish.
Where do you find frozen churros?
Most grocery stores will carry churros in the frozen food section. I used Goya frozen churros. Their website has a store locator here, where you can enter the product you're looking for, and find it at your local grocer. Handy, huh?
Can I make this ahead?
This board is best made the same day you wish to serve. I would not recommend making ahead, so that your churros are crispy and hot! Lay out the berries just before serving, too. To store leftovers, cover and refrigerate churros separate from the berries.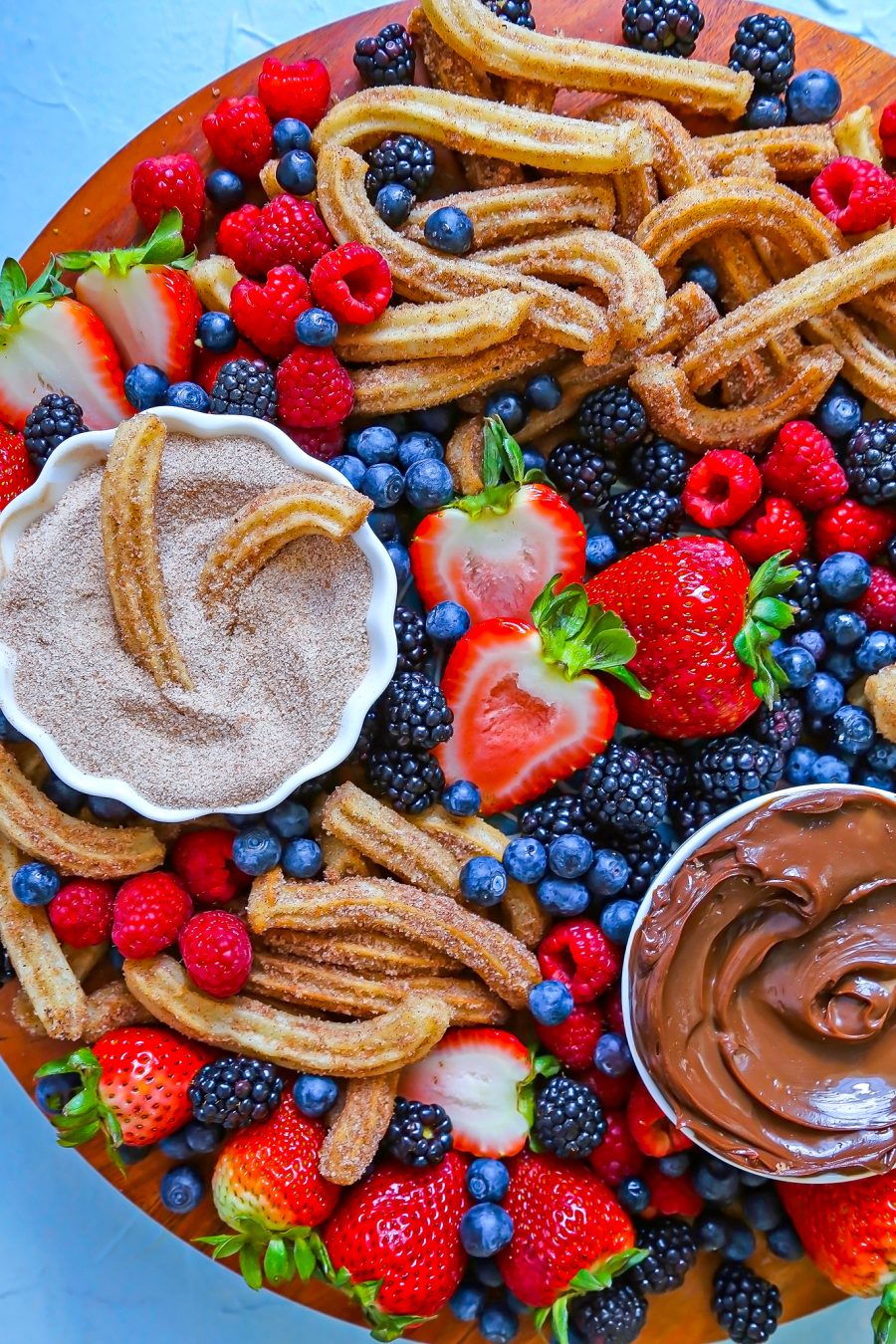 More easy dessert recipes:
• Chocolate & Fruit Dessert Board
• Slow Cooker Blueberry Cobbler
• 3-Ingredient Cherry Slab Pie
• Raspberry Oatmeal Cookie Crumble Bars
---
I hope you enjoy this easy Churro Board recipe. I always find it helpful to use creative dessert board photos as a guide, when creating my own board. Come on back if you need inspo for your own dessert board creation. I would love to see what you come up with!
Scattering a mix of sizzling hot, cinnamon-sugar churros and berries is so fun. Not to mention, super delicious and gorgeous for gatherings! Try it for your next get-together and watch jaws drop. Promptly fill with puffy, sweet churros and fruit!
Please feel free to leave a comment and a star rating, if you give it a go. I would love to know if you serve this recipe for your family and friends.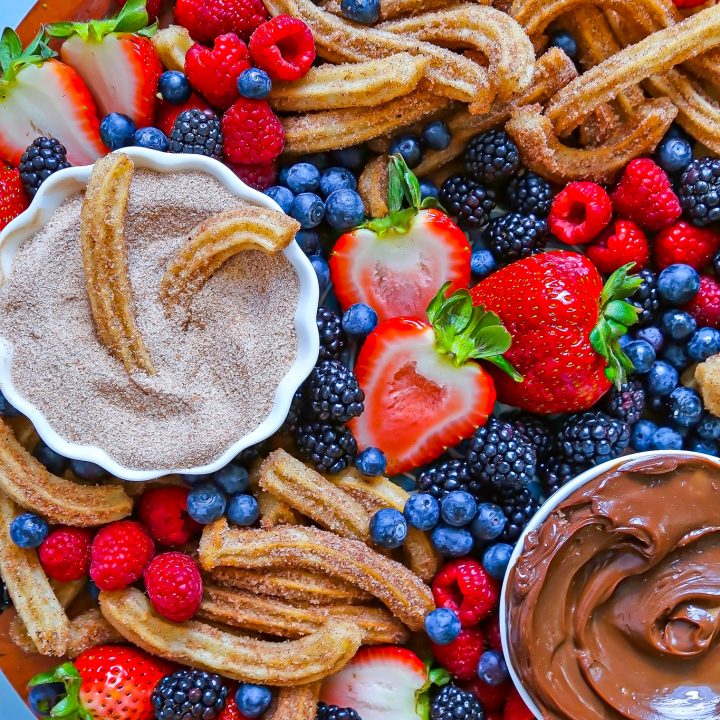 Churro & Berry Dessert Board
Ingredients
15-20 frozen churros, I used Goya brand
1/2 cup granulated sugar
2 Tbsp. ground cinnamon
4 cups oil (such as canola, peanut or veg oil), for frying
For serving:
Strawberries
Blueberries
Raspberries
Blackberries
For Dulce de Leche Chocolate Sauce:
1 (13.4 oz.) can dulce de leche
2 Tablespoons unsalted butter
4 oz. semi-sweet chocolate
2-3 Tablespoons milk or cream
1 teaspoon vanilla extract
1/8 teaspoon coarse salt
Instructions
For Dulce de Leche Chocolate Sauce:
In a small saucepan set to low heat, warm dulce de leche until melted. Add butter and stir until incorporated. Remove from heat. Stir in chocolate until melted, then add milk, vanilla and salt. Add additional milk to thin, if needed. Cool slightly before serving. Cover and refrigerate leftovers.
For Churro & Berry Board:
Prepare a large serving board. [Board pictured is a 15" round, but you can use any shape/size large board or baking sheet.]
Combine cinnamon and sugar in a medium bowl.
Pour oil into a medium pot over medium heat. Once hot, drop in churros (4-5 at a time). Fry batches for 30 seconds to 1 minute, until lightly golden. Carefully remove and toss in the cinnamon-sugar mixture. Place coated churros on a paper towel-lined plate.
Arrange churros and berries in your desired pattern, scattering ingredients across the board. It helps to reference a photo, as you assemble.
Cover and set aside, until ready to serve.
Enjoy!
Notes
To make these in your air fryer:
Open bag of frozen churros and place churros into your air fryer basket.
Cook at 350 degrees F for 8-10 minutes.
Want to receive our latest recipes straight to your email inbox? Click here to subscribe!