Light as air, fluffy angel food cake with whipped cream and berries. Just six ingredients! We love this easy dessert for spring and summer gatherings. This is our beloved-by-all BEST angel food cake recipe, and now it's yours!
Best Angel Food Cake
Did you grow up with store bought angel food cake and Cool Whip?
Well, come in real close. I want to tell you a secret.
In less time than it takes you to grocery shop, you could have a beautiful homemade Angel Food Cake. Made with six ingredients, this luscious cake is warm out of the oven in 35 minutes. Freshly baked, fluffy and light, with that irresistible vanilla aroma filling your home. You can practically taste the air as this angelic cake bakes!
It's always a good time for angel food cake, and the time is now.
The time to devour this cake is also breakfast time, because… um. Have you ever sizzled slices of angel food cake in a buttery hot skillet? OMG.
This no-layer cake is perfect for celebrating birthdays, Easter, baby showers, barbecues, Mother's Day, July 4th, you name it! Topped with dollops of whipped cream and fresh berries, this cake is so easy to create – and always wow's a crowd.
Let's get you to the recipe and bake a gorgeous, fluffy cake!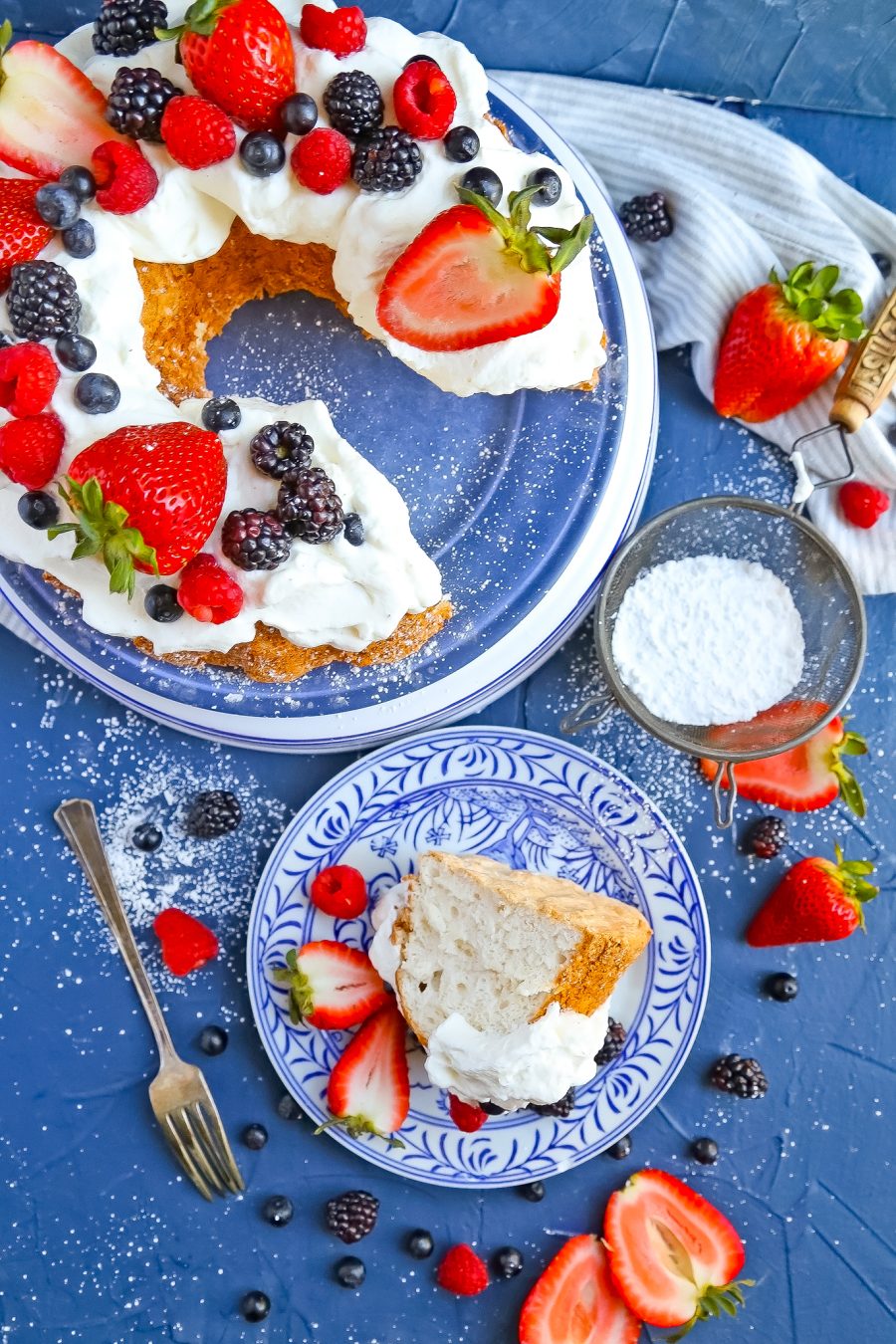 Ingredients for Best Angel Food Cake
• egg whites
• sugar
• cake flour
• cream of tartar
• vanilla extract
• almond extract
• fresh berries + whipped cream (for serving)
Keep reading for full ingredient list + recipe, below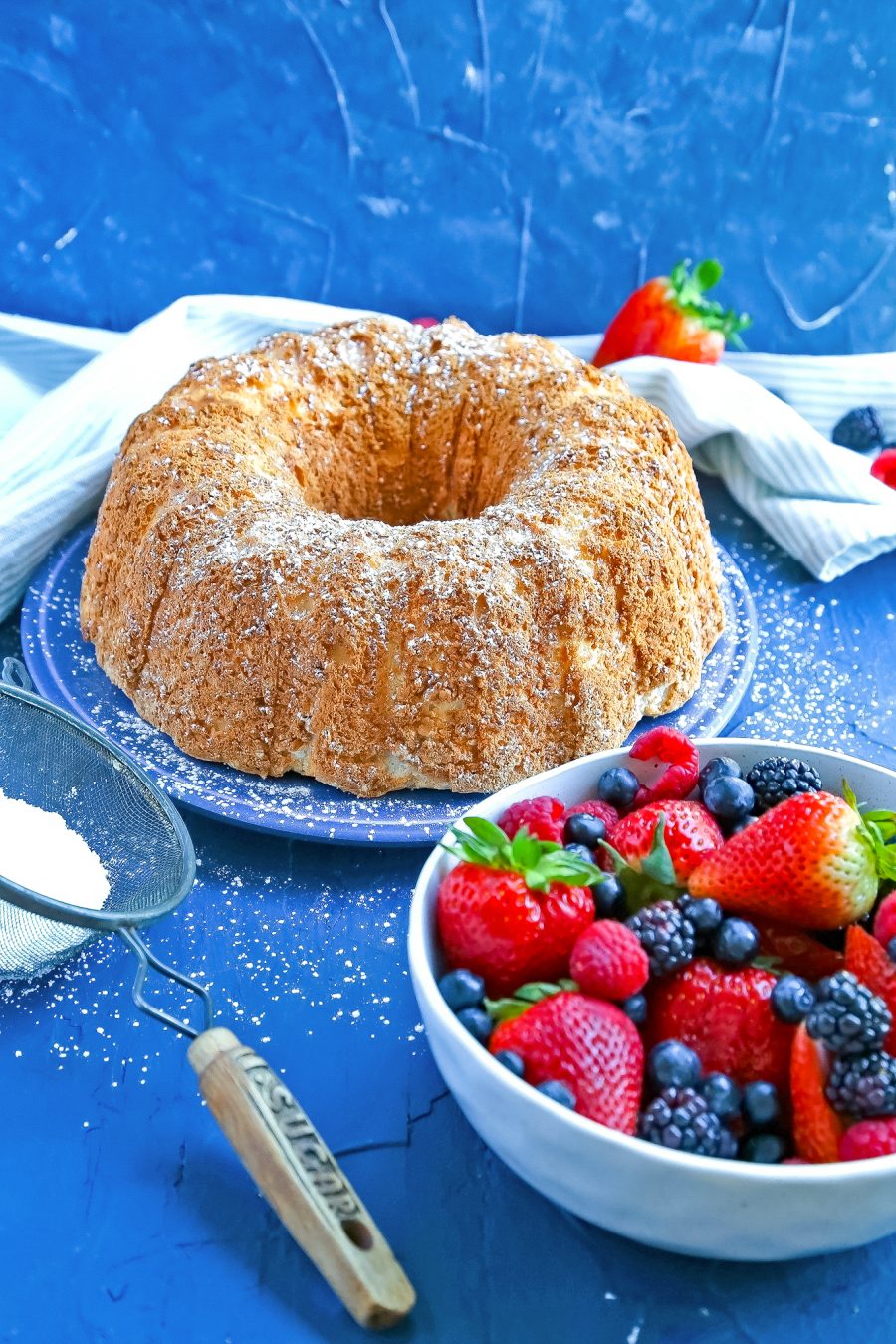 What makes this Angel Food Cake so good?
Six ingredients, 30-ish minutes, and so damn easy! Angel food cake has a delicate vanilla-almond flavor that melts in your mouth. It is the perfect party pleaser. Angel food cake isn't overly heavy after a big meal. This serves up to 8 people, so ideal for an intimate dinner or backyard party.
How do I remove the cake from an ungreased pan?
Once your cake is baked, remove from the open and pop a wire rack on top. Flip the cake upside down and let it chill there for a couple hours. Once it's mostly cool, run a flexible knife around the edges to loosen. This may take a little finagling, but you'll get there (it's worth it). Traditional recipes call for a tube pan with a removable center insert. But, I used a bundt pan with no problem.
Can I use all-purpose flour instead of cake flour?
Cake flour is necessary for this one – its superfine texture and added cornstarch is what makes angel food cake so light and airy. Find it in the baking aisle of most supermarkets.
Can I make Angel Food Cake ahead?
Yes! Of course this cake is best served fresh. But, you can bake up to 3 days ahead of serving. Cover with plastic wrap and refrigerate until ready. Add cream and berries just before serving. If you're transporting this cake, put your cream and berries in resealable containers and dress it up at your destination.
How do I store Angel Food Cake?
Store slices in a resealable container. Or, wrap the cake with plastic wrap and refrigerate up to 3 days. Let sit at room temperature about 15 minutes before serving.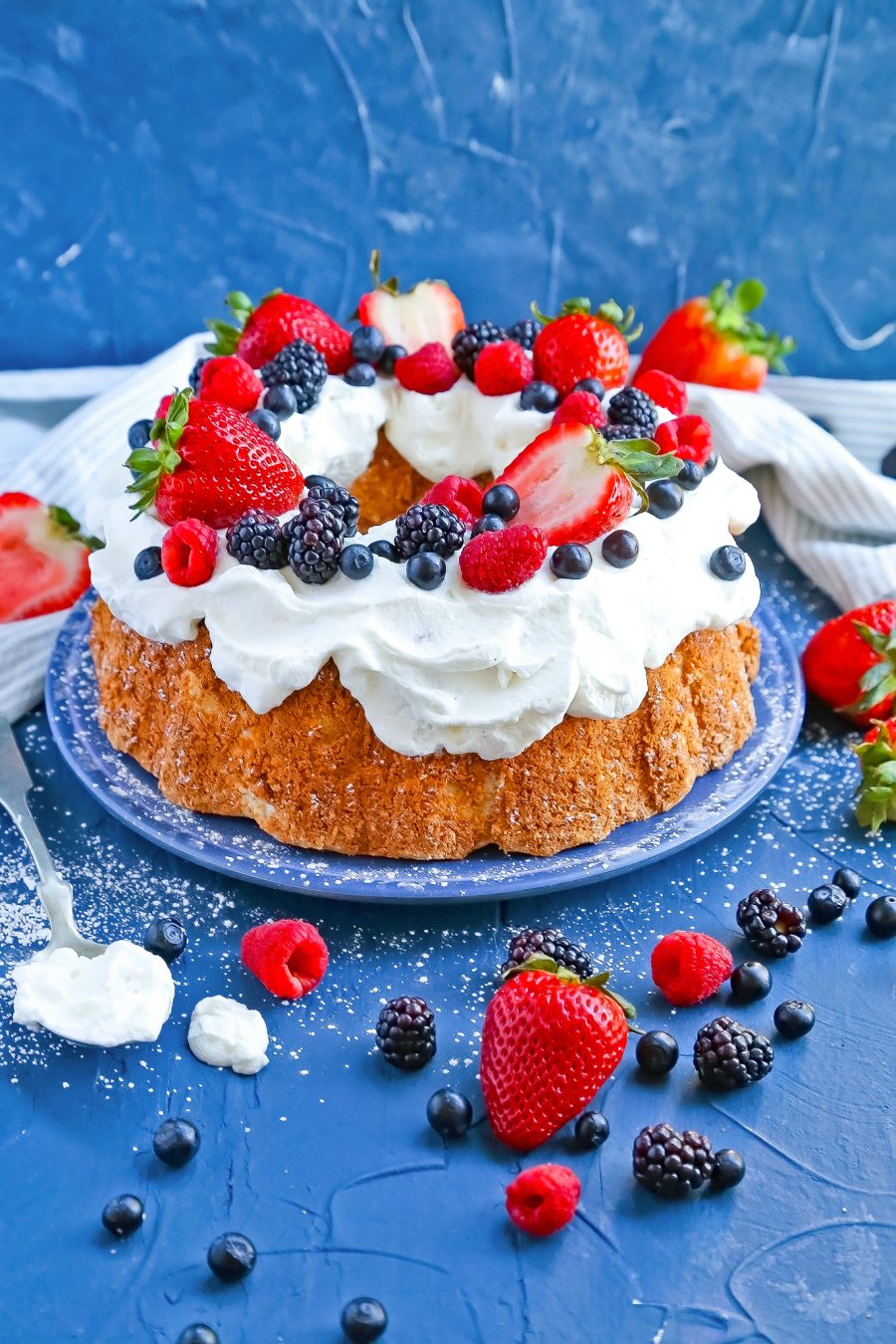 More easy spring and summer desserts:
• Slow Cooker Blueberry Cobbler
• Raspberry Oatmeal Cookie Crumble Bars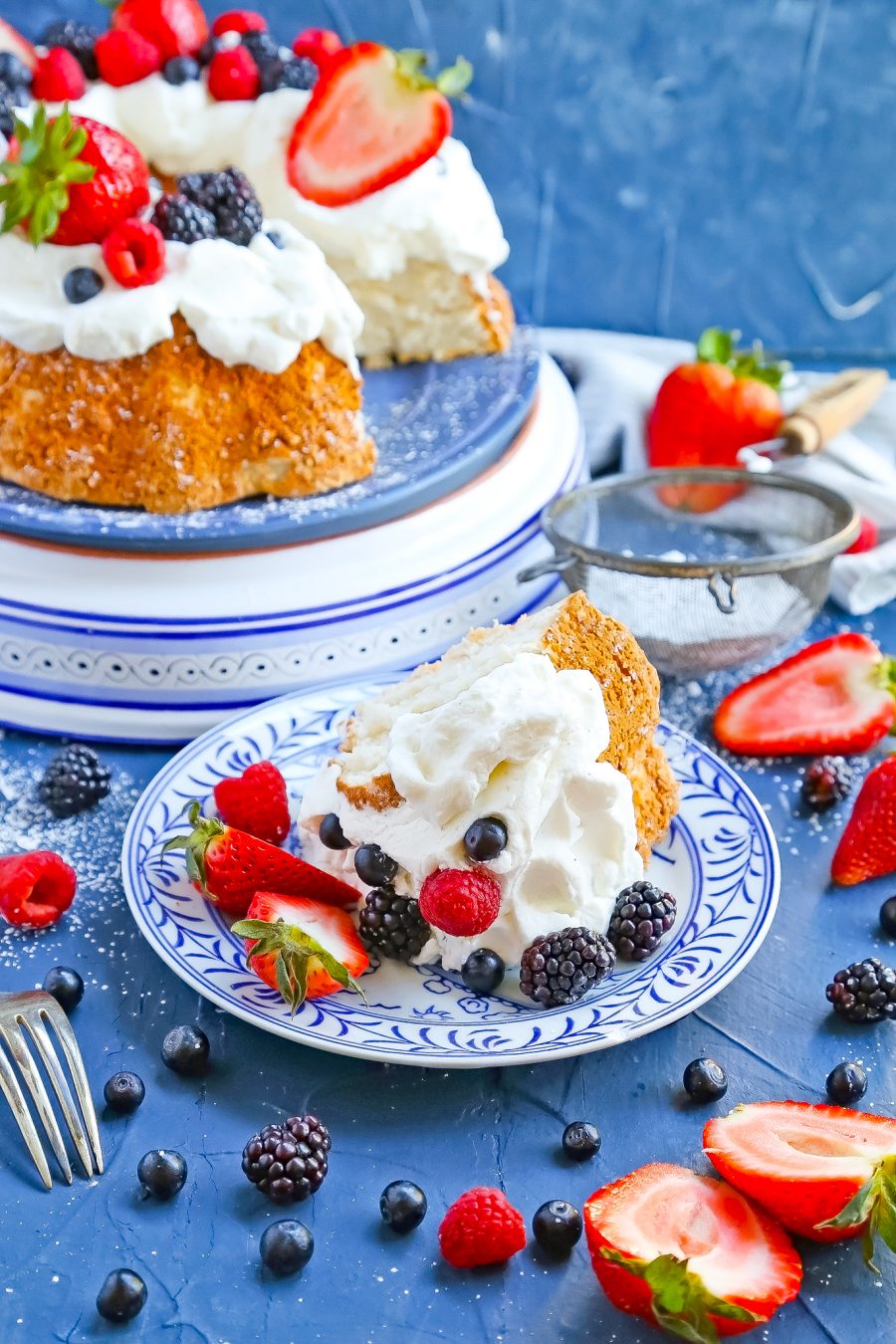 I hope you enjoy this easy Angel Food Cake recipe. One slice and you will agree, this is the perfect light, lovely dessert for spring!
If you're serving a crowd, have extra bowls of berries and cream on the side. Everyone loves customizing their cake slice with their favorite toppings. When it looks like art and tastes this good, who can blame them?
Please feel free to leave a comment and a star rating, if you give it a go. I would love to know if you serve this recipe for your family and friends.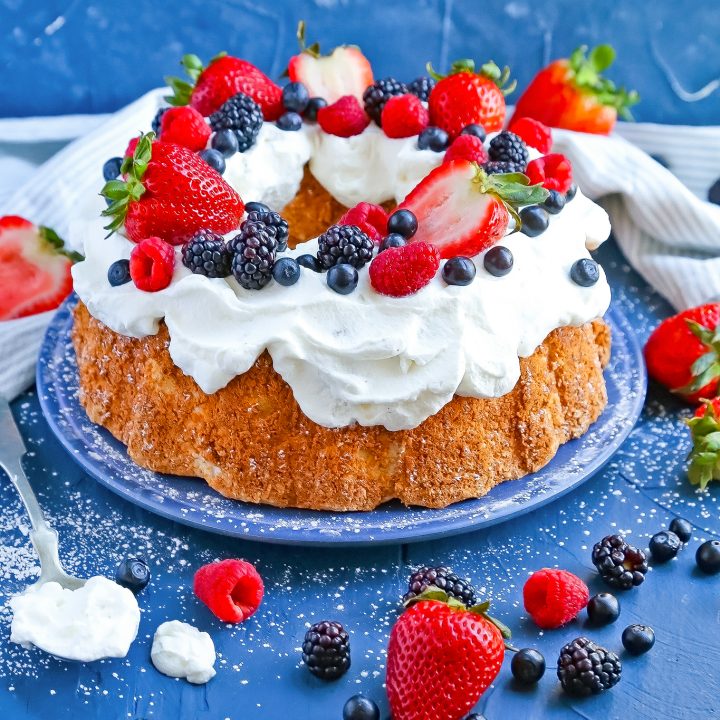 Best Angel Food Cake
Ingredients
1-1/4 cups egg whites (about 9 large)
1-1/2 cups sugar, divided
1 cup cake flour
1-1/4 teaspoons cream of tartar
1 teaspoon vanilla extract
1/4 teaspoon almond extract
For serving, optional
Fresh berries and whipped cream
Instructions
Place egg whites in a bowl. Let sit at room temperature for 30 minutes.

In a separate bowl, sift 1/2 cup sugar and flour together twice. Set aside.

Using an electric mixer, beat egg whites, cream of tartar, extracts and salt on medium speed, until soft peaks form. Add remaining sugar, about 2 Tbsp. at a time. Beat on high speed, until stiff peaks form.

Using a rubber spatula, fold in flour mixture, about 1/2 cup at a time.

Place oven rack in the lowest position. Preheat oven to 350 degrees F.

Spoon batter into an ungreased 10-in. tube or bundt pan. Using a sharp knife, cut through batter to remove air pockets.

Bake for 35-40 minutes, until light brown and top of cake appears dry. Immediately invert pan onto a wire rack. Let cool completely, about 1 hour.

Run a knife around side and center tube of pan. Remove cake to a serving plate.

Serve with whipped cream and berries, if desired.

Enjoy!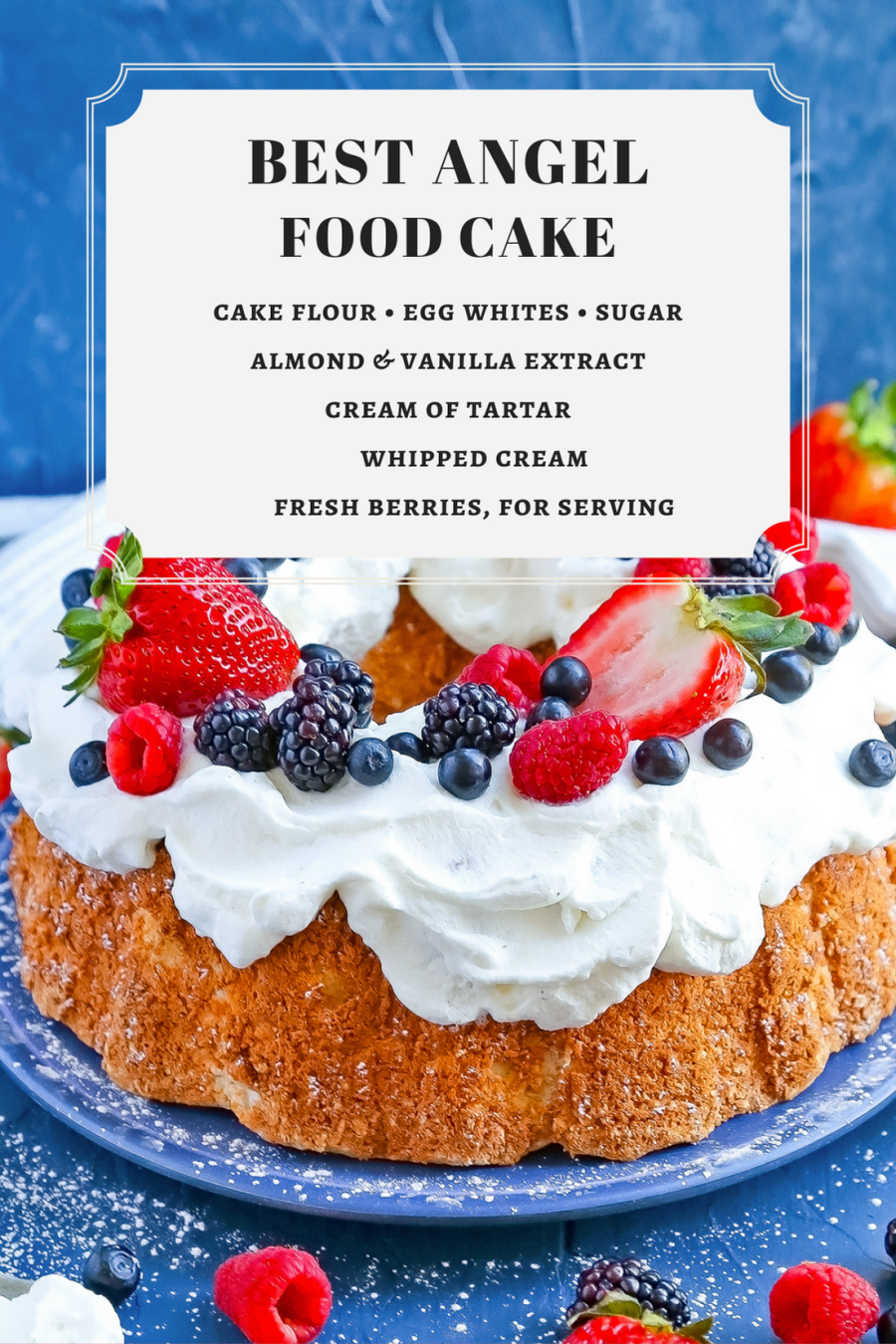 Want to receive our latest recipes straight to your email inbox? Click here to subscribe!