Heavenly angel food cupcakes as light as clouds! Top yours with whipped cream and berries for a scrumptious springtime treat.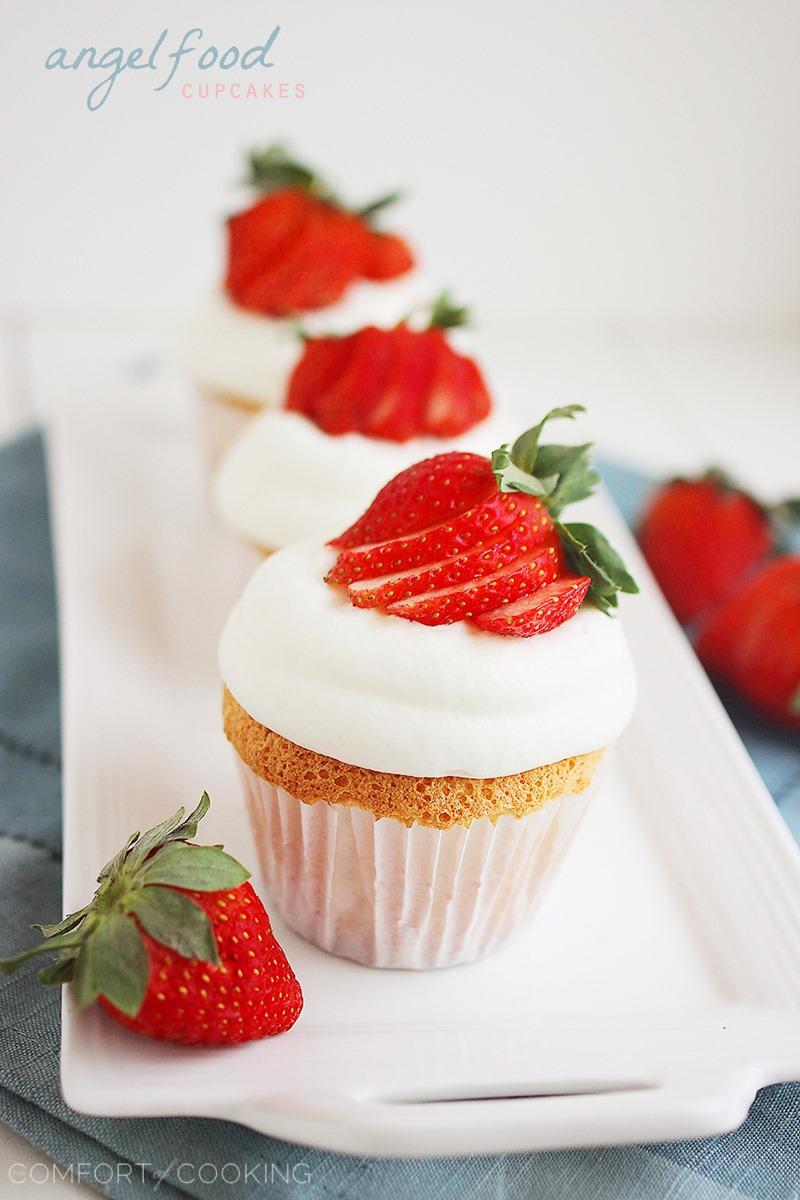 Otherwise known as, portion control for the uncontrollable. I always cut myself a big, pillowy slice of angel food cake, smother it with cream and berries, go to town… do you? The cake is just so light and fluffy that you feel like the calories don't count. Newsflash: they do.
But, with these little cuties clocking it at only 62 calories a piece, they hardly do, right?
Yea, just try and stop at one.
A simple meringue-and-flour mixture with a hint of vanilla (or any other extract you prefer) yields the most heavenly, airy angel food cakes… gone mini! I love them in little compact form like this, covered in a cream cheese and whipped cream frosting. They make such an elegant presentation with sliced strawberries, or any other fruit you like.
It's been hard to keep fruit for recipes in the house lately… especially strawberries and oranges. I devour it all first!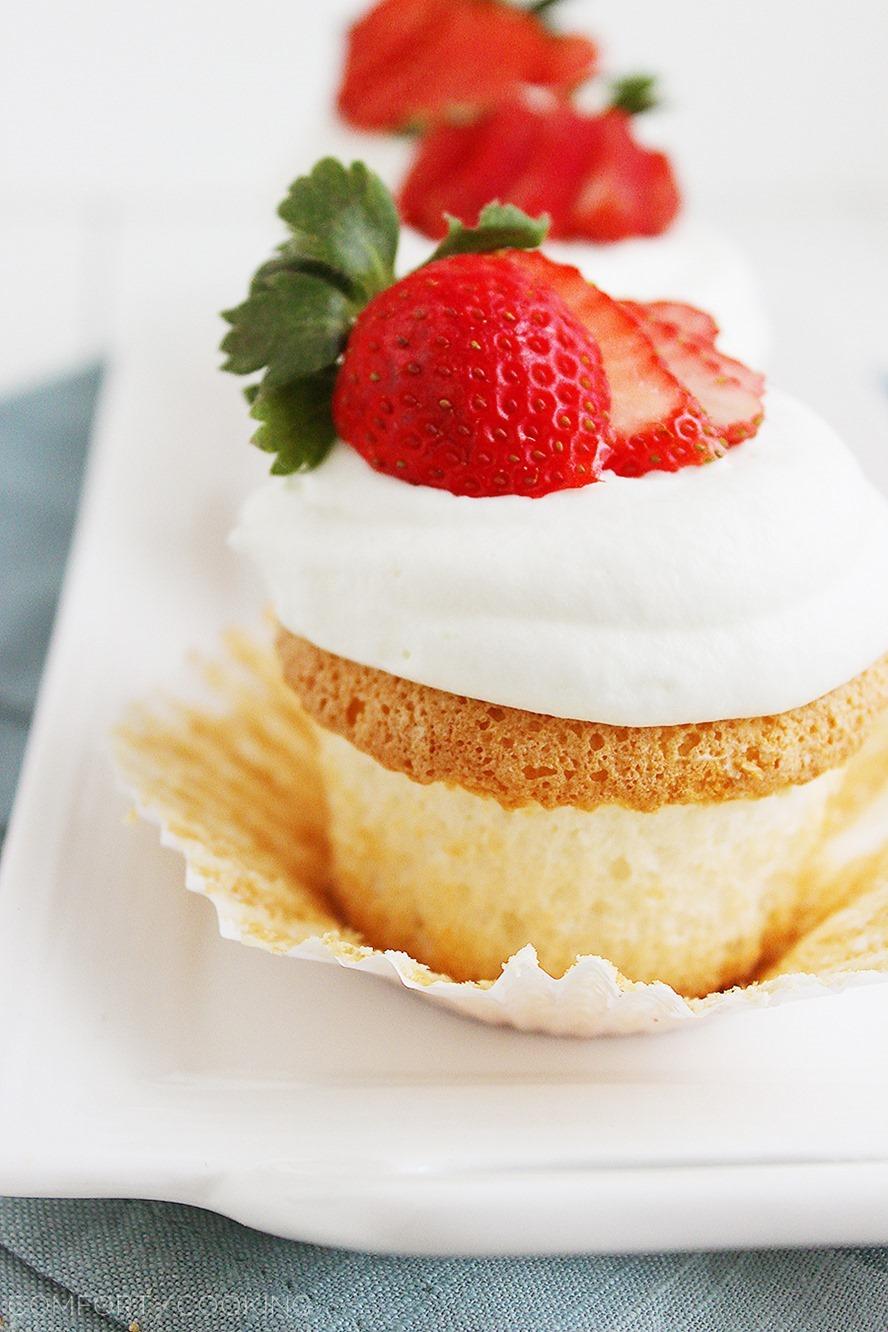 These soft and fluffy angel food cupcakes are perfect for spring parties, Easter feasts, and any day that calls for something elegant. They're lusciously low calorie, low carb and fat free, not to mention fun to make, too.
You're going to just love them!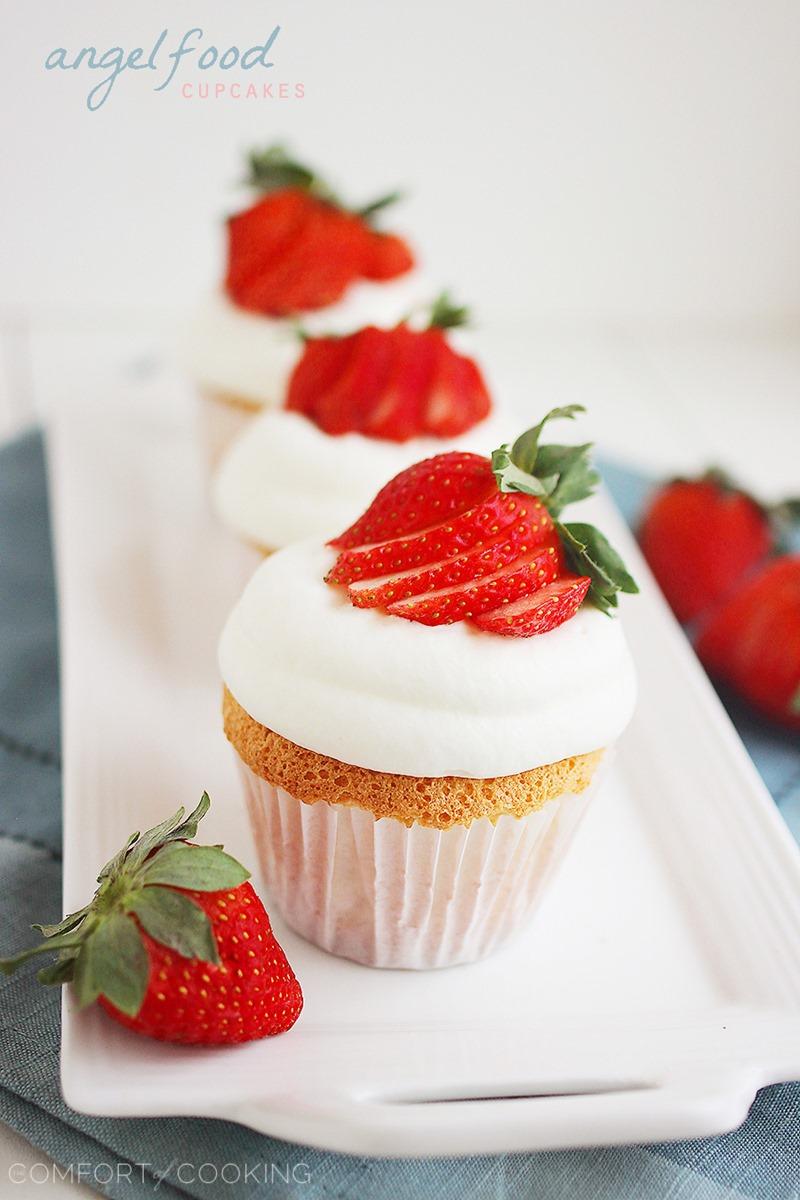 Angel Food Cupcakes
Ingredients
For Angel Food Cupcakes:
3/4 cup + 2 Tablespoons granulated sugar
1/2 cup cake flour
1/4 teaspoon salt
6 egg whites, room temperature
2 1/2 Tablespoons warm water
3/4 teaspoon cream of tartar
1/2 teaspoon vanilla, coconut, almond or orange extract
For Cream Cheese-Whipped Cream Frosting:
1 1/2 cups heavy whipping cream
6 oz. cream cheese, softened
1/2 cup powdered sugar
Fresh berries, or your choice fruit
Instructions
For Angel Food Cupcakes: Preheat oven to 350 degrees F.
In a food processor, pulse sugar until very fine, 1-2 minutes*.
Sift together half of the sugar, cake flour and salt into a medium bowl.
In a large mixing bowl, whisk together egg whites, water, cream of tartar and extract until well combined. With a handheld or standing mixer, whip mixture on medium speed while slowly adding remaining sugar, until medium peaks form. In batches, sift flour mixture over top of egg white mixture and fold in with a rubber spatula. Continue until all of the flour mixture has been incorporated.
Evenly divide batter among paper-lined muffin cups, filling each cup nearly full. Bake for 18-20 minutes, until golden and a toothpick inserted into the center comes out clean
Allow to cool completely before frosting. Top with fresh berries or your choice of fruit.
For the Cream Cheese Whipped Cream Frosting: In a large mixing bowl, whip heavy cream until soft peaks form. In a separate mixing bowl, whip cream cheese until light and fluffy. Add cream cheese to whipped cream along with powdered sugar and whip until stiff peaks form. Store in refrigerator until ready to frost cupcakes.
Enjoy!