Layers of crumbled Oreo cookies, creamy Cool Whip, and chocolate pudding stack up to the most popular dish at the potluck! It is full of creamy, chocolaty whipped goodness. You will love this super easy, no-bake summer dessert!
This is a sponsored post written by me on behalf of Kraft. As always, all opinions are my own.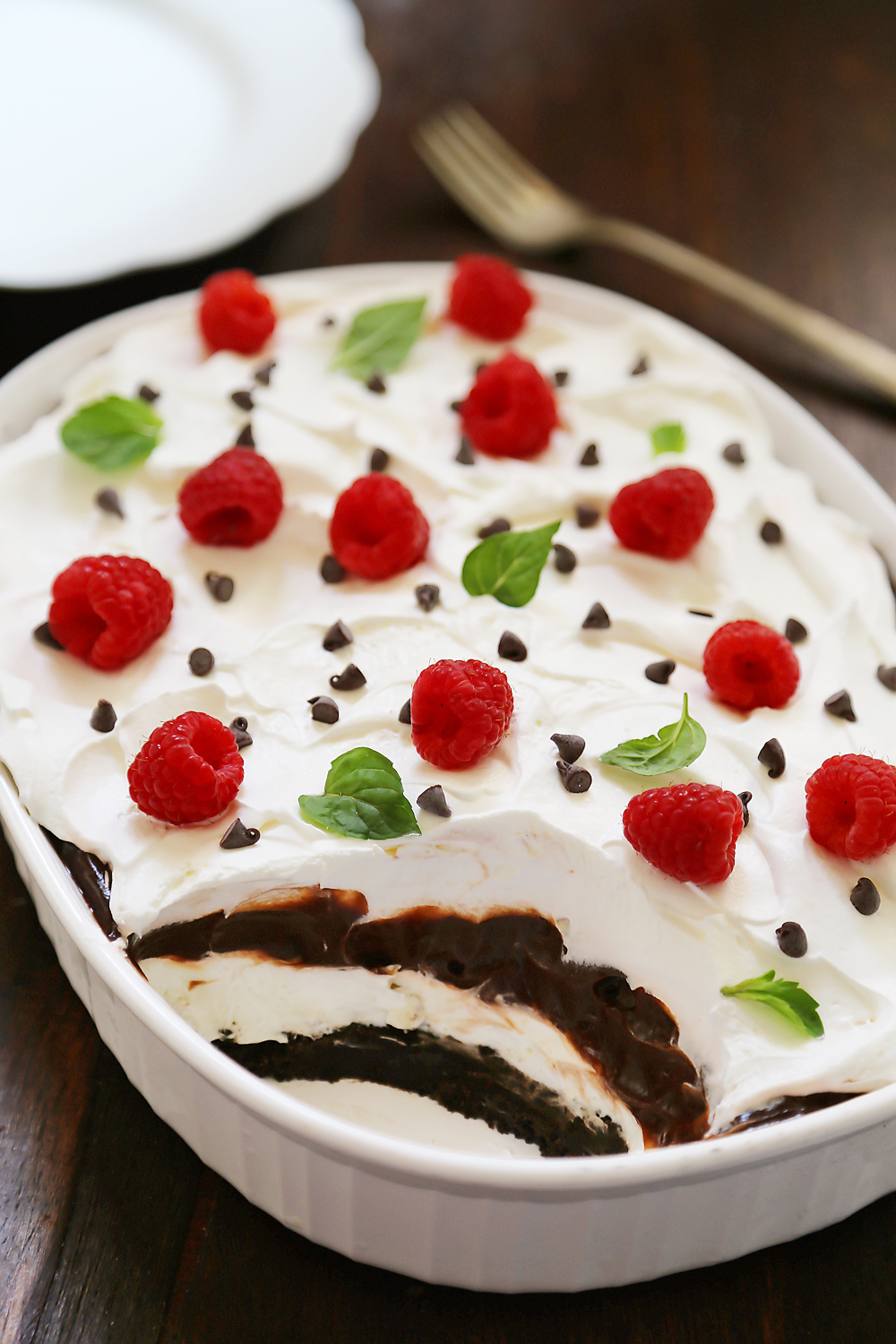 When it comes to the get-togethers I host at home, dessert is usually an afterthought. Since I'm more of a savory cook than a talented baker, I tend to put all my energy into the main course, rather than the sweet ending. However, I've finally found a dessert that is both incredibly simple and always delicious! Hence, the reason why it has taken me so long to share this magically vanishing dessert with you. It is in my kitchen one minute, and gone the next. Next time, I will be patiently waiting by my refrigerator to catch the offender.
This easy dessert has become my summertime go-to, and is always a hit with whomever is lucky enough to snag a slice. It's creamy and chocolaty, yet light tasting, with a little crunch. Absolutely melt-in-your-mouth amazing, and hard to resist on a hot day. You will have trouble not going back for seconds!
Want a peek at some of my other best-ever crowd pleaser summertime desserts? Try this Strawberry Shortcake Cheesecake – to die for! Or, this super moist Easy Carrot Cake always hits the spot for backyard bashes!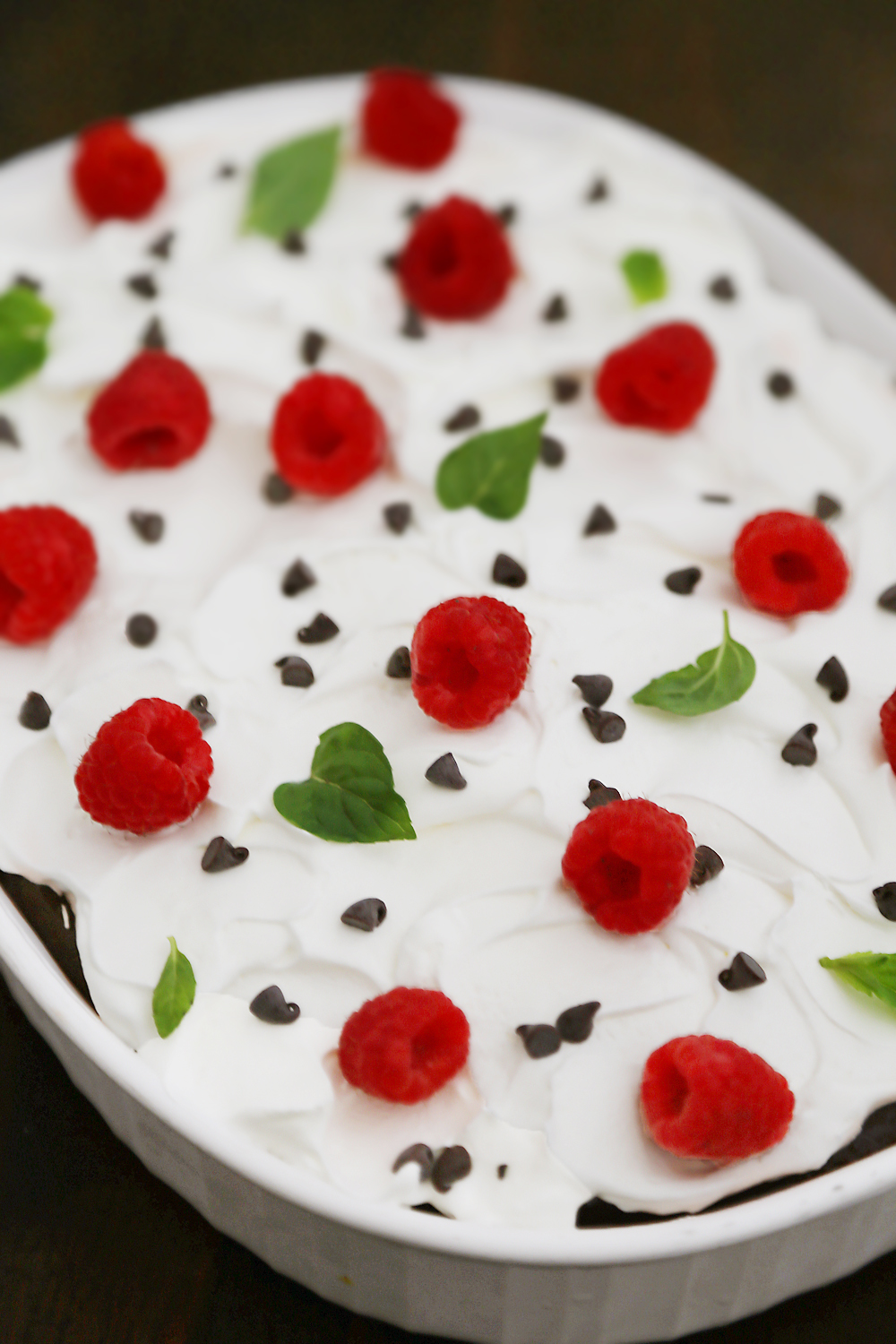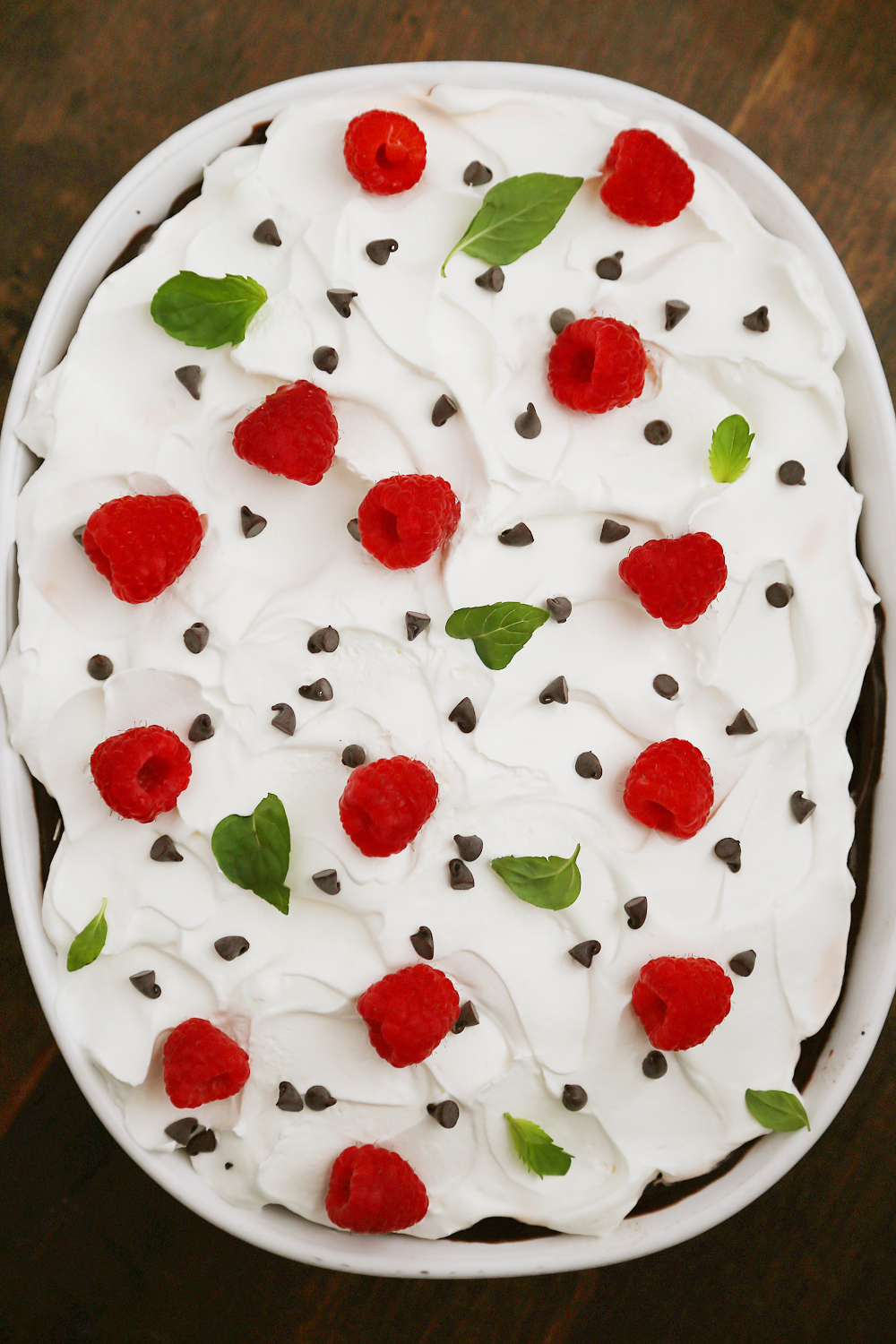 To make your own easy chocolate layer dessert, all you need is 30 minutes and 8 ingredients… some of which you might already have in your pantry!
Begin by combining the crushed cookies with melted butter, and patting gently into a 9-inch by 13-inch pan. Next, smooth over a layer of whipped cream cheese combined with sugar, milk and Cool Whip. A layer of smooth, sweet instant chocolate pudding goes on top of that. Then, add your final layer of Cool Whip for a dreamily creamy topping.
I love using the Cool Whip Lite version, since it is low-carb, low-sugar, low-fat and only contains 20 calories per 2 Tbsp. serving. Talk about a guiltless guilty pleasure! I use it all summer long on my favorite skinny desserts. It is especially good with a handful of fresh berries, or as a lighter cake frosting.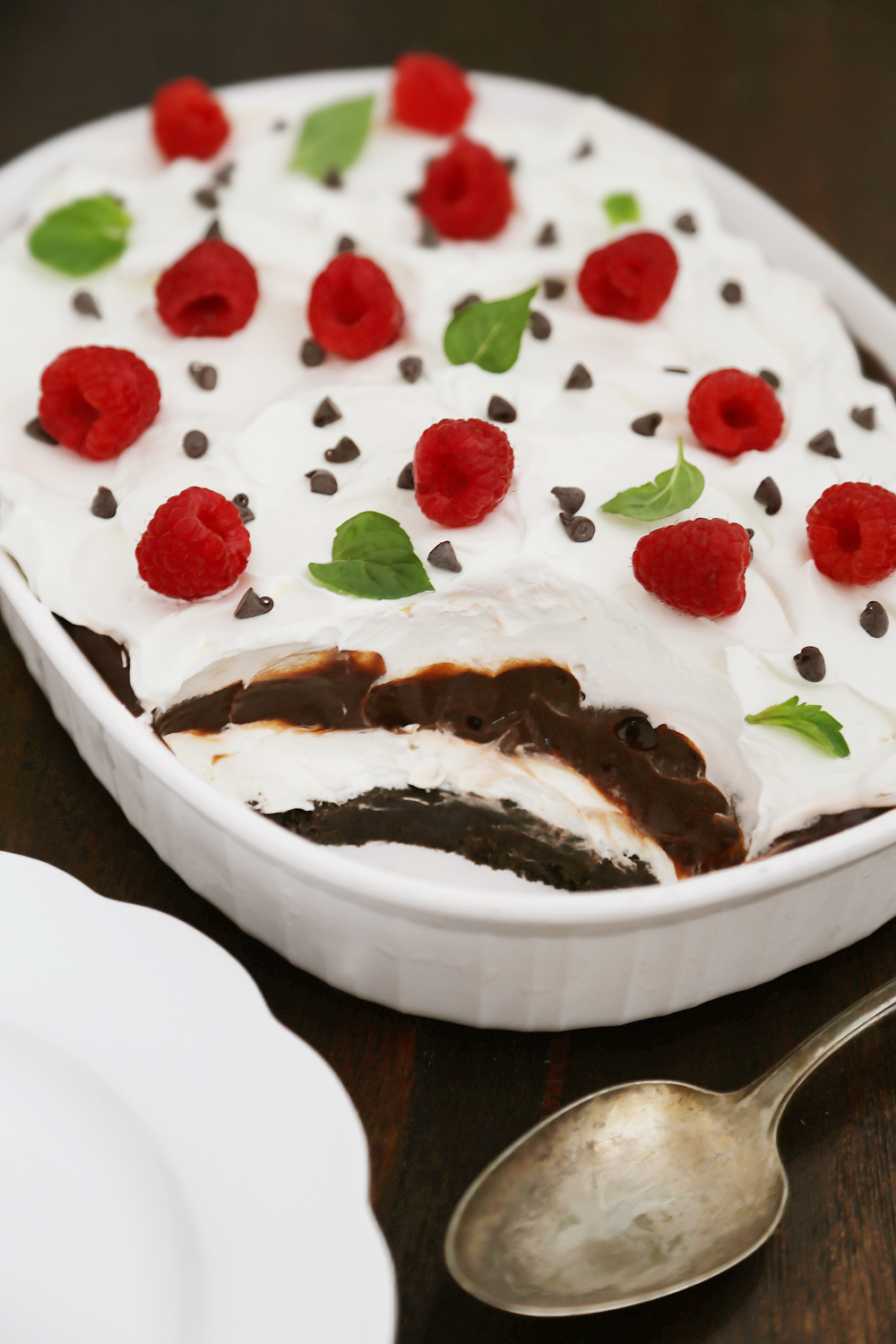 Once your whipped topping has been smoothed over top, garnish your gorgeous dessert with fresh raspberries (or any berry) and a few mint leaves. It will make a perfectly pretty presentation for any occasion, any time of year!
Before serving, make sure to set the dessert in your refrigerator for four hours, or in your freezer for one hour. It's important to let the layers harden slightly to avoid a mess when cutting and serving.
I guarantee you and your chocolate-loving guests will flip for this fabulous dessert! It is so quick, simple, and a real crowd pleaser. Grab your ingredients and try it today!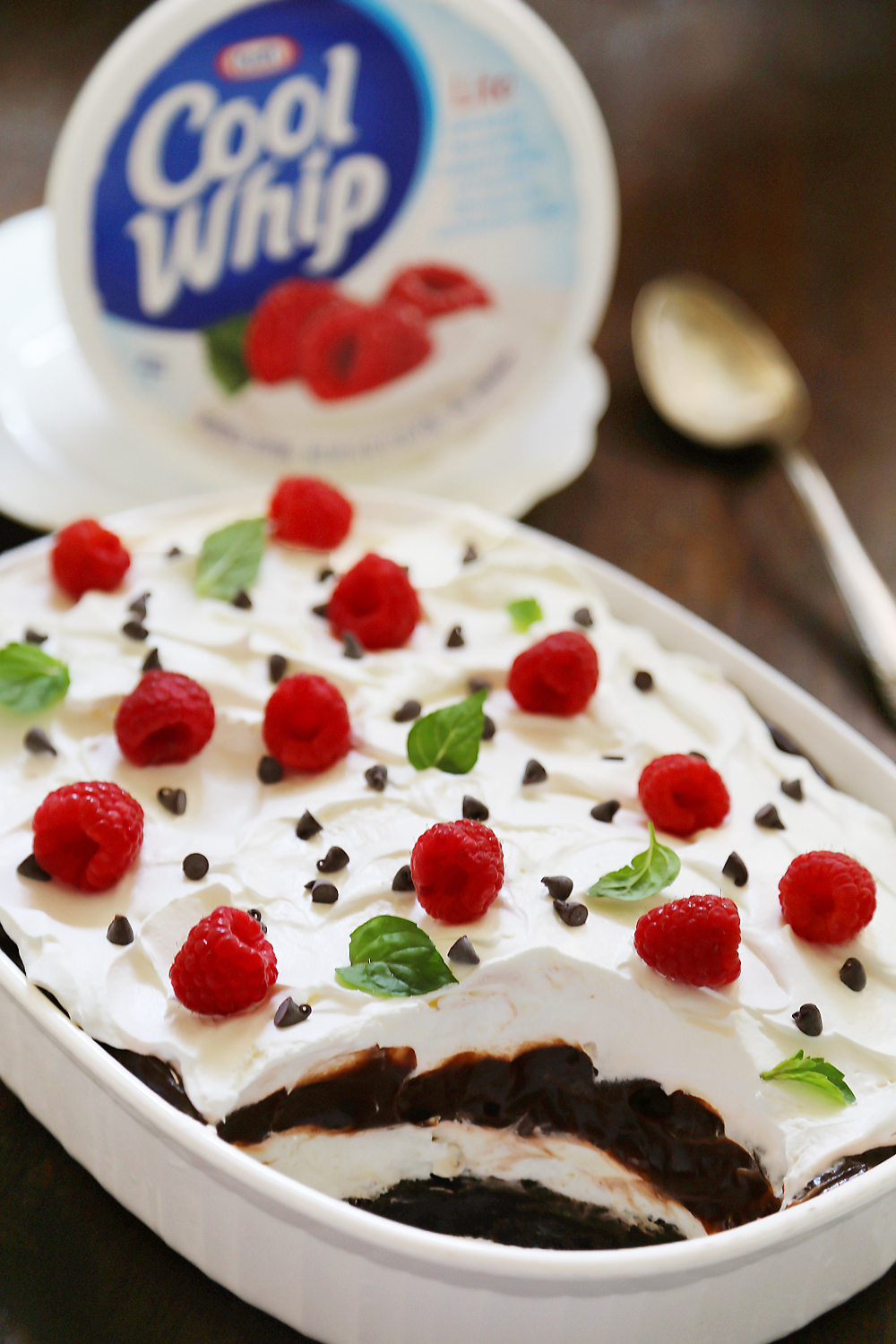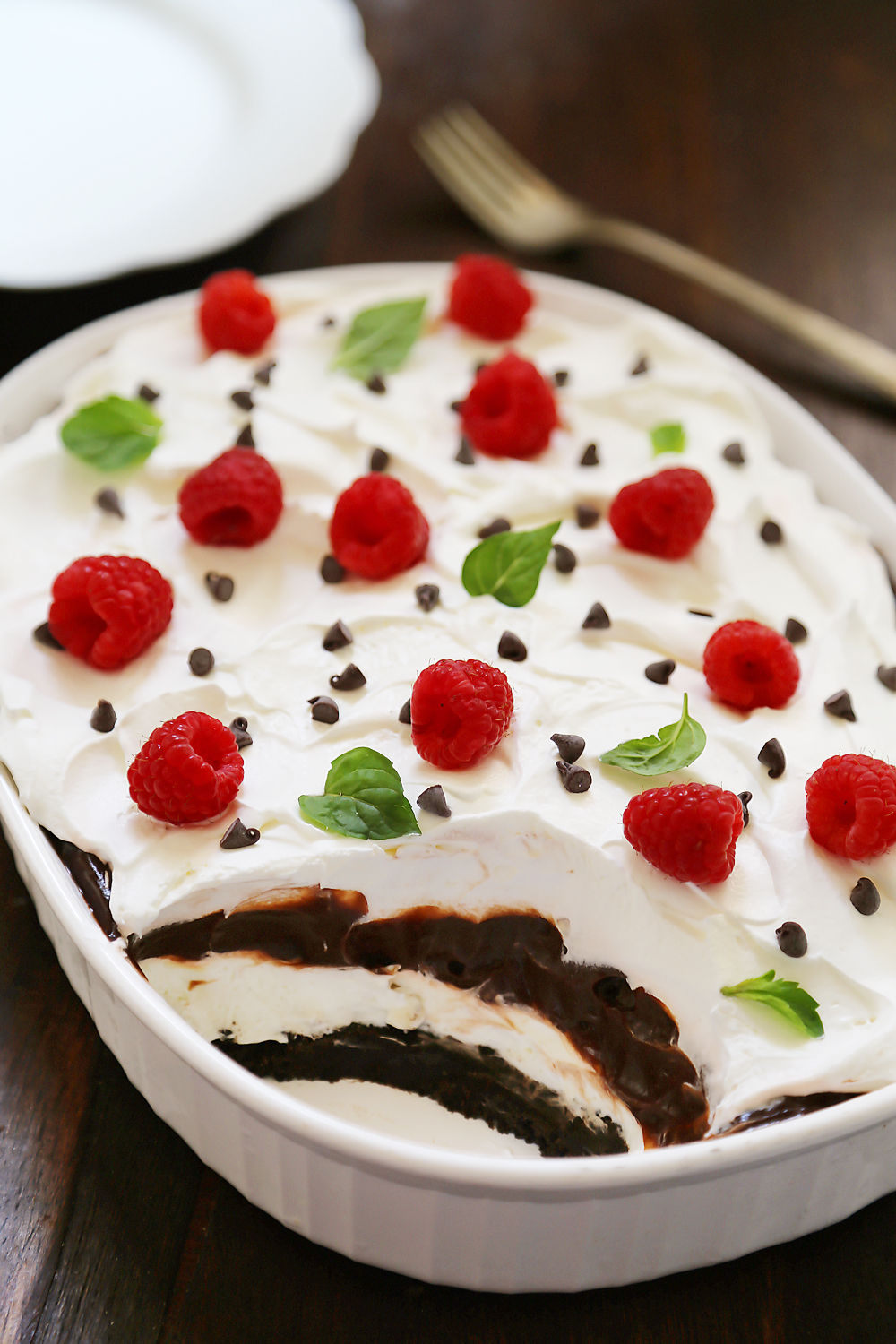 No-Bake Chocolate Layer Dessert
Ingredients
approx. 22 Oreo cookies
3 Tbsp. butter
1 pkg. (8 oz.) PHILADELPHIA Cream Cheese, softened
3 Tbsp. sugar
1 cup plus 2 tbsp. milk
1 tub (16 oz.) thawed COOL WHIP Whipped Topping, divided
1 pkg. (3.9 oz.) JELL-O Chocolate Flavor Instant Pudding
1 tsp. mini chocolate chips
1/2 cup fresh raspberries
Instructions
Crush cookies into fine crumbs, either with a food processor or by placing cookies in a sealed plastic bag and crushing with a rolling pin. Place crumbs in a large bowl and mix with melted butter. Gently press into the bottom of an ungreased 9 x 13-inch dish.
In a large bowl with an electric mixer, beat cream cheese, sugar, and 2 Tbsp. milk until smooth and creamy. Stir in 1-1/4 cups COOL WHIP. Spread over cookie crust.
In a second bowl, beat 1 cup milk and pudding mix on low speed for 2 minutes. Spread over crust. Top with remaining COOL WHIP and mini chocolate chips.
Cover and refrigerate for 4 hours, or freeze for 1 hour, before serving. Garnish with raspberries and fresh mint, if desired.
Enjoy!