This easy Pumpkin Spice Pull Apart Bread is a sinfully good fall breakfast or dessert treat! Every layer is full of soft, gooey goodness and tastes just like a cinnamon roll (made MUCH simpler). Try it this weekend!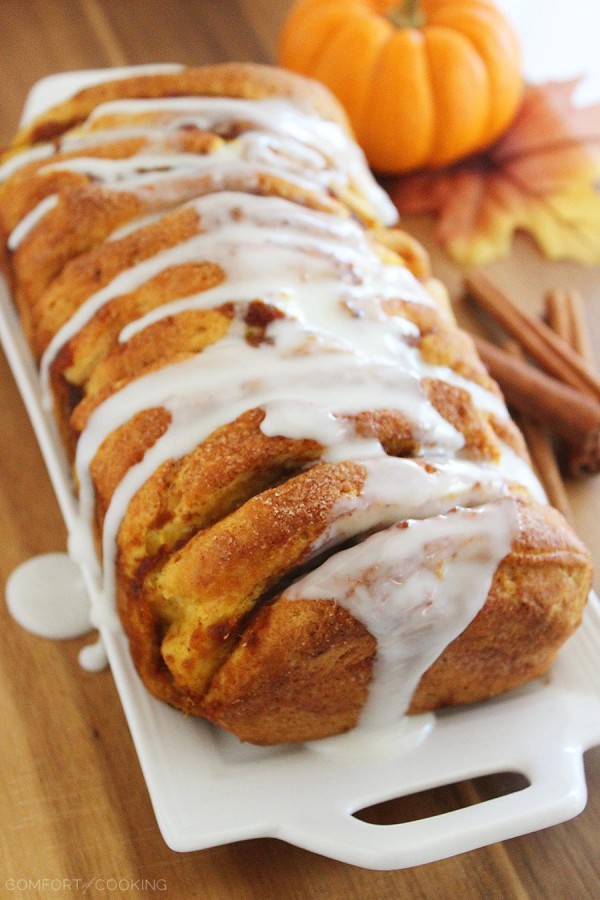 As far as pumpkin pie goes, I live in a house divided. I'm more take-it-or-leave-it, whereas my husband is more the take-your-slice-too type. He loves it! However, one meal of the day we're definitely not divided on is breakfast. I look forward to our lazy Saturday mornings whipping up eggs and sizzling bacon. Buttery toast and coffee on the side. Every once in a while, though (especially when we have company), I like to switch out our routine breakfast for something more special.
And, if you love pumpkin, this is the mother of all special breakfasts! Or dessert. Or both. I won't tell.
True be told, this is one of the best breakfast/dessert/anytime sweets I've made this season, only seconded by my phenomenal Apple Pie Pull Apart Bread. Every layer is rich and doughy, with a soft pumpkin-spiced center and slightly crisp edges. Drizzled with a 3-ingredient vanilla glaze, a slice of this is pretty close to heaven on a plate.
It's a cinch to make, too! Just grab a can of refrigerated biscuits and halve each biscuit. Spoon pumpkin pie filling, butter and cinnamon-sugar over top of each biscuit, and stack up a few at a time. Take care to use pumpkin pie filling, not pumpkin puree – the pie filling has just the right balance of spicy sweetness. Layer the stacks in a loaf pan, and you're done! Bake until the edges are crisp and your home smells amazing. Drizzle with the glaze while it's still warm from the oven. Then try not to devour it all.
Looking for a pumpkin treat from scratch? Try my Pumpkin Cinnamon Rolls, too!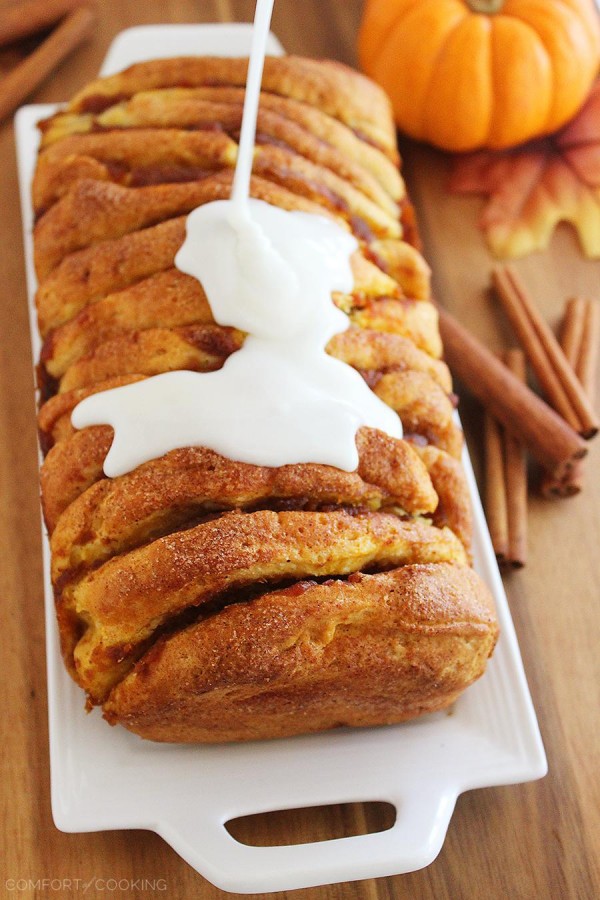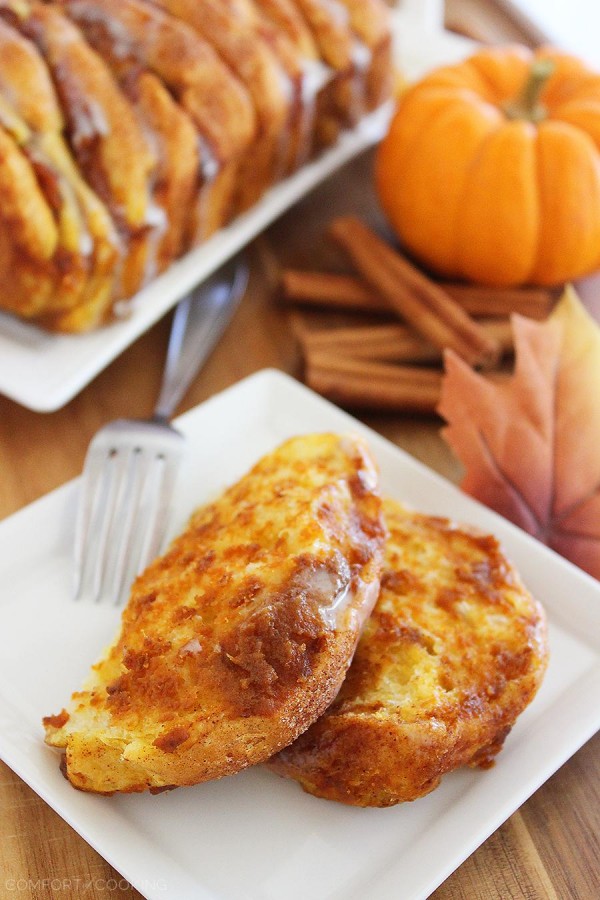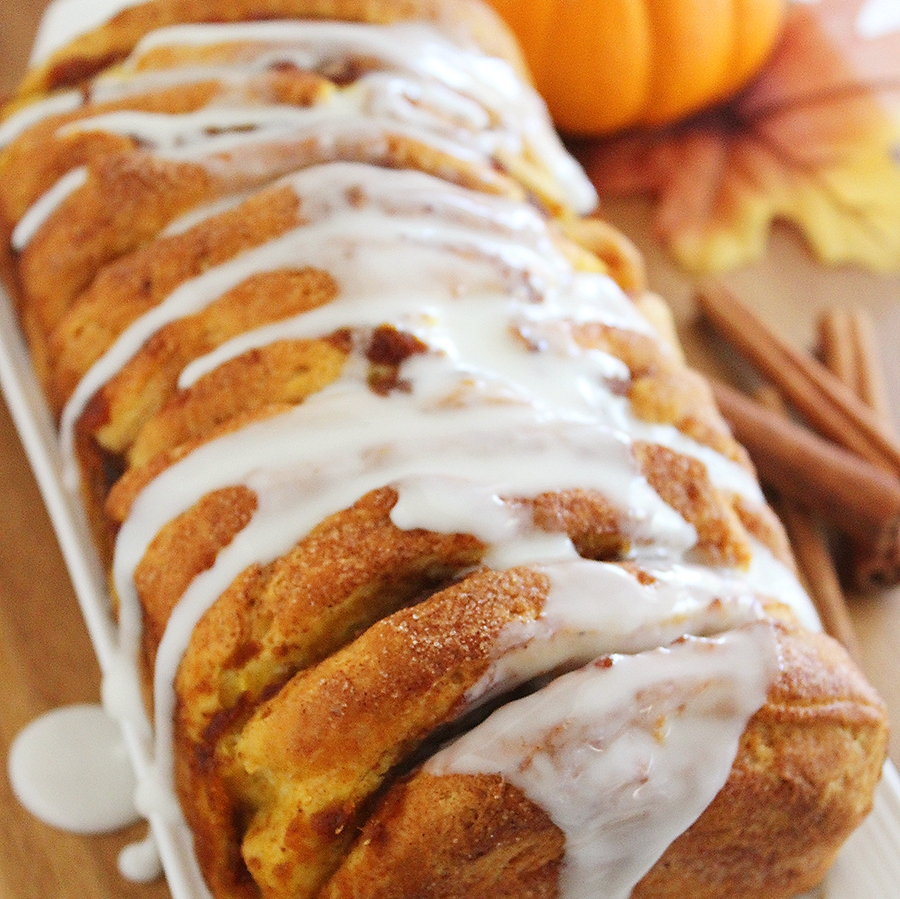 Pumpkin Spice Pull Apart Bread with Vanilla Glaze
Yield:
1 loaf (serves 6-8)
Ingredients
For Pumpkin Spice Pull Apart Bread:
Nonstick cooking spray
1/3 cup granulated sugar
1 teaspoon ground cinnamon
1/4 teaspoon ground nutmeg
3/4 cup canned pumpkin pie mix, not plain pumpkin
2 Tablespoons butter, melted
1 16 oz. tube Pillsbury Grands Flaky Layers Biscuits
For Vanilla Glaze:
1 cup powdered sugar
1 Tablespoon milk, any kind
1/4 teaspoon vanilla extract
Instructions
For Pumpkin Spice Pull Apart Bread:
Preheat oven to 350 degrees F. Line a loaf pan with parchment paper and spray lightly with nonstick cooking spray. Mix sugar, cinnamon and nutmeg in a shallow dish and set aside.
Remove biscuits from tube and slice each in half, creating 16 rounds. Spread pumpkin pie mix on top of each round. Top each with melted butter and sprinkle with the cinnamon-sugar mixture. Stack biscuits in 4 piles of 4 biscuits each. Place stacks on their sides in a row in prepared pan, making sure sides without filling are on both ends, touching pan. Bake for 35-40 minutes, or until bread is fully baked throughout.
For Vanilla Glaze:
Mix all ingredients in a medium bowl and drizzle over warm bread.