Dip a spoon into these fuss-free fall dessert jars piled high with soft angel food cake, homemade whipped cream, and spiced cinnamon-caramel apples!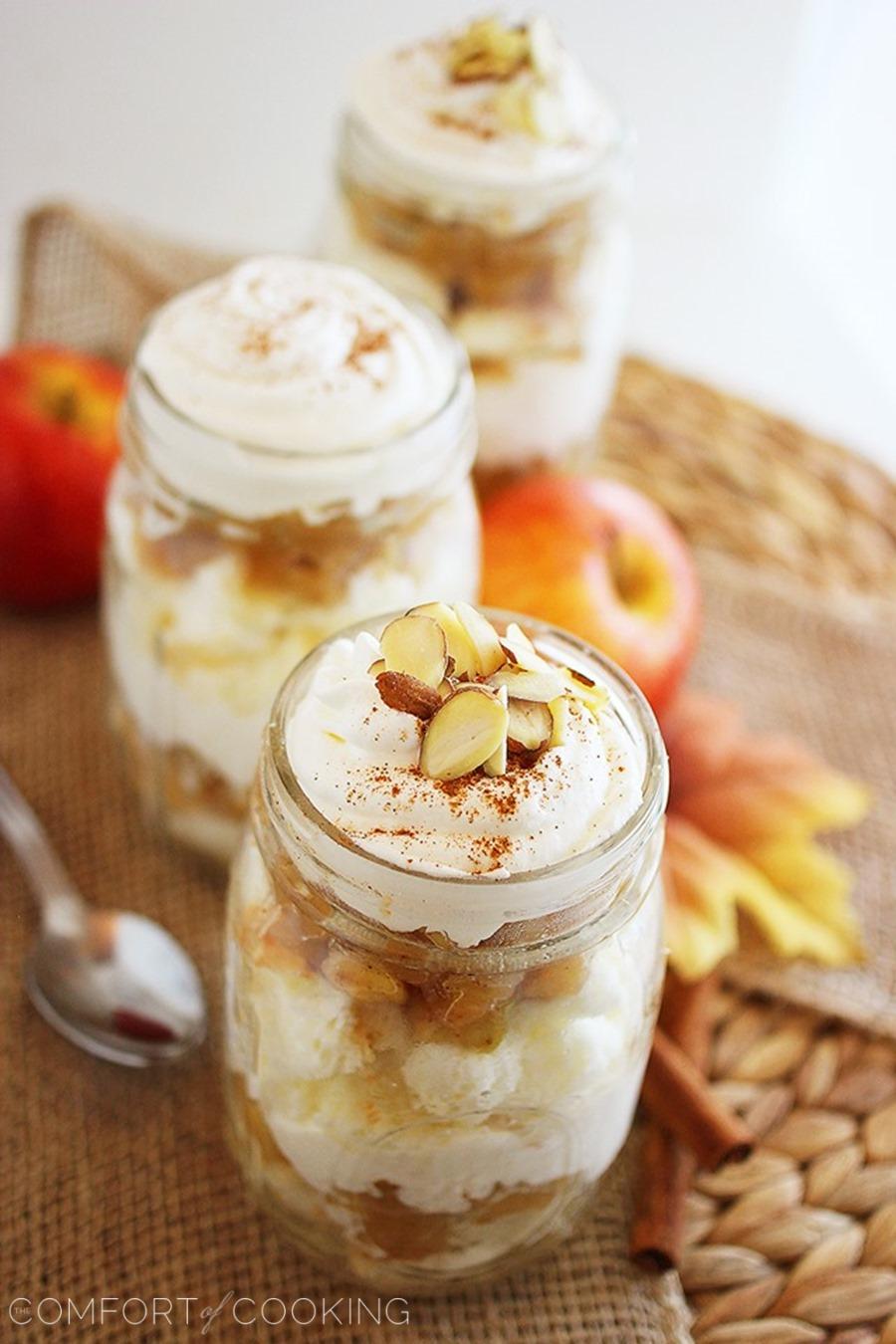 'Tis the season of giving, y'all! Giving thanks, giving hugs and gifts, and all the wonderful things that come with the cooler weather and its holidays. So, what better way to ring in fall (and my birthday this weekend) than to share the love a little?
Today I've got an incredibly good, fuss-free fall dessert for you that you're just gonna love. Spiced caramel apples, cloud-like homemade whipped cream, and pillowy soft angel food cake make these jars a mouthwatering sweet for the season. They're as fun to make as they are to eat, as they are to give as gifts! Triple threat treat, baby.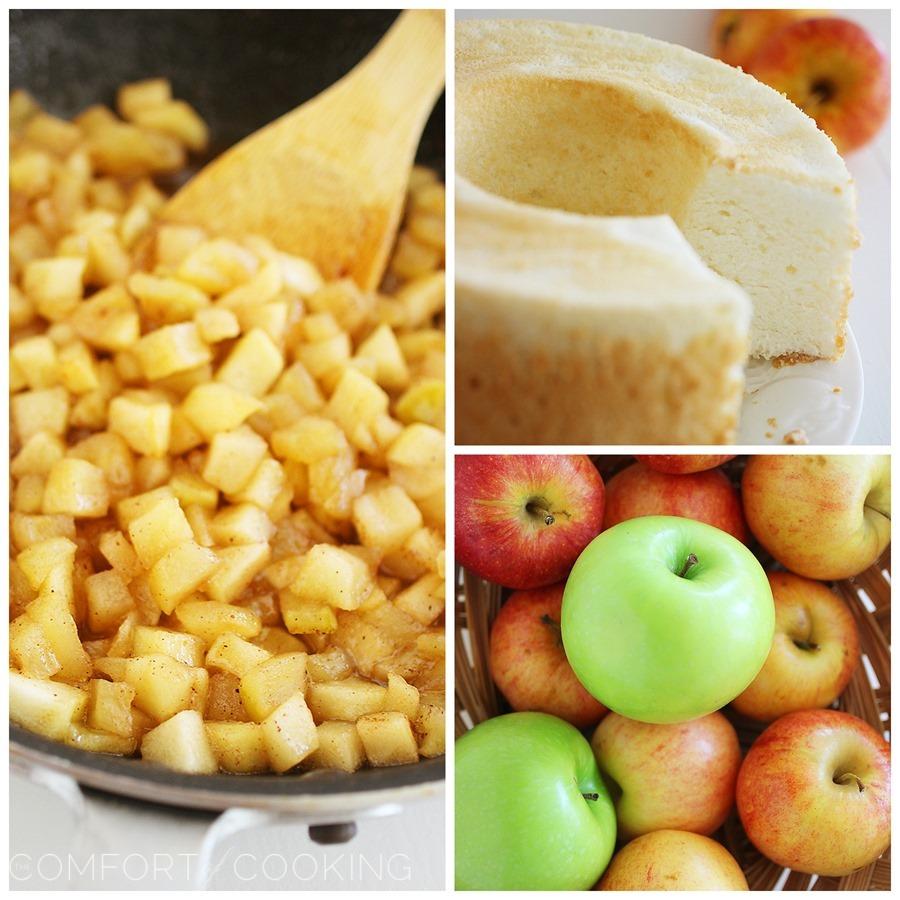 Topped with a sprinkle of cinnamon and a pinch of silced almonds, these desserts are pretty much heaven in a jar. Like a big scoopful of warm, comforting apple pie! Except, ya know… portioned. So you don't eat the whole pan.
Guilty.
Thanks to pre-made angel food cakes from Sara Lee Desserts, this is one super easy sweet treat. Just chop up your cake, simmer your apples in cinnamon, sugar and butter until soft, and whip your cream into a frothy-white frenzy! Grab your jars, layer away and garnish for a little extra pizzazz!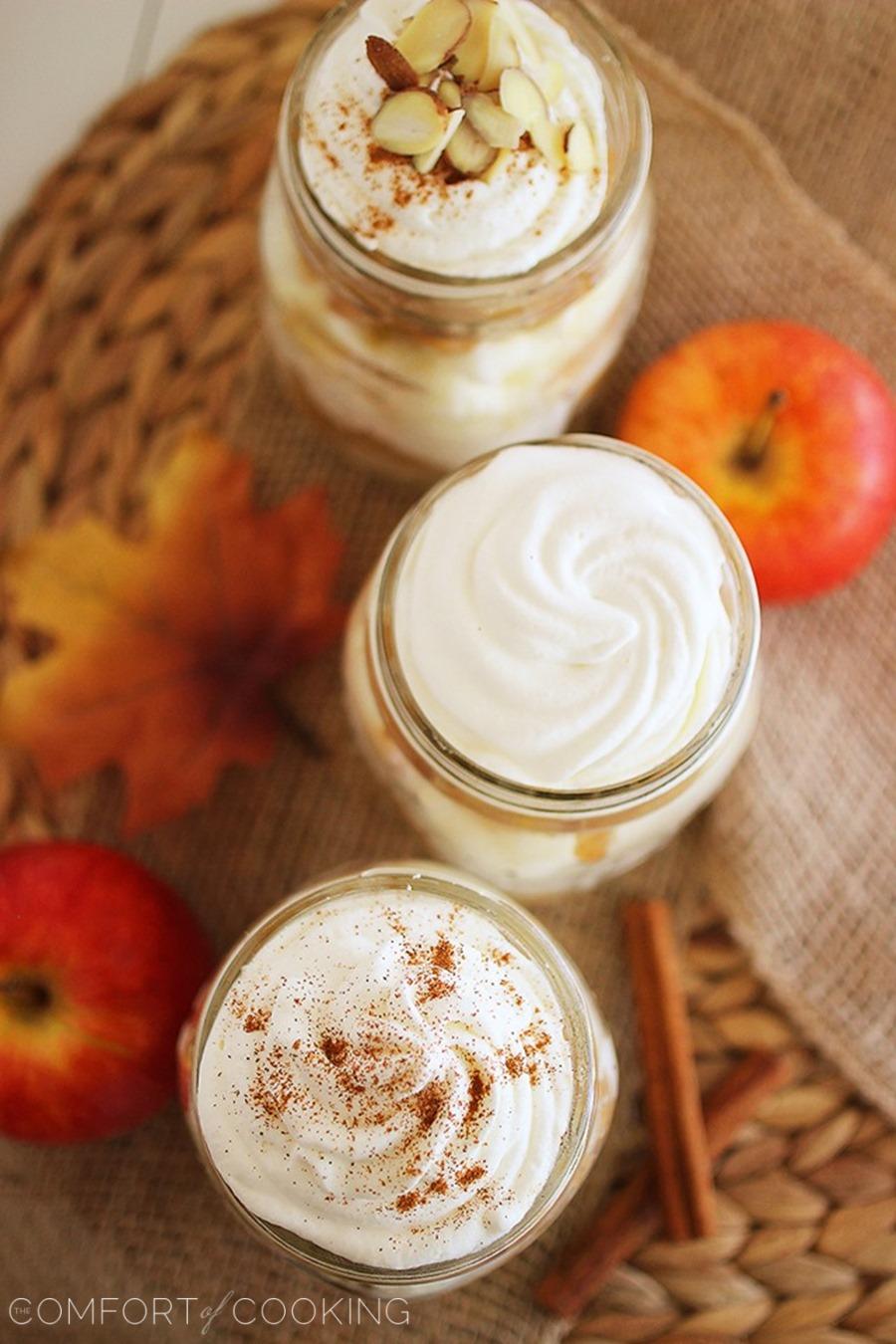 To make these pretty, perfectly delicious jars even easier, use canned apple pie filling and store bought whipped cream! I won't judge.
Just don't skimp on the angel food. You've gotta grab the best, and that means going for Sara Lee! These cakes are fluffy soft perfection in a box. Richly scented with almond and vanilla, each bite melts in your mouth. Irresistible with fruit and whipped cream, I tell ya!
Once they hit store shelves in late fall, grab yourself one and get creative! In the meantime, I've got another special treat for you… How about a $50 VISA gift card and some free Sara Lee product coupons?!
Check out the details for entering below… it's easy!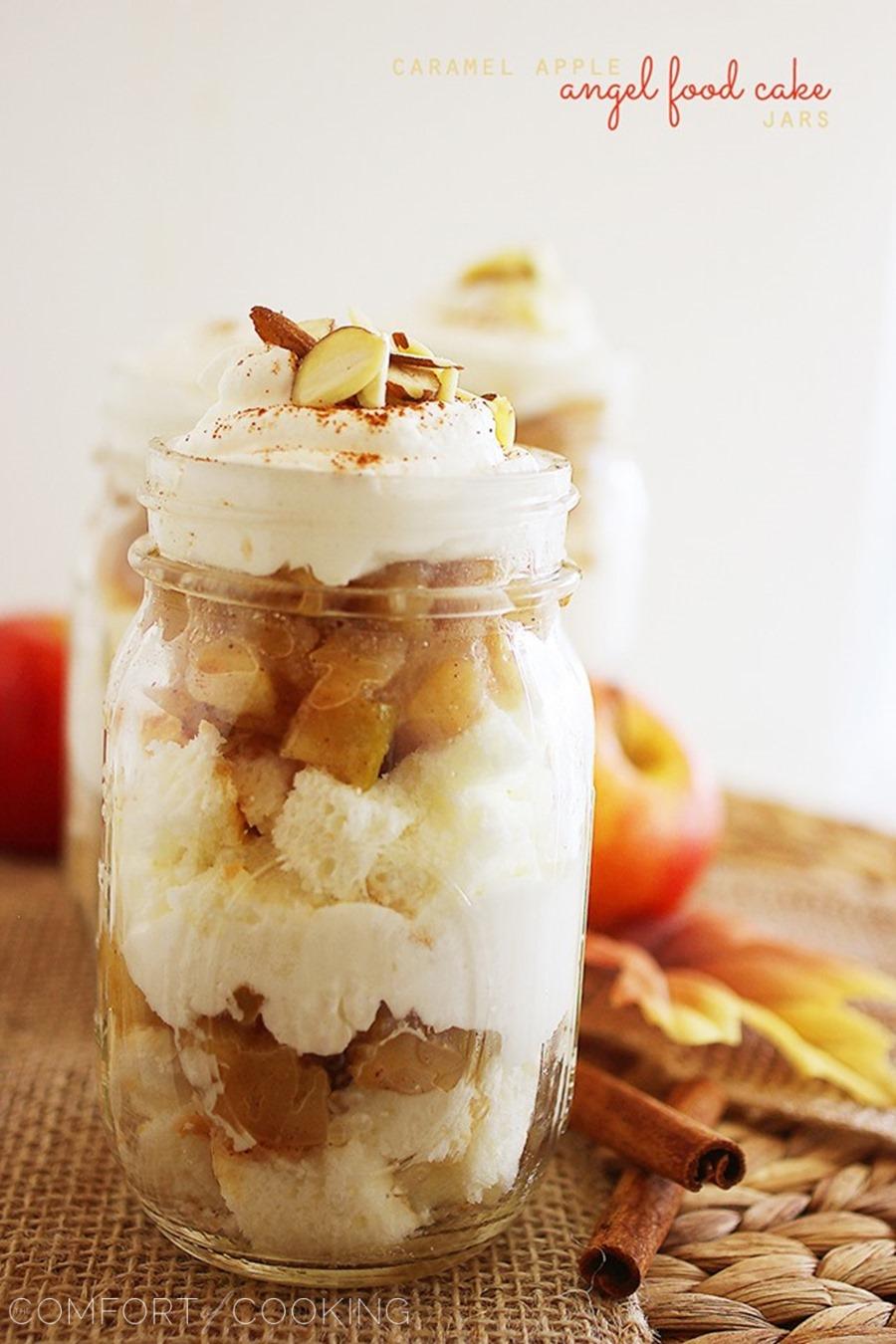 • • • • • • • • • • • • • • • • •
THIS GIVEAWAY IS NOW CLOSED. WINNER ANNOUNCED HERE
One Winner Will Receive:
(1) $50 Visa Gift Card
Sara Lee product coupons
To Enter:
Leave a comment on this post!
For Extra Entries:
(please leave separate comments for each)
Follow Sara Lee Desserts on Facebook
Follow Sara Lee Desserts on Twitter
Mention this giveaway on Pinterest or follow Sara Lee Desserts
• • • • • • • • • • • • • • • • •
One winner will be randomly drawn and announced on Monday, October 14. Here's hoping you'll be the lucky one!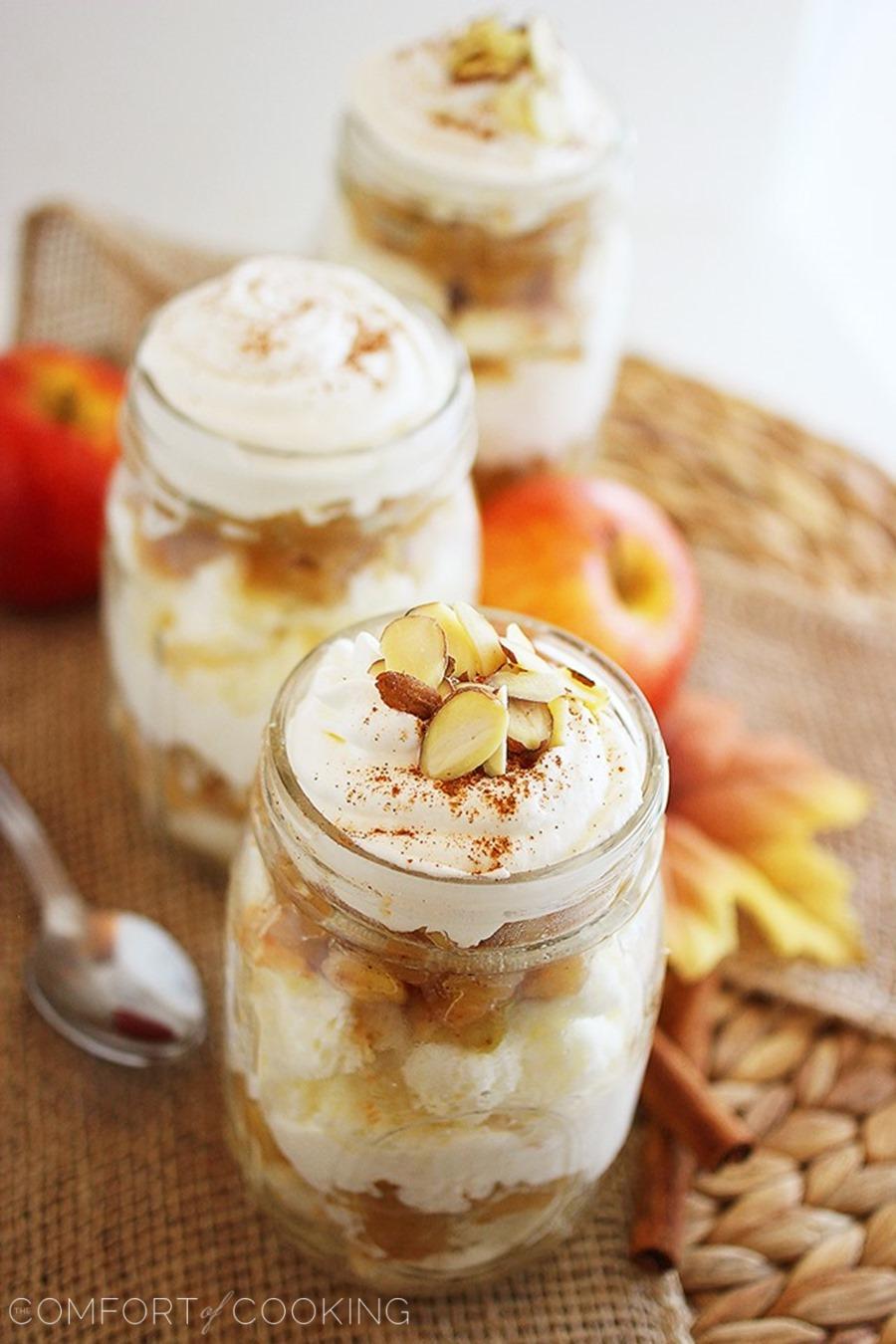 Caramel Apple Angel Food Cake Jars
Ingredients
For caramel apples:
1/4 cup unsalted butter
1/2 cup granulated sugar
1/2 teaspoon fresh lemon juice
3 large Granny Smith apples, peeled and small diced
1/2 teaspoon ground cinnamon
1/4 teaspoon ground nutmeg
For assembly:
5 12 oz. mason jars
1 22 oz. Sara Lee Angel Food Cake, thawed
1 cup whipped cream, homemade or store bought
1 batch caramel apples, recipe below
1/4 cup sliced almonds, for topping
Instructions
Start by making caramel apples:
In a large skillet over medium heat, melt butter. Add sugar and lemon juice, stirring frequently for 5-6 minutes, or until mixture turns light golden brown. Stir in diced apples. Cook for 20-25 minutes, stirring often, or until apples are caramelized and golden. Remove from heat. Let cool at least 30 minutes before layering in jars.
For assembly:
Cut angel food cake into 1″ cubes. Layer with whipped cream and caramel apples in a mason jar, ending with whipped cream. Repeat with remaining ingredients. Sprinkle with cinnamon, sliced almonds and serve.
Enjoy!