100x better than takeout! Try this tasty twist on tender, juicy teriyaki chicken that only needs a handful of pantry staples and a slow cooker. Serve over rice for a delicious family meal.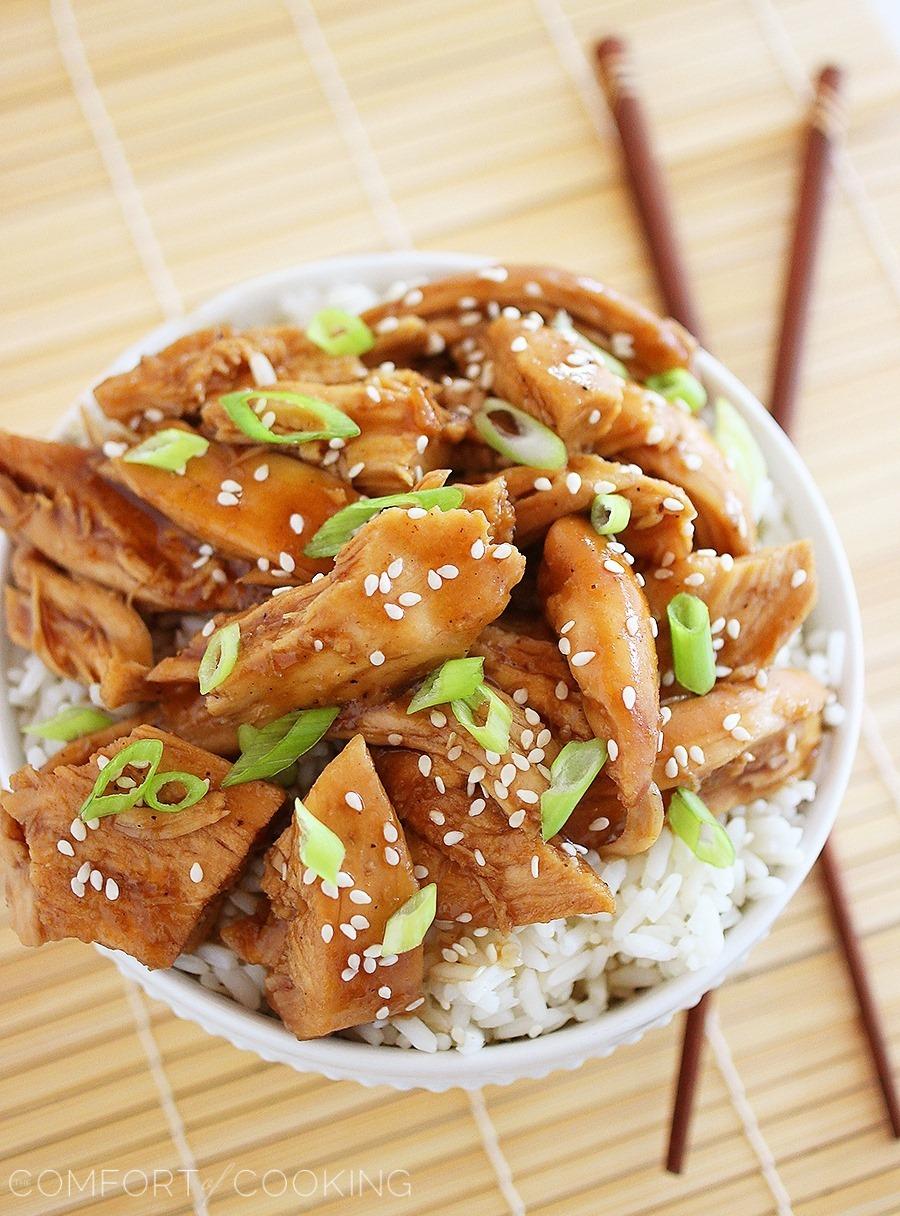 When I was first learning to cook, the most basic, easy-to-make meals to me were comfort foods – mac and cheese, baked chicken, apple crisp. These are still the foods that give me that snuggly warm feeling, I love them. Italian dishes, too! Well, as "Italian" as boiled pasta and jarred sauce with that canister of Parmesan cheese can get. Ha! It gives me a giggle to think of those days… and how they still crop up on nights when I just can't be bothered. Yes, the shaker can of Kraft Parmesan crumbles is still alive in my fridge and actively used!
After I became more adventurous with cooking, I dipped my toes into trying buttery French roasted chickens and crispy Mexican tostadas piled high with beans, veggies, cheese and all the good stuff. Then it was Greek salads with crisp cucumber and creamy feta, smoky Indian tandoori on the grill, and spicy Jamaican jerk chicken in the oven.
Can you tell I'm writing this post hungry, or what?!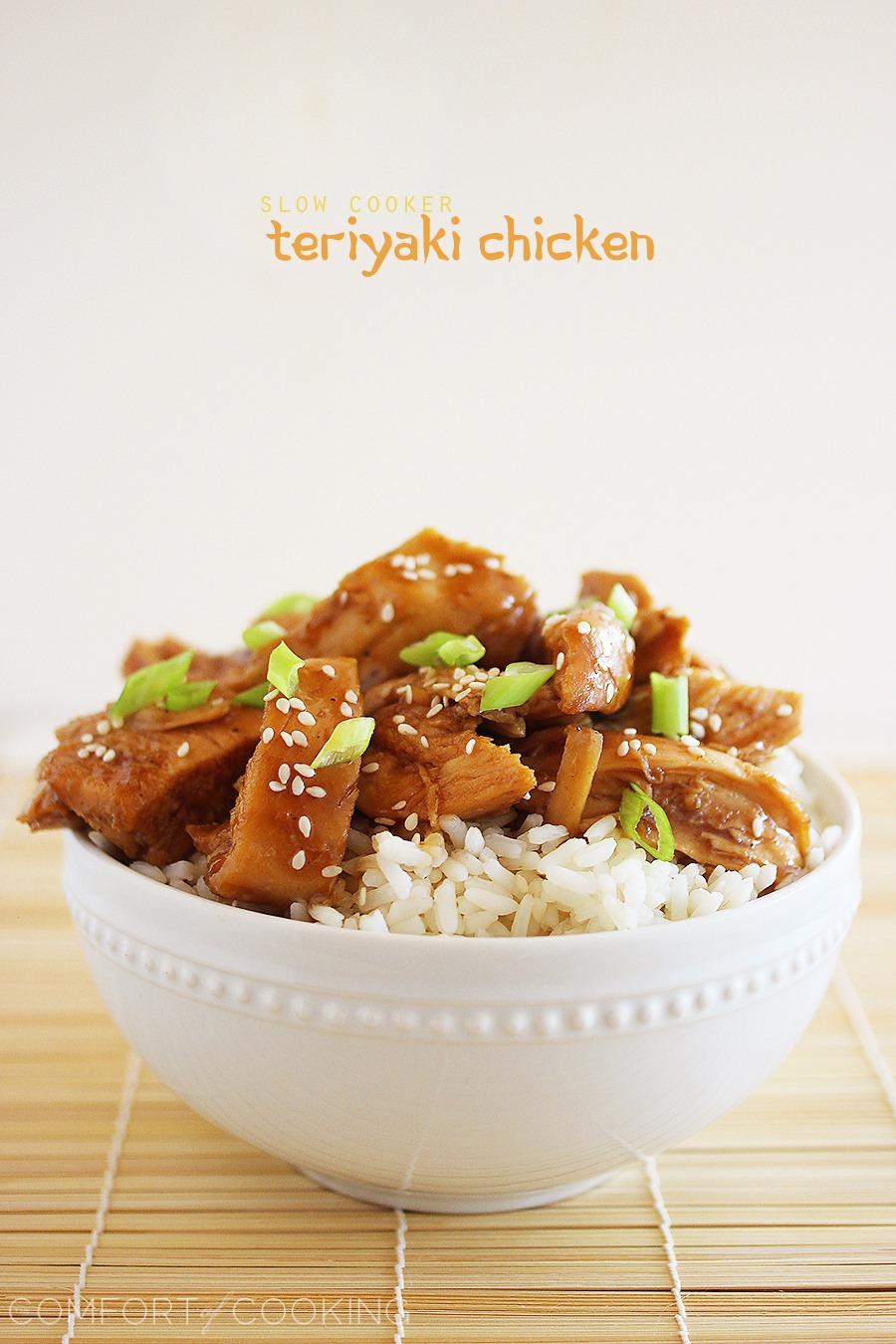 But, over all my years of cooking and learning and washing piles of dishes from predictable meals, I never took the leap to try Asian cooking! Whyyyyy, oh why did I insist on ordering it every time I was hungry for something different, but refused to roll up my sleeves and give it a shot?
These days, I can't get enough of recreating my take-out favorites at home! All you need are the right ingredients, a little creativity, and a brain capable of understanding chopsticks.
Don't worry, I'm still getting there, too…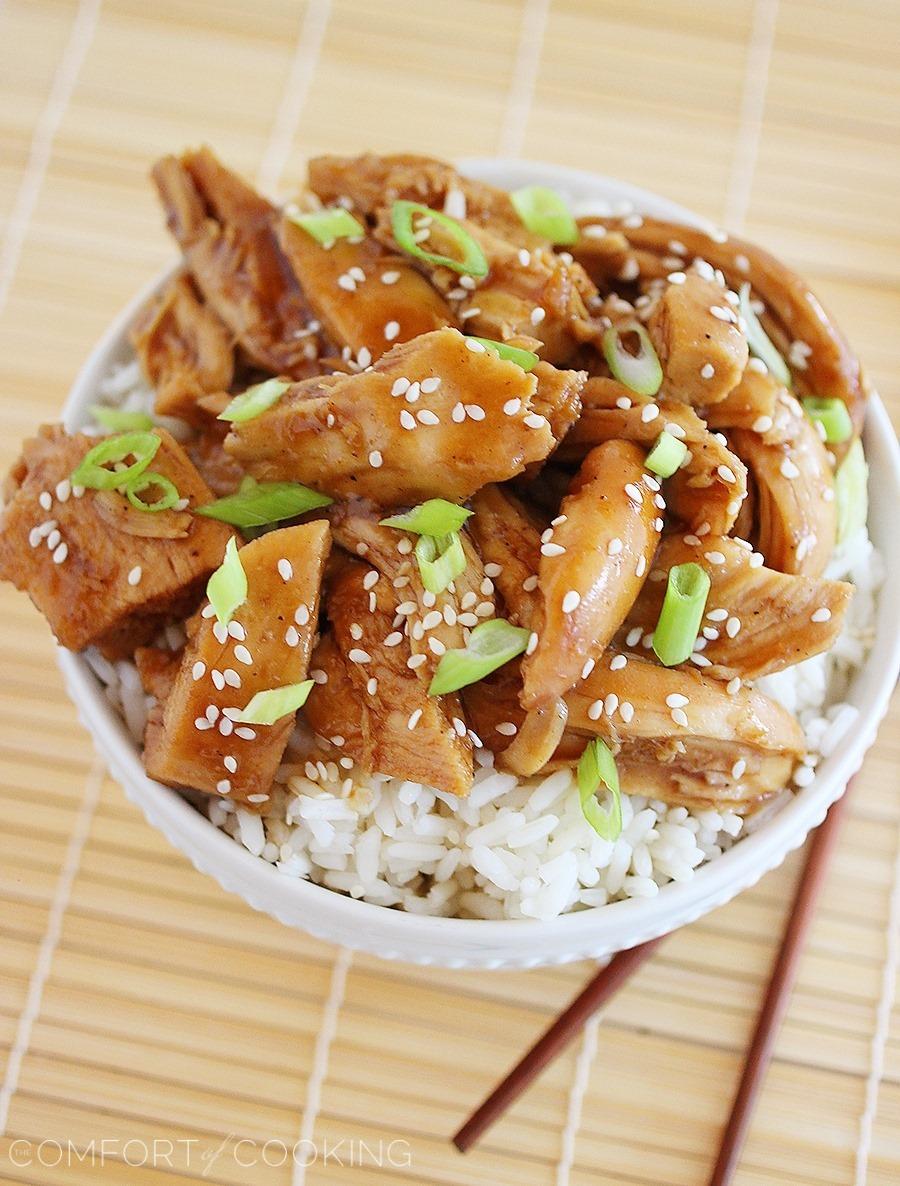 Of all the Asian dishes I've started to make since taking the leap, though, this teriyaki chicken has become one of my top ten! It is incredibly tender and flavorful, falls apart on your fork and melts in your mouth.
Piled over hot cooked rice and served with a side of stir-fried veggies, this fabulous meal was a major favorite last week. We love recreating our favorite take-out meals at home, and this one we'll definitely be making again and again.
Try it this week for yourself!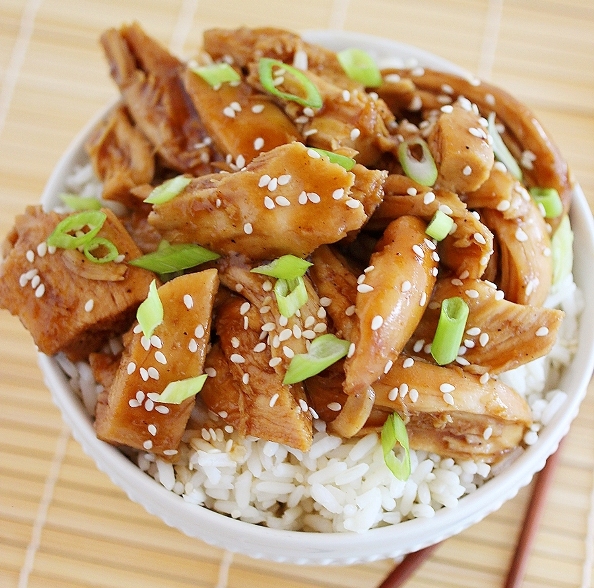 Slow Cooker Teriyaki Chicken
Ingredients
1 to 1 1/2 lbs. boneless skinless chicken breasts
1/2 cup granulated sugar
1/2 cup low-sodium soy sauce
3 tablespoons apple cider vinegar
1/2 teaspoon ground ginger
1 clove minced garlic
1/8 teaspoon freshly cracked black pepper
2 teaspoons cornstarch
2 teaspoons water
4 cups hot cooked white or brown rice
Sesame seeds and chopped scallions, optional
Instructions
In your slow cooker, stir together sugar, soy sauce, vinegar, ginger, garlic and pepper. Place chicken in slow cooker and coat well in soy mixture. Cook on low for 3-4 hours*, turning chicken occasionally.
Once cooked, carefully remove chicken from slow cooker, chop into bite-sized chunks; set aside.
Pour liquid into a medium saucepan and bring to a boil. In a small bowl, whisk cornstarch and water until combined. Slowly add cornstarch mixture to boiling liquid and reduce to a simmer. Allow sauce to thicken for 2-3 minutes then add chicken to the saucepan. Coat chicken with sauce and let heat through.
Serve over cooked rice. Garnish with scallions and/or sesame seeds, if desired.
Enjoy!