Say hello to my new food crush! This colorful, healthy medley of butternut squash, Brussels sprouts, cranberries and apples MUST be on your Thanksgiving table. It's so easy and delicious, and also makes a fabulous vegetarian meal (or add cooked sausage). Yum!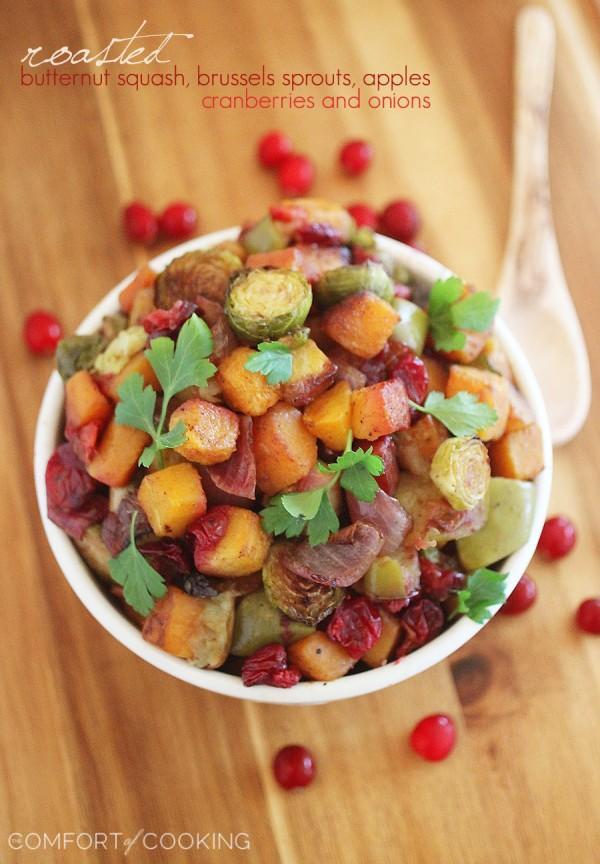 Even if it's only the two of us at the Thanksgiving table (which it might be this year), I tend to go overboard on the side dishes. My challenge has always been trying to fit in a little bit of everything. Something green. Something oniony. Something with cranberries. Something butternut squashy. Instead of one all-encompassing dish, we end up with green beans, potato onion gratin, cranberry pie and mashed butternut. And as ridiculously delicious as all of that sounds… we end up with TOO much.
Oh, yes. It's Thanksgiving and I went there.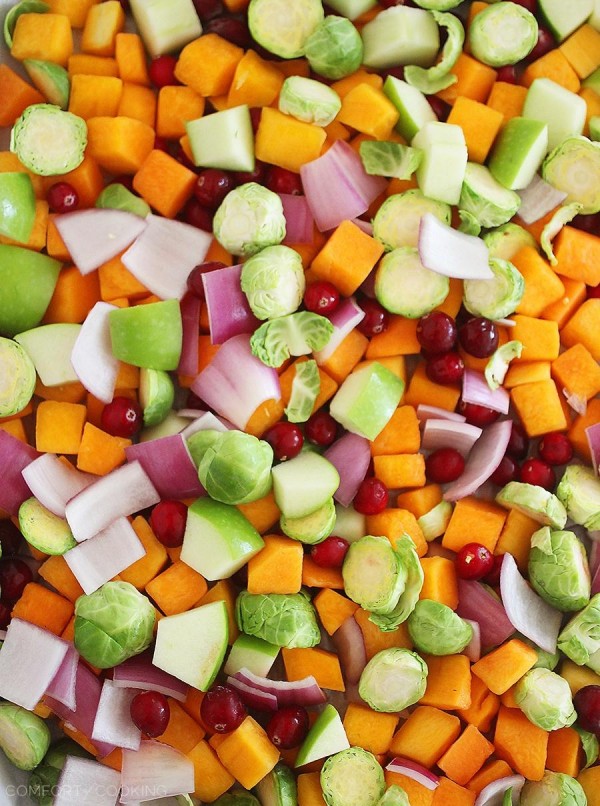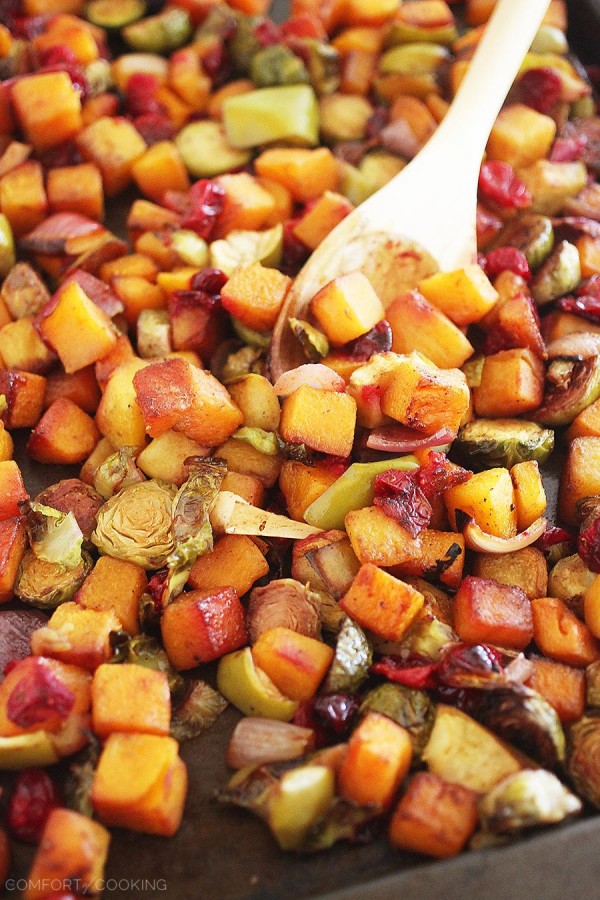 This hearty, healthy medley of mouthwatering fall veggies and fruits has your name written all over it. It is THE Thanksgiving (or Christmas) side dish that needs to be on your table, making your home smell scrumptious and wow-ing your guests. You don't have to tell them how easy it was, though…
This pan full of goodness is even a delicious stand-alone vegetarian meal. (If you're a manivore like my husband, add some cooked smoked sausage).
Curry powder gives the vegetables a deep, earthy flavor, and balsamic adds a little tang to the sweet apples and cranberries. Use whatever spices appeal to you, though! The butternut squash become so tender as it roasts, and the Brussels sprouts blossom into beautiful rosettes. It's just wonderful.
Get chopping, roasting and eating! You're gonna love this.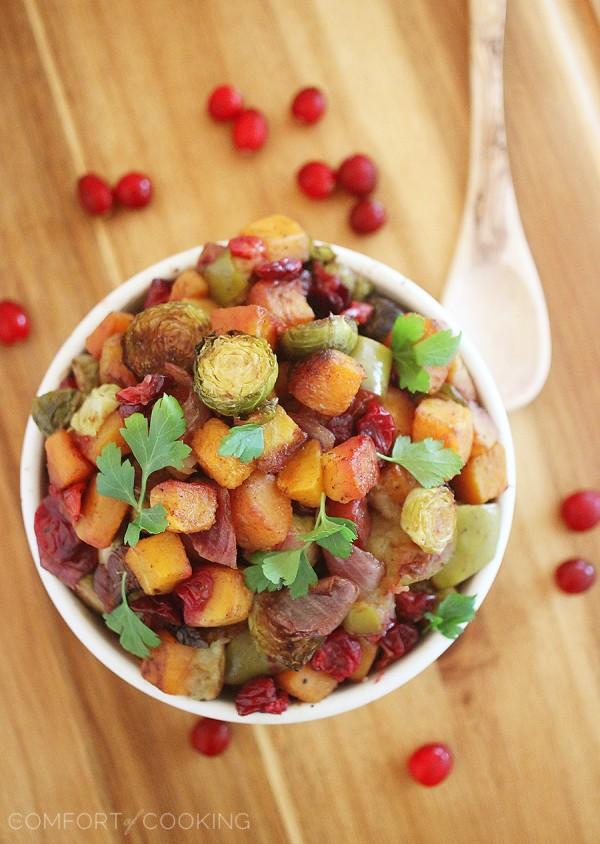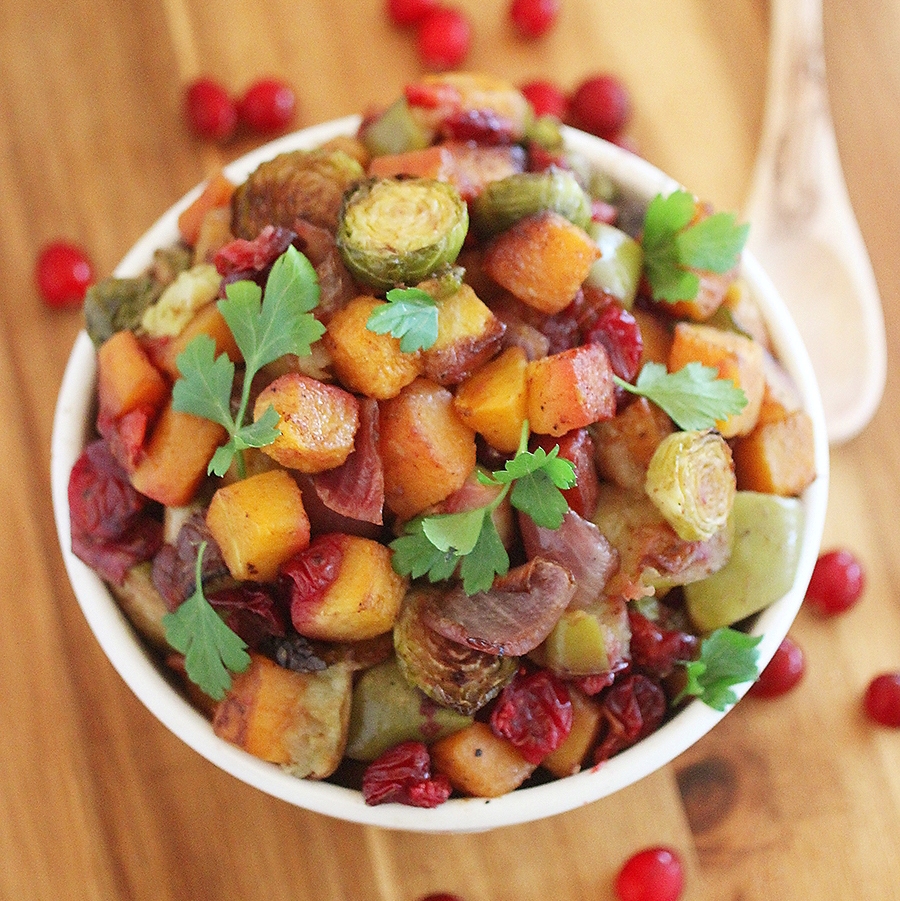 Roasted Butternut Squash and Brussels Sprouts with Cranberries, Apples and Onions
Ingredients
1 medium butternut squash, peeled and cut into 1/2-inch cubes
1 lb. Brussels sprouts, trimmed and halved
1 cup fresh cranberries
1 tart apple, cut into 1/2-inch pieces
1 medium red or yellow onion, chopped
2 Tablespoons extra virgin olive oil
1 Tablespoon balsamic vinegar
1 Tablespoon brown sugar
1/2 teaspoon curry powder
Kosher salt and freshly cracked black pepper
Instructions
Preheat oven to 400 degrees F.
Spread chopped butternut squash, Brussels sprouts, cranberries, apple and onion on a large rimmed baking sheet.
In a small bowl, whisk oil, vinegar, brown sugar and curry powder. Drizzle over vegetable mixture and toss to evenly coat.
Roast for 45 minutes, gently stirring halfway through cooking time. Continue to roast until vegetables are tender and nicely browned.
Enjoy!