A creamy, buttery Marsala sauce and fresh mushrooms nestled in a bed of soft gnocchi is your next dream dinner. All it takes is a handful of pantry staples and 10 minutes to prepare!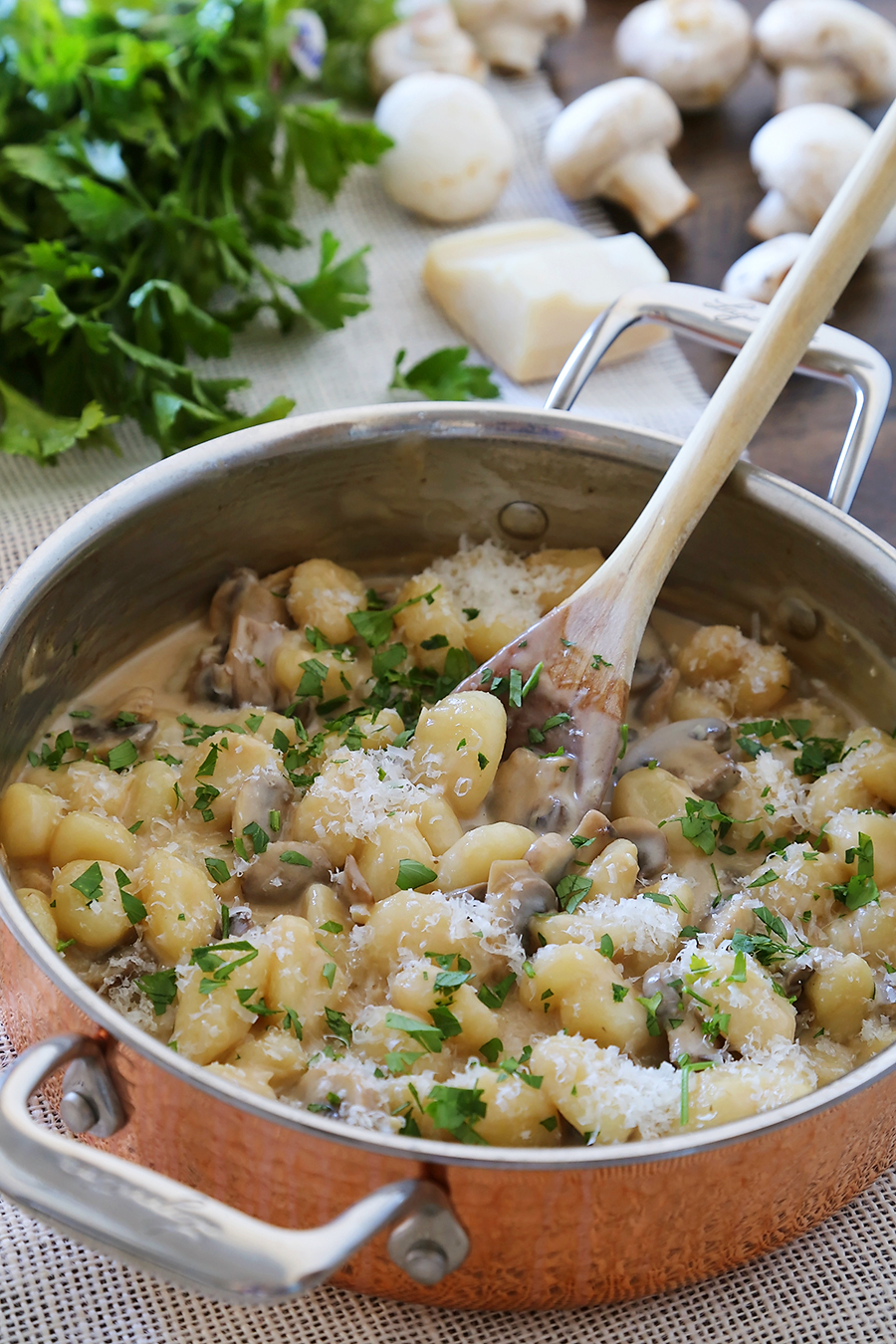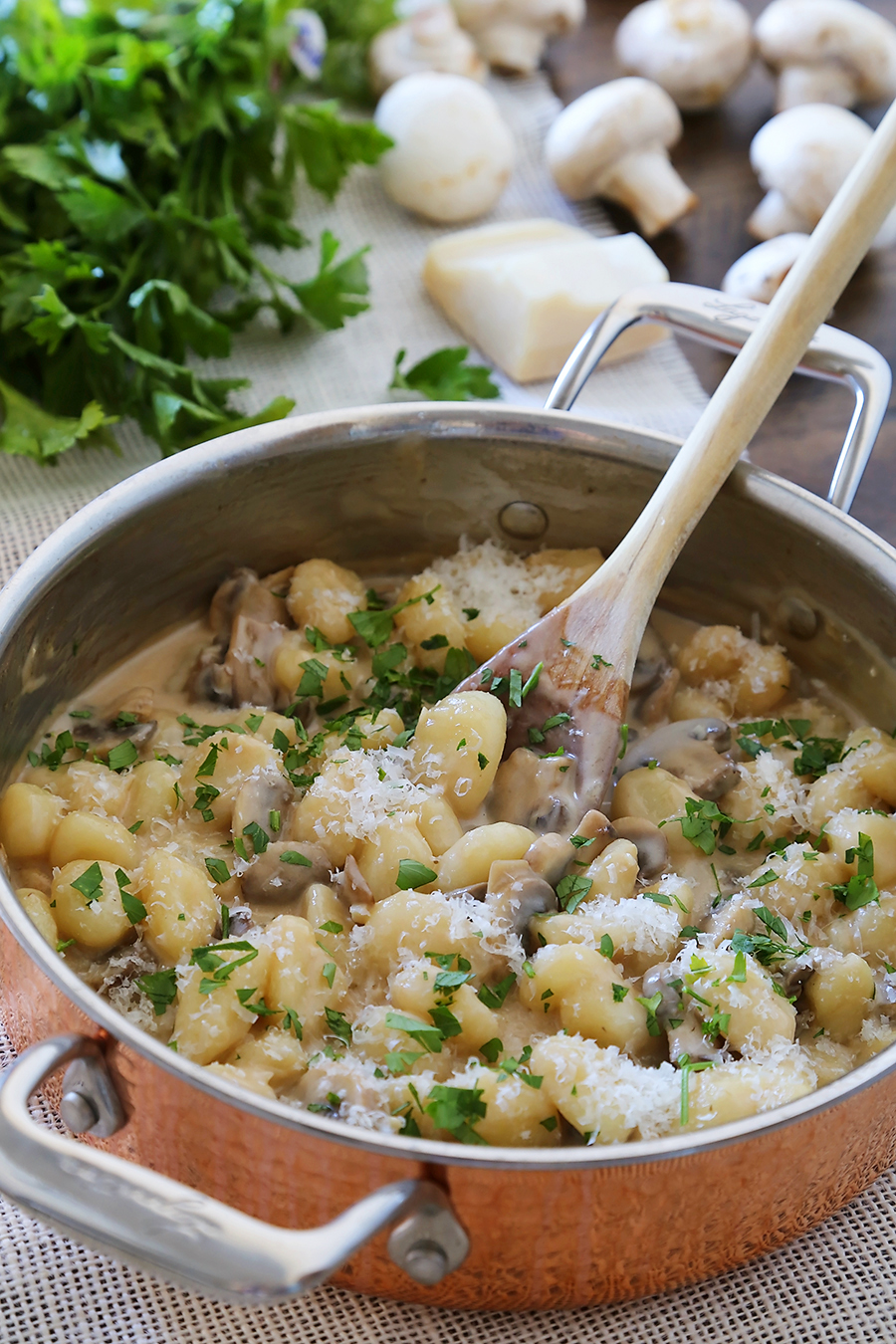 Since I tend to tire of the-same-old-thing recipes, I love to switch it up with a simple yet scrumptious weeknight meal! This super fluffy, flavorful gnocchi is both easy to prepare and full of creamy, delicious goodness that the whole family will love. It also fits the bill for a meatless weeknight meal for yourself or vegetarian guests. I literally have not been able to stop thinking about this dish since I cooked it for my mom last week, who even raved about batch one, before I perfected the recipe for you!
There is nothing better to me than being able to cook a restaurant quality meal at home. Especially since it sets you back half (or less) of the price of dining out, and you know exactly what is going into your food. Plus, you can really feel the love in a homemade meal! Those three factors are what most strongly inspired me to start cooking, and as my skills have bettered in the kitchen, those values have continued to hold strong over a decade later! … Except I hate the dishes, so best to dine with a friend who is okay with the "you cook, I clean" arrangement. Heh.
Now, let me show you how to make this irresistible Italian dish at home!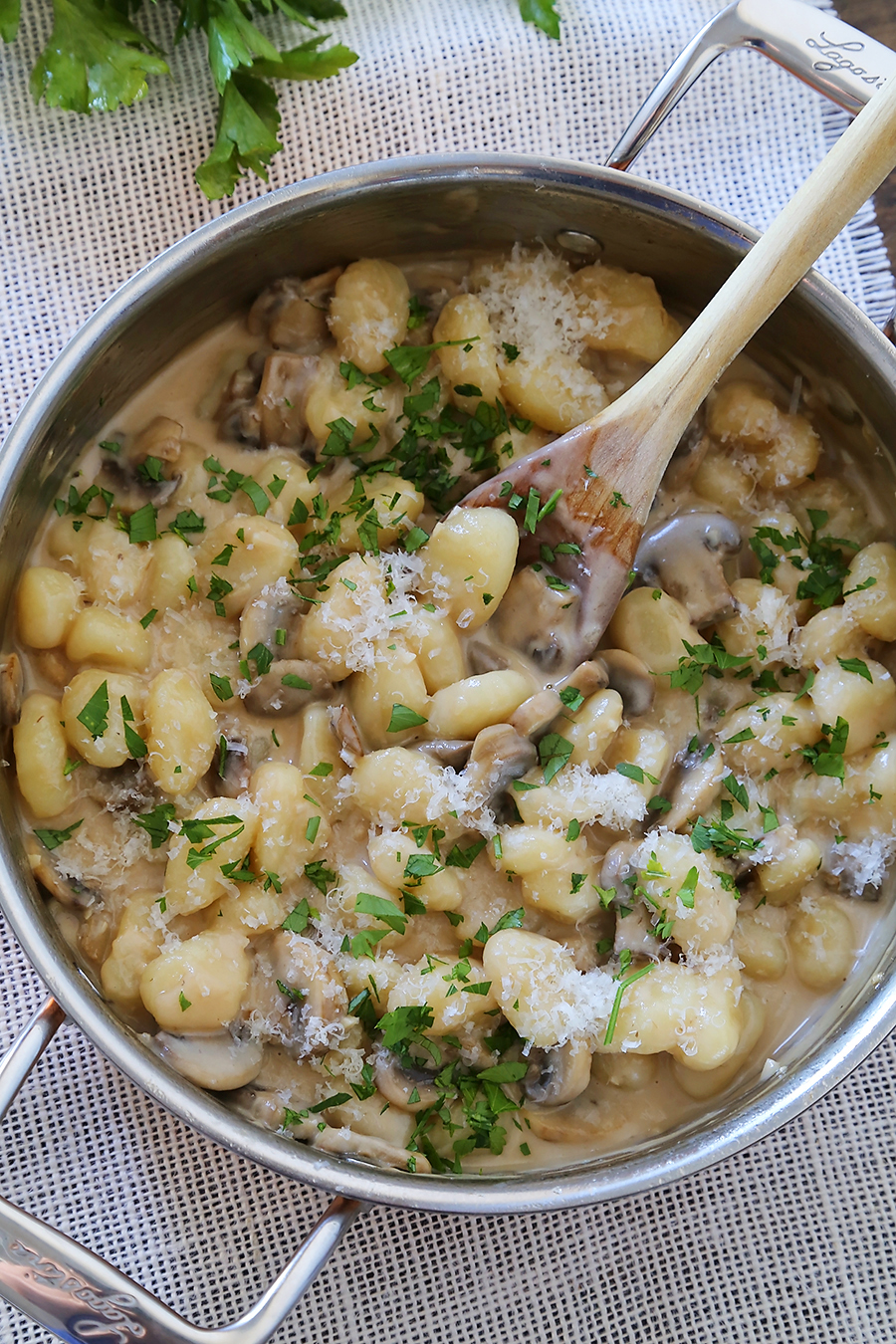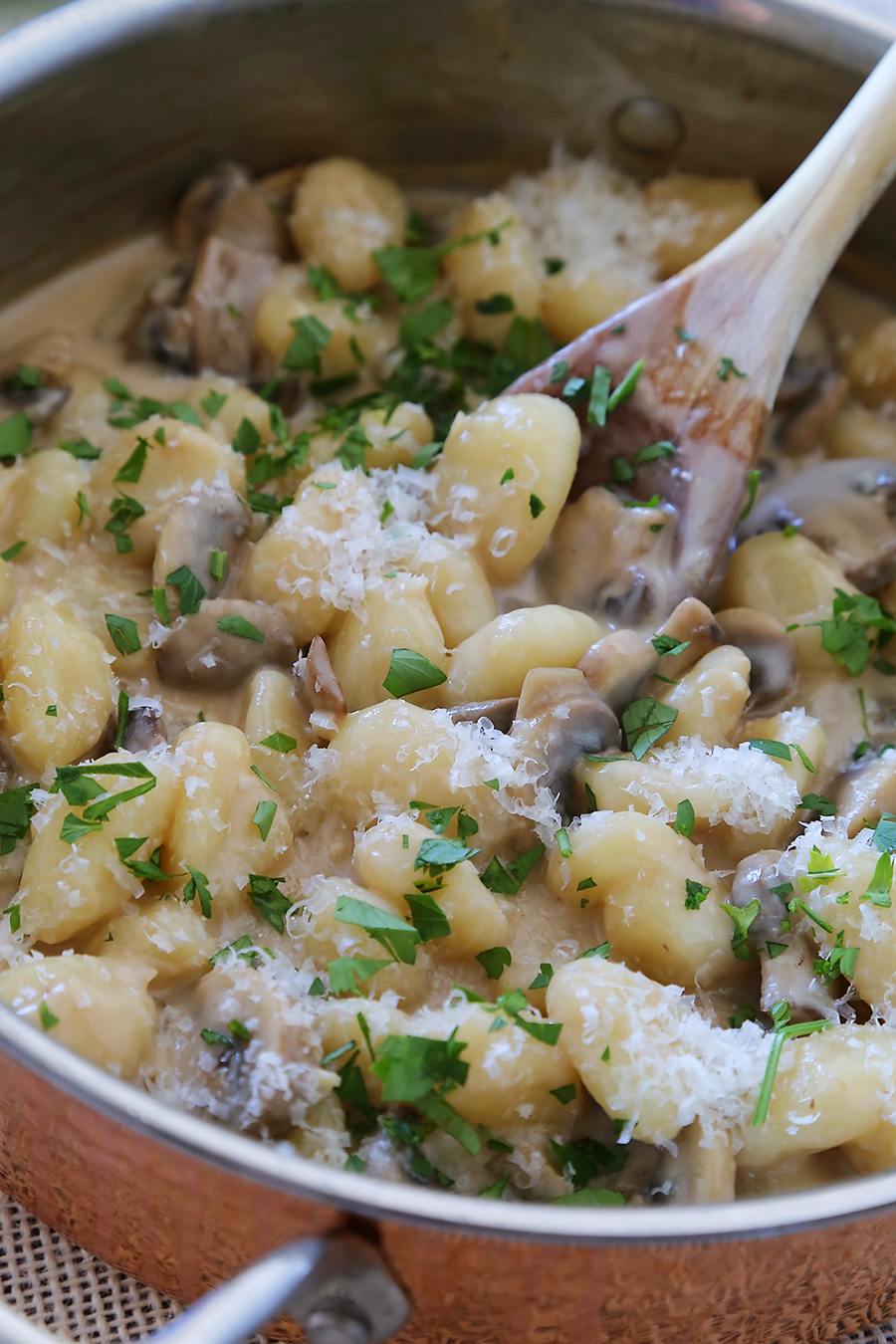 As any good dish in this world does, it begins with butter.
Grab a big skillet, slip in some butter, and watch it sizzle and melt. Toss in your mushrooms, and let them cook down a bit until they are mostly softened. Add some good stuff, a.k.a., minced garlic. If you're like me and love mushrooms, it's tempting to stop right there, because buttery, garlicky mushrooms are one of my favorite simple sides. However, if you don't like mushrooms, you can easily substitute them with chopped cauliflower, eggplant or artichoke hearts. They all make an equally delicious add-in with a chewy, soft texture that perfectly compliments the gnocchi. So good!
The true trick to this recipe is what happens next. With all the savory ingredients going on here, I find that Holland House Marsala Cooking Wine is absolute BEST addition, because it adds a subtly sweet flavor, with hints of hazelnut. The sweet and salty effect is melt-in-your-mouth delicious, and for those who didn't watch you cook it, makes guests go for bite-after-bite, wondering what they're tasting.
So, you splash some chicken broth and marsala wine onto your mushrooms, and bring it to a bubbly boil. Once it's rolling, stir in your gnocchi and cover the skillet. The gnocchi will cook in the broth and marsala, which imparts incredible flavor into those delectable potato morsels. If you want your pasta dishes to be over-the-top, cook them in broth and cooking wine! And this marsala is the best cooking wine, y'all. Apart from being a friend to my Chicken Marsala Meatballs (which you must try), you can use it to liven up creamy soups, gravies, and even use it as a meat marinade.
Once your gnocchi is cooked and softened, swirl in some heavy cream off-heat. Let it thicken the liquid into a nice creamy sauce, then top with freshly grated Parmesan and chopped parsley. Voila!
An easy, elegant dinner in less than 10 minutes. I hope you enjoy.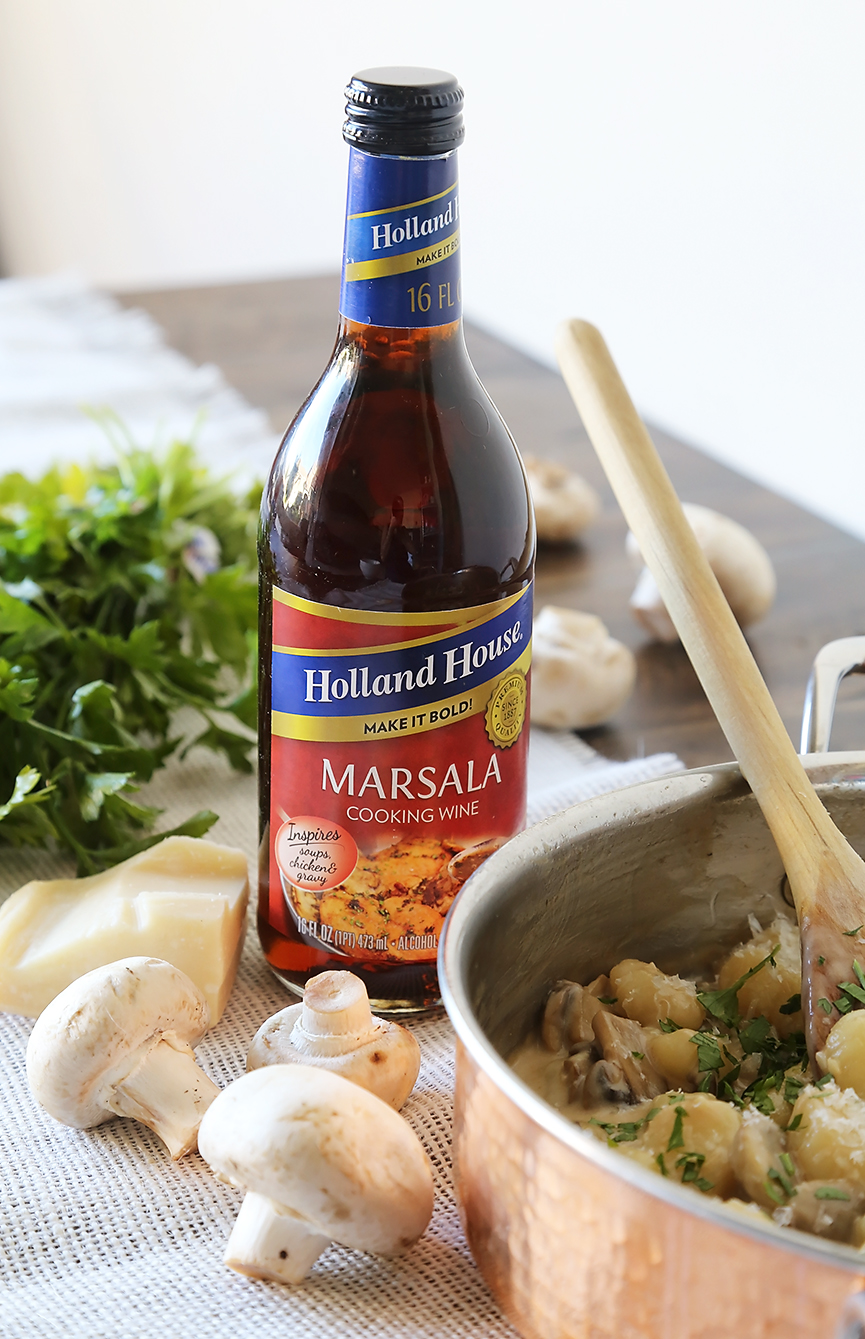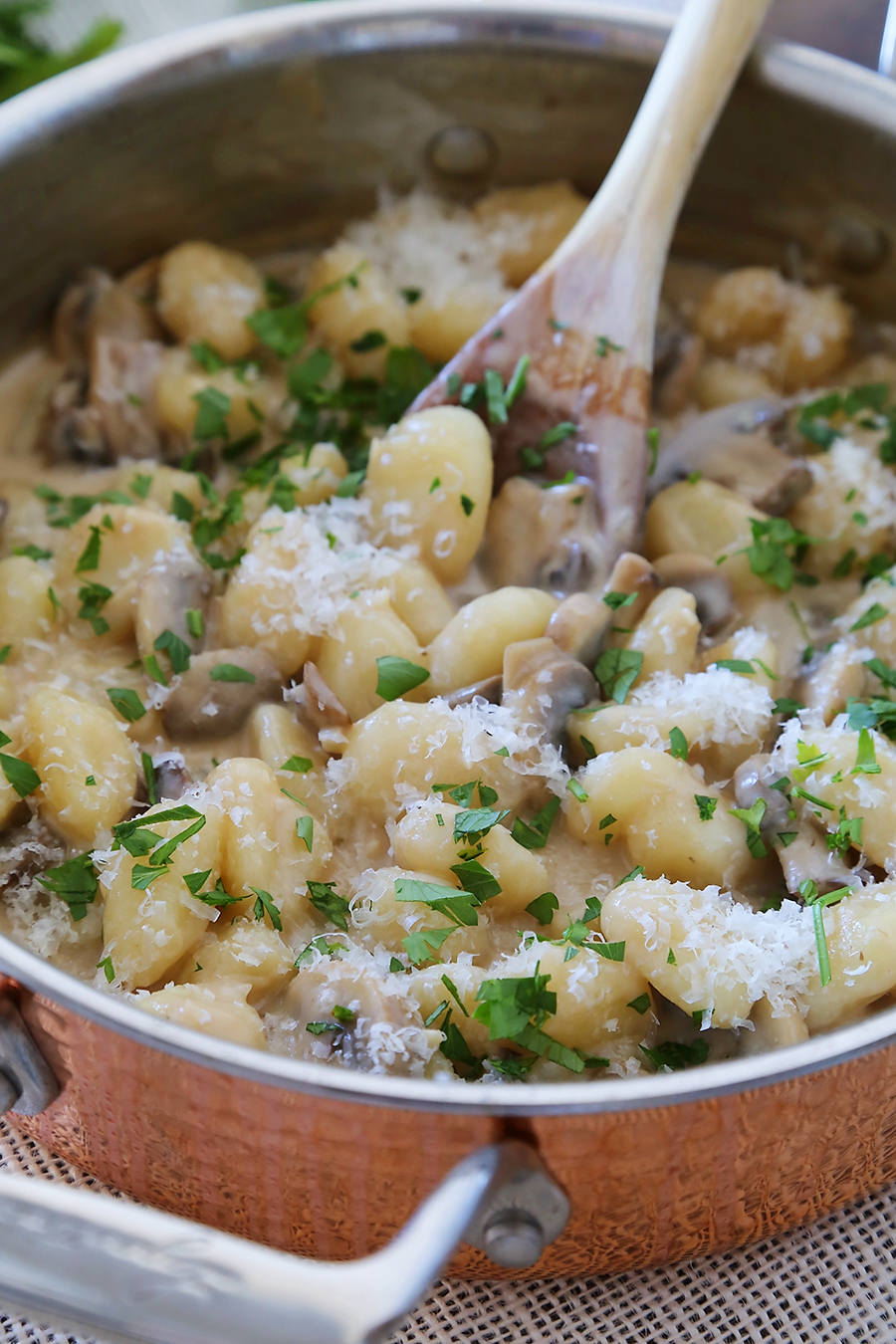 Click here to receive the Holland House Newsletter with great recipes, tips, and coupons.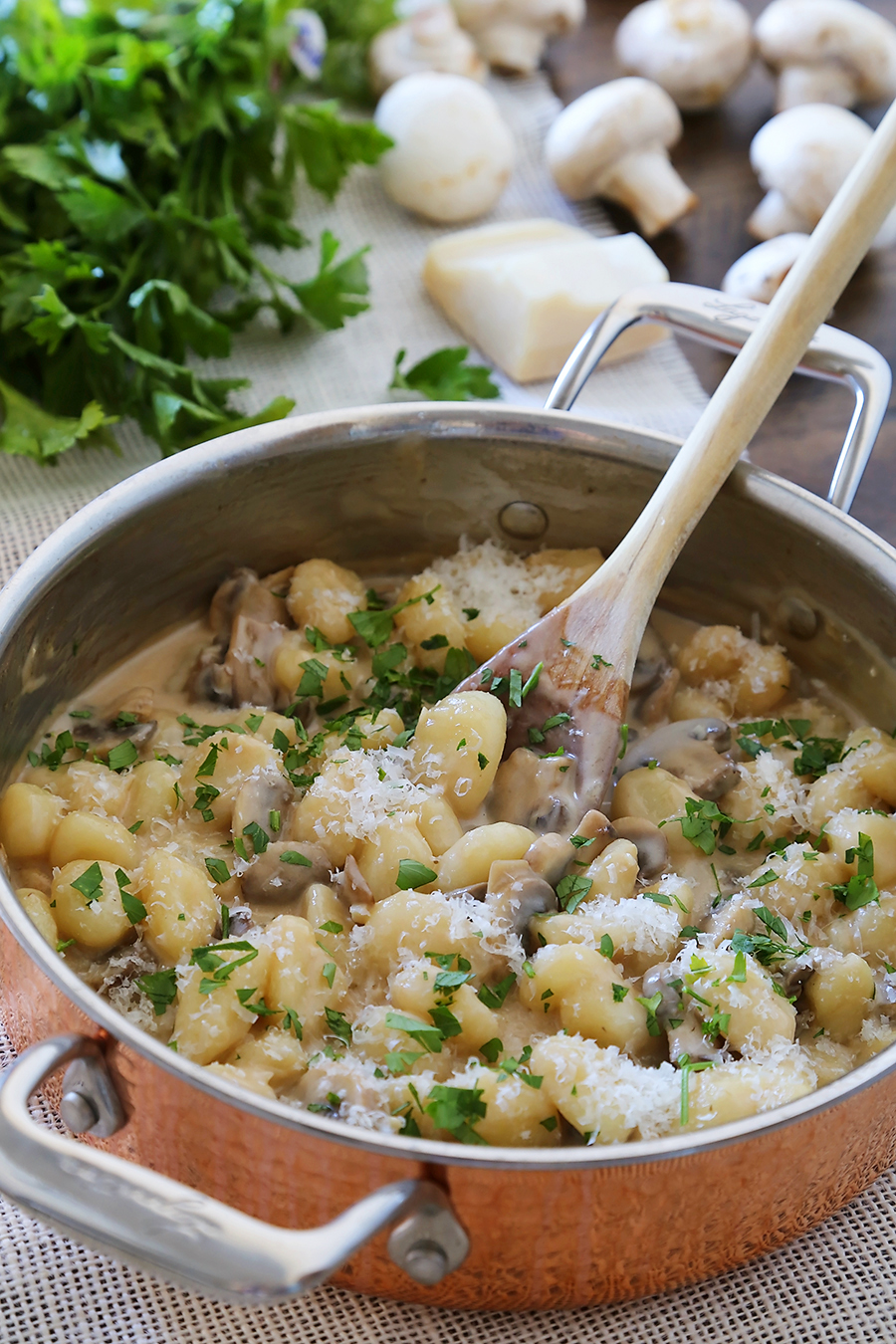 10-Minute Creamy Marsala Mushroom Gnocchi
Ingredients
2 Tablespoons unsalted butter
10 oz. button mushrooms, sliced
2 cloves garlic, minced
1 cup Holland House Marsala Cooking Wine
1/2 cup chicken broth
1 16-18oz. package potato gnocchi, uncooked
1/4 cup heavy cream
2 Tablespoons chopped parsley or basil, optional
1/4 cup freshly grated Parmesan, optional
Instructions
In a large skillet, melt butter over medium heat. Add mushrooms. Cook 5 minutes, stirring occasionally, until mushrooms have softened slightly. Add garlic and cook for an additional minute.
Add marsala and chicken broth; bring to a boil. Add gnocchi and cover the skillet. (If your skillet does not have a cover, you can cover with aluminum foil.) Cook 3-5 minutes, or until gnocchi is softened and cooked completely.
Remove from heat and stir in heavy cream, until well blended. Sprinkle with chopped parsley and Parmesan, if desired. Serve hot.
Enjoy!