Scoop leftover cranberry sauce/relish into ramekins for easy mini cranberry cobblers! The quick & easy topping is fluffy and cakey, and with vanilla ice cream or whipped cream, it makes a deliciously tangy, sweet day-after-turkey-day treat!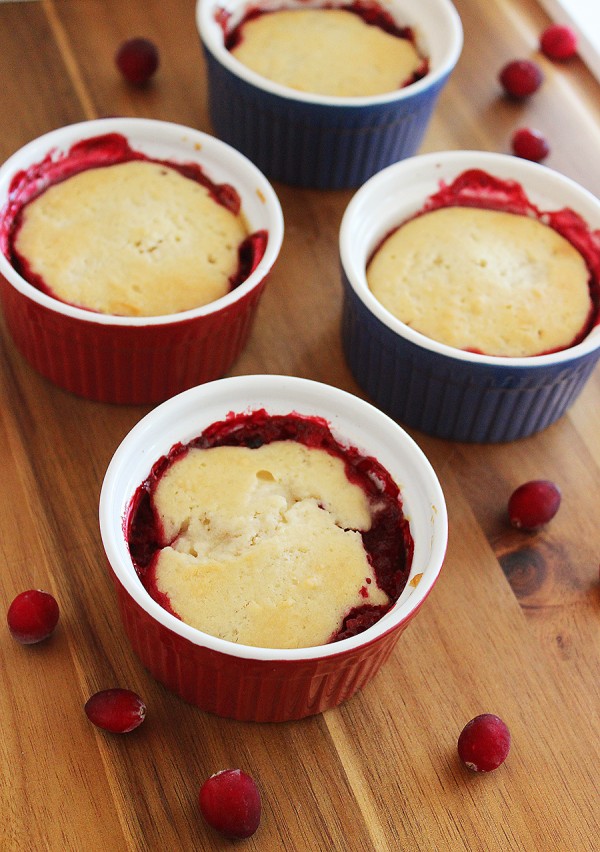 When it comes to repurposing, I love to find new uses for some things. Others, like clothes and my husband's tools I see no use for, I'm fine letting go of. Call me sentimental, but I can't just chuck a good cranberry sauce! It's one of my favorite parts of the traditional turkey dinner. However, we always end up with leftovers.
So, why not turn something good into something great? Mini cobblers have been my longtime go-to dessert for everything from a fancy dinner to kicking back on the couch. They are such a simple way to use whatever berries you have on hand – strawberries, blueberries, raspberries… and even cranberries! Or, in this case, a cranberry sauce or relish.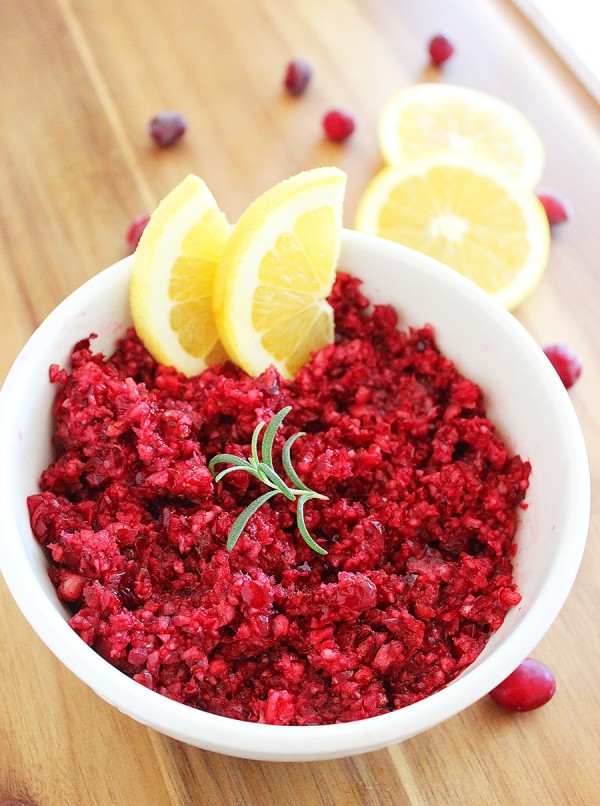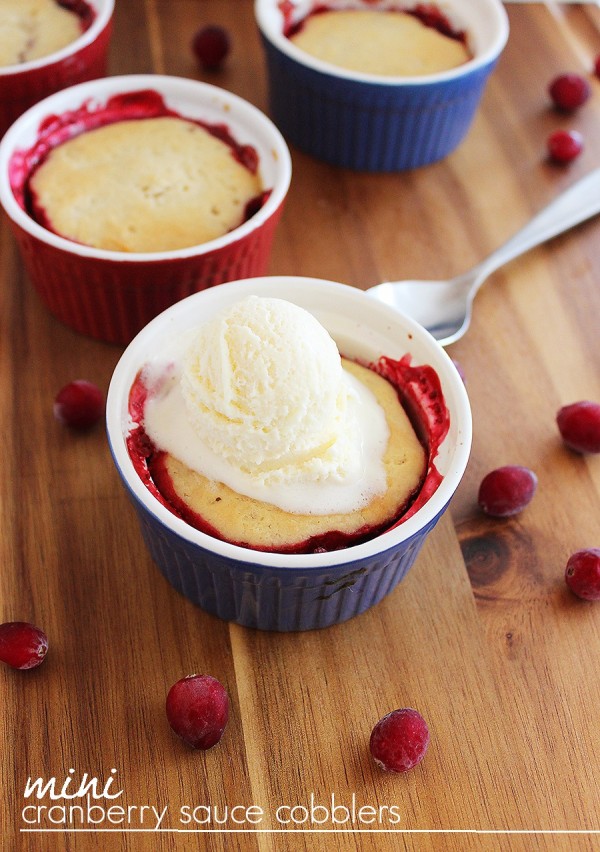 Using scoopfuls of my Quick and Easy Cranberry Orange Relish, these cutie cobblers came together in under 5 minutes. I had about 1/2 cup to use, but you can scale the recipe for however much you have. I wouldn't recommend using the solid, canned cranberry sauce because the cranberries really are the star of this dessert. This time, fresh is best!
A simple mixture of pantry staples make up the fluffy, cake-like topping of these mini treats – flour, sugar, milk, salt, baking powder and vanilla. Just dollop it over top of your cranberry sauce and pour over a water-sugar mixture. This makes the berries a little extra sweet and bubbly, and the topping perfectly golden! You can also bake this cobbler into a full-sized dessert.
For those who celebrate, I hope you have a joyful (and delicious) Thanksgiving. Just remember to put your cranberry sauce to good use in these tangy, sweet and scrumptious cobblers!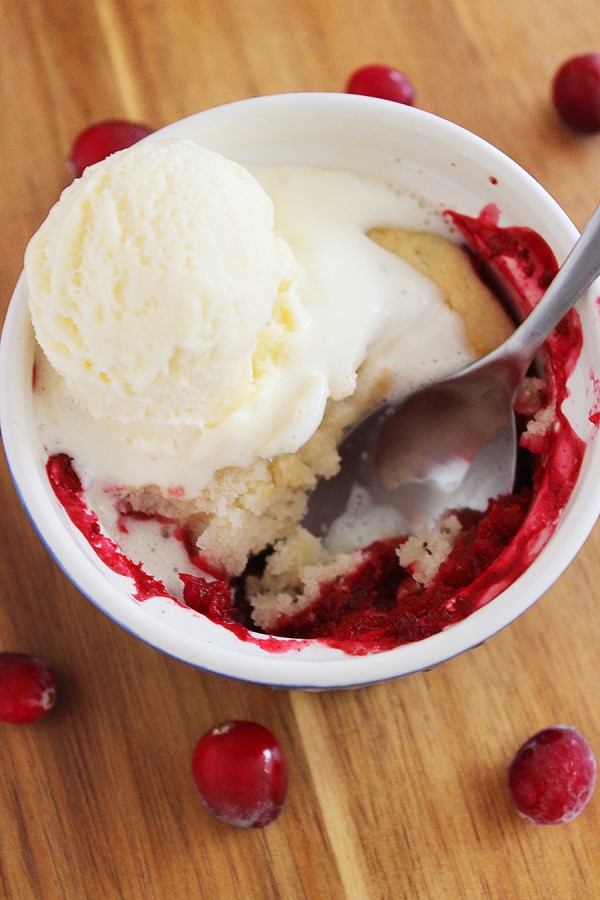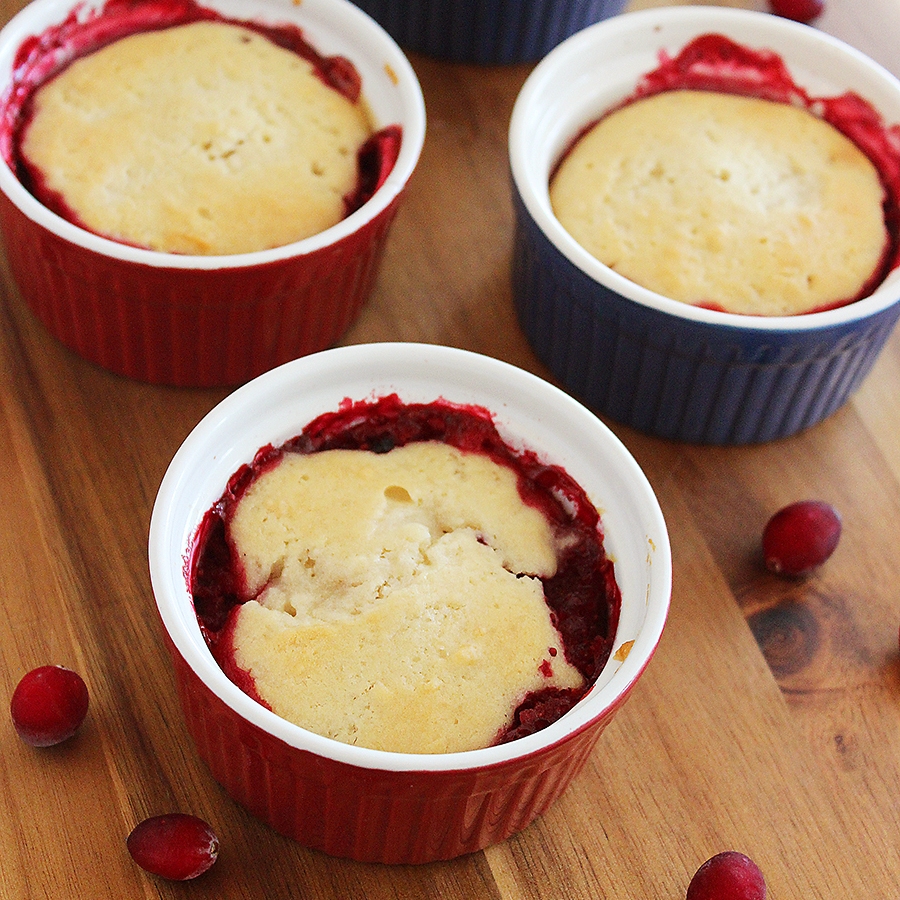 Mini Cranberry Sauce Cobblers
Ingredients
1/2 cup 8 Tbsp. cranberry sauce or cranberry relish
2 Tablespoons unsalted butter, room temperature
3 Tablespoons granulated sugar, divided
1/2 cup flour
1/4 cup milk
1 teaspoon baking powder
1/2 teaspoon vanilla extract
1/4 teaspoon table salt
1/4 cup warm water
Instructions
Preheat oven to 350 degrees F. Spray 4 ramekins with nonstick cooking spray. Spoon 2 Tbsp. cranberry sauce into each ramekin. Place on a lined baking sheet.
In a medium bowl, mix butter, 2 Tbsp. sugar, flour, milk, baking powder, vanilla and salt with a wooden spoon. Spoon a heaping tablespoon of batter over fruit and spread evenly. Mix remaining 1 Tbsp. sugar and 1/4 cup warm water. Pour evenly over each ramekin.
Bake for 28-30 minutes, until topping is golden brown.
Serve warm with whipped cream or vanilla ice cream.
Enjoy!