Surprise your holiday host with a sweet homemade breakfast treat for the morning after. Come by for the easy tutorial, including recipes, tips, and more ideas for unique gifting on a budget!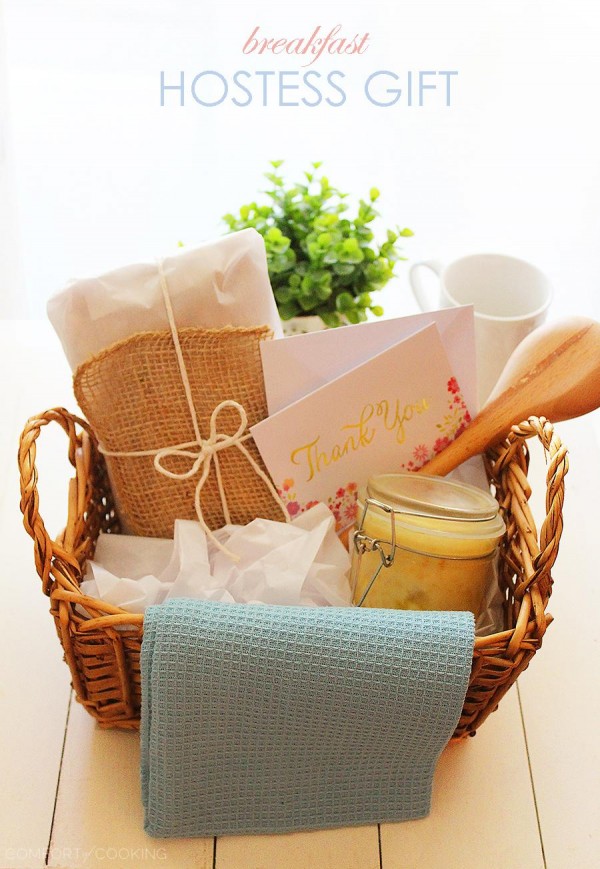 While flowers and wine always make a lovely gift for a party host, a little longer term thinking never hurts. Especially for larger scale parties and dinners surrounding Thanksgiving, Christmas and New Years, it's likely the host hasn't had a moment to think about themselves. And especially not the morning after the big event. So, I like to surprise the host with a basket of breakfast goodies and kitchen essentials. A little something to enjoy after the candles have fizzled down, the party is over, and the piles of dishes are just a bad memory.
Who doesn't love a good breakfast, after all?
This time, I tucked in a loaf of my irresistibly soft, tangy cranberry bread, but I have dozens of delicious breakfast treats you can choose from. I find quick breads easiest to package (and bake), but muffins, donuts, scones and pastries would be equally simple and scrumptious. You can also add the recipe on a notecard for the lucky recipient… but my recipient knows to just check the blog! Wink wink.
Also wrapped up in this pretty package? A handwritten thank you card, kitchen towel, wooden spoon and a jar of creamy whipped honey butter. Any other gifts you have in mind according to your host's taste would be wonderful, too! Think movie tickets and caramel corn, or candles and bath salts, or coffee and cookies.
The options are limitless, so get creative and show you care in a unique, meaningful way!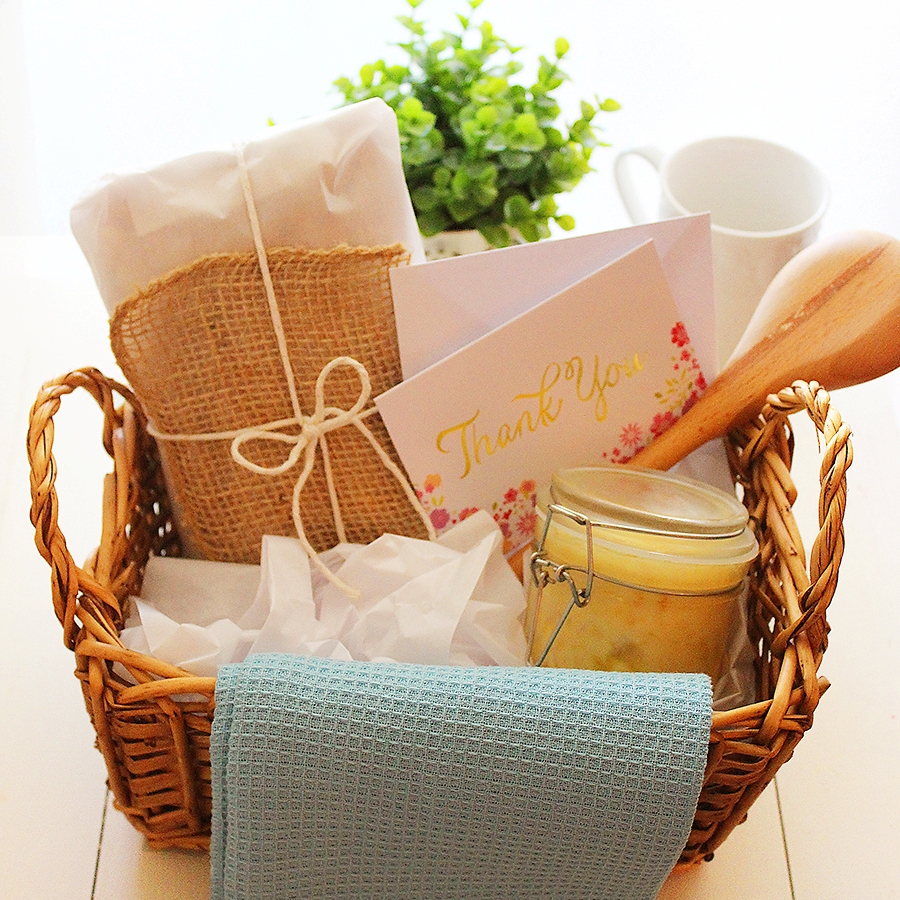 Homemade Breakfast Hostess Gift
Ingredients
For Breakfast Bread:
For Sea Salt Honey Butter:
2 sticks, 1 cup unsalted butter, softened
2 Tablespoons honey
Sea salt
Small glass jar with lid
For Gift:
Small basket
Thank You card
Wooden spoon
Kitchen towel
Tissue paper
Instructions
For Breakfast Bread:
Wrap breakfast bread in parchment paper. Tie with kitchen twine or string to secure ends. If desired, place decorative burlap underneath string.
For Sea Salt Honey Butter:
Mix butter with honey and pinch of sea salt. Spoon butter into glass jar and tightly secure lid. Store in refrigerator.
For Gift:
To package, place wrapped bread and butter jar in a small basket. Tuck in a handwritten thank you card, wooden spoon and kitchen towel. Or, use any other gifts you prefer.