Pop in this easy, cheesy ham and pineapple pizza with barbecue sauce for a quick weeknight dinner!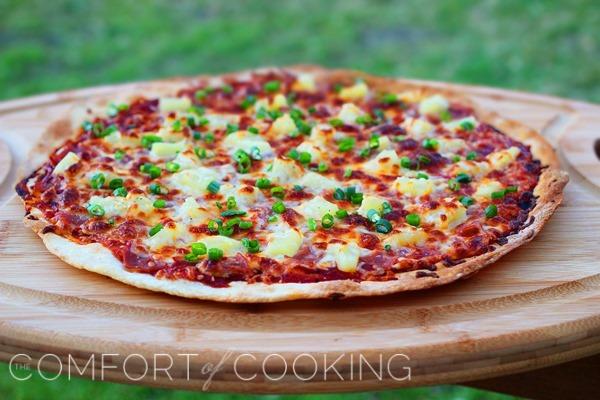 I have the worst time motivating myself to do things I don't want do. How about you? Whether it's going to the gym or cleaning the house, forget it. I'll find something, anything else on my to-do to replace it (polish nails, organize Post-Its?).
When I do get my to-dos over with, though, I feel like a superstar! And when I get a good dinner on the table in the same night, I feel like I can conquer the world… maybe. Sorta kinda.
Using my best thin crust pizza dough recipe and some pantry staples, this ham and pineapple pizza with barbecue sauce was a quick, easy and DELISH dinner after a busy day.
To be quite honest, I was lucky to snag two pieces. The rest of the pie was quickly Hoover-ed up by my hungry hubby!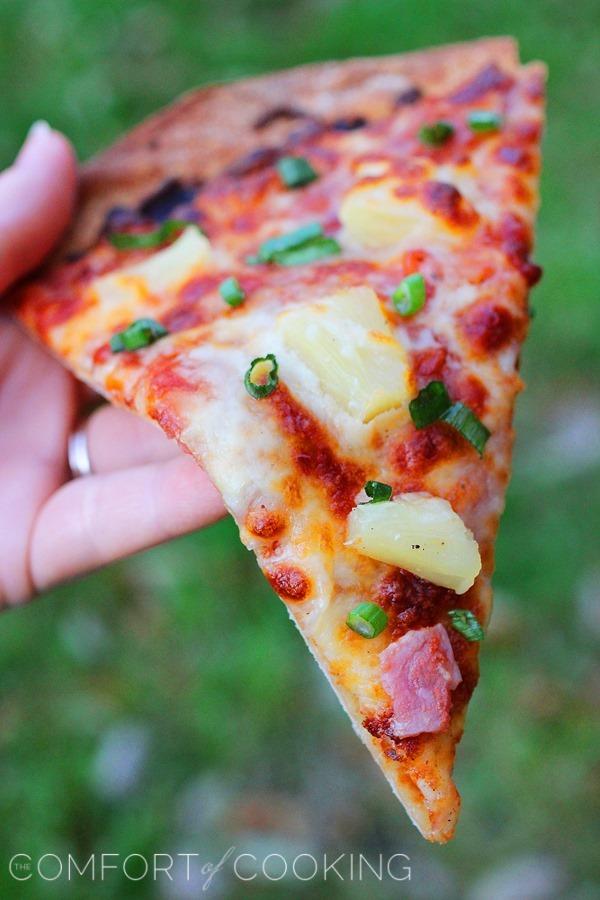 Pop in this pizza some lazy weekend or busy weeknight where there's no time for much else. With a tangy BBQ sauce base (I like Bullseye best), salty ham and citrusy-sweet pineapple, pizza doesn't get much better! I mean, well, maybe it does a little bit.
Sprinkle on some scallions and slather on the hot sauce, if you'd like! Hot sauce and pizza equals love and rainbows… Just sayin'.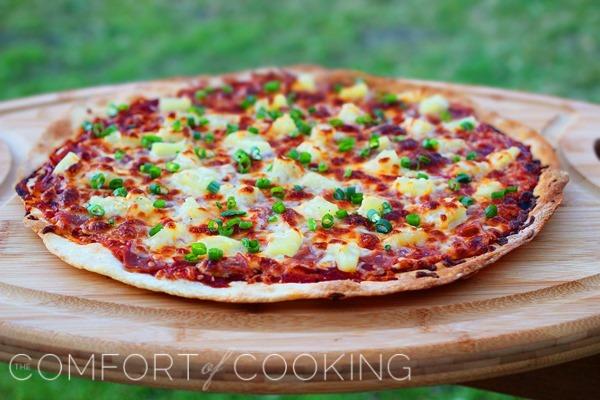 BBQ Ham and Pineapple Pizza
Ingredients
1 ball pizza dough, enough for one 12-inch pizza
1/4 cup pizza sauce, or 4 frozen pizza sauce cubes, thawed
1/4 cup barbecue sauce, your favorite
2 cups 16 oz. mozzarella cheese, divided
4-5 slices deli ham, roughly chopped
1/2 cup pineapple chunks
3 green onions, sliced
Instructions
Preheat oven to 400 degrees F.
Roll out pizza dough on a lightly floured surface with a floured rolling pin. Stretch gently with your hands and transfer to a large baking sheet or pizza pan sprayed with cooking spray.
Combine pizza sauce and barbecue sauce in a bowl and mix well. Spread evenly over pizza dough, leaving a 1-inch border.
Sprinkle on 1 cup mozzarella. Scatter ham and pineapple over top. Sprinkle on remaining 1 cup mozzarella.
Bake for 13-15 minutes, or until cheese is melted and golden brown. Sprinkle with green onions.
Enjoy!