This hearty, healthy soup packed with bell peppers, tomatoes, rice and ground chicken is a full meal in a bowl that will warm you to the bone!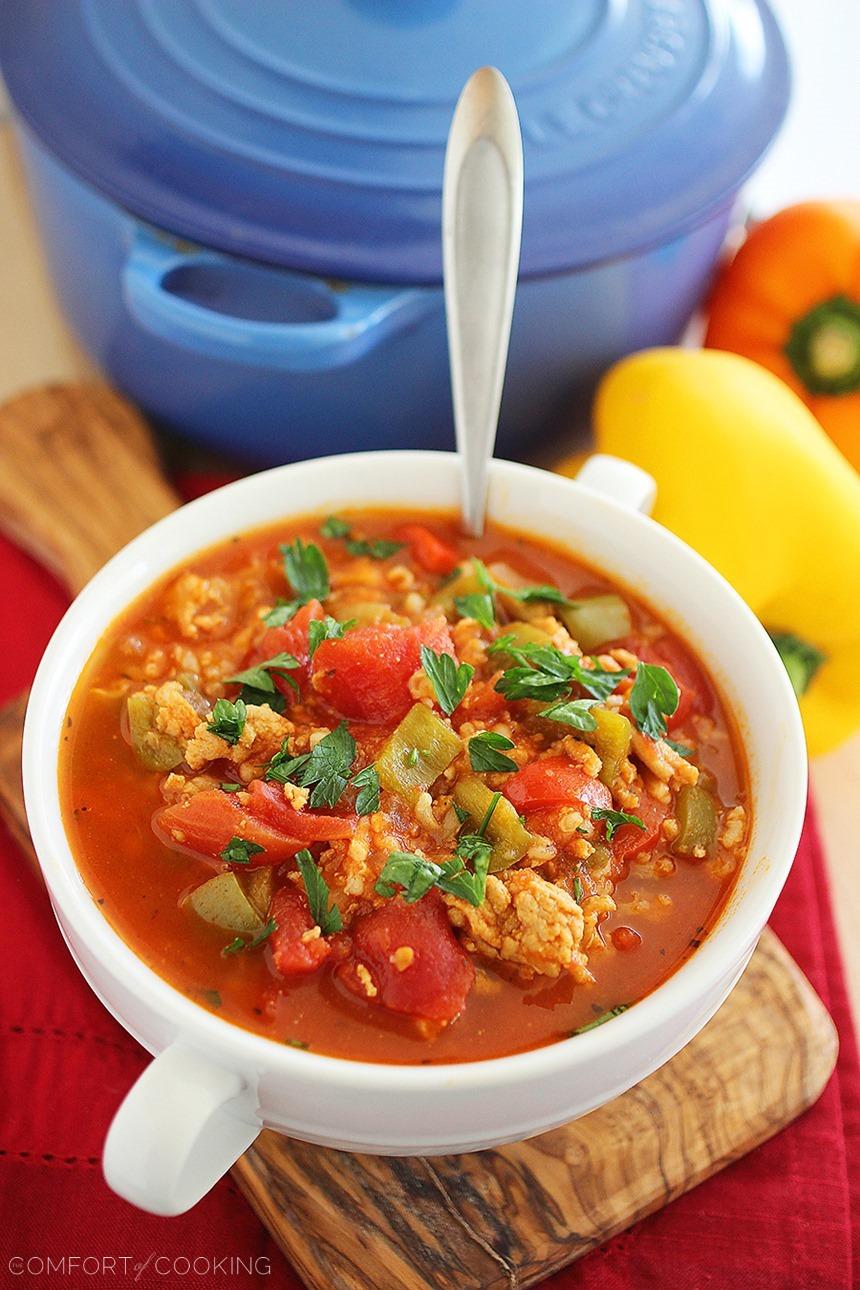 If there's one thing I love in the cooler months, it's cuddling up with a hot bowl of soup and a few hearty slices of bread to mop it up with! Aside from fuzzy socks, rainy days and pumpkin spice everything, a snuggly soup is my favorite fall indulgence. This one definitely hit the spot on a recent cloudy, cold day and warmed me to the bone!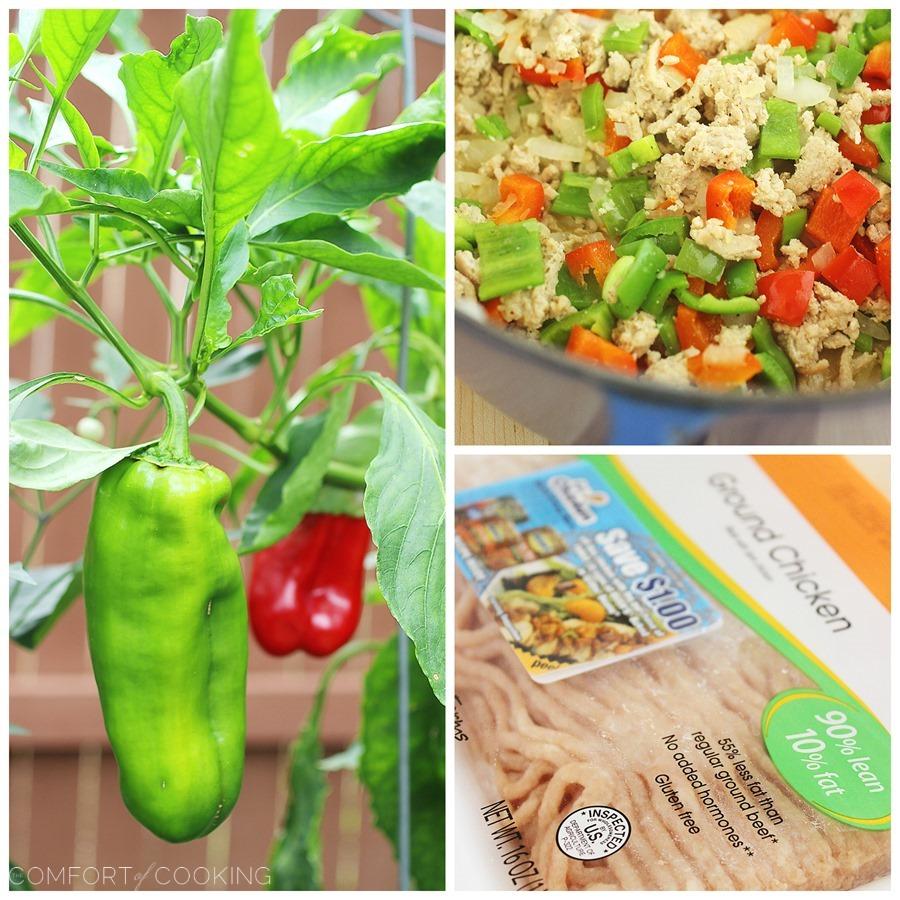 Using crisp, colorful bell peppers from my garden and all-natural ground chicken from Gold'n Plump® , this "stuffed pepper" soup was a scrumptious weeknight meal. Swapping chicken in for ground beef keeps this soup protein-packed, good for you, and full of tenderness without the fat. Gold'n Plump chicken knows all about high-quality – they have impressive standards for every package they produce, and you can read more about their mission here. Every roast chicken, hearty soup and cozy casserole I've ever made with their products has been full of goodness and flavor. This is my go-to chicken!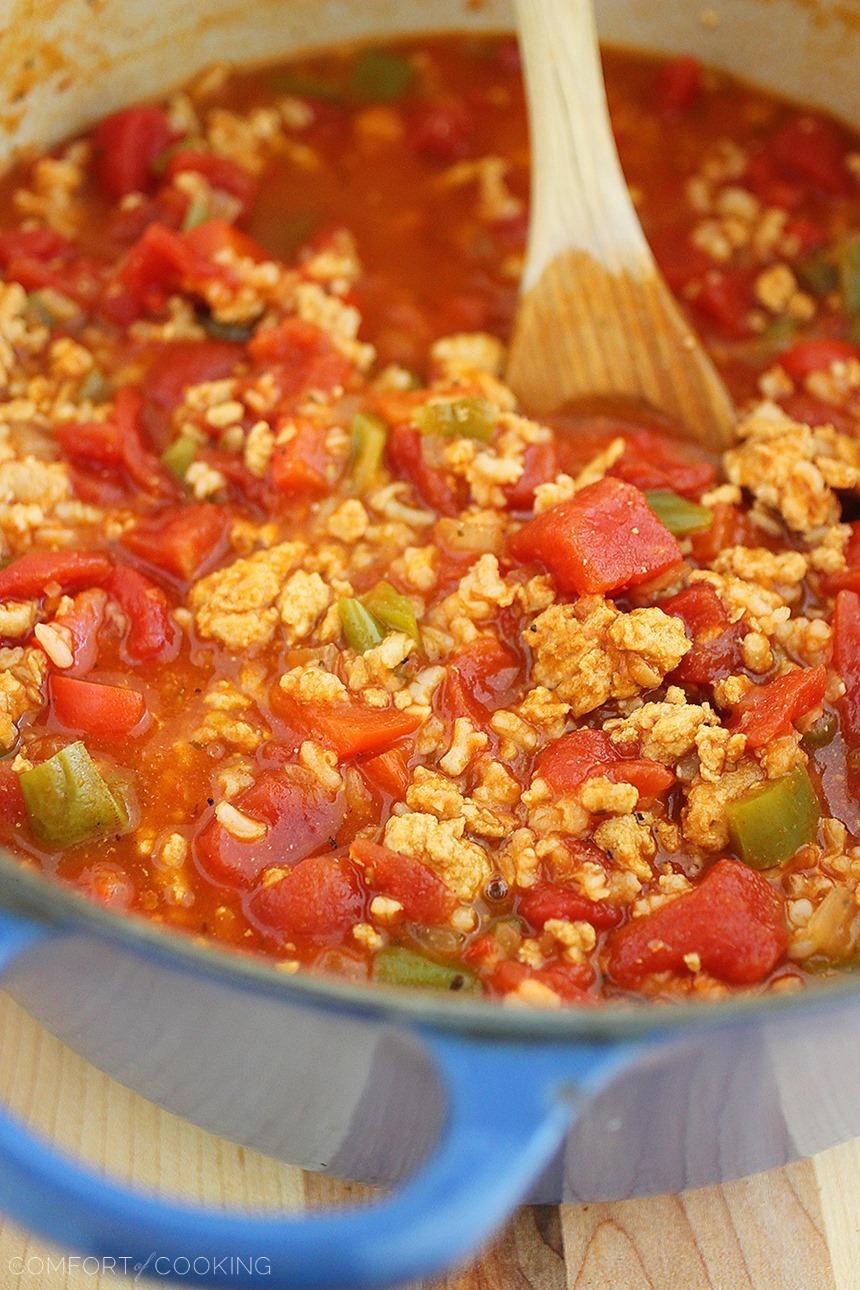 You'll love how easy this soup is, too! Just sizzle ground chicken, bell peppers, onions and garlic in a big pot and toss in your tomatoes, broth and a good pinch of Italian seasoning. Get it bubblin' hot, then reduce your heat and simmer the soup for a (heart-wrenching) half an hour while it fills your home with an amazing aroma! Before serving, stir in a cup of cooked rice and voila!
Dinner is served… and if you're lucky, leftovers will be waiting the next day.
You can even freeze a big batch for later! Just pour it all into a big plastic container and it will keep for months and months. Simmer that big block of frozen soup on the stovetop to reheat… then dig in and enjoy, effort-free!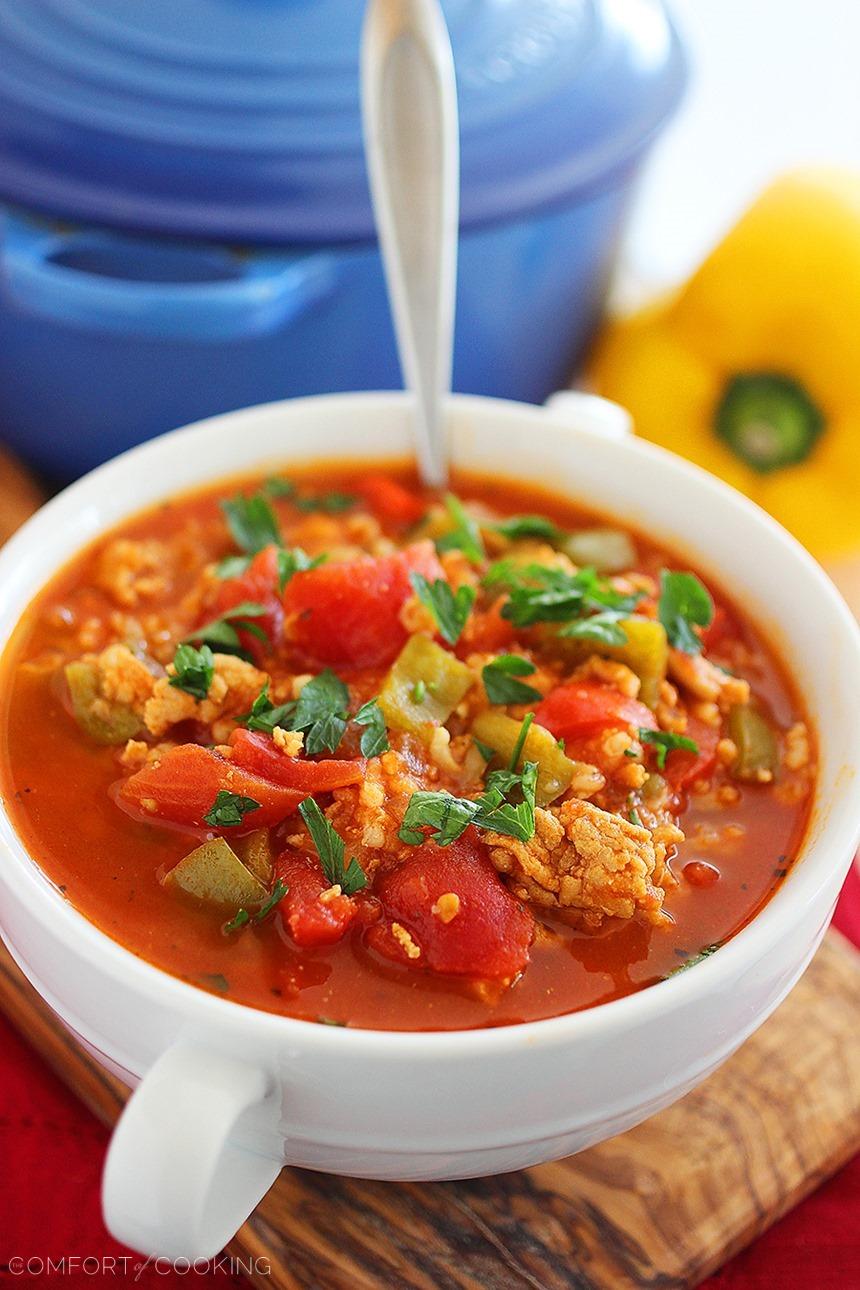 For a hearty, healthy pot full o' love that's easy enough for weeknights but impressive enough for guests, go for this incredibly delicious Stuffed Pepper Soup! I like to slide a warm crusty baguette alongside and serve it with a lightly dressed salad.
It makes for a perfect light fall meal that you'll love going back to again and again!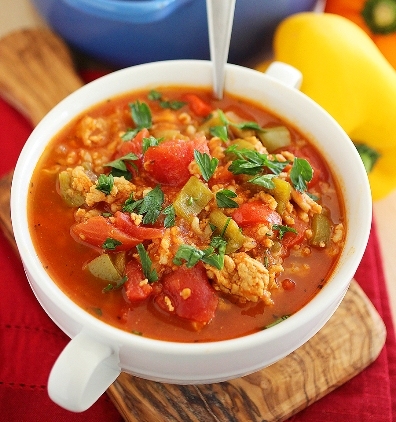 Stuffed Pepper Soup
Ingredients
1 teaspoon olive oil
1 lb. 16 oz. Gold'n Plump® Ground Chicken (not ground chicken breast)
1/2 cup chopped green bell pepper
1/2 cup chopped red bell pepper
1 medium yellow onion, diced
3 cloves garlic, chopped
2 14.5 oz. cans diced tomatoes, drained
1 15 oz. can tomato sauce
2 cups low-sodium chicken broth
1 teaspoon Italian seasoning
Salt and freshly cracked black pepper, to taste
1 cup cooked brown rice
1/4 cup chopped fresh parsley, optional
Instructions
Set a large pot to medium-high heat and add oil. Once hot, add ground chicken and cook until no longer pink, 6-8 minutes, crumbling with a spoon as it cooks. Drain and discard excess liquid, if any.
Reduce heat to medium. Add bell peppers, onion and garlic; cook for 5 minutes.
Add diced tomatoes, tomato sauce, chicken broth, Italian seasoning, salt and pepper. Bring to a boil, then reduce heat to low. Cover and simmer for 30 minutes.
Just before serving, stir in cooked brown rice. Ladle into individual serving bowls and sprinkle with parsley, if desired.
Enjoy!