These hot, cheesy baked ham and Swiss sliders with a buttery mustard sauce are an easy hit for weeknight meals, weekend parties and lazy brunches in!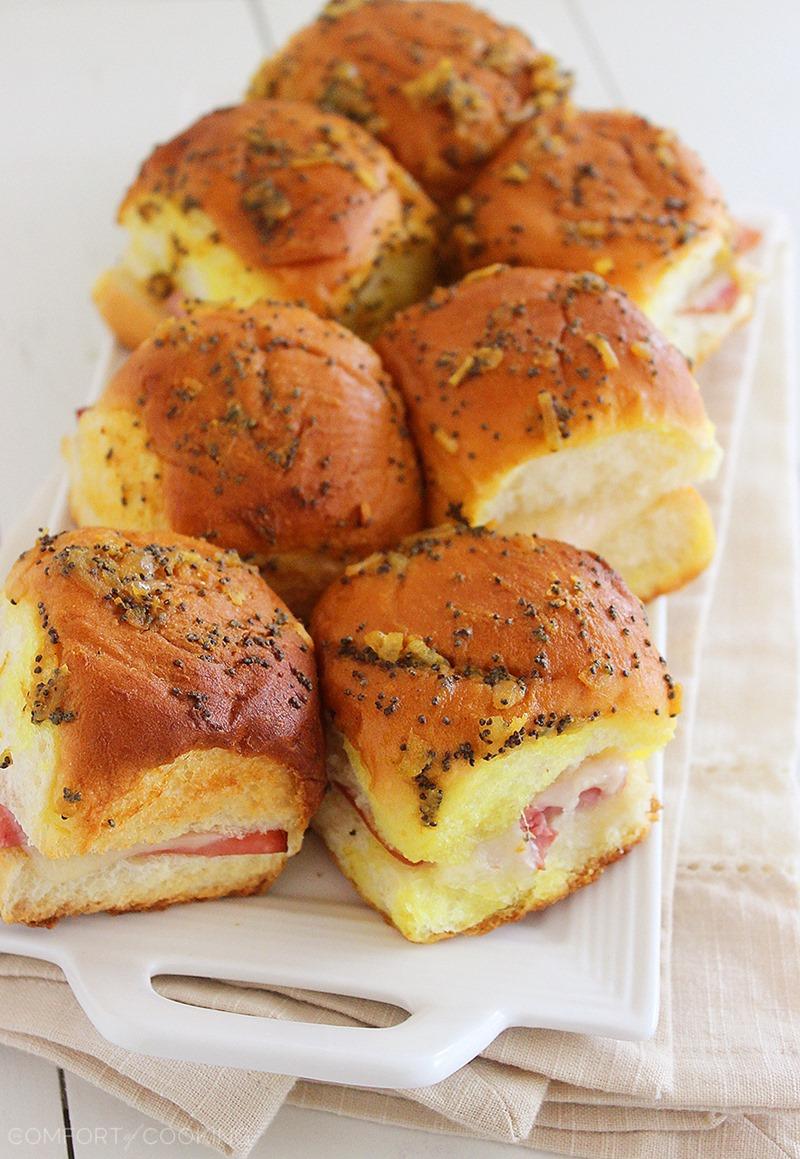 Don't you just love a good recipe that goes the extra mile? As a new mama, I certainly do. These mouthwatering ham and cheese sliders fit the bill for brunch, lunch, dinner and weekend parties. Hot out of the oven, or served at room temperature, these sliders are buttery soft and melt-in-your-mouth delicious – one is never enough!
They're always the first food to go at our neighborhood happy hours, and as an easy weeknight option that yields lots of leftovers… at least for the two of us! Leftovers are lucky if they make it long in this house, especially these scrumptious sliders. They're usually demolished by dinner the next day!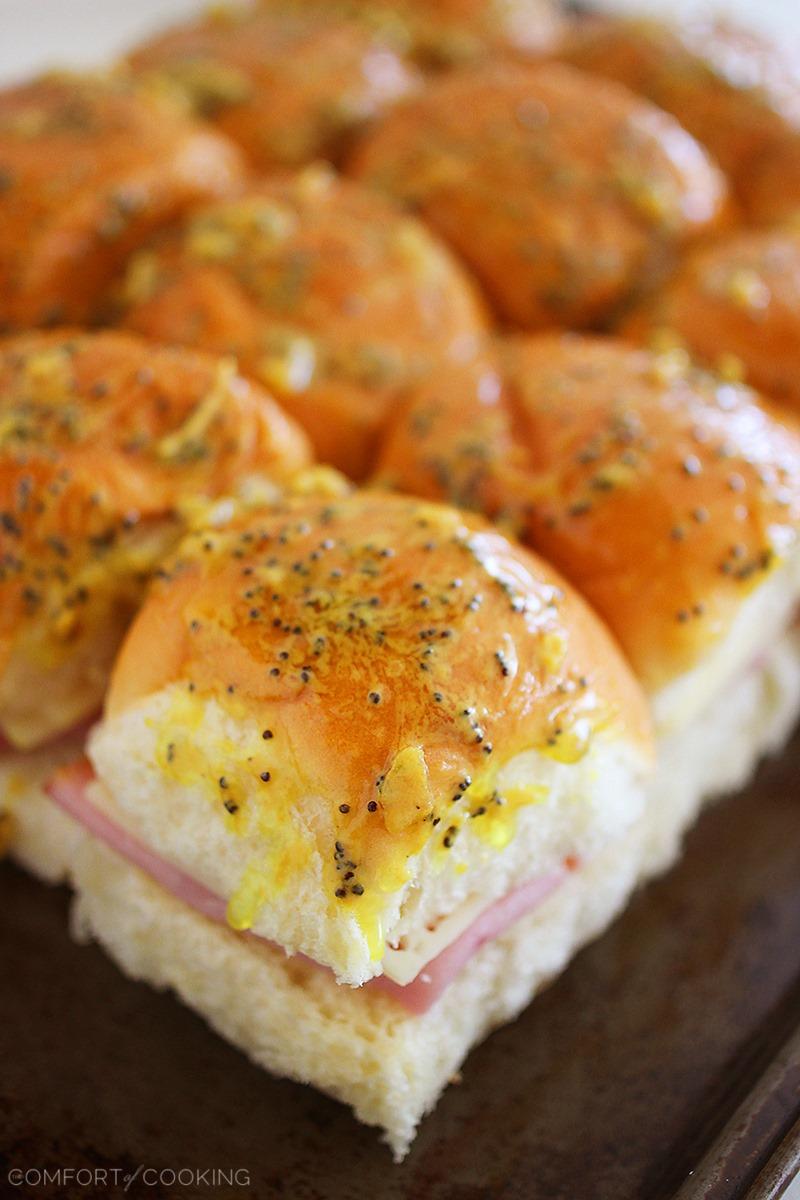 All you need are dinner rolls (Hawaiian rolls are best), deli meat, Swiss cheese (or use cheddar, Colby jack or Monterey jack) and a handful of pantry staples for the tangy topping. Just assemble your sliders and squeeze 'em in tight together on a baking sheet. Whisk up a mixture of melted butter, mustard, Worcestershire sauce, dried onion and poppy seeds, and pour it all over the top of the sandwiches. Bake 'til buttery golden brown, have a little taste test, and then just TRY stopping at one!
You're going to love these delicious ham and Swiss sliders. They can be made a day ahead and kept in your fridge before baking, and you can definitely double the recipe for a big crowd. Also, feel free to swap in your favorite cheeses and deli meats if ham and Swiss aren't your thing. Get creative!
However you dish them up, these cheesy, toasty sliders are always a huge hit!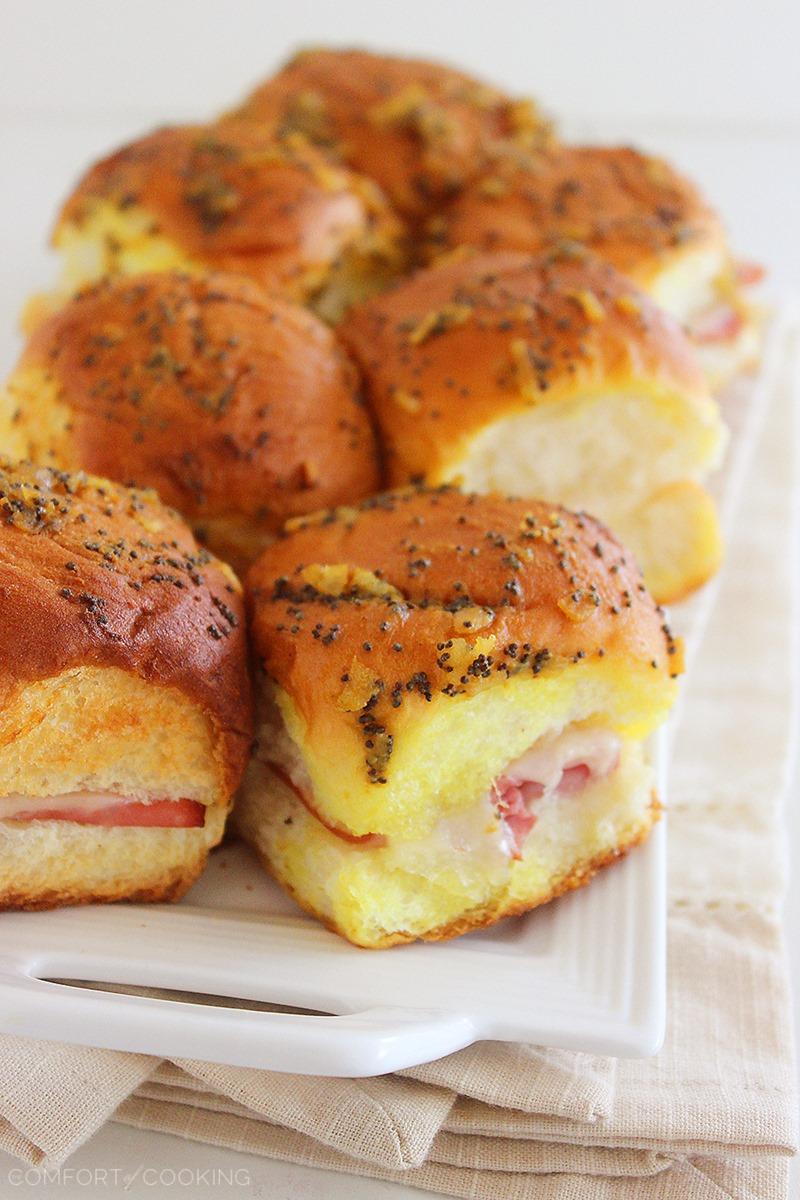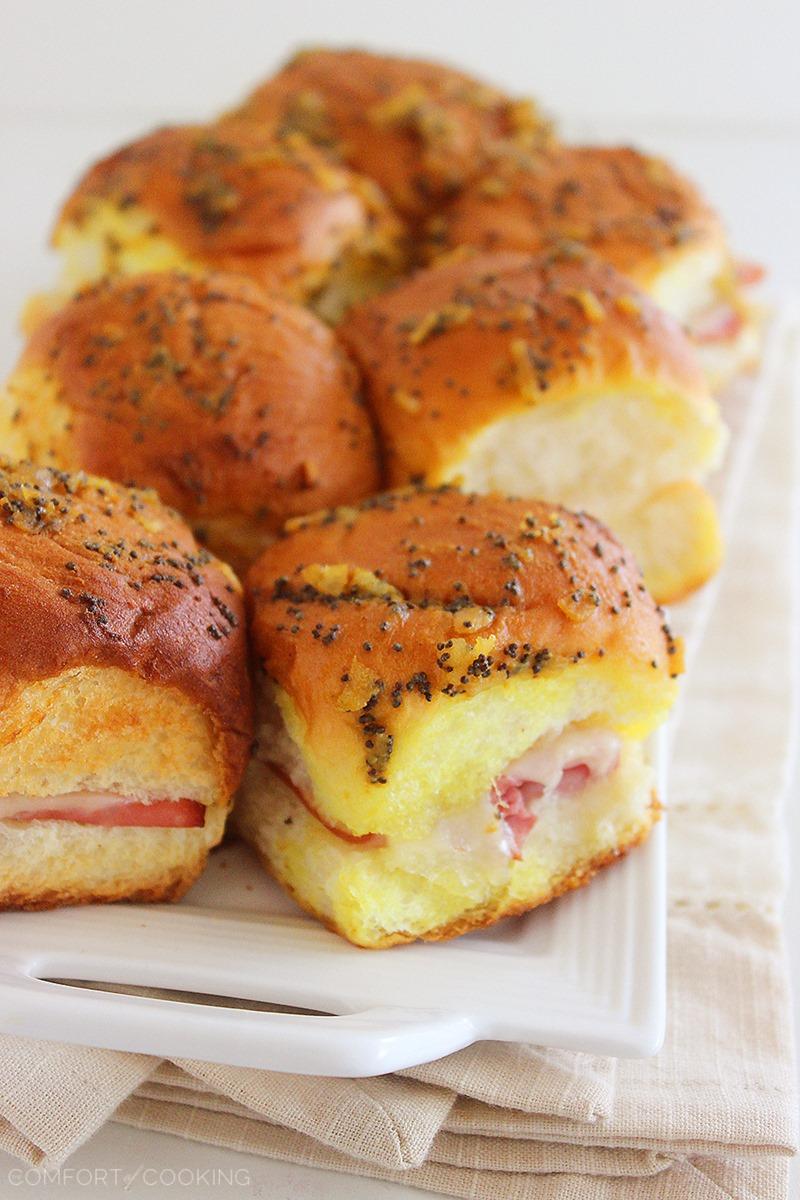 Baked Ham and Swiss Sliders
Ingredients
12 white dinner rolls, I used Hawaiian rolls
12 pieces sliced honey ham
12 small slices Swiss cheese
3 Tablespoons butter, melted
1 Tablespoon dried chopped/minced onion flakes
1 Tablespoon yellow mustard
1/4 teaspoon Worcestershire sauce
1 teaspoon poppy seeds
Instructions
Preheat oven to 350 degrees F. Prepare a large baking sheet lined with aluminum foil.
Halve dinner rolls and place 1 slice each of ham and Swiss inside each roll. Place rolls very close together on the baking sheet.
In a medium bowl, whisk together melted butter, onion flakes, mustard, Worcestershire sauce, and poppy seeds. Pour evenly over all of the sandwiches. Let sit 10 minutes or until butter sets slightly. Cover with foil and bake for 15 minutes, or until cheese is melted.
Uncover and cook for 3-4 additional minutes, or until tops are slightly brown and crispy. Serve warm.
Enjoy!