…But first, a random update: After thirteen days of owning our first home, working on it from sunrise to sunset, spending too many dollars and time at Home Depot, and medicating numerous minor injuries, one thing has become crystal clear to my husband and I: Owning a house is hard work, but we are completely, utterly smitten with our new space. All day every day since we turned the key on June 1 has been spent painting, assembling, cleaning, and improving this place to make it a home. Though there's still more to do, the pieces are slowly but surely coming together and I'm excited to eventually show you more! Thank you so, so much for all of your well wishes and kind words, especially those Texans welcoming me to your home state! Your encouragement has made me smile when I've needed it the most.
Now, onto the chocolate!
When dinner burns, housework never seems done and life generally just isn't going your way, there's always dessert. Make it yourself, or go out and get it however you can. Just rejoicing in one simple, heavenly bite of something chocolaty, cakey and down right delicious can make a bad day go right.
Life has been anything but fancy lately, but I wanted to inject a little sweetness into our daily routine with these sinful, scrumptious cupcakes. The soft cake, filled with sweet homemade caramel was perfectly moist. Swirled with the rich chocolate buttercream with a hint of deep, dark bourbon flavor, they were to die for.
These little candied caramel rounds didn't hurt the look of the cupcakes, either! I created them by just drizzling a little caramel onto a lined baking sheet (either parchment or silicone lining are fine), sprinkling a little coarse salt on top, and letting them harden. Then, I just gently scooped them up and stuck 'em into the cupcake. Fancy schmancy and super simple. Trust me, if I could do it, you can too!
Whether as a special Father's Day treat for Dad, or as a sinfully yummy sweet for yourself, family or friends, these cupcakes will hit the spot! The cake is fluffy and flavorful, and the chocolate bourbon buttercream is like nothing you've ever tasted. Try them for yourself and you'll see what you've been missing!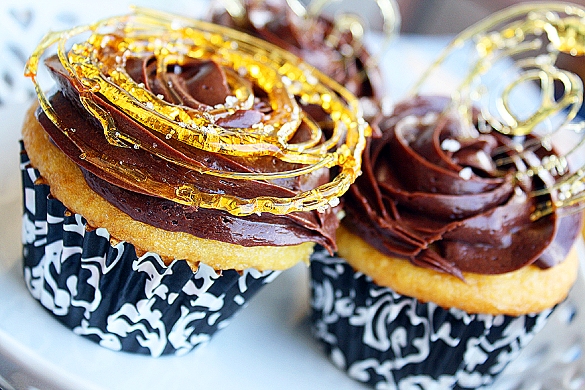 Salted Caramel Cupcakes with Chocolate Bourbon Buttercream
Ingredients
Cupcakes:
1 1/2 cups all-purpose flour
1 teaspoon baking powder
1/4 teaspoon sea salt
1 stick of unsalted butter, room temperature
1 cup plus 2 tablespoons packed light brown sugar
2 large eggs, room temperature
1 teaspoon vanilla
1/2 cup plus 2 tablespoons buttermilk
Chocolate Bourbon Buttercream:
8 oz. unsweetened chocolate, chopped
6 cups confectioners' sugar
16 Tbsp. 2 sticks unsalted butter
6 Tbsp. milk, plus more, if needed
2 tsp. vanilla extract
1/4 tsp. salt
2 tsp. good-quality bourbon whiskey
Candied Salted Caramel Rounds:
1 1/4 cups granulated sugar
1/4 teaspoon sea salt
3/4 cup water
2-4 tablespoons of large-crystal sugar
Instructions
Cupcakes:
Preheat oven to 325 degrees. Line muffin tins with papers. Combine flour, baking powder and salt; set aside.
Cream butter and brown sugar on medium-high speed until pale fluffy. Add eggs, one at a time, beating until each is incorporated. Add vanilla. Mix and scrape down sides of bowl as needed. Add flour mixture in three batches, alternating with two additions of buttermilk, and beating until combined after each.
Divide batter evenly among lined cups, filling each about halfway full. Bake for about 25 minutes. When done, transfer tins to wire racks to cool 10 minutes; turn out cupcakes onto racks and let cool completely.
Chocolate Bourbon Buttercream:
Melt the chocolate and cool to room temperature.
With an electric mixer, combine the confectioners' sugar, butter, milk, vanilla and salt, and beat on low speed until combined, about 1 minute. Stop the mixer and scrape down the sides of the bowl. Increase the speed to medium and beat for 2 minutes, then reduce the speed to low. Add the chocolate and bourbon, and beat until combined, then increase the speed to medium and beat for 1 minute more.
If the frosting is dry, add more milk, 1 tsp. at a time, until it is creamy but still holds peaks.
Candied Salted Caramel Rounds:
Lay out a large piece of parchment on your work surface and spray with cooking oil (such as canola). Fill a large tub (or your sink) partially full of ice water.
Put sugar, salt and cold water in a heavy pan; stir over low heat until sugar dissolves. Increase heat and bring syrup to a boil. Lower heat slightly and swirl the pan once or twice so the syrup colors evenly; do not stir. When caramel is a deep amber color, plunge the base of pan into iced water for about 2 seconds to stop further cooking.
Dip a spoon in the caramel and let it fall onto the parchment paper in a drizzle. Move the spoon in a circular motion as the syrup falls from the spoon. Repeat 15 times. When caramel has hardened (it will still be sticky) sprinkle over large-crystal sugar. Remove from paper and adorn cupcakes.