Satisfy your pumpkin and donut craving with these soft, buttery baked donut holes with cinnamon sugar, easily made in a mini muffin pan!
It's fall, y'all! Tomorrow it's official – my favorite season begins and I can finally start stowing away my summer essentials. Bring on the sweaters, boots and big mugs of gingerbread spice tea! Ohhh, how I love that stuff. Warms you to the bone.
In a week, we're headed to a cozy lake house in Massachusetts with my folks, and I can't wait! You can bet I'll be making a batch of these delicious baked pumpkin donut holes to share. Or, to not share. That is the question.
Simple to make and soft, cakey and rich with buttery goodness, these baked delights are a tasty and (mostly) guilt-free way to welcome the best season ever. And, let's just be honest, it's impossible to stop at one. Or twenty. Try them for yourself!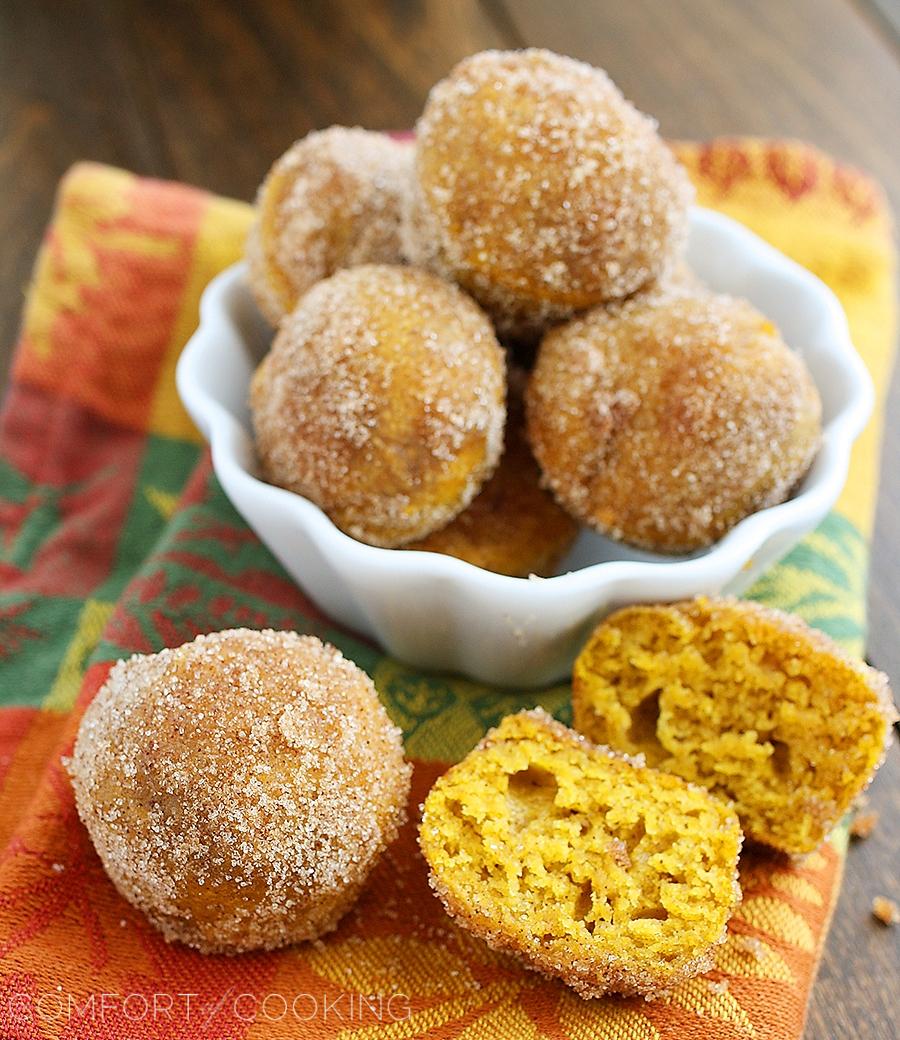 Baked Pumpkin Donut Holes
Yield:
24 donut holes (mini muffins)
Ingredients
For the Donuts:
1 3/4 cups all-purpose flour
2 teaspoons baking powder
1/2 teaspoon salt
1/2 teaspoon cinnamon
1/2 teaspoon nutmeg
1/2 teaspoon allspice
1/8 teaspoon ground cloves
1/3 cup canola oil
1/2 cup light brown sugar
1 large egg
1 teaspoon vanilla extract
3/4 cup canned pumpkin puree, not pumpkin pie filling
1/2 cup milk
For the Coating:
4 tablespoons unsalted butter, melted
2/3 cup granulated sugar
1 1/2 tablespoons cinnamon
Instructions
Preheat oven 350° F. Spray one 24-cup or two 12-cup mini muffin tins with baking spray and set aside.
In a medium bowl, whisk together flour, baking powder, salt, cinnamon, nutmeg, allspice and cloves. In a separate large bowl whisk together oil, brown sugar, egg, vanilla, pumpkin and milk until smooth. Add dry ingredients to wet ingredients and mix until just combined.
Divide batter evenly among muffin cups. Bake for 10-12 minutes, or until a toothpick comes out clean.
While the muffins bake, melt butter in one bowl and combine granulated sugar and cinnamon in another bowl. Remove muffins from oven and cool for 2 minutes. Dip each muffin in melted butter, then roll in cinnamon sugar to coat. Serve muffins warm or at room temperature.
Enjoy!