Try this zesty, fiery and finger-licking good Jamaican twist on roasted chicken with savory-sweet spices and a tangy mango salsa!
In my personal life I don't tend to bore easily, but with my food it's always a waiting game for the next new thing. Good thing I started a food blog then, right? I'm always full of ideas!
I've been roasting chickens with butter and honey, lemon and garlic, and all the usual suspects for way too long. So, because I'm like a little kid in a candy shop who can't sit still, I went ahead and tried something new. Boy, did my impatience pay off!
A spicy paste of vinegar, rum, hot peppers, onions, and savory-sweet fall spices covers a whole chicken coated in fresh lime juice. Get it all messy, slip it into the oven for a couple hours and you have yourself a mouthwatering meal.
Along with a tangy mango salsa (fall has obviously not quite begun in this kitchen yet), this chicken makes for a warm and comforting, yet light and refreshing transition to the cooler weather ahead.
… And as someone finds it tough to love Texas weather in the summer, can I just say hallelujah for that.
Roasted chicken is my hands down, all-time favorite meal, and with this recipe I bet it can become yours, too. As a unique spin on the usually grilled, chopped up jerk chicken, I think you'll find this a fun and scrumptious way to dabble in ethnic cookin'!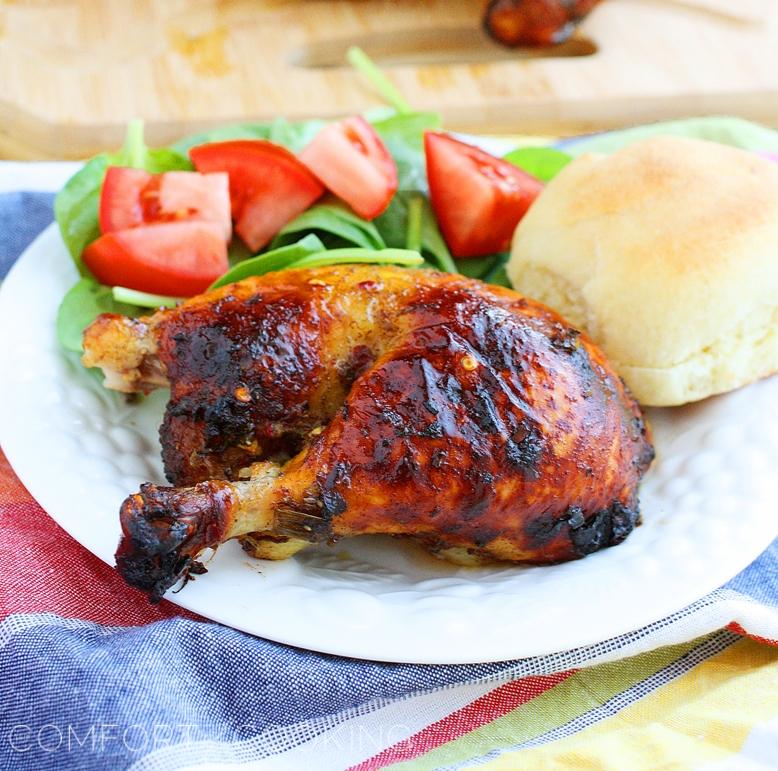 Roasted Jamaican Jerk Chicken with Mango Salsa
Yield:
6 to 8 chicken servings / Mango salsa makes approx. 2 cups
Ingredients
Roasted Jamaican Jerk Chicken
① 1/2 cup malt or white vinegar
② 2 Tbsp. dark rum
③ 2 Scotch bonnet or habanero peppers, seeded and minced*
④ 1 medium red onion, chopped
⑤ 4 green onions, chopped
⑥ 2 Tbsp. olive oil
⑦ 2 teaspoons salt
⑧ 2 teaspoons freshly ground black pepper
⑨ 4 teaspoons ground allspice
⑩ 4 teaspoons ground cinnamon
⑪ 4 teaspoons ground nutmeg
⑫ 4 teaspoons ground ginger
⑬ 2 teaspoons molasses or honey
1 5 or 6 pound whole roasting chicken
1/2 cup fresh lime juice, from 2 limes
Salt and pepper
Mango Salsa
1 ripe mango, peeled, pitted and diced
2 Roma tomatoes, diced
1/2 medium red onion, finely chopped
1 jalapeño pepper, minced
1 handful fresh cilantro leaves, chopped
1/4 cup fresh lime juice, from 1 lime
Salt and pepper, to taste
Instructions
Roasted Jamaican Jerk Chicken
Place ingredients 1-13 into a blender. Pulse until you achieve the consistency of a mostly smooth paste.
Place whole chicken in a large roasting pan or baking dish, breast side up. Pour lime juice over the chicken and coat well. Coat chicken well with the jerk paste. Cover the chicken with plastic wrap and allow to marinade at least 30 minutes, or if refrigerated up to 1 day.
Once ready to cook the chicken, preheat oven to 350°F.
Roast until chicken is cooked through, 2 to 2 1/2 hours, or until chicken is cooked through and juices run clear, not pink. The temperatures should register 165-170°F for the breast and 180-185°F for the thigh. Transfer chicken to a large cutting board. Tent loosely with foil and let stand 10 minutes.
Cut chicken into pieces. Serve with mango salsa, if desired.
Mango Salsa
Combine all of the ingredients in a medium bowl. Season to taste with salt and pepper. Store in a sealed container in the refrigerator for up to 4 days.
Enjoy!